Words Are The Most Priceless Gift We Can Give
Crafting keepsake boxes and loving others with cards, letters, and other forms of writing.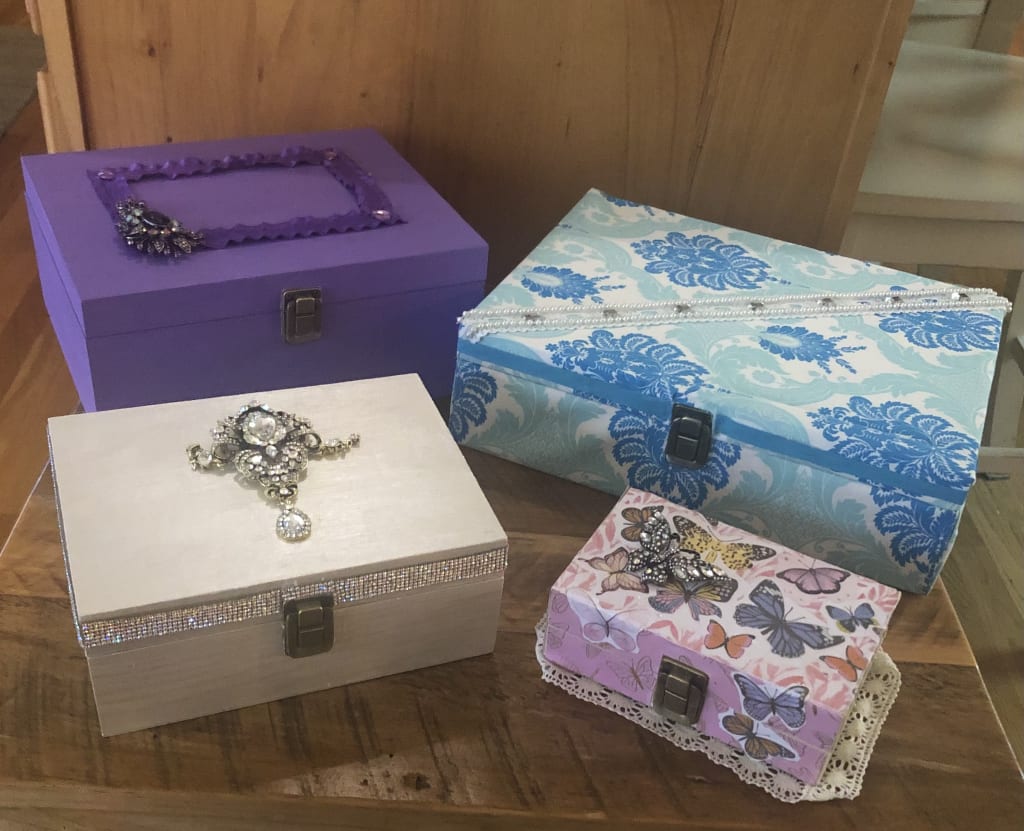 Photo Credit L. Melton
Creative Paralysis
The last time I saw my dad alive, I was writing my first-ever Vocal story for the Behind the Beat challenge. I've replayed the night over and over thousands of times in my head. If I knew it was the last time I would ever see him, I would have hugged him and held on. I would have told him how grateful I was for the love he gave me in a million different ways …
We said "I love you" like we always did. Only this time, I was feverishly typing my story, worried about making the deadline.
I called out the words as he walked toward the door. I poked my head around my office doorway and saw his tall frame lumber a little under the weight of his bad knee from an old football injury that he never bothered to fix. He went out my front door, as he had so many times before.
It was Friday, February 28. There was snow on the ground. I remember worrying a little about him driving home in the dark. But the clock was ticking and back to typing I went.
My mom was staying at my house with my son and me that weekend. Two days later, my dad called to check in. She told him she was fine and asked what he was doing. He said he was going to McDonald's. He promised to call her when he got back to their house. They exchanged "I love yous" and hung up.
Two hours passed with no phone call. So, my mom called his cell to bawl him out for not calling her. She expected a quick ring back and his chuckling apology. It never came.
I texted him next, asking where he was. I told him to call ASAP because mom is worried. I imagined his burly hands popping open his flip phone to read my message. (Despite my emphatic pleas, he never took the smartphone plunge). I waited for my phone to vibrate with a call or message – certain that my mom and I would laugh off her frantic redials.
My phone was eerily silent, and I felt a pit of dread creep up in my stomach. Something was wrong. My mom is challenged with COPD. She called my brother and he said he'd go to her house to look for him. He called after a while, sobbing. He was with the police. My dad had died instantly in a car accident.
None of us could comprehend what happened. How he left us so tragically and unexpectedly. It was March 1, 2020, right before the world shut down with the pandemic.
My kind, compassionate, larger-than-life dad was gone. He spent many post-retirement years as the executive director of a local children's charity that helped thousands of needy kids have Christmas each year. He received hundreds of accolades for his tireless charity efforts. He was even recognized by Congress. Everyone knew him and everyone loved him.
News of his death spread like wildfire. Local news stations reported that a "local hero" had died - within two hours of us getting that horrible phone call. Hundreds of people attended his funeral. Then everything locked down due to Covid.
Given my mom's fragile health, I worried she couldn't bear his loss. She endured two Covid hospitalizations – her second with post-Covid pneumonia. I prayed constantly, along with many others, for her to survive. I couldn't lose my mom. She miraculously survived.
On Valentine's Day, my dad gave my mom a cutesy, cartoon-style card with the word "Babe" on it. Neither one of them knew then, that it was the last card he would give her.
They had recently started calling each other "Babe." I'm sure, in honor of their younger days. He just couldn't wait for her to open that card and see her smile so big. It was such a tender moment for a couple who had been married for 46 years. I'll never forget the beaming grins on both of their faces.
Everyone grieves differently. Over a year later, the pain of my dad's sudden loss still seizes my mom, my brother, and me in such unpredictable ways. My sweet, fragile, beautiful mother holds that card so close to her heart.
I've been a freelance writer for various websites for 11 years and counting. In the months of Covid isolation that stretched into a year, I peeked at the wonderful Vocal platform on and off. But I couldn't rouse my heart to write anything else.
The regrets I had and the wishes I harbored for one more hug or one more smile were still too fresh. I felt guilty (albeit unknowingly) wasting our last moments writing. A sort of grief-induced creative paralysis set in and nothing could shake it.
Slow Return
March 1, 2021, marked one year since my dad died. Missing him is still a visceral ache. But something opened up inside me. My dad was always proud of my writing. He was also a big jokester – the cornier the jokes, the better.
In April, I took a breath and wrote my next Vocal story in his honor - a comical recounting of my Most Embarrassing Moment. I intended to enter it in the No Regrets challenge – but I submitted it three minutes past the deadline. I was too late. But it didn't matter. I finally wrote a new story – and I was even able to laugh my way through it.
The writers in Vocal's creative community are so talented. I've gotten so much joy from reading other people's work – and I'm very humbly glad to join the fold.
Crafting Keepsake Boxes – Collecting a Lifetime of Memories
I know saving trees and using less paper is better for the environment. I pay all my bills and do most business transactions online. I don't have a lot of campfires.
The one concession I cannot make is giving and receiving greeting cards and letters– and expressing my feelings for the people I love in writing. More than ever, I understand how sacred it is to have something tangible to hold from someone you love who has died.
I also love keepsake boxes and decorating them to store priceless cards, letters, and mementos.
I have received a few boxes as gifts. I also enjoy decorating my own unfinished boxes. My creative partner in crime and dear friend Valerie and I do it together.
Some of my favorites include a bright lilac box decked out in purple ribbon, a few gems, and a gorgeous brooch.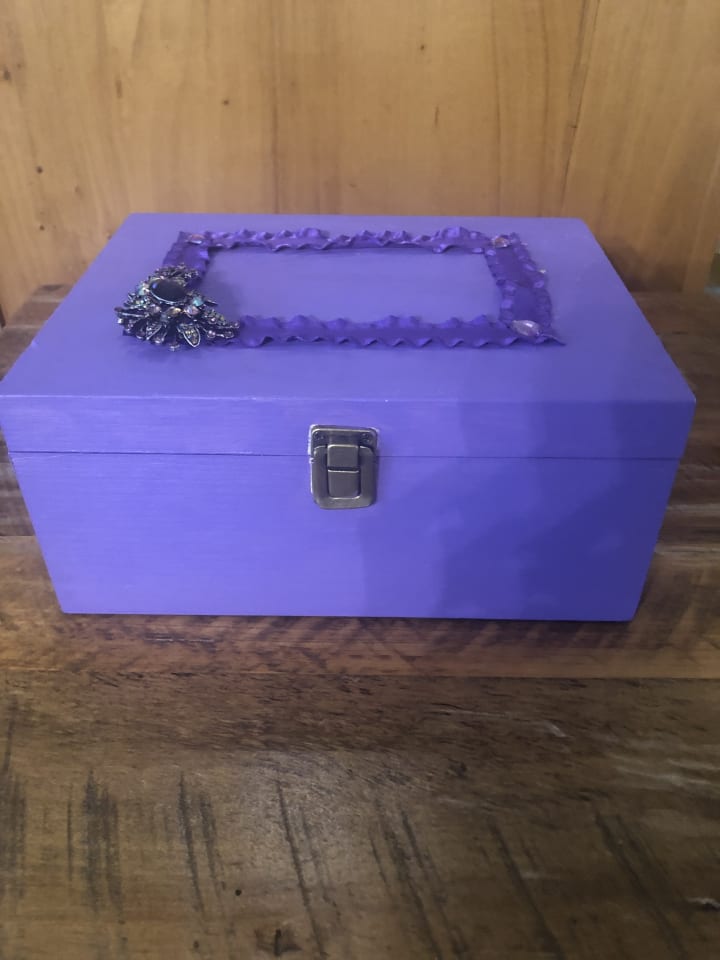 Using a trusty pair of scissors, I cut scrapbook paper with wildflowers to line the interior sides and top – and added a butterfly scene on the bottom. I sent this box to my friend Theresa for her birthday - along with a handmade card. She loves purple and gardening. I knew the box was perfect for her.
We grew up together but have lived apart more years than we've lived near each other. Exchanging cards, letters, and phone calls have kept our hearts connected through many phases of our lives.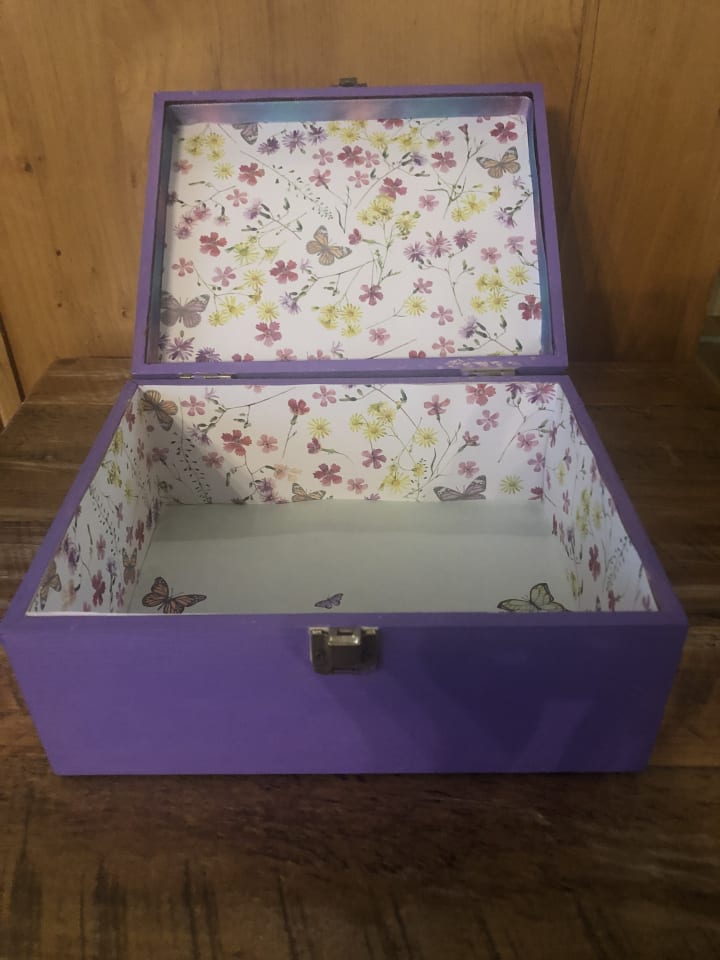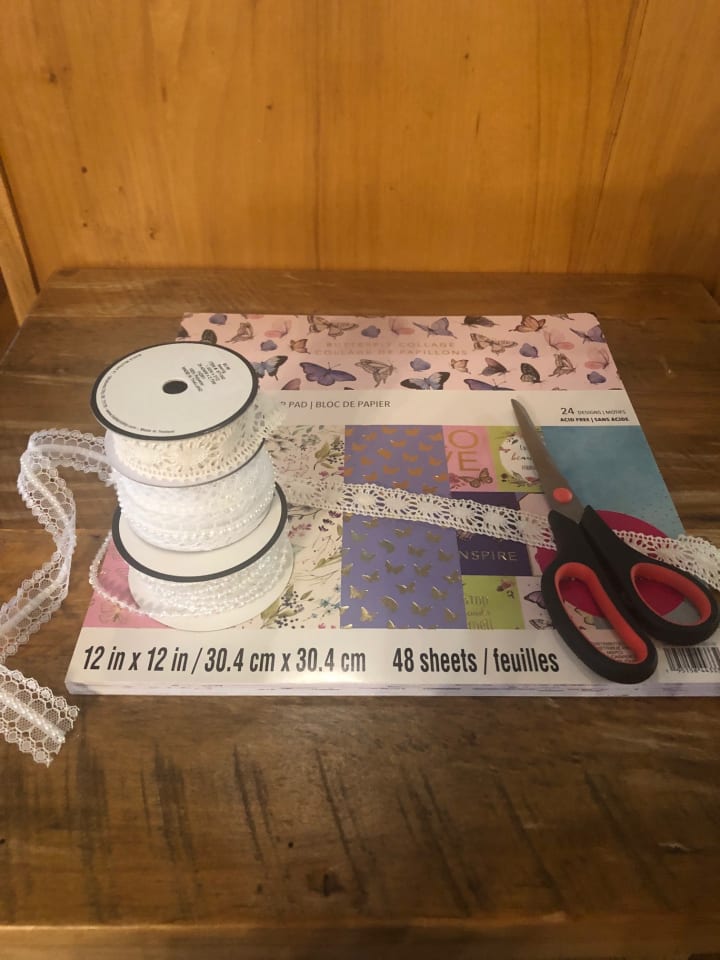 The glam box is painted pearlescent white, trimmed in silver-iridescent ribbon, and topped with a stunning vintage brooch. Silver satin fabric and iridescent vinyl line the inside and the interior lid is trimmed in pearls.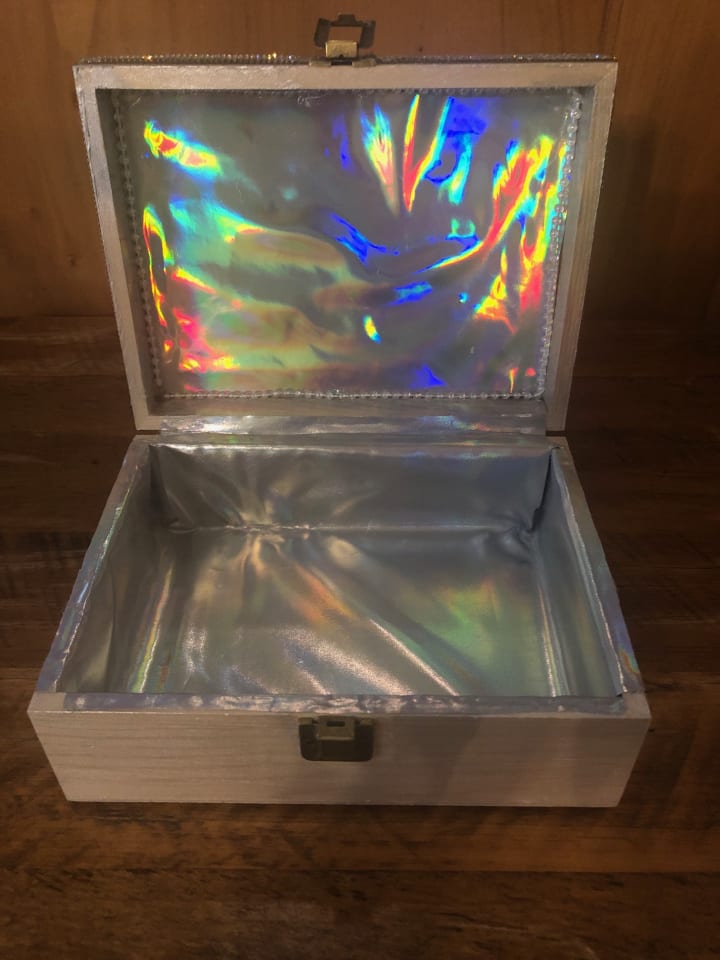 A letter-sized box is covered in vintage teal and white print fabric with diagonal lace and pearl trim accented with a row of rhinestone gems. Electric blue shiny fabric lines the bottom and fun contrasting orange paper lines the top. I wrote an inspirational quote and cut it to fit handmade photo corners.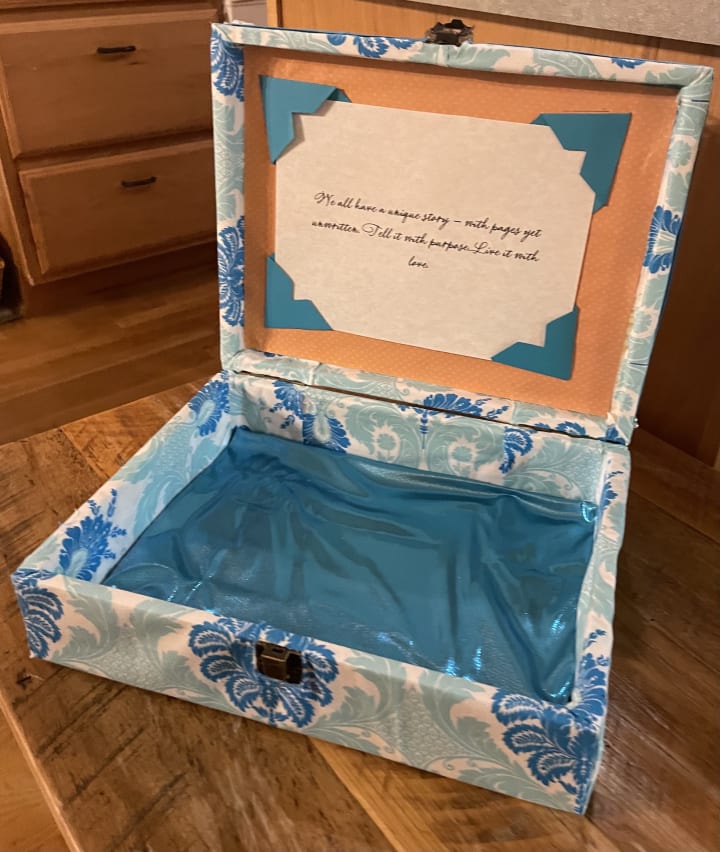 The smallest box is butterfly-themed. It's covered with decoupaged butterflies in different colors and sizes. Inspirational scrapbook quotes line the inside with two of my favorite guiding principles "Love" and "Kindness" on the bottom. A "Collect Beautiful Moments" tag is in the inner lid. The bottom of the box is trimmed in antique lace and a decorative butterfly is perched on top – as if she has just flown in and landed.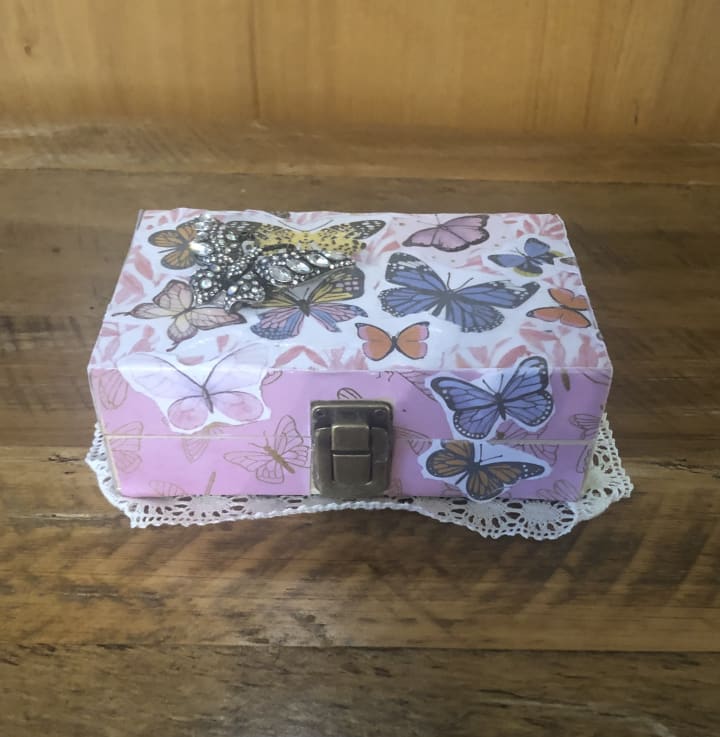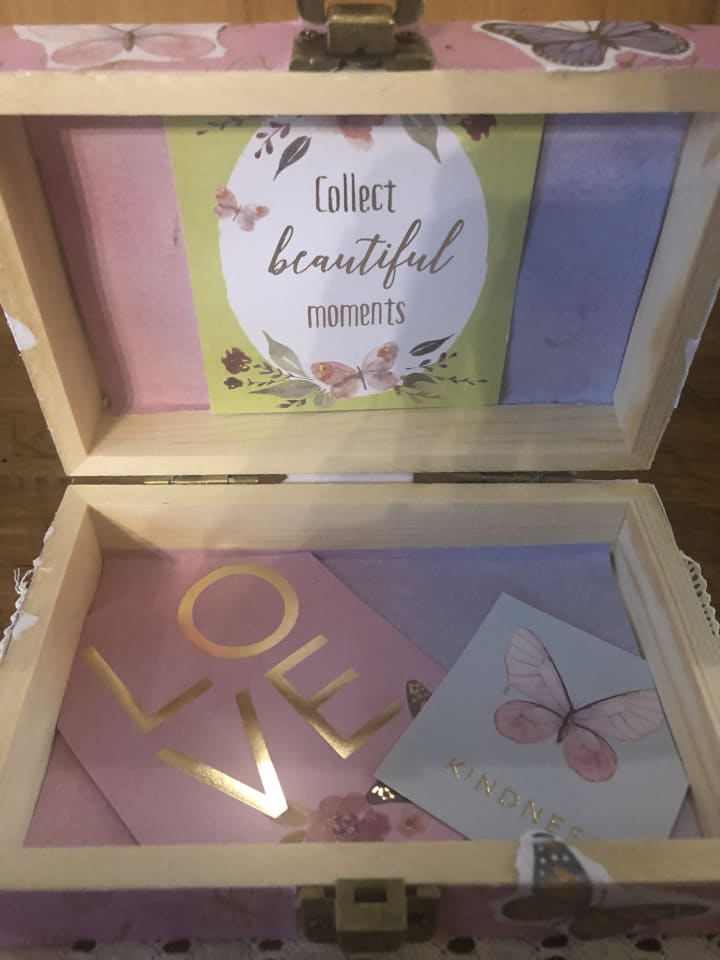 The butterfly theme is close to my heart. I feel like I've been locked in an emotional cocoon since my dad died. Finally, I feel something changing and lifting in my heart – like a butterfly, I'm trying to fly again and push for my dreams. Though I haven't written nearly enough as I'd like – the Vocal platform and these challenges have given me something fun to focus on for the first time in 15 months.
Lifetime Love of Words
Losing my dad so suddenly has really impressed the fact that life is so short upon my heart. When people asked me as a little girl what I wanted to be when I grow up, I would quickly reply, "An author." I've nurtured a lifelong love of stories in every form – books, movies, plays, screenplays, and poems. I'm super passionate about words.
In "You and I Both," Jason Mraz sings "See I'm all about them words, over numbers, unencumbered numbered words, hundreds of pages, pages, pages, for words, more words than I had ever heard, and I feel so alive…"
It's one of my favorite songs – because words mean so many things to me on so many levels– and he's truly a lyrical genius.
In today's hectic digital landscape, I appreciate the efficiency of exchanging text messages or sending someone an email. And I cherish reading the text conversations I had with my dad.
But I've had a long love affair with putting a pen to paper, ever since I learned how to write my name. My friends and I loved passing notes back and forth in class – we'd write pages and pages – and folded them up into palm-sized shapes so our teachers wouldn't catch us.
Ironically, my birthday falls on National Letter Writing Day – December 7. How crazy is that?
With laptops, tablets, and digital notebooks, it seems wild to think about when writing letters back and forth was the only way to communicate. Downton Abbey pays lovely homage to the pastime – as Mary and Edith were always eager to receive something in "the post."
Love Letters
The history of love letters may date back to the Age of Chivalry and the early Renaissance period. Historians and modern writers alike have compiled lists of some of the most famous love letters of all time.
Renowned composer Ludwig van Beethoven drafted one of the most exquisite love letters to a mystery woman he referred to as "Immortal Beloved." Hopeless romantics and "Sex and the City" film fans will always cherish when Carrie and Big finally tie the knot at the courthouse and Big whispers Beethoven's iconic closing words in her ear, "Ever thine. Ever Mine. Ever Ours." Sniff.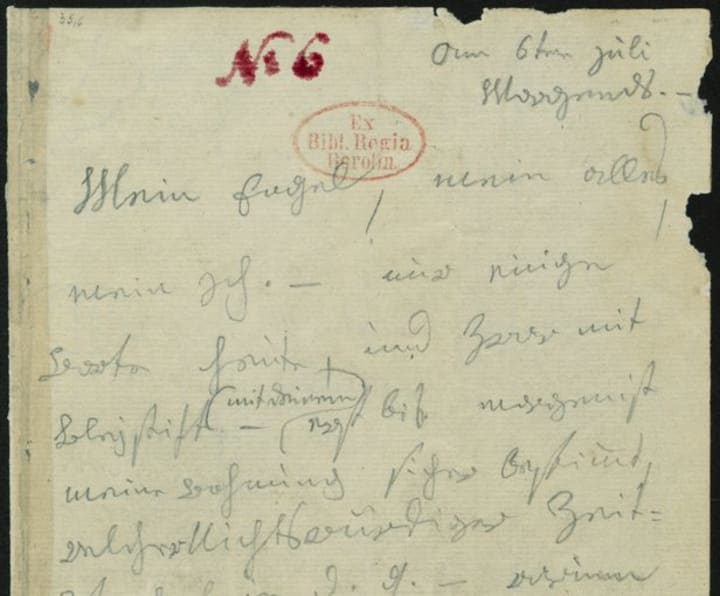 Some more of my favorite romantic movies that feature unforgettable love letters are "Sleepless in Seattle," "Someone Great," "The Notebook," and "Me Before You." The latter two films are adapted from novels. Will's parting words to Clark are both heartbreaking and inspiring, as he charges her to "Live boldly, Clark. Push yourself. Don't settle." And later, "Just live well. Just live. I'll be walking beside you every step of the way. Love, Will"
I may not pen as eloquent a letter as some of the greats. But the nice thing about letters from the heart is that "great" doesn't matter. It's the intent of your message that counts.
Letters from friends and family are often the only thing that pull loved ones through separation via war, relocation, college, extended hospital stays, and anything that keeps people physically apart.
John Michael Montgomery wrote a song called "Letters From Home" that explains just how much receiving letters mean to our soldiers, who serve and protect our country so far from their families. Letters and packages are something they can hold that make them feel closer to home.
My mom always picked out and signed all the cards for her and my dad – "Love Mom & Dad xoxo." When they came to visit me while I lived away from home, my mom always left a parting thank you note. Her pretty, familiar penmanship and the love pouring out of those simple notes meant everything to me while we lived apart especially after my son, Isaac, was born.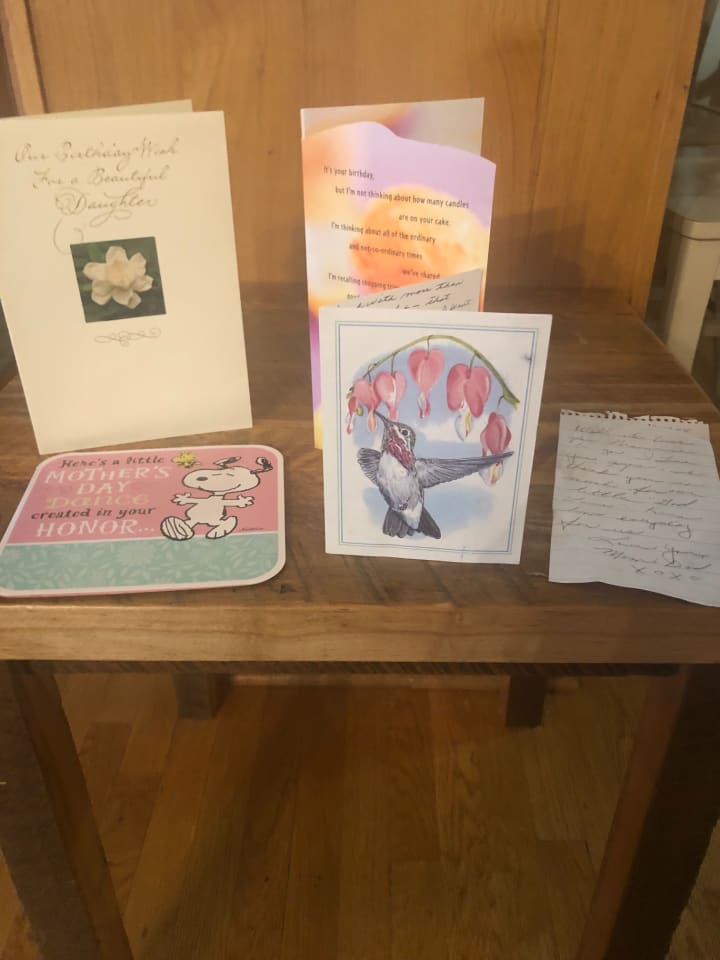 Now that I'm a mother myself, I cherish every card or note my son ever gave me – from his first shaky childhood letters to his hurried teenage scrawl. Reading anything he wrote or signed for me sets my heart bubbling over with love.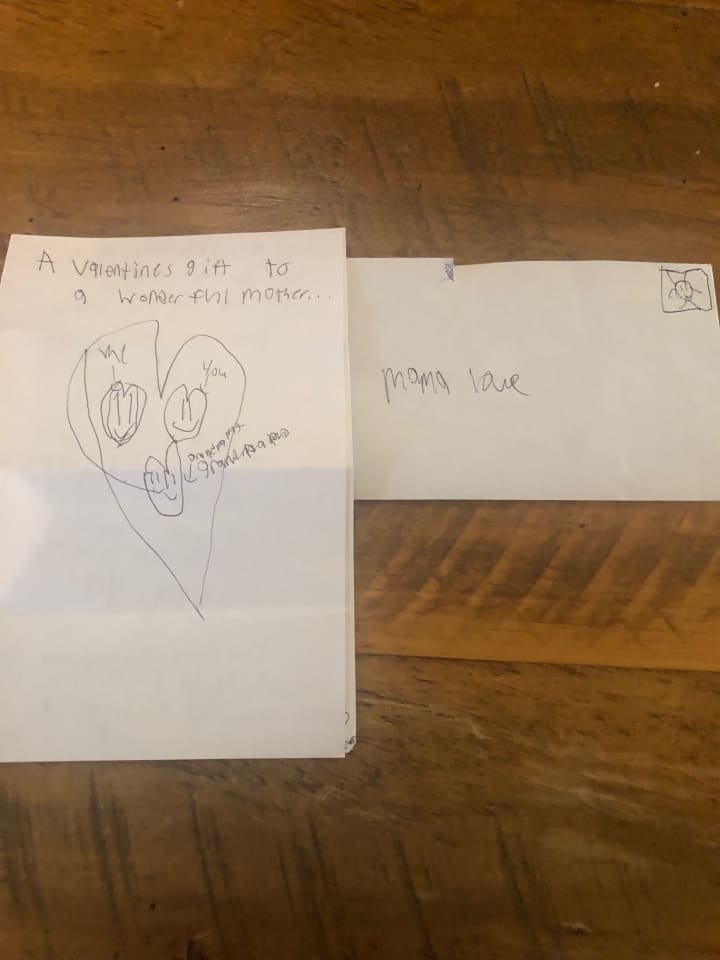 I write gushy Post-It notes to put in my son's lunch or backpack. I go for upbeat, motivational messages like "You Rock!" or sentimental ones like "You are My True Miracle" and "I'll Love You Longer Than Infinity." Someday when I'm gone, I hope he'll remember that I took a few minutes on hectic school mornings to remind him how much I love him.
Cards, Letters, and Poems and The Art of Gifting Words
I love to create my own card verses and write love letters and poetry to my friends.
Some of my absolute favorites include a marble collage bearing a poem I wrote to thank my amazing friend Gilles Marini, for gifting me with his "Dancing with the Stars" tango shoes. I wanted to do something special in return. His kindness, friendship, and generosity changed my life.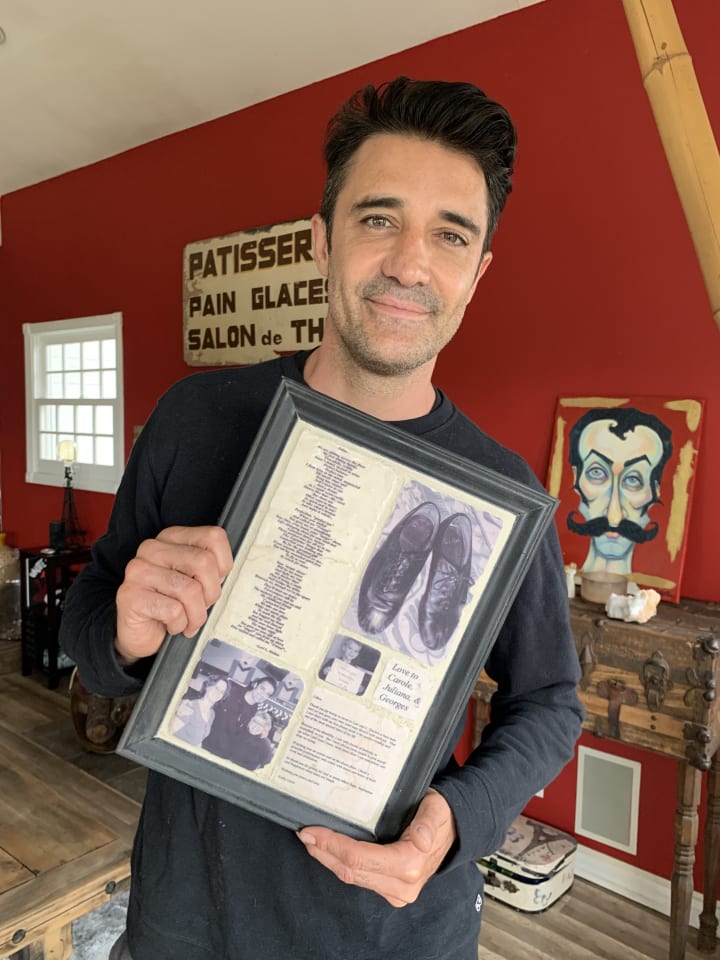 On a separate occasion, I gave Gilles an original coffee table style book called "Love Letters" which contains messages of love from a special group of women who supported his life-changing DWTS journey and his subsequent role as Luc Laurent on "Brothers and Sisters."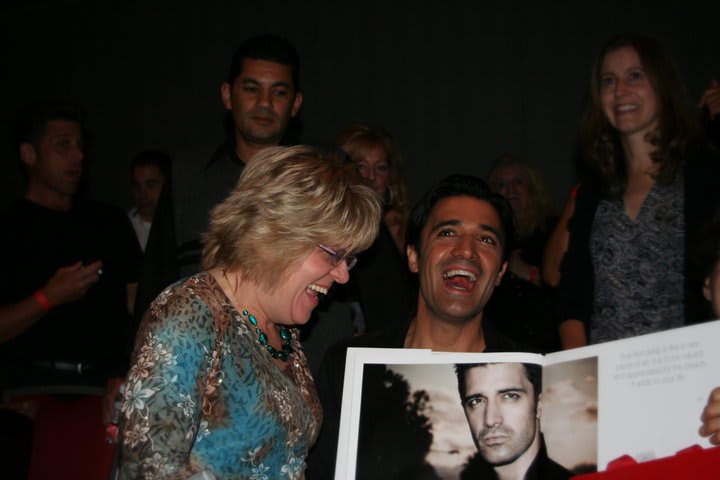 Gilles grew up in France and has a beautiful French accent. So, the book contains scattered French phrases. I wrote him another poem called "Life's Dance" along with a script-style scene about a troubled woman who is comforted by an angel that gives her a pair of magic shoes.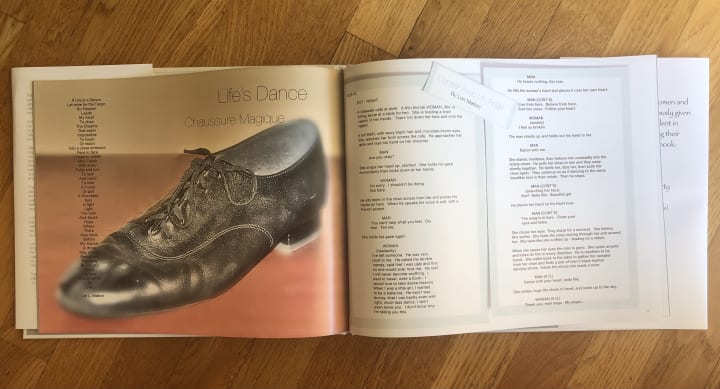 I've written poems for my mom and dad from Isaac: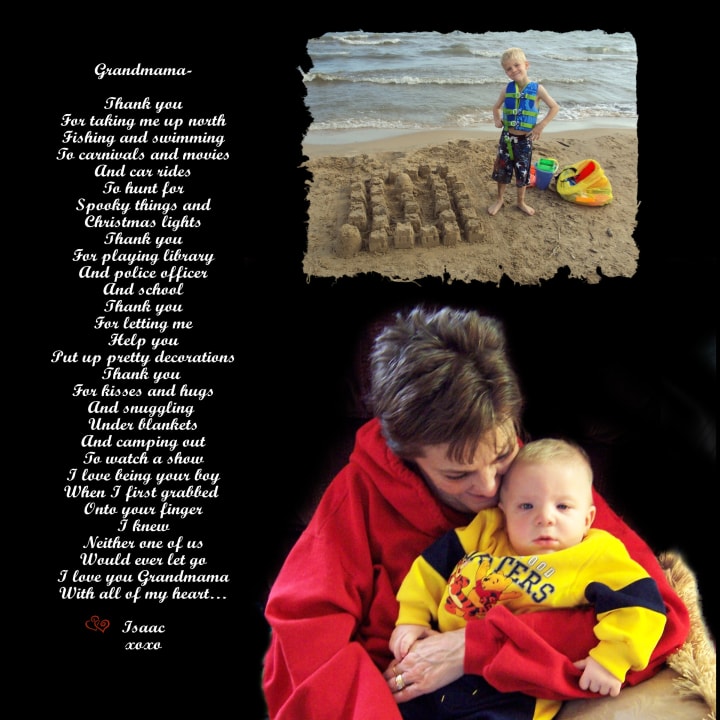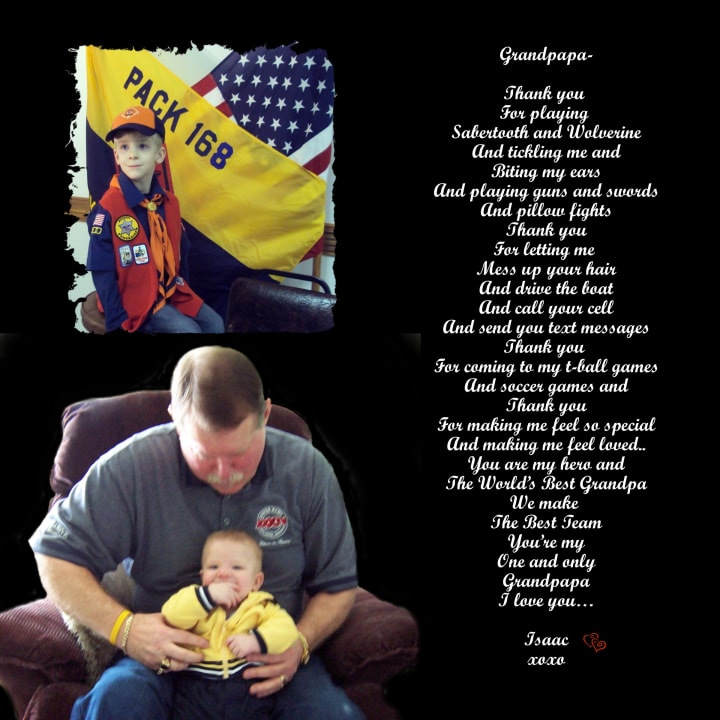 I'm so blessed to have friends who are my "family."
Debra and I have been friends our entire lives. Our mothers met when they were four and two (and they're still friends!) and our grandmas were neighbors. We were destined to form a deep bond. She's a true sister of my heart.
Deb and her husband Bryan are childhood sweethearts that started dating in ninth grade and are still madly in love after 37 years of marriage. Their love story is so inspiring to everyone who knows them. I framed a letter for them for Christmas to try to convey what they mean to me.
Favorite word-bearing gifts that I've received are a handprint Mother's Day poem from my son Isaac when he was in kindergarten. It sits on top of my great grandma's dresser next to a framed letter from my lifelong friend Kathy.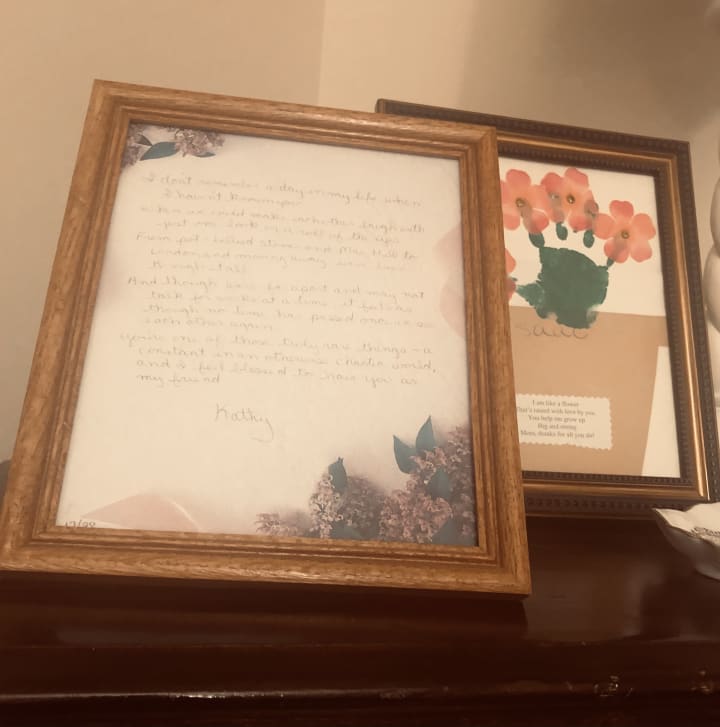 The letter arrived on Christmas Eve when I lived in Tennessee and couldn't get home for the holiday. The sweet surprise and loving words were a true Hallmark Christmas miracle!
Debra and I frequently joke about the thousands- if not millions – of phone calls we've made to each other across many miles, and multiple decades. We share a tattoo to honor our enduring friendship, carried out over the phone when we couldn't get together. She surprised me with an embroidered plaque of our tattoo.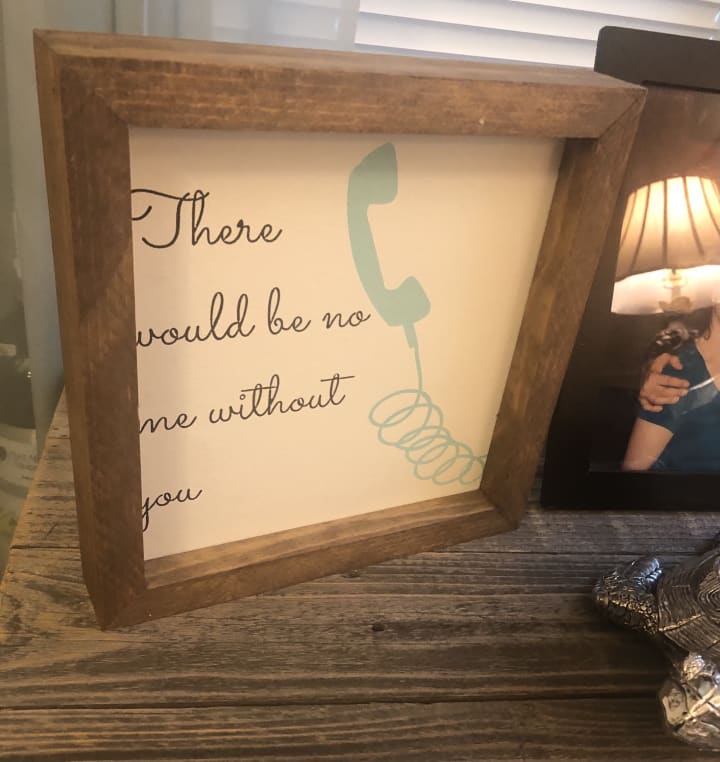 My amazing, talented friend Valerie wrote a story of my life for a milestone birthday present. It detailed our many adventures, and times I have shared with my son.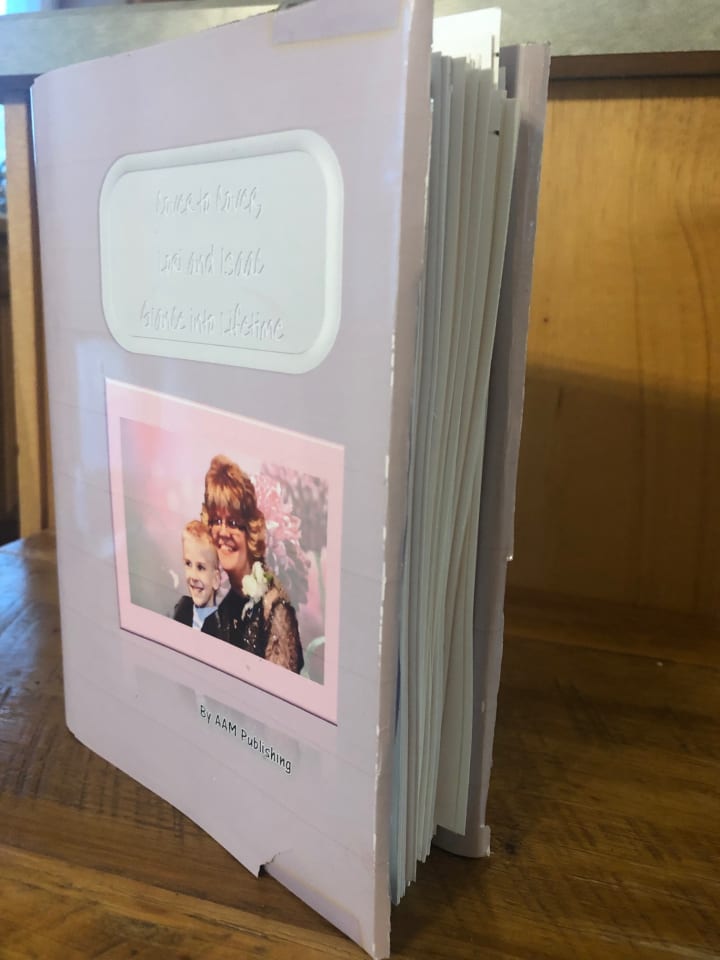 I'm a diehard "Gleek." I can't believe I won a contest to walk the red carpet and attend a charity event at the Golden Globes ballroom with Darren Criss and Chord Overstreet who played Blaine and Sam on "Glee."
In a surreal, bucket list moment, I met "Glee" creator Ryan Murphy, one of my writing role models – and his husband, David Miller, who co-chaired the event. Ryan's inclusion of persons with disabilities on television and in film is unparalleled. His creative drive and seemingly limitless imagination are awe-inspiring.
Ryan gave me an autographed copy of the series finale of "Glee," six weeks before the show aired. David gave me a handwritten welcome note and an "American Horror Story: Freak Show" hoodie with Ryan's name embroidered on the sleeve.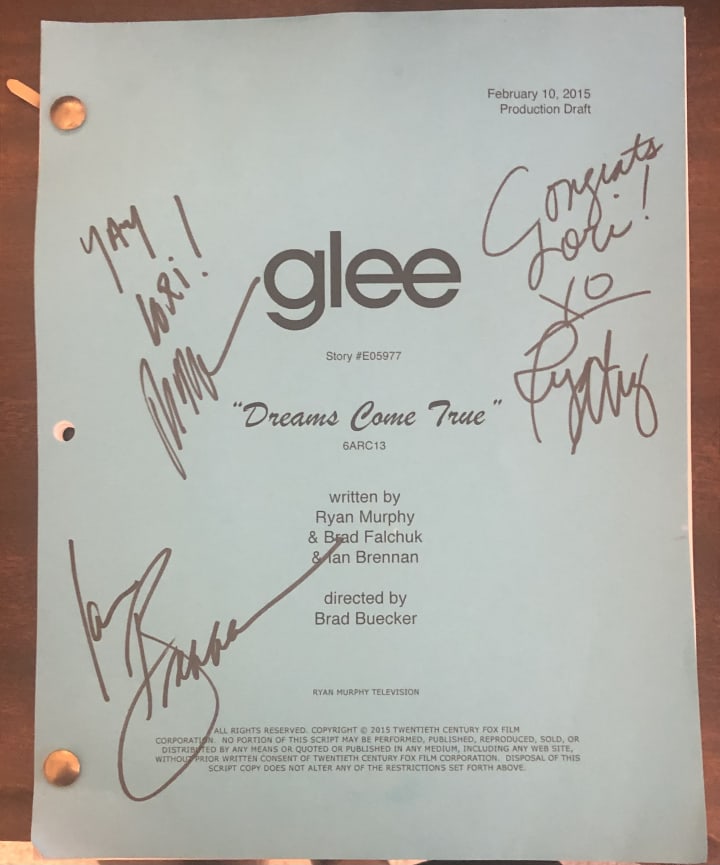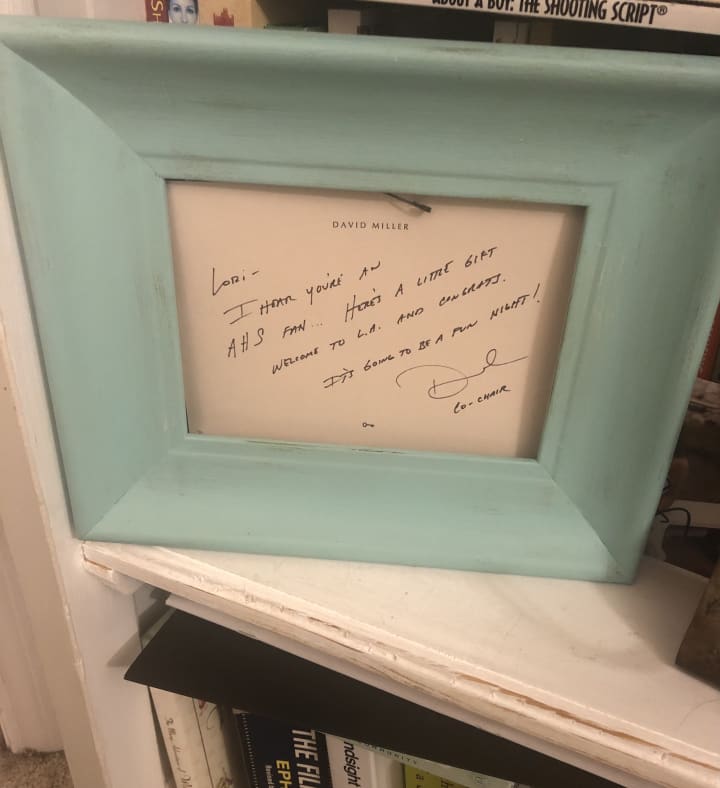 Ryan Murphy, Brad Falchuk, and Ian Brennan co-wrote the final "Glee" script – and they all signed it for me. It remains one of my most prized possessions and I'll always feel like I never adequately thanked them.
My mom was very sick and in the hospital the day I found out I won the "Glee" contest. I remember asking my dad, in tears, whether or not I should go. He encouraged me to go. He said everything would be fine. I believed him.
I was gone two whirlwind, dreamlike days and returned. Thankfully, my dad was right. My mom was okay. I miss asking my dad what to do – and I miss the way he always stayed calm in a crisis.
The last gift I gave him was a plaque that says, "I love that you're my dad." I keep it on a console table in my room with a photo of him kissing me when I was six. It was Fourth of July. I wore a red beaded ring my mama made me. It was a wonderful, laughter-filled day.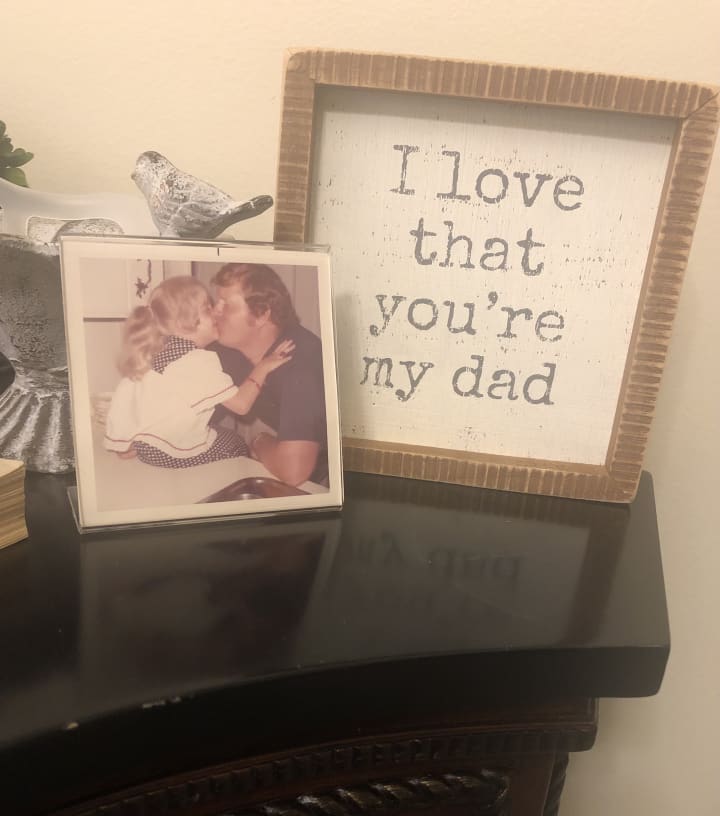 Childhood years fly by so fast. I was blessed to have my dad for 46 of my summers. My mom only had her dad for 12. Now, my own son is going to be a senior in high school this fall.
One thing I've learned through happy and sad times is that the words we share matter. And the love, kindness, and encouragement we express to others in cards, letters, and poems, are keepsakes more precious than diamonds or gold.
Words live in our hearts until we speak them aloud or write them down and give them away. In sharing our words, we are sharing our hearts. We should always choose kind words – and words filled with love.