Upended Tables, Forgotten Buns
Just a Little Chaos
The Sweeney family Holiday get-togethers are epically chaotic, full of love, laughter, and quirky family madness. The full-on holiday traditions ended when my mother passed away. Still, when parts of us manage to gather, we remember and continue the chaos. I know she's laughing with us.
As a married adult, moving frequently and living a reasonably quiet life, going home for the holidays seemed overwhelming at times. It was especially so when I brought my baby daughter home and then, four years later, my son. EVERYONE remotely connected to us dropped by to see the babies. It was wonderful and tiring at the same time. I don't know how my mother managed it all.
After one hectic holiday, I gave my mother a little plaque with a cute little mouse family all dressed in fancy holiday attire. It said, "Be it ever so chaotic; there's no place like home!" I'm not sure she really liked it, but she hung it in her kitchen.
Christmas at home was a joyful cacophony of sound and movement. Family photos usually resulted in some injury, an elbow in the eye, or a joint out of place. But we got the shot done, perhaps with a silly grin or closed eyes, but the moment was captured. Of course, holidays were centered around the family meal. I still don't understand how my mother flawlessly cooked for the large group. Everything was always perfect. Except for when my mother leaped up halfway through the meal, horrified that she had forgotten the cabbage salad or the rolls. We all would laugh because it was a reoccurring holiday tradition; in fact, we placed bets on which it would be, buns or salad.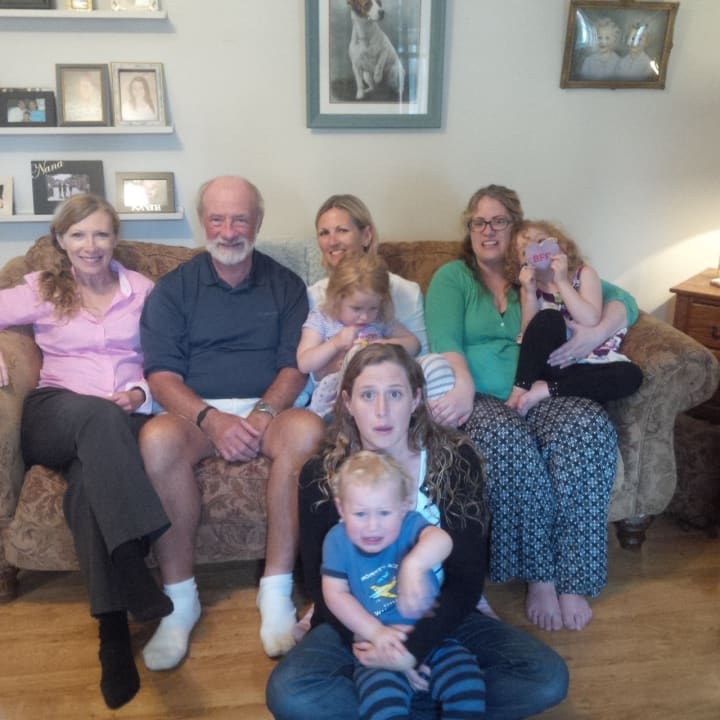 We stuck with the classic holiday traditions like Christmas crackers. We had the cheesy toys and the paper crowns that must be worn. The combo of a plastic mustache and the crown made for a somewhat awkward photo of my dad. We also added new elements to our holiday requirements, like the addition of an ice crusher. My poor mother valiantly tried to clean up the kitchen while listening to the constant grinding of the crusher we needed for refills of green crème de menthe on ice.
I never quite achieved my mother's saintly status in delivering a predictable and perfect turkey dinner. Although I inherited the forget at least one thing gene. It's usually the dinner rolls, salad, or my stepdaughter Elyse's entire vegetarian entrée every single time!
However, I have started the new holiday tradition of 'The Upending of the Dinner Table.' Yes, Siree Bob, and I passed it on to my daughter too!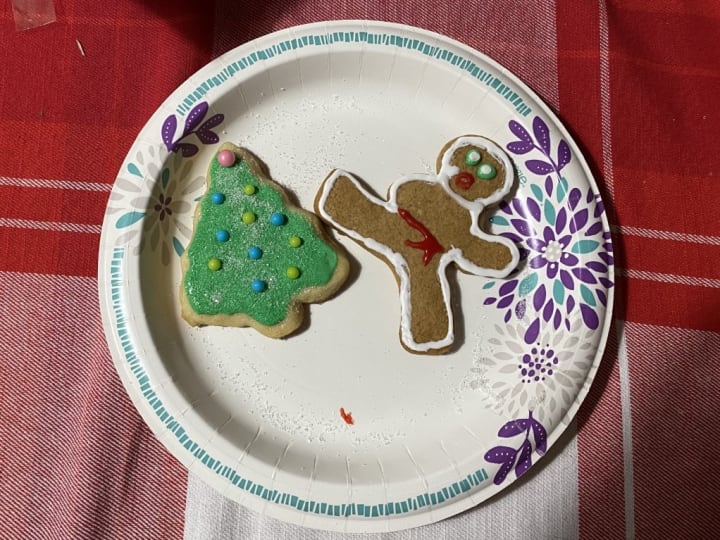 My daughter, Tiffany, and my grandson, Austin, came from Florida to visit. We were living in our travel trailer at an RV park in Ontario, Canada. Tiffany and I labored in the tiny kitchen and made a full-on turkey dinner with all the trimmings. We had unexpected company drop by for dinner, so we set up outside and used a small folding table for the buffet. I forgot the dinner rolls, so I went in to get them while everyone filled their dinner plates.
My folding rocking chair was set up for me at the head of the table, with the buffet behind me. My chair wasn't correctly engaged when I sat down. It expanded and knocked into the buffet table, tipping everything topsy turvy onto the gravel driveway. I felt like crying, everyone stared with wide eyes, but eventually, someone blurted out, "So, I'm guessing no second helpings?"
I looked around, and everyone had full plates, at least. My daughter and I scrambled to see what wasn't completely upturned and wiped the outside of the dishes. As we did this, one of the unexpected guests picked up a turkey leg, brushed it off, and put it on his plate; despite the chorus of eww, don't eat that, he ignored us and enjoyed his turkey leg. Tiffany and I quickly gathered the rest of the turkey and put it in a trash bag. Fortunately, there was leftover turkey, gravy, potatoes, and cranberries inside the trailer, so no one went home hungry.
We all gathered at my daughter's house for Christmas 2019 in West Palm, Florida. A joyous reunion with my son, Alex, his wife, Lisa, and their two daughters, five-year-old Emily and Blaire, who was turning two in a month. They drove up from Miami, where they lived at that time. We were staying close by in the Safari Park campground. Mike brought his deep fryer for the turkey.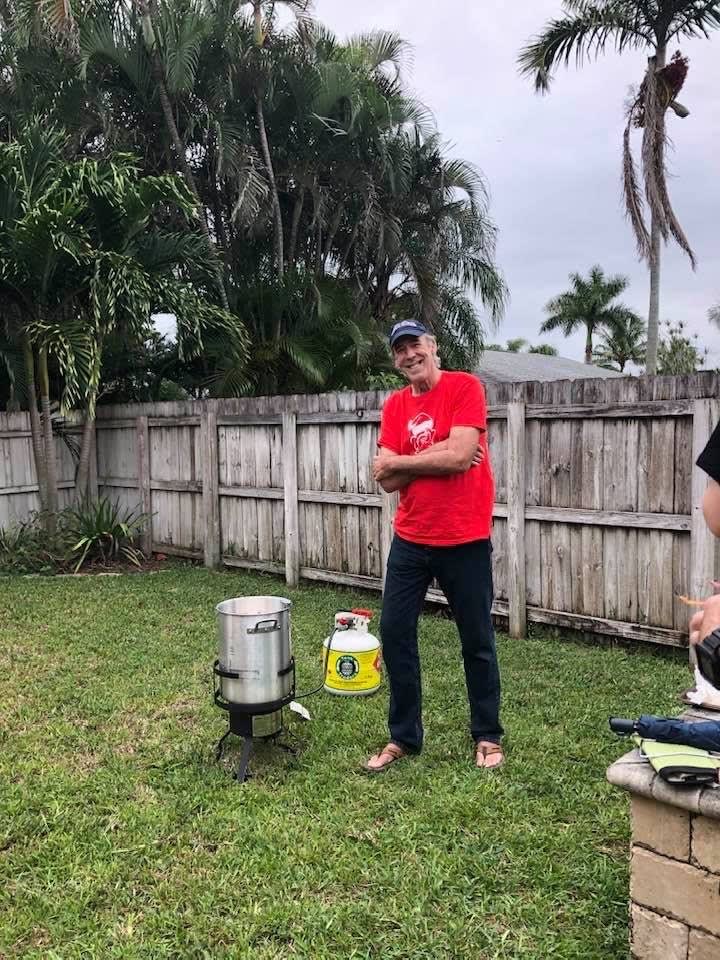 With some trepidation, the group allowed Mike to deep fry the turkey. After all, Scot was a fireman with an extinguisher at the ready. The water displacement test was done, the fryer and turkey were carefully dried and the oil was heated. The turkey was inserted successfully. We were all questioning the wisdom of Mike deep frying a turkey while wearing flip-flops, but no one was harmed, except perhaps the patch of grass under the fryer.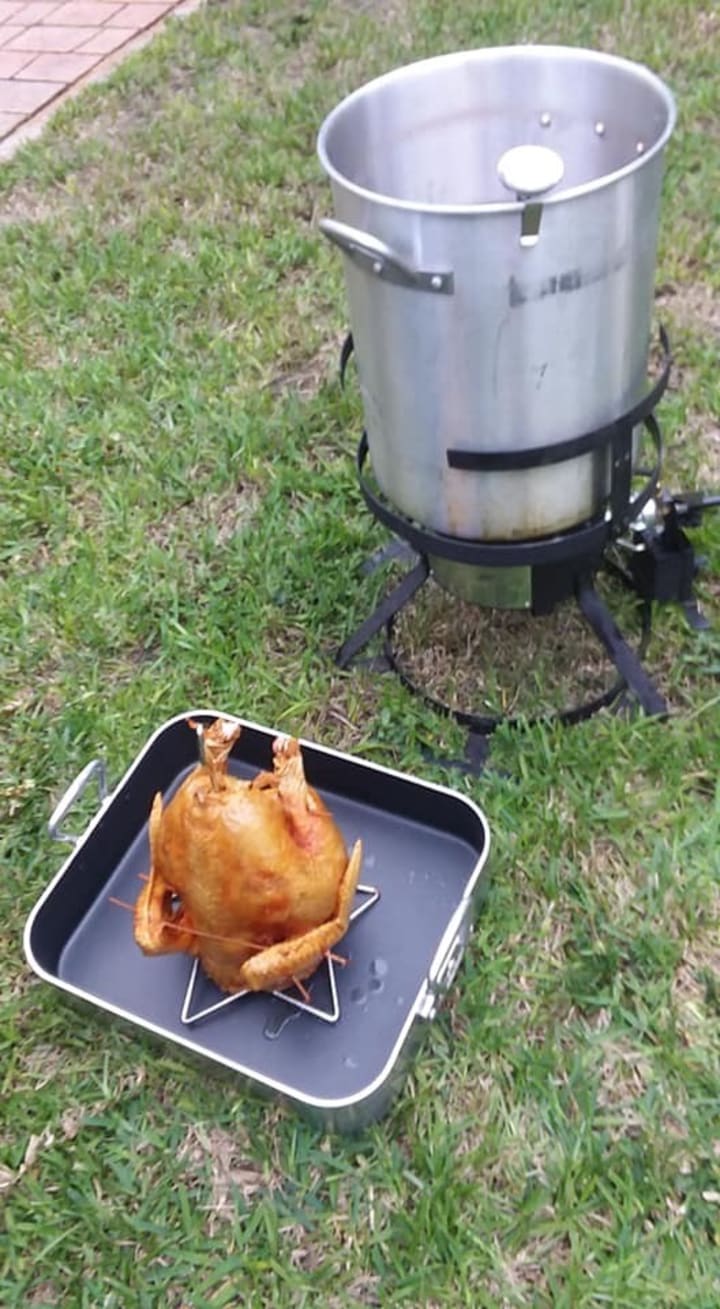 Everything was perfect, family, a turkey dinner; what was missing? Oh yes, remember to take the prerequisite picture! Wait, the image wasn't quite right. Tiffany was taking it, so she was not in the picture. That needed to be remedied. However, in the process of taking the perfect family Christmas dinner photo, a table leg got kicked out from the extended table and created a giant sloping slide of dinner plates cascading down, mostly into Alex's lap. Mike somehow managed to catch the table from completely collapsing, and I had my side resting on my knees. Alex was covered in everyone's gravy, cranberries, mashed potatoes, and turkey slices. He got up and walked toward the powder room to clean himself up, leaving a trail of squished food and gravy behind him. After the immediate chorus of OMGs, there was a stunned silence. Until we heard a tiny voice that could have been Cindy Lou Who's but was, in fact, little Blaire's, who barely spoke.
"Oh, Oh, Mike!" she exclaimed.
Everyone stopped and stared at Blaire and then erupted into laughter. Mike was stunned, he didn't know Blaire even knew his name, and now it seemed she was pinning the entire chaos on him. I guess in the eyes of an almost two-year-old, the blame goes to the one left holding the table.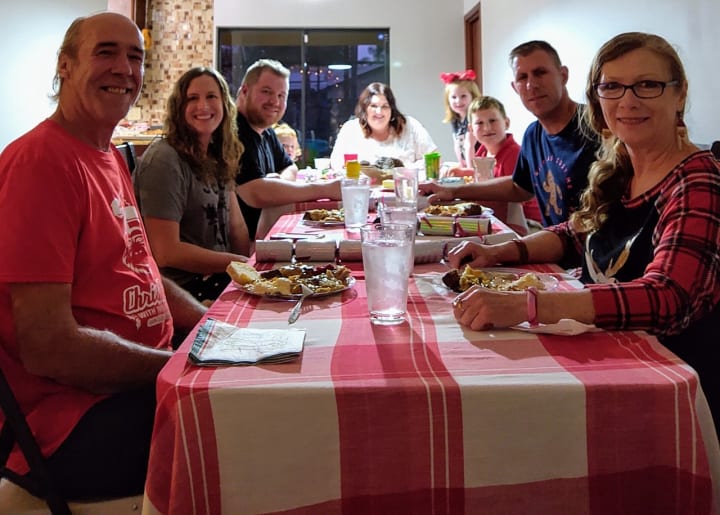 That was our last Christmas together. My son moved to Virginia, we moved to southwest Ontario, and the pandemic forced us to skip gathering. I hope we can all gather again soon. I miss everyone and everything about our holidays together. The more, the merrier. I wish my home could be as filled with as much chaos as my mother's home was.
About the Creator
Mary Haynes splits her time between a romantic old sailboat in tropical waters and a beach home in Ontario. A wanderer, by fate, she embraces wherever she roams! Mary recently completed her first children's book, "Who Ate My Peppers?"
Reader insights
Be the first to share your insights about this piece.
Add your insights