Unveiling the Intrigue: Part 3
The Real reason Jeezy and Jeannie are getting Divorced!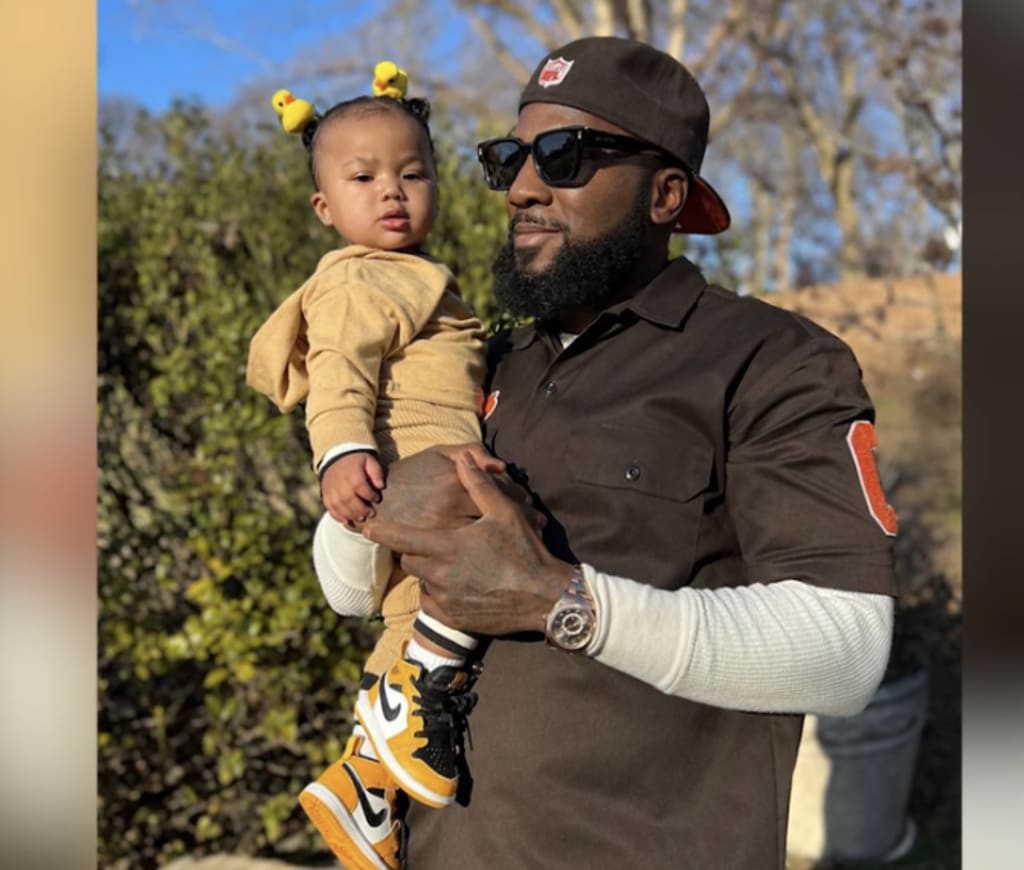 Jeezy seen with daughter he shares with Jeannie Mai
Once upon a time, in a love story written in the stars, Jeezy and Jeannie Mai embarked on a romantic journey that captured the hearts of many. However, as with any tale, this story had its fair share of twists and turns that eventually led the couple to a heartbreaking end.
In September 2023, Jeezy filed for divorce, declaring that his marriage to Jeannie Mai was irreparably broken. The news sent shockwaves through fan spaces, especially since the couple had spent the past few years proudly showcasing their love story to the world. Their union began during the height of the COVID-19 pandemic in 2021 with a scaled-down ceremony at Jeezy's magnificent Atlanta Mansion. The wedding beautifully highlighted their late mothers and honored both Jeezy's heritage and Jeannie's Vietnamese ancestry.
However, behind the glamorous facade, their relationship was burdened by a multitude of red flags. Despite appearing as a perfect match, Jeezy and Jeannie encountered several significant hurdles throughout their marriage. A source close to the couple revealed that they had differing views and felt their needs were not fully met. Although the source did not specify the exact points of conflict, it was hinted that it may have been related to clashing family expectations.
Jeannie herself once shared a story on The Real, a television talk show, about a challenging moment in their marriage. It revolved around her mother's persistent presence in their home. Feeling uncomfortable with her mother wanting an extended stay during Jeannie's pregnancy, the couple found themselves grappling with the issue. Jeannie expressed how she and Jeezy eventually had to set boundaries with her mother, which was undoubtedly a challenging task.
In a twist of fate, leading back to a fateful encounter with a palm reader in 2022, some have theorized that the couple's divorce was influenced by the universe itself. Before giving birth to their daughter, Jeannie sought guidance from a palm reader. Inquiring about her previous marriage and the possibility of another, she received a shocking response. The medium proclaimed that there was a 95% likelihood of a second marriage, leaving Jeannie with a choice to determine if she wanted to exceed those odds.
Social media, always eager to add fuel to the fire, seized upon this revelation as a sign that their marriage was doomed. Fans speculated that the palm reader's prolonged pause reflected his attempt to find the right words to reveal their impending separation. Another incident that social media wouldn't let Jeannie forget was her racially insensitive comments about dating versus marrying black men in 2014. Although she attempted to clarify her statements, the internet never allowed her to live it down.
However, in a heartwarming twist of events, Jeezy revealed in 2020 that he had discussed the controversial comments with Jeannie before they became a couple. He reassured the world that he had never felt a sense of racism from her and that he understood her words were taken out of context. Despite Jeezy's efforts to defend Jeannie's character, Twitter users continued to bring up the interview after their divorce announcement. While social media alone may not have been potent enough to ruin a marriage, it is plausible that the constant reminders played a role in the tension that eventually strained their bond.
As the final chapter of their love story reached its conclusion, Jeezy and Jeannie confirmed what many had suspected all along. Their fairytale romance had come to an end, leaving behind a trail of broken hearts and shattered dreams. While their story echoed that of countless couples who encountered obstacles along their journey, it also highlighted the power of perception and the impact of external forces on relationships. In the end, whether it was written in the stars or haunted by past interviews, Jeezy and Jeannie's love story ultimately faced an untimely demise, forever etching their names in the annals of celebrity history.
About the Creator
As a dedicated professional with a passion for Writing , I have always strived for excellence in everything I do. I am beyond grateful for this incredible opportunity, which will allow me to contribute skills.
Reader insights
Be the first to share your insights about this piece.
Add your insights