This Marriage Thing
Was I really ready for marriage?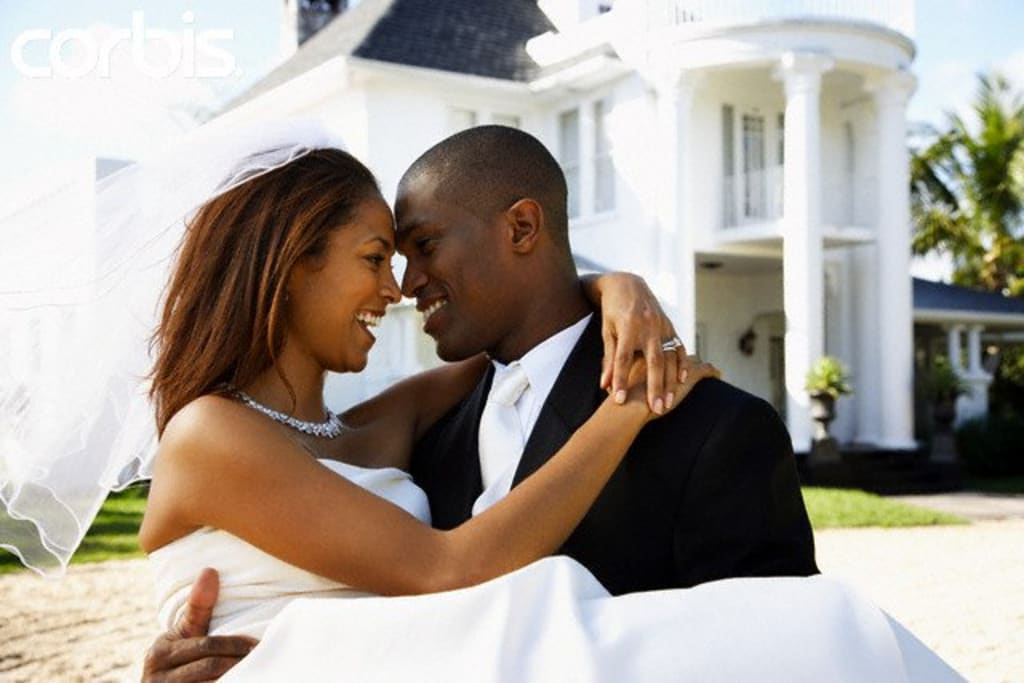 This is not my actual wedding picture.
My husband and I hit that five-year mark just last month. How does it feel you ask? I wish I had a clear answer. They say that if you can make it through the first five years than the marriage has a better chance of lasting, I cannot say that I wholeheartedly agree with that statement.
I was never the girl that dreamed of getting married, I never ever had a vision of me walking down the aisle, not even the day before. I never saw myself in a long-term relationship. I am still wondering how I got here and this far to be completely honest. I question if I love him all the time or am I just used to being with him.
If we did not have kids, I do not believe we would have lasted as long as we have, I say that because leaving would have been so much easier to do if we did not have kids. There are good days and there are bad days, like any other relationship. The difference is we made vows that we were to love each other through the bad days, that we would work things out, and everything would be alright. Honestly, I thought it would be easier because we both loved each other. We had already been together for two years before we got married, but things changed the very day we said I do.
It was as though when he said I do he could finally exhale and stop being the man he was those two years we were boyfriend and girlfriend. He felt like his work was done and he had me now so he didn't have to put in the effort to keep me. I know because he told me that. Me, thinking he was kidding, overlooked it. Shortly thereafter though, I started to realized that he wasn't kidding. He meant every word.
He stopped calling every day on his lunch break, he stopped wanting to actually spend every day of every second with me. He stopped telling me his feelings, his dreams, after a while the only time we conversed was if we were going over bills, discussing the kids, or his day at work. He no longer seemed supportive, things had started to become his way or no way. It was as though one day he woke up and realized every single one of my flaws and he was starting to regret all of this. This was simply how I began to feel because I wasn't expecting for him to all of a sudden become so cold.
I could have sworn I knew everything about him, we had literally lived to together since we had got serious. So very early into our marriage I started looking for affection and attention in other places and people. I joined a few dating sites and I was a hit there. I met guys who obviously just wanted to hook up and some who were actually looking for someone to meet and just see what happens. I was always honest about being married and having kids, some guys immediately stopped all forms of communication and some just really did not care.
This is when I met …hmmm… I will call him Don. Don was older than me by a year and so very sexy. He was a sweet talker too and he had the idea that my husband was surely doing something wrong if I was carrying on with him. Of course, I would talk to Don about my loneliness and things that I felt I could never talk about with my husband. Either A) I would bore him, or B) I was scared of how he would react to me expressing my feelings. Yet Don, he just seemed to get me. Eventually, the hubby found out. Went through my phone and found the text messages. He asked me about it and of course I lied, and the crazy thing is I didn't feel guilty about it. I had actually convinced myself that I was going to leave my husband for this new guy and we were going to live happily ever after. I was so young and dumb, but then Don started to show his real colors.
One day, I had gone the entire day without texting him, and he blew up, called me every name in the book but the child of God, or my own name that I was given at birth. Now my husband was not perfect, but he had never once called names and degraded me that way. At that very moment it was like a tornado swept over my soul and all that guilt began to really sink in. I had to come forward and let my husband know what happened…….
(To be continued)