The Benefits of Utilizing Music for Family Bonding
How to Use Music to Connect with Your Children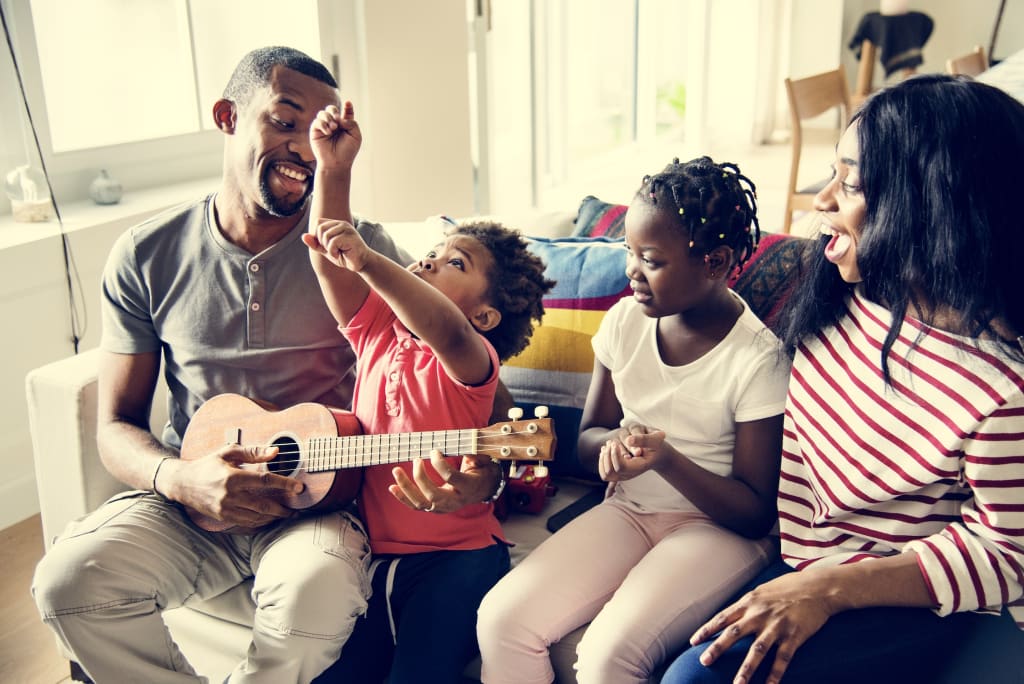 In our technology-ridden world, it's harder for families to go through life without some sort of electronic device involved. Many families are beginning to seek out bonding time away from all of the technology, and create fun and involved memories to establish a stronger relationship with one another. One of the best ways to do this is through the use of music. Music has numerous benefits when utilized during family time. It can strengthen relationships, create better social skills and elevate moods.
Introducing music establishes the bond.
Introducing your child to music that you love breaks down the wall of authority, and allows for a bond to form that ignores any social hierarchy. Oftentimes, a taste in music is one of the first things in a child's life that they can truly have in common with their parent. Most adults like to show their child a piece of music that has meaning for them, as a way of opening up. Kids often see their parents as "larger than life," but when a parent explains an emotional connection they have to a song, it humanizes them, usually for the first time. A great example of this is shown in a recent Amazon Echo TV commercial, where a little girl's father shows her his favorite song and it plays throughout the years of her life, comforting her during big, emotional moments. Sharing music creates common ground, and builds a sense of legacy that parents can leave with their children.
Music bonds your children to an artform.
Referencing that same Amazon commercial, it's interesting to note what happens after the father introduces the song; the daughter then takes up guitar lessons and learns to play it. The universal bond created by listening to songs together can provide support as your child begins to explore the art of music. If you sing and play along to records with your child from a young age, they will associate feelings of comfort, love, and bonding with music in general. Seek out a musical outlet, like vocal lessons for kids, or instrumental lessons that you can even take along with your child, to allow them to explore this new area of interest. As they learn to master a craft and eventually perform their music, they'll overcome fears and learn new skills, all while recalling where their love of music stemmed from—your bond at home.
Music enhances social skills and moods.
Through music and the areas of the brain it stimulates, we actually learn empathy. There is a scientific term for it—called "theory of mind"—which helps us develop the receptors to identify what others might be thinking, in order to react appropriately.
Do you remember a specific lullaby or nursery rhyme that was sung to you by your mother or father? And maybe you sing it to your own children now?
Through communication and emotional associations with music when it is shared or passed down, children develop a sense of belonging, which increases their loyalty and feelings of safety within their family. In the same fashion, when growing up, kids tend to link to others who favor the same types of music styles and genres, as though their music tastes hold certain values or affiliations. This demonstrates how music has a deeper meaning to people than just entertainment; that it strengthens how we establish relationships with others. It almost acts as the glue that binds people together. So, what better way to create a bond and strengthen associations within your family?
Music has also been shown to boost oxytocin levels within the brain, which heightens our sense of trust and favorability toward others. Additionally, it has the ability to relax and sooth. Just like a mother will use song to soothe her baby, families can use music to soothe one another, offering an oxytocin boost and a sense of safety.
Music allows expression and exercise.
When bonding with family, using music, parents can also show their children how to express themselves. Consider (especially with younger kids) having a dance party, where your children can freely move about to the music. Throwing cares away, without distraction or judgment, you can just enjoy the moment, have fun together, and create memories to cherish. Expressing themselves this way can also help children relieve the tension and stress of the day without any worries—a service that most parents seek to provide for their families.
Being able to dance and sing together burns calories and releases endorphins—and parents can also enjoy the added bonus of letting their children release energy (especially if before bedtime) as their children move to the music. A small dance party or jam session can lift the mood of an entire household!
Music teaches children how to talk and read.
Music lyrics are beneficial if you have young children who are just learning how to talk or read. Lyrics will teach kids different words, and being able to identify them, and the story behind a song gives them a great bonus 'lesson' in comprehension. Since most songs have rhymes or lyrical patterns, they are fun for children to learn how to say or read. Learning the words of a song together also boosts creativity. Encourage your children to come up with their own words to a song. If they find that they are clever with rhymes too, it becomes a fun game for the whole family to enjoy together.
Music is the perfect bonding tool.
These are a few of the many ways that music impacts a child's life and the benefits that come from it. Have your children put down their phones, tablets, and computers. Turn off the TV, and get out a guitar or piano. Take some time tonight to start enhancing your children's musical tastes, as you help with their development and elevate the mood of your entire household!

Donna Maurer
Donna is a hustling freelance writer who spends her time writing about everything from the music industry to the latest beauty and wellness trends. She contributes to numerous blogs and enjoys sharing insights from her own life experiences.
See all posts by Donna Maurer →
Staying at home each & every day to be there with your children as they learn and grow sounds absolutely amazing in hindsight, right? Absolutely! Who wouldn't think that it's just living the dream?! But what the world fails to disclose is the truth behind being a stay at home mom..

11/18/2020 So, grandma (81 this year) has been up my ass about keeping a journal of everything that is going on right now so here goes. Amelia is 9 and in 4th grade, Raynen is 5 and is in kindergarten and Rj is 3 and is home with me. We live in fort lee right now and my husband, Bobby (30 this year) has just had his 3rd spine surgery and now awaiting the promotion board (he is in the army) and finding out when we will be moving. I am 26 credits away from my BA in history. The coronavirus pandemic has been a pain in the ass and the 2020 presidential election was a complete dumpster fire. Yay 2020 and the best part was carol baskin and the memes from that world.

It was early October, and it was finally time for my long-awaited moose hunt. I had waited ever since I was a little girl for this opportunity, and it was finally here. So, my father, the one that looks after me, and I packed up our stuff and left our city in Alaska. We were heading to a place called Bethel, AK. After a six-hour long drive, we made it to our hunting unit. It did not feel like home to us but it was warm and cozy, like my bed at home.

As your parents age, you're probably spending more and more time caring for them. Even if they're still in good health, you may need to help them live a healthy lifestyle. Your parents may need help with everything from their health insurance to their diet. To avoid caregiver stress, taking care of yourself is also essential.

Staying home, reducing stress, and taking care of ourselves, both mind and body are more important than ever. That's why from beauty and personal care to everyday essentials and home cleaning – we've got you covered. "Avon"

Growing up, I loved the Wizard of Oz. There was something magical and timeless about the Yellow Brick Road and the passion of Dorothy to find her way home, Scarecrow to find his brain, Tin Man to find his heart, and the Lion to find his courage. All to find out that the man behind the curtain was just a man, whose hope and wisdom fulfilled all desires by encouraging everyone by exploring their own virtues.