Are Prenatal Vitamins Really Important?
And Can They Actually Make A Difference In Your Health?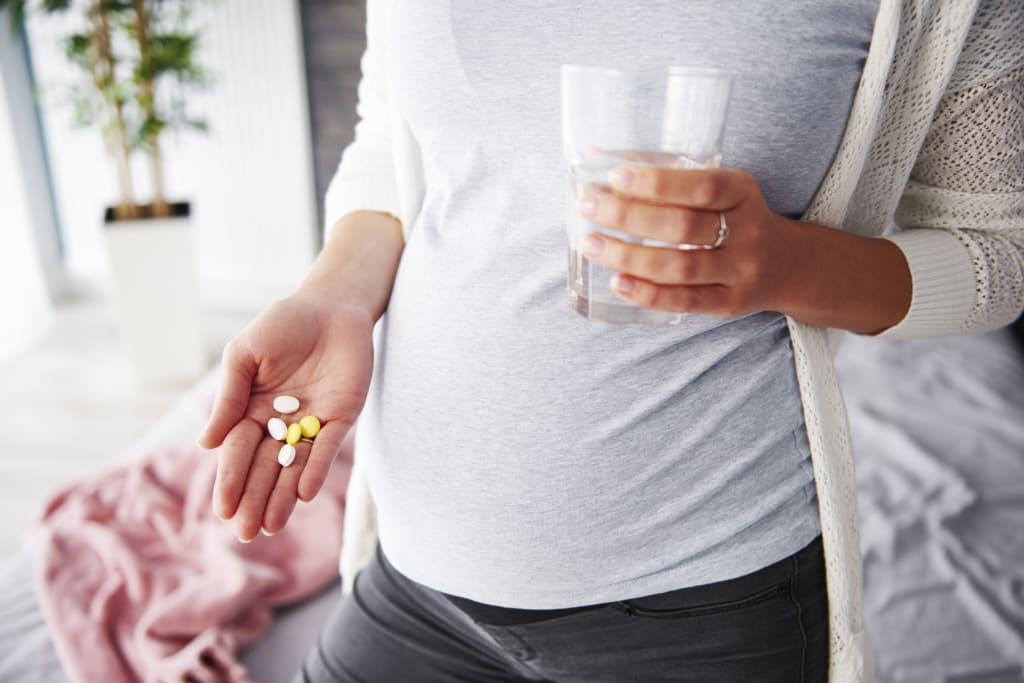 If you are pregnant or thinking about having a baby, it's only natural that you have a lot of questions about prenatal vitamins. Are prenatal vitamins really important? Aren't there enough vitamins and minerals in your food? How do you choose a good prenatal vitamin and what's the best way to take them? Every expectant mother wants to have a healthy pregnancy and a healthy baby, so let's dive into these questions one at a time so you can make informed decisions.
Are prenatal vitamins really important?
Absolutely! Prenatal vitamins are formulated with the unique needs of pregnancy in mind. They contain the essential nutrients your baby needs for healthy growth and development. Creating a new life is hard work, and your body's requirements for certain nutrients also increase significantly when you're pregnant. Of course, prenatal vitamins can't take the place of eating healthy meals, but they are essential for ensuring that you are meeting the nutritional needs of both yourself and your baby.
Can you get enough vitamins and minerals simply by eating healthy foods?
When you are pregnant, your needs for folate, iron, calcium and other nutrients are much greater than they during other stages of life. These nutrients are crucial for your baby's growth and development. Even if you do your best to eat a healthy diet, it can be very difficult to meet your increased nutritional needs every single day, especially if you're experiencing pregnancy-related nausea, cravings, and aversions to certain foods.
Those who have restricted diets, such as vegans or those with food sensitivities, will find it even more challenging to get enough key nutrients to support a healthy pregnancy. Certain health conditions and multiples pregnancy can also lead to an increased need for certain vitamins and minerals. Taking a high-quality prenatal vitamin every day ensures that you're getting enough of the most important nutrients.
When is the best time to start taking a prenatal vitamin?
If possible, you should start taking a high-quality prenatal vitamin supplement about three months before you begin trying to conceive. Folic acid and iron are extremely important for baby's development in the earliest stages of pregnancy, and most of us don't get enough of these nutrients in our daily diet.
Taking folic acid before you conceive and throughout early pregnancy is crucial for preventing birth defects in your developing baby. Folic acid is also important for the expectant mother, too, because it lowers the risk of developing preeclampsia, a condition related to high blood pressure during pregnancy.
In general, women have an increased need for iron at certain times of the month anyway, but your needs are even greater when you're pregnant. Choosing a daily prenatal vitamin that contains iron is essential for preventing iron-deficiency anemia during pregnancy, premature delivery, and low birth weight.
So, is it ever too late to start taking a prenatal vitamin? Definitely not! Even if you didn't plan ahead, you can start taking them as soon as you realize you're pregnant. Your healthcare professional may even recommend that you continue taking them while you're breastfeeding, too.
What other nutrients should you look for in your prenatal vitamin?
Of course, prenatal vitamins aren't all created the same. You'll want to read labels carefully and talk to your healthcare provider about your specific needs. In addition to iron and folic acid, here are some other key nutrients to look for:
Vitamin D: Vitamin D is a fat-soluble vitamin that you and your baby need for strong teeth and bones and a healthy immune system. Your body also needs it for maintaining optimum calcium levels. If you are deficient in vitamin D during your pregnancy, it may result in developmental delays and abnormal bone growth for your baby. You could also be at greater risk of developing preeclampsia or gestational diabetes.
Calcium: We all know that calcium is important for strong teeth bones, and that goes for your growing baby, too. It's also crucial for healthy nerves and muscles, and your needs are greatly increased during pregnancy.
Omega-3 Fatty Acids: EPA and DHA are two crucial omega-3 fatty acids to look for in your prenatal supplement. They are necessary for the proper development of your baby's brain, eyes, and nerves. If you don't include fatty fish or flaxseeds in your diet regularly, there's a good chance you're not getting enough of these nutrients.
What's the best way to take your prenatal vitamin?
In general, it's best to take your prenatal vitamin first thing in the morning along with your healthy breakfast. But sometimes that's easier said than done, especially if you're dealing with nausea or have difficulty swallowing pills.
When you're nauseous or can't swallow pills:
One of the worst things about traditional prenatal vitamins is that they tend to be really big. Many women find them hard to swallow, and if you're experiencing morning sickness, it's even worse. If this is an obstacle for you, you will love prenatal gummy vitamins for pregnancy like these! Not only do they taste and smell delicious, but you can chew them up instead of swallowing them.
When your vitamins make you feel nauseous:
Most women experience nausea during pregnancy, especially in the first two or three months. Sometimes, prenatal vitamins can make nausea worse. Usually, it's the iron in the supplement that's causing the problem. One way to get around this is to split up your vitamins and take them in smaller doses throughout the day with food to reduce that queasy feeling. If that doesn't seem to help, your doctor may allow you to switch to a prenatal vitamin without iron until your morning sickness subsides.
Wrap Up
Eating a variety of healthy foods and getting lots of sunshine and fresh air will go a long way toward ensuring a healthy baby and pregnancy. Rest and gentle exercise are also important. Taking a high-quality prenatal vitamin every day is like taking out an insurance policy to fill in any nutritional gaps in your diet.

Donna Maurer
Donna is a hustling freelance writer who spends her time writing about everything from the music industry to the latest beauty and wellness trends. She contributes to numerous blogs and enjoys sharing insights from her own life experiences.
See all posts by Donna Maurer →
Staying at home each & every day to be there with your children as they learn and grow sounds absolutely amazing in hindsight, right? Absolutely! Who wouldn't think that it's just living the dream?! But what the world fails to disclose is the truth behind being a stay at home mom..

11/18/2020 So, grandma (81 this year) has been up my ass about keeping a journal of everything that is going on right now so here goes. Amelia is 9 and in 4th grade, Raynen is 5 and is in kindergarten and Rj is 3 and is home with me. We live in fort lee right now and my husband, Bobby (30 this year) has just had his 3rd spine surgery and now awaiting the promotion board (he is in the army) and finding out when we will be moving. I am 26 credits away from my BA in history. The coronavirus pandemic has been a pain in the ass and the 2020 presidential election was a complete dumpster fire. Yay 2020 and the best part was carol baskin and the memes from that world.

It was early October, and it was finally time for my long-awaited moose hunt. I had waited ever since I was a little girl for this opportunity, and it was finally here. So, my father, the one that looks after me, and I packed up our stuff and left our city in Alaska. We were heading to a place called Bethel, AK. After a six-hour long drive, we made it to our hunting unit. It did not feel like home to us but it was warm and cozy, like my bed at home.

As your parents age, you're probably spending more and more time caring for them. Even if they're still in good health, you may need to help them live a healthy lifestyle. Your parents may need help with everything from their health insurance to their diet. To avoid caregiver stress, taking care of yourself is also essential.

Staying home, reducing stress, and taking care of ourselves, both mind and body are more important than ever. That's why from beauty and personal care to everyday essentials and home cleaning – we've got you covered. "Avon"

Growing up, I loved the Wizard of Oz. There was something magical and timeless about the Yellow Brick Road and the passion of Dorothy to find her way home, Scarecrow to find his brain, Tin Man to find his heart, and the Lion to find his courage. All to find out that the man behind the curtain was just a man, whose hope and wisdom fulfilled all desires by encouraging everyone by exploring their own virtues.