Switching Lenses
How the country means togetherness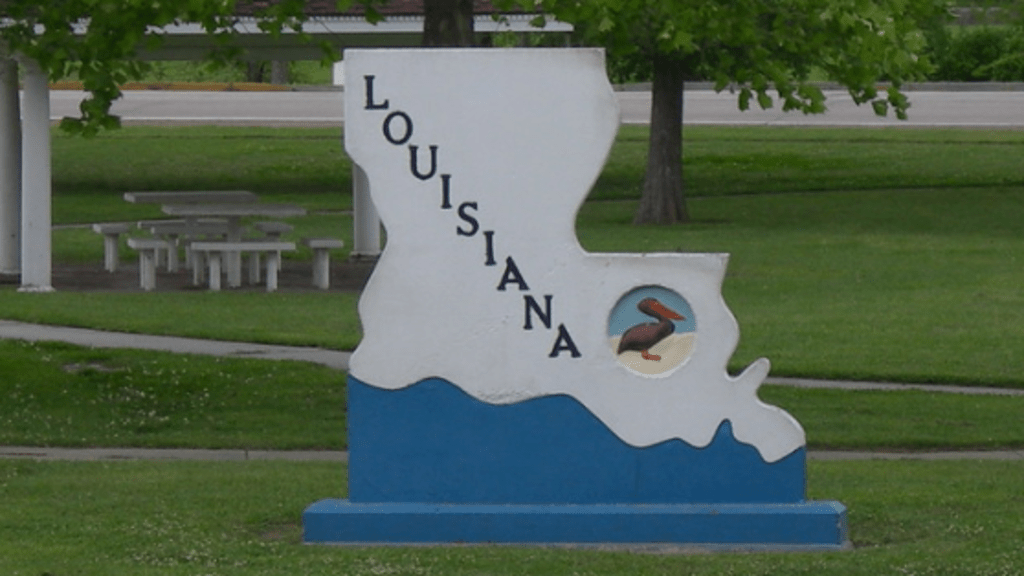 The rest area headed back home
"Grab the tea & have a seat next to me, you see this picture right here?" "Let me see." My niece said as she sat down to take a look at what I was holding. "That's the good ole country baby. Now, most folks 'round the world think when you're from Louisiana you're automatically from the big Easy or New Orleans, and that just ain't whats all to the "boot". You see there's a lot of culture, knowledge, and hidden gems, from the pull-strap of the boot all the way down to the heel, crawling over to the toe, and back up the vamp of the boot! Louisiana has a lot of trees and a lot of land with roots going all the way back since before the purchase!".
Springhill is a town of approximately 5,000 people and I believed every one of those people was apart of my family. It's where I made the bulk of my memories as a kid, I gained my sense of freedom, independence, and sense of security. To be so small, this town was deeply cultural and everyone anticipated the family functions, so much to the fact that my cousins would take that 3-day driving trip from California, and my extended family on my fathers' side would even come out to connect with people and have a good time. It is a close-knitted town that thrived because of people. Because of that everything was known, so you had no choice but to be authentic, even the traffic stops were in the paper or on the radio.
All the action happened at the intersection of two country roads. On that corner sat my Big mama's house, the family's garden, my uncle's scrap and metal yard, my great aunt's neighborhood convenience store, the family day/night club, and the neighborhood's car repair shop. Everyone passing by with their windows down, best outfits and shades on, and of course the cars jamming different styles of music that just screamed black culture. "Hey dea black gal" my uncle Lil' boy would say every morning he pulled up to the porch in his grey pickup truck. He wasn't the only one stopping by. "You see that big patch of dirt in front of the yard by the road?" I asked my niece as I pointed to the picture of my Big Mama's house. "That's why! The street was never empty, especially that spot." The town was more like a street to me. We had everything we needed on that street, everyone came & never empty-handed. If they did come empty-handed they wouldn't leave that way.
Several different groups of men would be talking cars, music, or business under the tree or alongside the road by the store. The women would be gathered up in the kitchen, on the porch, or inside the store in the seating area welcoming everybody in and out with laughter and good ole stories. Everyone, in each setting, had their eyes on all us children who had the freedom to roam within those boundaries, connecting with both young and old family members. The culture truly understood the slogan *It takes a village to raise a child*. They would ask us any questions that came to mind, expected love to be spread, and mutual respect. Even the policemen of Springhill would chaperone some nights, because of the values and principles that the family represented.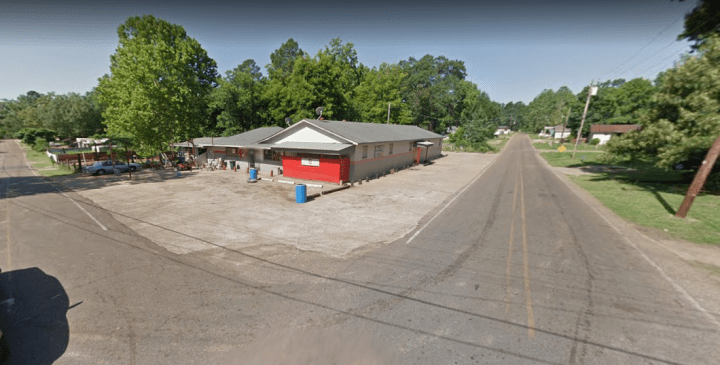 "I don't know, chile I guess they gone sleep all day" I would hear my Big mama say coming from the kitchen. I would always jump up like what time is it? Luckily it was a clock beside the room door across from the bed I was sleeping in. It was only 7:33 am, all day? How? Well heck, I'm up now "mmuuuggrrgghhaaaa" stretching out my arms, ya know, getting ready for what I'm smelling. I didn't mind getting up early. Growing up, shoot I didn't want to miss anything and that is with no electronics. "Good Morning Big mama" I would enter the kitchen ready to grab my plate of hot breakfast. Sitting at the head of the table, facing both entrances, "Look who decided to get on up, you already brushed ya teeth and washed ya face?" My big mama would say, pausing her other conversation to make sure I had taken care of myself first. "Yes, ma'am" I would say as I stepped over the long, white coiled phone cord.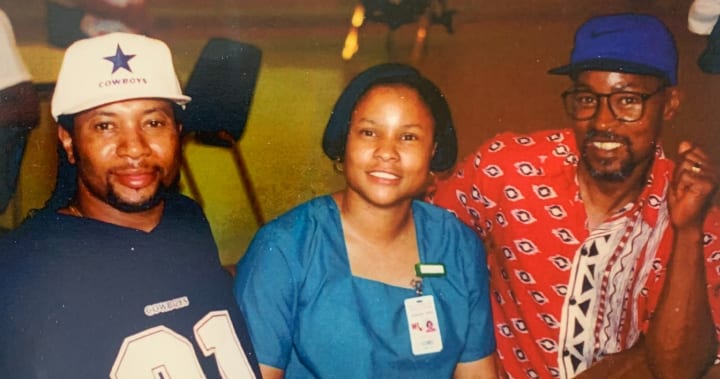 I was trying to get to my plate of warm butter biscuits and thick hot ham, I lived for the syrup. I called it mason jar molasses, it came out so slow but boy was it worth the wait! Others filled the kitchen and we would all engage in random conversations or with the visitors that would stop by just to show love or give value to something. I loved being outside, so I would finish eating and go outside. Music from the radio my aunt sat outside would play in the background on the porch. The morning breeze would kiss our cheeks, while the flowers basked in the warm sun. Us children would have the freedom to sit outside, run around the house, or up and down the street getting into all types of stuff. We moved independently because boundaries were set and trust was built in the family relationships and the relationships out in the community.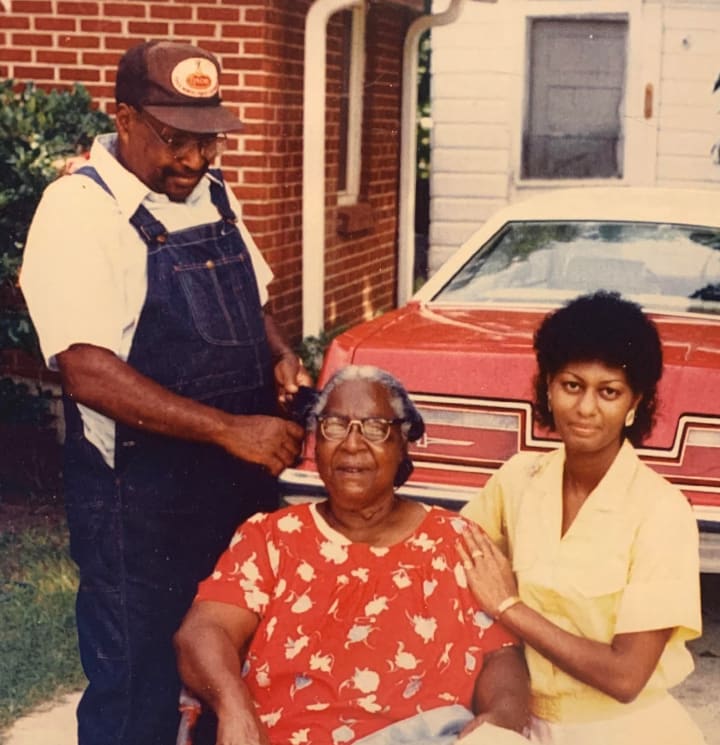 As we grew older my mother moved to Texas to join her mother, Nana. Nana had created a religious family through the church she regularly attended and gained friends from Texas College and making her way through the neighborhoods. We spend our days going to school & our evenings at home or at church. On weekends Nana would take us with her as she spent her time giving back, thrifting, being friendly, and connecting with random people and friends she had gained. All of that was great but Springhill was still ringing in our ears. For goodness sake that's where we got our freedom and independence. You have to understand, Nana was very protective over her grandkids but she was family-oriented. So she made sure we were at every family and church function between both Springhill and Tyler.
They were different experiences, the functions in Tyler meant food and no music, a yard or field and no kids, people to talk to but no authentic stories, grey skies, and no sunshine. It was like everybody was living in their own box or bubble, not really open, unlike back home. Everyone had their own separate lives they lived but they always came together to fellowship and give or dwell in good authentic energy within the community. It's like the sun shined a little brighter and the nights were calmer.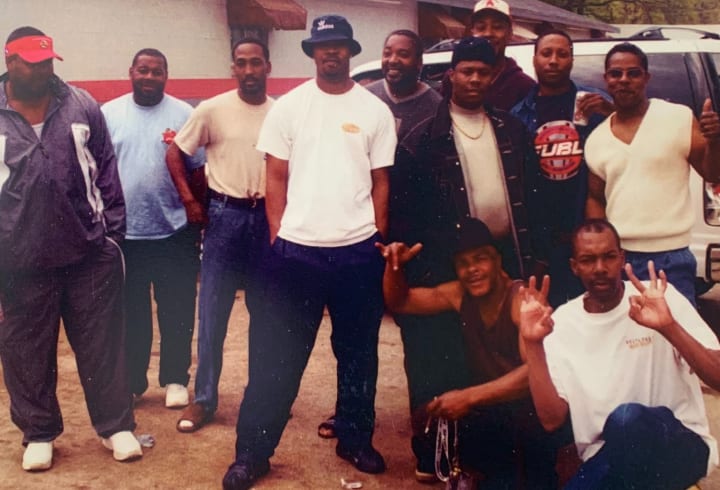 "What's authentic energy TT?" That's what I told my niece to call me, TT, short for Teedy, which is short for Aunt. Don't ask me why. "Sorry, I got carried into the memories that are playing in my head. It's when you can be yourself and it inspires someone else to do the same. And not the self that they teach you to be, the self you know to be because of the life-rich people that were around and the actual experiences shared. That type of energy comes from love supplied by an environment. When your environment lets you know it's safe to be open and vulnerable because you're going to get what you need & still be loved. You see, love isn't always pretty, that's the beauty of being authentic, Love is truth."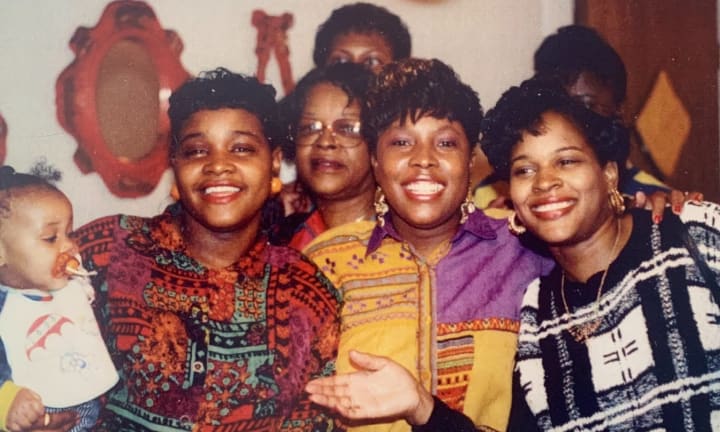 "We were there for the family reunion last year and it wasn't like that." My niece said as she turned back to the book of pictures. She was right, it wasn't, our family reunions and other functions had changed drastically after my Big mama and Nana passed away. The garden stopped being cared for, the flowers on the porch weren't blooming anymore, people in the community stopped coming around to accompany another, stores started closing, the town just grew colder and colder. People who had once come to bless the functions started stealing and taking from the community. I turned to look at my niece in her eyes, "I say community because as the energy shifted in Springhill, I started to ask more questions and it turns out some of those people that would come to our family functions were of the community. They stopped coming around because that authentic energy that we gave off, diminished with every passing we experienced. It got tainted with the energy of sorrow and grief from losing some of our wise and most respected people in our family."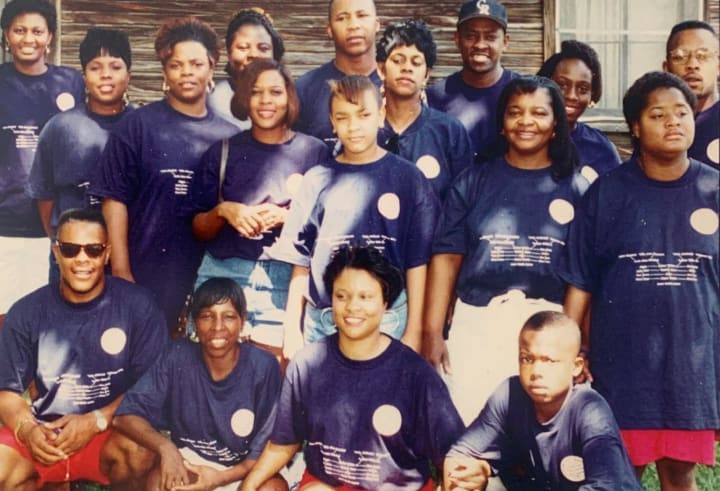 The sound of the door opening filled the room as we turn to see my mother stepping in the house, "Y'all done pulled out all these books, going down memory lane and carrying on. Did you do what I asked you to do this morning?!" Before she could get that question out my niece looked at me wide-eyed with her eyebrows touching her hairline! "Well hello, Mother, how was your day?" She took a deep sigh as I walked up to her with our family calendar from 2007. "Mama, look at you holding me. Do you remember these days and how you felt?" "Shoot yeah! We hated leaving! Everybody came around because they knew they were going to leave full and have a good time." She smiled and went to do that thing she knew I hadn't done this morning.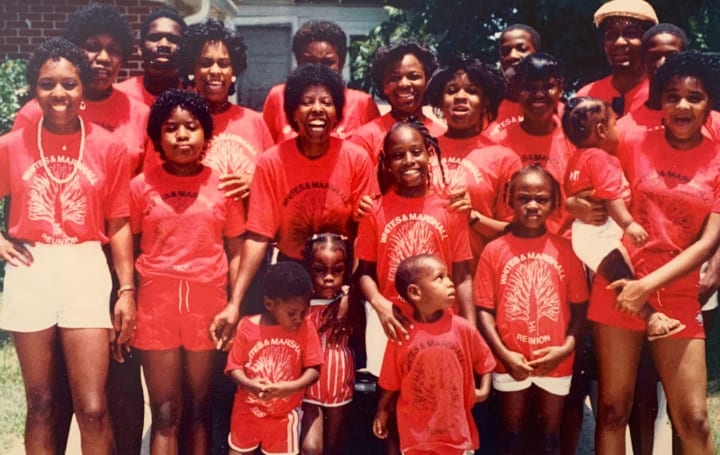 I continued to flip through the pictures taking them in one at a time. Thinking to myself if only I can give back the hope now, that I gained then. Especially to the same family and community, I received it from. A town of close-knitted families with authentic southern culture has lost people, places, and resources because of the energy of lack that suffocates the town. Lacking hope, that everything will be okay if only we believe. A purpose, or knowing that regardless of what happens in the world, we were born and raised to further give to each other. Strength, that no matter what we'll stay true to the values and principles that were instilled in us.
We gave each other love in many forms that were authentic to us and our culture of people. Giving each other examples of strength and hope by standing in our truths and giving courage for others around to stand in theirs as well. We'd listen and share experiences with each other, in support of all men, women, and children. So when someone asks me why should my hometown receive love? I think back on the times in Springhill, Louisiana where I was blessed to be in the presence of women and men who received and gave the necessary tools of life and led by example. All while staying true to themselves and accepting you just as you are. And because we have given it so unconditionally, in a world with so many conditions? NOW is the time to pour love back into the cups that have gone dry letting everyone else drink.

Staying at home each & every day to be there with your children as they learn and grow sounds absolutely amazing in hindsight, right? Absolutely! Who wouldn't think that it's just living the dream?! But what the world fails to disclose is the truth behind being a stay at home mom..

11/18/2020 So, grandma (81 this year) has been up my ass about keeping a journal of everything that is going on right now so here goes. Amelia is 9 and in 4th grade, Raynen is 5 and is in kindergarten and Rj is 3 and is home with me. We live in fort lee right now and my husband, Bobby (30 this year) has just had his 3rd spine surgery and now awaiting the promotion board (he is in the army) and finding out when we will be moving. I am 26 credits away from my BA in history. The coronavirus pandemic has been a pain in the ass and the 2020 presidential election was a complete dumpster fire. Yay 2020 and the best part was carol baskin and the memes from that world.

It was early October, and it was finally time for my long-awaited moose hunt. I had waited ever since I was a little girl for this opportunity, and it was finally here. So, my father, the one that looks after me, and I packed up our stuff and left our city in Alaska. We were heading to a place called Bethel, AK. After a six-hour long drive, we made it to our hunting unit. It did not feel like home to us but it was warm and cozy, like my bed at home.

As your parents age, you're probably spending more and more time caring for them. Even if they're still in good health, you may need to help them live a healthy lifestyle. Your parents may need help with everything from their health insurance to their diet. To avoid caregiver stress, taking care of yourself is also essential.

Staying home, reducing stress, and taking care of ourselves, both mind and body are more important than ever. That's why from beauty and personal care to everyday essentials and home cleaning – we've got you covered. "Avon"

Growing up, I loved the Wizard of Oz. There was something magical and timeless about the Yellow Brick Road and the passion of Dorothy to find her way home, Scarecrow to find his brain, Tin Man to find his heart, and the Lion to find his courage. All to find out that the man behind the curtain was just a man, whose hope and wisdom fulfilled all desires by encouraging everyone by exploring their own virtues.