Pomegranate Seeds And Hardened Dirt
During the coronavirus pandemic, the bond between a young Mexican boy and his grandmother finds a way of remaining strong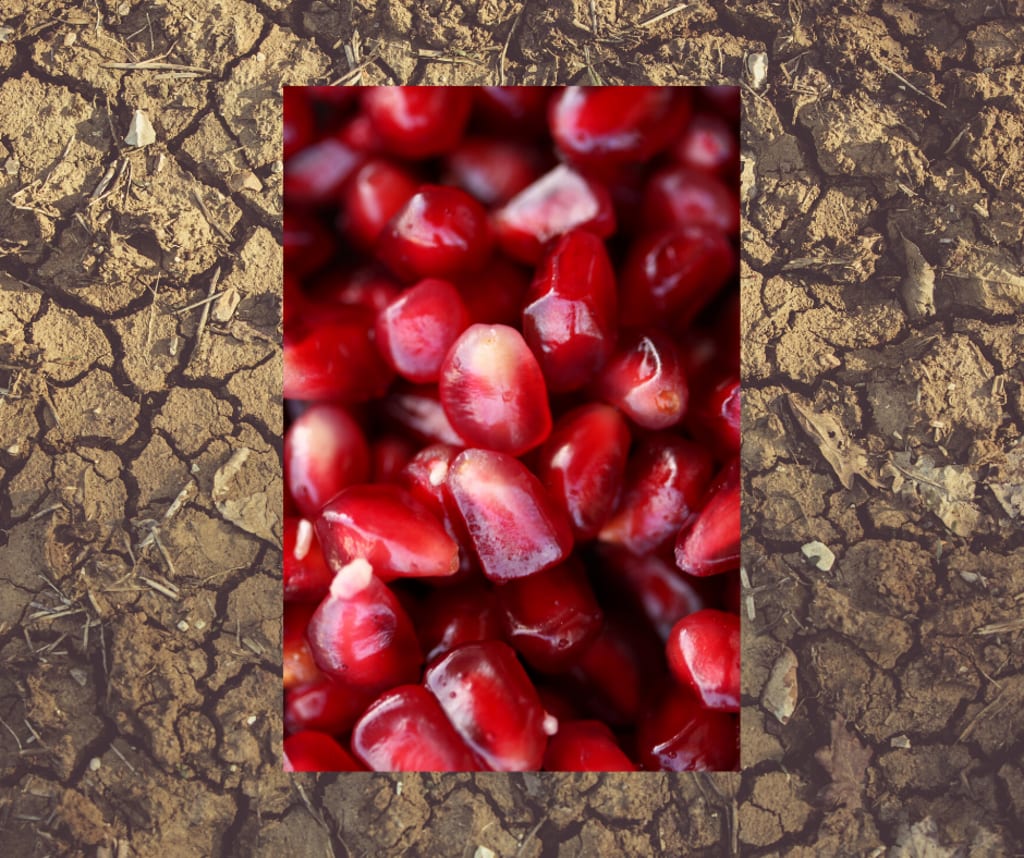 The dirt from the backyard of Guillermo's aunt Silvia's house was holistic and dense. It was hard to break apart and wasn't mixing well with the water he had brought out in a coffee mug. Guillermo wanted to sculpt a small mud castle for his abuelita, or grandmother. Right before he started online schooling, Guillermo's art teacher was teaching the kids ceramics using mud. Guillermo had sculpted a turtle, which his teacher then baked in an oven to harden. Guillermo now wanted to sculpt a castle for his abuelita.
Because he wasn't allowed near his abuelita, Guillermo's plan was to place it outside her door with a hand-written note reading: "Vives en una casita, pero te mereces un castillo."
You live in a small home, but you deserve a castle.
It had been more than a month and a half since the city's emergency ordinance had been implemented. People were advised to stay within six feet of each other and only leave their homes for emergencies. Because of this, Guillermo was not allowed inside his abuelita's small guest house, located a few yards from the main house, which belonged to Guillermo's aunt.
A year after purchasing their home in El Paso, Texas, aunt Silvia and Patricio, her husband, along with Silvia's brothers, built a guest house for Doña Angelica to live in. Doña Angelica was Silvia's mother, Guillermo's grandmother. She had lived there for at least a decade before Guillermo was born.
Before that, Doña Angelica lived alone in small, one-bedroom home across the U.S./Mexico border in Ciudad Juárez. By today's standards, the Juárez home was more like a shack, according to Guillermo's mom and aunt. To attend to Doña Angelica more easily, the quaint guest home was built in back of Silvia's house. This kept Doña Angelica closer to her family, most of whom had already moved to El Paso.
Doña Angelica's small, one-bedroom home in Juárez was located in one of the poorest areas of the city, but it didn't discourage family members to gather there. Guillermo had heard stories about family gatherings at Doña Angelica's years before he was even born. More than 20 family members would gather at the home on any given Sunday to eat mole, rice and beans, drink beer, and listen to rancheritas, a traditional form of Mexican music. They mostly gathered outside since the home could only host so many, mostly the women who were preparing and serving food.
Since everyone started to move to El Paso in pursuit of better jobs and education for the children, these family gatherings were now usually hosted by Silvia at her new home. With a spacious backyard and a decent-sized home, Silvia's house was perfect for Guillermo's large family.
Guillermo wasn't around for the gatherings in Juárez, but he was around for the ones at his aunt Silvia's. The last gathering had been just a few weeks before the city issued the ordinance. They had all gathered outside in Silvia's backyard to eat Doña Angelica's mole. There was a chill, February breeze swiftly swaying with the branches of the pomegranate tree right outside Doña Angelica's guest home that day. Guillermo had seen the dangling fruits gently moving back and forth as the breeze moved past them.
Just a few days ago, Guillermo had hand-picked the ripest pomegranates and deseeded a few for his abuelita. Aunt Silvia had taught him that the pomegranates were ripest when they were their darkest shade of red. The darker the skin, the sweeter the fruit, his aunt Silvia had said. Guillermo had placed the seeds inside a plastic container for Doña Angelica and left it right outside her door. Guillermo had placed a note on top of the container. "Para endulzarte la vida," the note read.
To sweeten your life.
When the city announced the ordinance, the grown-ups had agreed to refrain from visiting Doña Angelica inside her home and having her go over to the main house. Instead, they would leave groceries and meals for her at her door. Guillermo, just like the grown-ups, spoke to her as she stood inside her home. Although glad to still see and speak with her, Guillermo was incredibly frustrated with not being able to hug her and kiss her on the cheek. Aside from his own mother, who worked two jobs and left Guillermo to be watched by his aunt, Doña Angelica was the sweetest person Guillermo knew, as sweet as the ripest pomegranate.
But she was also old and hardened, just like the dirt Guillermo was trying to soften by mixing it with water. Doña Angelica had her share of struggles and tragedies throughout her extensive life. Going on 90, the woman had married young and soon after became pregnant. But she had married a traveling man, a vagabond, and she was forced to leave her parents and siblings behind. Accustomed to a more comfortable lifestyle, her marriage suffered with financial hardships as she gave birth to 10 children, some of which had died soon after birth. She was later abandoned by her husband, leaving her to raise her children alone. Later in midlife, one of Doña Angelica's sons would leave to work in the U.S., never to be heard from again. As she aged, Doña Angelica's soul and heart knew pain and misery, but she never dwelled on her hardships long enough to wither.
In order to raise her children to be respectful, educated, and independent, Doña Angelica was a tough mother. She was, however, a sweet and nurturing grandmother to her grandchildren.
____________________________________________________
Guillermo was an intelligent boy, excelling in most of his school work while displaying artistic talent. He was also very observant. It was a confusing time for Guillermo. There was much talk about a sickness widely spreading throughout the world. Because of this sickness, people were asked to stay away from the ones they loved most. As far as he recalled, Guillermo had only been sick once with a cold when he was four years of age, although he got better a few days later. What was so different about this sickness? He wasn't asked to stay away from people then. Schools and workplaces hadn't closed either. His abuelita had brought him soup that time, which helped Guillermo feel better. She even brought him a bowl of pomegranate seeds.
With the clumped, hardened dirt in his hand, Guillermo glanced over at the guest house's only window. It was the size of a menu board at a fast food restaurant. He hoped she was watching him play through the window, but he could only see the branches from the plant dangling from the ceiling. He could also hear the sounds of the Mexican radio station his abuelita often listened to. The station solely played rancheritas.
Living relatively close to the U.S./Mexico border allowed Doña Angelica the perk of listening to her favorite radio station even though she was in El Paso now. She had mentioned to Guillermo once that the radio station was similar to the one her own mother listened to back in Chihuahua. By having left behind most of her belongings after marrying, the radio station felt like the only memory of her childhood. The transmission was weak and the songs were old, but the radio station seemed to rejuvenate Doña Angelica whenever she heard her favorite rancheritas. It was as if she became a little girl again, a girl of Guillermo's age.
If she was around, that radio station was surely to be playing. It was simply something the family had become accustomed to.
Guillermo now longed for things he himself had become accustomed to, like listening to the radio station along with Doña Angelica. Before the ordinance, once his mother would drop him off at his aunt's house before work, Guillermo would make his way to his abuelita's house in the back, passing the pomegranate tree. She would make Guillermo a traditional Mexican breakfast of huevos rancheros; sunny side-up eggs mounted on top of fried tortillas bathed in spicy salsa. She'd talk to Guillermo about past days as the Mexican radio station played in the background. That was Guillermo's favorite part of the day. During breakfast with his abuelita, Guillermo could learn about what it was like growing up in Mexico during the early 1950s and 60s. He would ask his abuelita about grocery stores in those times, what the difference was between the products from then and the ones from now. He asked about the theater, her favorite movies, the prices of menu items, and the trendy fashion. He asked about her home town and what her and her friends would do for fun. He even asked about her dating life. Doña Angelica was full of fascinating stories. Her stories were an entertaining and insightful glimpse into the past.
Once they'd finished breakfast, they'd walk together to the main home to watch television with Silvia and her three daughters. If his abuelita had allowed Guillermo some coffee that morning, which she often did despite him being six years of age, she reminded Guillermo not to tell anyone before entering the home. "Se queda entre nosotros," she would say with a wink.
This stays between us.
This morning routine had fortified a strong bond between Guillermo and his abuelita. To him, his grandmother was stoic. Perhaps she was stubby and elderly, but she was resilient too. She was the strongest person Guillermo knew aside from his own mother.
On school days a year back, Doña Angelica would pick Guillermo up at his pre-kinder school. She would arrive on foot, waiting for him outside the school with her usual floral print muumuu and a bag of local produce. She always greeted him with a genuine embrace, handing him a piece of fruit as they made their way to back to her house. But with school now taught online, Guillermo didn't need anyone to pick him up from school, although he could use a genuine embrace.
As advised by government officials and local media, Guillermo had been staying away from his abuelita other than seeing her through her spring door. To Guillermo, it was as if they were standing on opposite sides of a jail cell. It felt as if they were divided by unwavering steel, steel so unsympathetic that it simply remained idle and cold, true to its nature. Doña Angelica's recanting of the family's time in Mexico, of weddings, and dances, or celebrations, and even of family fights, weren't as enjoyable when told through the steel bars and a metal screen. It was as if they muddled her voice, filtering all the joy out and keeping it on her side of the door.
After their brief encounters separated by the door, Doña Angelica would then disappear into the inside of the home, leaving Guillermo to feel strange and uncomfortable. It was all extremely unfamiliar to Guillermo. Expectedly, this made Guillermo feel frustrated and upset.
____________________________________________________
Guillermo dug deep into the heavy dirt once again. It was clumpy and he couldn't part it. He kept adding water to the lump, but it still wasn't moldable. He could not mold anything from the condensed matter. He angrily threw a fist full of darkened and clustered dirt toward the brick wall dividing his aunt's house with that of her neighbors. Angered, Guillermo got up, cleaned his dirty hands on his jeans, and began walking back to his aunt's house. He was disappointed not only with not being able to make the mud castle for his grandmother, but with his online schooling, having to remain at home with his aunt while his mother worked, not being able to see his friends and cousins, but mostly not being able to hug and kiss his abuelita. The state of the world was far too strange for Guillermo.
He thought about the clumped dirt he had thrown at the brick wall. Most of the matter had clung to the wall. Very little actually dispersed back to the ground. He had looked back at it before entering the home, seeing it stick to the brick. It reminded him of family and the way Doña Angelica spoke of it. Impressively, families, just like the wad of dirt, stick together regardless of what walls they hit. In an effort to keep most of it in tact, Mexican families, just like all families, will disproportionally face adversities and still stay together. Guillermo knew this even at his young age. Having just recently moved to El Paso from Mexico, being poor, and the youngest of four, he knew that life was a struggle. He knew this too because of the conversations he had with his abuelita. But he had people in his life who showed courage and strength, reminding him to power through anything and everything, just like Doña Angelica. He also knew that family was essential in order to do just that.
He missed her incredibly. More than his teacher, more than his classmates and cousins.
And it wasn't that he didn't miss these people much either, it was simply that his relationship with his grandmother was unique. She was history. She was reliability. She was comfort.
As he walked back into his aunt's house, waving bye his grandmother's home, hoping she would catch a glimpse of him, Guillermo unexpectedly teared up.
Why? Why couldn't he physically greet his grandmother? Her kisses were unique. Grazing on his cheek, her lips felt dried and rigid. They were as old as a desert, like the one between the two border cities of El Paso and Ciudad Juárez. Now more than ever, Guillermo felt that distant between himself and his family's history. Guillermo's grandmother's coffee was always warm and brown, just like her. When asked, she didn't decline Guillermo's request for a cup. Other adults repeatedly said that children shouldn't drink coffee, but Doña Angelica always gave Guillermo a small cup of her morning brew before talking about her past. Between them two and their coffees, there was no desert to separate these two cities, one of which was their past and the other, their future. While sipping on coffee, family history was retold, great stories were shared, and the beauty of Mexico was imagined.
Guillermo knew that her time at the guest home, or anywhere, for that matter, was limited. With so much talk of sickness, it concerned him that his time with Doña Angelica could soon come to an end. Yet, it didn't all quite make sense to Guillermo. At least two of his uncles had diabetes, and Guillermo had always seen them hug Doña Angelica at the family gatherings. Why was it different now? Why were the adults leaving her necessities at the door? Why was she so alone during such difficult times? When would he be able to stop being six feet away from her? Having now been unable to attend school or see his extended family at their weekly family reunions, Guillermo had grown incredibly confused and concerned with what was happening in the world. This new sickness had not affected anyone he knew, yet he was asked to do things in order to keep it from spreading. How was he to be sure that it wouldn't slither into his abuelita's house through the metal screen? How unfair would that be; for it to get to embrace Doña Angelica before he had a chance to do so himself.
He sat watching television with his three cousins for a while, but never quite engaged with the cartoon. He was still disappointed with how hard the dirt was, even when mixed with water, which had prevented him from molding a mud castle for his grandmother. He decided to take a nap instead. Perhaps that would help ease his mind.
When he woke an hour later, Guillermo was still overwhelmed with emotion. He got up from the sofa and made his way to the backyard, determined to find softer ground from which he then could mold his castle. On his way out, he saw the clumped, hardened wad of dirt still situated on the brick wall. It didn't appear to have moved. Instead, it started to look as if it were merely part of the brick wall itself.
As he turned the corner from his aunt Silvia's house over to the guest house, he saw his abuelita standing next to the pomegranate tree. Startled, Guillermo came to a halt. He hadn't seen his abuelita out of her home since the ordinance was implemented. Wearing another floral muumuu, she caught sight of Guillermo and ecstatically waved at him, although only briefly. She then signaled him to stay put as to abide by the ordinance. Guillermo then watched as she bent over to grab something from the ground. As she came back up, she showed Guillermo a small plastic bag filled with pomegranate seeds. Smiling, she pointed at the bag and then back at him, indicating that those were for Guillermo. She placed the bag on the ground next to the tree, waved goodbye to Guillermo, blew him a kiss, and made her way back to the guest house.
Guillermo then started toward the tree, feeling glad to have seen his abuelita in good health and spirit. He was also grateful for the pomegranate seeds she had picked for him. Not only were the seeds going to sweeten his taste buds, but, inadvertently, add sweetness to his day. Guillermo really needed that as of late.
As he grabbed the plastic bag filled with pomegranate seeds, he noticed the dirt around the tree was moist and tender. Clasping the bottom of the plastic bag, his fingers caught specks of dark brown dirt on them. The dirt was loose and granular, perfect to mix with water and make mud.
"Te mereces un castillo," Guillermo thought.
You deserve a castle.
Guillermo got to work.
grandparents
About the author
I am a writer and journalist born and raised in the El Paso, Texas and the Ciudad Juárez, Chihuahua, México, region. I write stories, blogs, essays, and prose that help myself and readers discover what it means to be human.
Reader insights
Be the first to share your insights about this piece.
Add your insights