My Why
A story that is close to my heart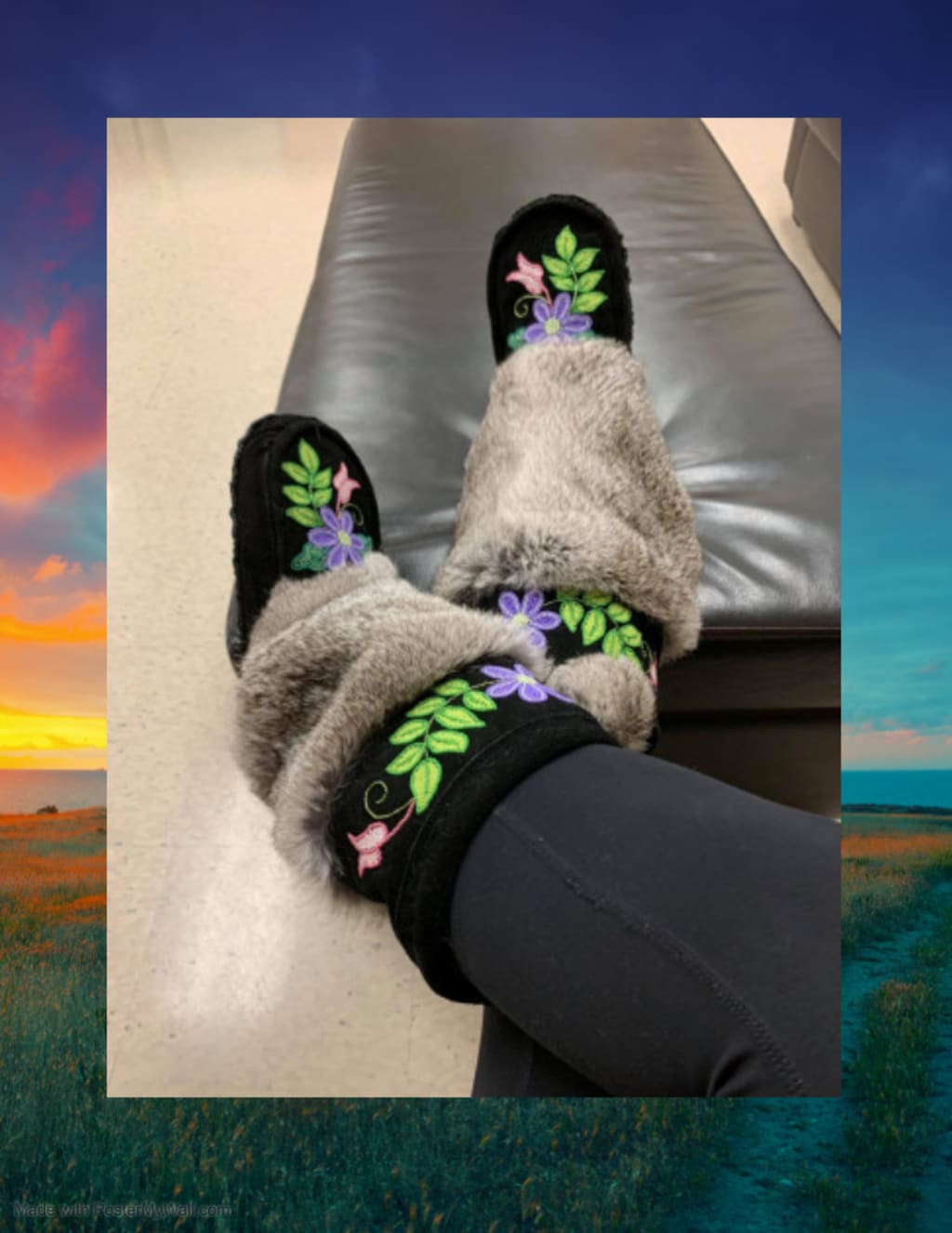 I will start off by saying, "The project I completed and that I am most proud of are the Mukluks I made for myself." I will explain my "Why" I love to craft and hold what I do so close to my heart.
When I was a youngin' I remember watching my Grandmother sitting in her rocking chair crafting. She would sew quilts, bead moccasins, bead mittens, knit, along with several other things. She always had something on the go. She was such an amazing role model and I can recall how happy and content she was when she was working on something new. I sat close to her and watched her for what seemed like hours and she would tell me stories about her childhood. As I was watching her, I would be thinking "Wow! One day I want to craft too and be just like her.''
Finally, that day came for me to be just like her, I could barely contain the excitement to listen to her teachings. The day she called me over and asked if I wanted to learn was the most exciting and memorable day for me. It was just like Christmas! She called me over and gave me my first needle and beads and taught me the basics; how to thread my needle and string the beads on a thread. I remember being immensely proud of my first long string of colourful vibrant beads, that to me, seemed to go on forever. That night I could barely sleep thinking about the necklace I made all on my own and how I was going to wear it to school to show my friends and teacher. I wore it to school the next day beaming with pride. The skills she taught me quickly moved from stringing beads onto a thread to using pieces of hides to bead that she allowed me to cut. From that day forward my grandmother kept teaching me all that she knew. "Reading the contest rules made me think of one thing she told me while she giggled when I pricked myself with my needle for the first time "Nôsisim, always use a thimble and make sure your scissors are sharp!"
Since the day I picked up my first needle and thread it on my own, right up until my grandmother's passing - with pride- I have been hand crafting and creating pieces of art using beads, hides and other types of media. I have made mittens, moccasins, earrings, purses, lanyards and more. When my grandmother passed, I did not have the need or the drive to craft. I felt lost. My passion was gone.
It was only just recently that I started to craft again thanks to a coworker who shared her art with me. While showing me her crafted pieces of art and seeing her excitement and pride for what she had done made me think back to my grandmother. The smile and passion in my coworkers' eyes reminded me of my grandmother and that same passion and pride in her eyes when she finished a piece of her crafted art. It made me believe that my grandmother would not want me to stop doing what I enjoyed because she was not here with me anymore. Since that day, my passion for beading has exploded and I have learned so many new things. I have given my pieces of crafted art to family members and friends as a gift. Canadians from the Yukon to Newfoundland and everywhere in between, have been asking me to create them items that they can treasure or wear.
I have been so proud of how far I have come that I just recently created a Facebook page and named my page "The Crafty Spinneret" to highlight my pieces of art. The name came to me after countless hours of thinking. Saying that I am terrified of spiders is an understatement and they always approach me. I researched the meaning of spiders appearing to people and found out they are a totem animal. It went on to say, spiders will show up the moment you need a sign from beyond and will guide you to continue down the right path in life. This fact made me think of my grandmother giving me a heavenly hug and reassuring me that my crafting was the right thing. The research continued to explain the spider represents strong feminine energy, creativity, patience, and strength. The spinneret is the silk producing organ of a spider that its beautiful intricate web is spun from, which represents what I am trying to do with my crafted art. Hence the name, "The Crafty Spinneret."
I am a Cree woman; my language is lost to me and my culture is fading with the generations of today. Now, when I bead or sew, I feel just a little bit more connected with my culture. Also, when I am beading, I feel like my Grandmother is watching from heaven proudly because I have kept all her teachings close to my heart. Crafting is also a way for me to decompress from the stresses of everyday life. No matter how busy my life gets I always find time to bead, I find it very relaxing. This is the most amazing gift my Grandmother could have ever given me.
In conclusion, it is important to share my passion and culture with others. Over time I would love to accomplish this through video classes or in home teachings. If I am selected as one of the successful candidates for one of the prizes, I plan to use some of the money to buy materials to create packages for the classes that I plan to offer.