Mirror Portrait
Imagine me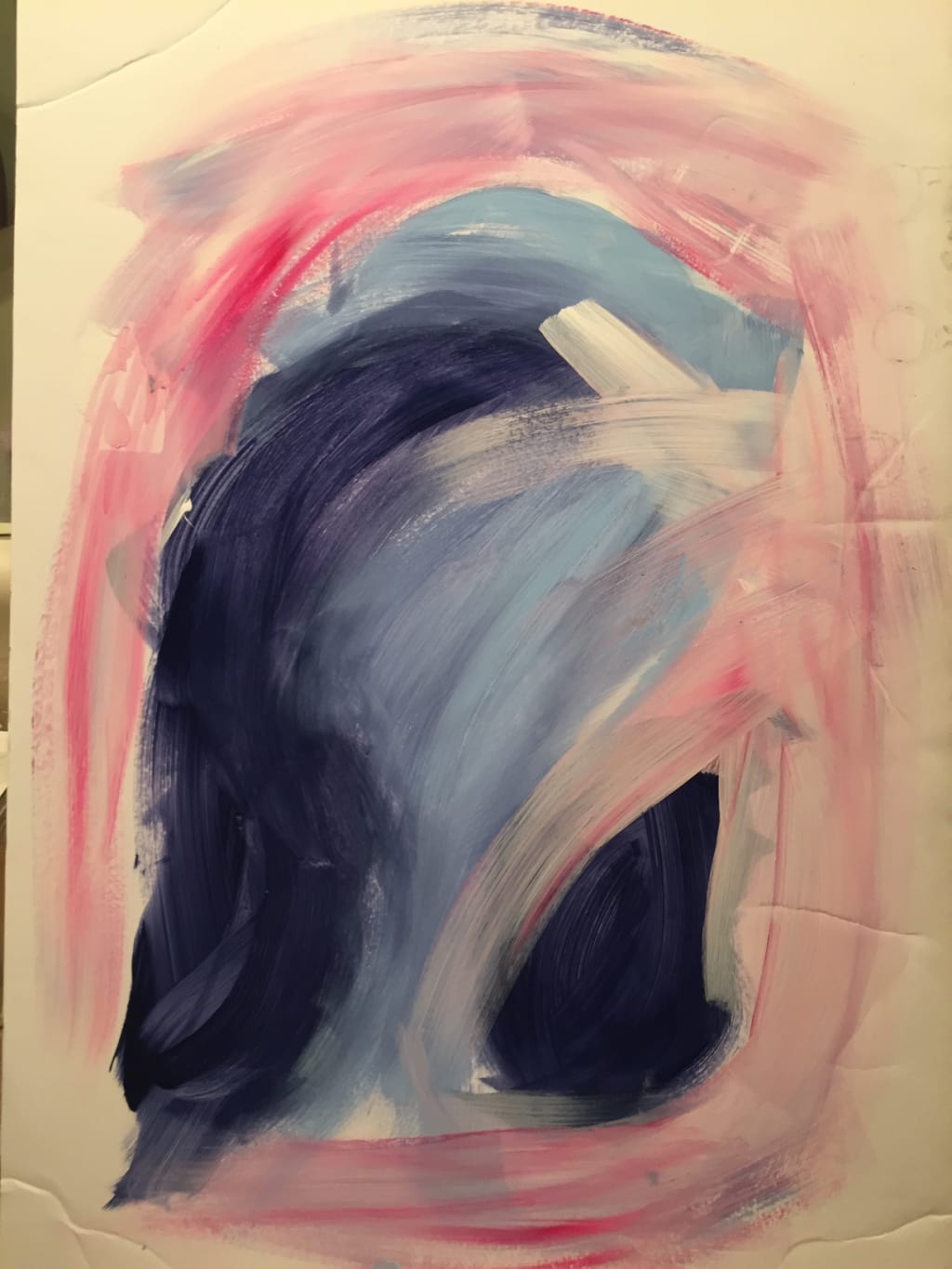 It is so interesting how a painting comes to life. I started by giving my son something to look at while I did some of my in home chores. I thought, well I have some blues and white, I can make something real quick rather than using an acrylic canvas painting that I usually take the time to make. I bought the board for a puzzle and I am all for utilizing resources for everything that they can be good for. Make the most of it, save the planet some extra sacrifice and , well , save money! So A little blue blob here and a long blue blob there, splash of white with a blip of pink and vwala, a colorful blob. Then, I turned the painting from horizontal to standing tall and sure enough, as I stepped away, heard some giggles and laughter, I looked over to see what was so giggle-worthy. My son was looking at "me" and so was I. My hair looked just like that and without even meaning to I made sure that I gave my son all of my attention in a blob-around way. Since It was just me at the house, I covered him on all sides. Fully protected and fully watched over, eyes , ears and portrait. I kind of like it.
As a mother I do my best to continue to be myself. TO enjoy who I am as I change with my role as caring for my son. To see what I look like in my own unpredictable way was really fun. I enjoy that how I painted myself is how I see myself. My new mom haircut, my style, my favorite colors and how really the face of a mom is pretty standard and basic. I do not see my face as my face, I see my face as a canvas I create each day on who I am and how I step up and fulfill my role as a mom. Who I am to my son and who I am within myself to show up and be real in my life. I love that I have a son so my mom face , my mom hair and my mom thinking are surrounded by love and focused on raising a very kind sweet and gentle baby boy to make sure his life supports that he will grow to be a good man. As a woman, meeting and finding a good man is so important therefore raising one has so much responsibility. I care very much about my role in his life and who I am as a woman to show respect and guidance. My mom blog , yes G not B is where I get to share my love for being a mother and how amazing my son is to me.
I love who I am evolving to be. To other mothers out there I hope you enjoy your experience, that each day you love your children, put your game face on and do what your child needs so that our kids can grow and meet and fulfill their dreams to be in plays, sporting events, have friends, birthday parties and enjoy their lives. This might look different for our new baby generation so for anyone out there who has a baby girl, know that I am raising my son to respect his mother, be a good person, love himself, respect his life and to take care of himself. I do this by loving and caring about myself so that one day when he is all grown up, he can bring the love of his life home and say that he loves his life, loves who he is and is thankful to be the person that he is. That whoever that girl is someday I will welcome her and love her, and that she knows, we prayed for her our whole lives so that she and my son can have a happy healthy, loving adult life. It starts here , it starts now, it starts with me. I love my son and I love my life.
Thank you. Have a blessed day and always do your best!
Love Kerri
values
KerMama is a little nickname I go by.
With all of the outlets and places to share our experience of life, I like this one. To share art, photos, writing, I would like to share and maybe this will help someone somewhere. Have fun, enjoy be El
Receive stories by Vocal-lady-ist Ms. Kerri in

your feed