Merry Christmas, My Children
A Letter To The Children We Never Had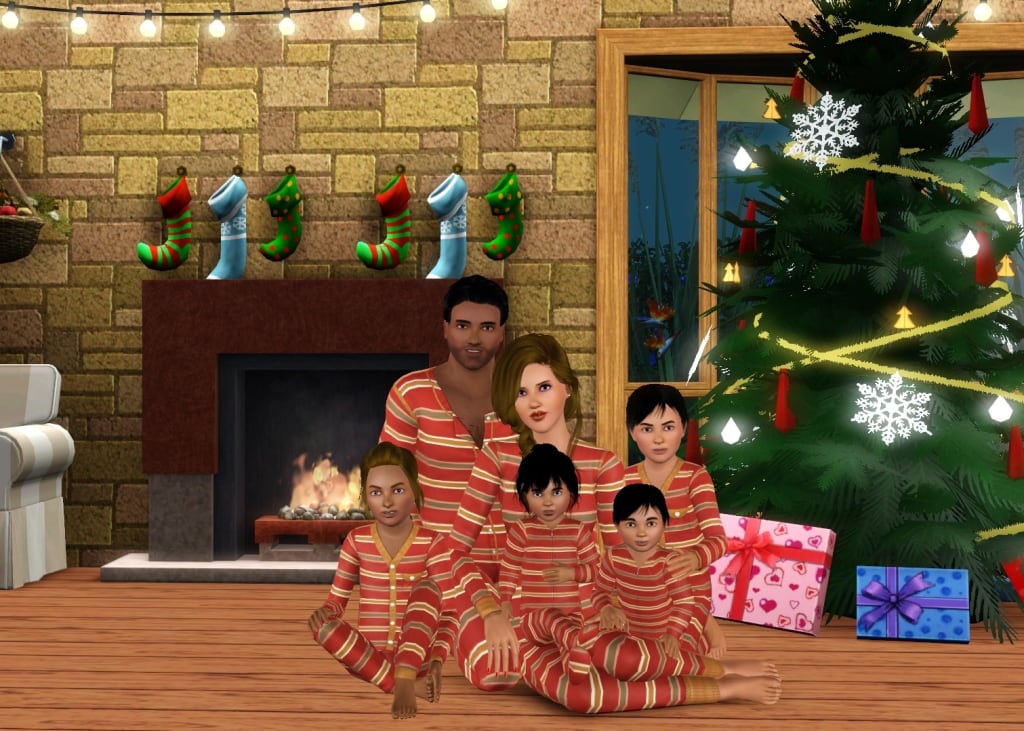 Credit: The Sims 3
It's Christmas morning, but the house is quiet except for the sounds of a hungry cat trying to wake us for breakfast. Sleepily, I walk to the kitchen, two felines on my heels. I try not to trip over them as I pop cans of food open and portion it out. Mercy cries when she smells it, and Pixel runs to check on her, making sure it's only the lack of food that disturbs her. The three of us walk back to the bedroom as we do every morning. Sassy, Pixel and Mercy are enjoying their morning meal, but the house is quiet.
Our tree is still packed away from last year. Mercy would have had it torn down in minutes if we tried, and you're not here to enjoy it, anyway. All the decorations are still in their boxes. A couple of packages wrapped in the same paper sit by my computer, ready to bring to Grandma's house in a little while. Your room is cold and empty, even though there is furniture inside. A twin bed. Some toys for the cats. A window to the outside where only Pixel and Mercy sit and observe. There is no trace of you anywhere.
This morning, the house looks like it does every other morning. It's too small for us, but it's where we are for now. There is no inkling of activity anywhere. Even the cats, with their bellies full of chicken and liver, are not making a peep. Mercy is on her furniture taking a bath, Pixel is watching out the window and Sassy is sleeping under the bed. The house is quiet.
It's 8:00 AM. Around the world, children like you are awaiting Christmas morning—the yearly visit from Santa. You would have been good this year, I bet. Then again, you'd have been good kids anyway, even without Santa. It is how we would have raised you. You would have been kind and well-mannered, with generous, loving hearts, but knowing boundaries so you wouldn't become a doormat. I am in Grandma's kitchen making cinnamon rolls. There is enough for all of us, but you're not here. Daddy and I take a second roll each, because they are awful warmed up later on.
It's 10:00 AM, and Christmas morning is over. Presents were opened, but somehow it's not the same without you here. I wanted to see the look of wonder on your faces! I wanted to get you that one special thing you wanted more than anything in the entire world! To hear the sounds of laughter and, yes, even play arguing. Maybe especially the arguing, because that would mean there was a brother or sister for you. You wouldn't have been an only child. Yes, I would have wanted that for you.
Now it's 2:00 PM, and dinner is ready. It's only your dad, Grandma and me today. The kitties are home, guarding the house. We are having your favorite for dinner—Swedish meatballs and that yummy gravy with real mashed potatoes. I made it myself for you, but you weren't here. Would you like green beans like me, or Brussels sprouts like your dad? Or maybe you would have liked them both. I would have made more, if only you were here.
At 5:00 PM, it's getting dark already, but it's warm outside. Maybe you would have spent your afternoon riding your new bike. Or maybe inside playing Legos with your daddy. He loves those things just as much as you do. Maybe that's why you love them, too. Maybe you would have read your new book to Grandma as you tried to explain to her the nuances of the story. She would have loved you to the moon and back, just like we do.
The clock chimes at six o'clock. I've been working to clean up after dinner while you would have been playing. But now it is time to go home. We pile all of our gifts into the little red wagon we bought, and it doesn't even fill the bottom. It should be filled to overflowing with all of your new favorite toys, that one special doll or stuffed animal that you would sleep with tonight. You would be pretty tired by now, after a full day of excitement and play.
There is still time to catch a movie when we get home, but there are only two of us. I envision one of you snuggling with your daddy, and one with me. Mercy might lick the butter from the popcorn off your fingers, and try to steal a kernel or two from your bowl. Be careful! All of us cuddled together on the floor, or maybe a sofa, laughing and pulling our last moments of joy from a perfect day.
It's 9:00 PM, and time for bed. Daddy and I are tired, and even though I don't go to sleep this early, I'm going anyway. The kitties are fed for the night and happy. They are the only ones in the bed with us. Your room is still cold and empty. The echo of your laughter fades from my imagination. And I realize I miss you more than I can express, but I have never met you. Tears come, and they're hot and stinging the skin on my face again for the tenth time today. I tried so hard to make this a special day for everyone, even through the tears. Because even though I've never known you, I have loved you anyway. And days like today only remind me you're not here, and will never be.
The house is quiet. All I can hear is Pixel purring at my side. And I fall asleep thinking of you, my dear children. Our children. The ones my heart misses and loves, but will never know. I don't know if you would have been a boy or a girl, or maybe one of each. That is what I wanted most; a boy and a girl.
Christmas is over. All is peaceful. Good night, my littles. Merry Christmas. I love you...
*****
The Sims 3 is a registered trademark of EA/Maxis. Sim poses by Poses By Bee. Custom Content Credits here.
Originally posted on my blog, Random Thoughts, Purposeful Life on December 25, 2016
children
Hello there! I am an aspiring Indie author editing my first novel in the romance genre. I also write and manage two blogs. I have been married for 24 years, and we have two precious cats.