Life in the Bronx for Charlie And Lizzy Monetti
Next Chapter in the Book of Monetti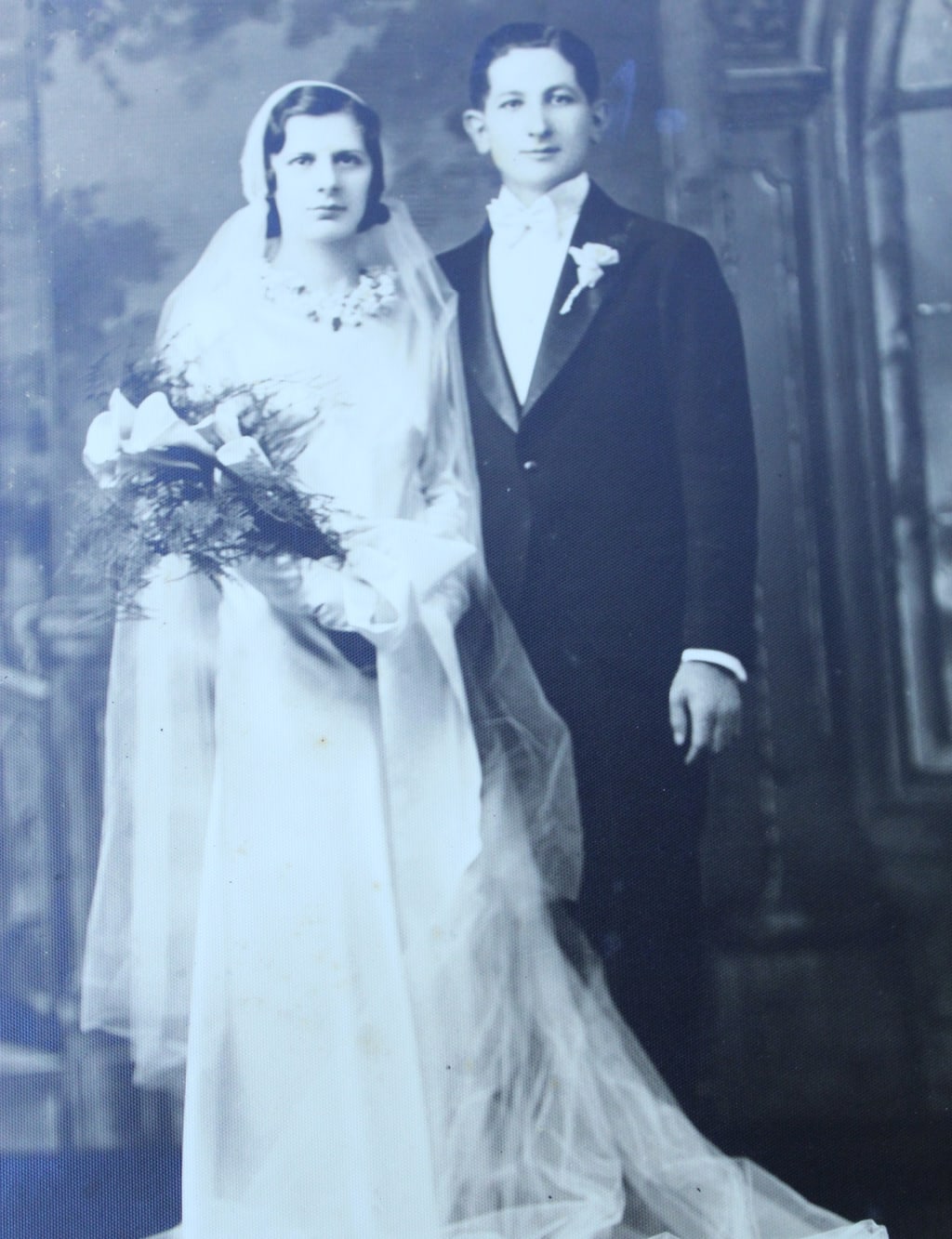 Lizzy and Charlie Monetti - October 9, 1932
The overwhelming difficulties of childhood mostly put at bay, my grandfather Carmine Monetti (or Charlie) certainly did his time playing stickball on the streets of the Bronx. I vaguely remember him telling me that if the kids didn't have enough money for a ball, they would cut off the top of the broom stick and make do. Fittingly, it was the city game that continued the Monetti line.
Constance or Lizzy Manzione's brother Louie got to know Charlie playing ball and assumed the role of matchmaker. He introduced his sister to Charlie, and the couple soon began keeping company. "They went to the movies at Loew's Paradise on the Grand Concourse," said Bill Monetti of his parents.
So life wasn't that different but my grandfather still walked to his own beat. On an early date, remembered Bill, "My mother wasn't fast enough to walk with my father so he left her to get the next bus."
A story Liz or Betty often told and a signal missed, according to her mother. "That was your chance to get lost," Bill conveyed the playful words of his grandmother.
Nonetheless, Charlie could provide by their 1932 wedding and became a milkman for Borden's. He would get up at 1 O'Clock in the morning and literally got on his horse. Stonewall was his faithful four legger, and once Charlie gathered the crates for the particular apartment building on his Nicholls Ave route, his equestrian was a step ahead. Stonewall went on the move and parked himself at the foot of the next building.
The day done, Charlie would take a nap at about 11 AM, and everyone quiet for a few hours, the man of the house would rise. He'd tune in the radio and have an early dinner. At 7PM, he'd go back to sleep and start over.
The routine never got rote, though. My grandfather was actually offered a managerial position some years later. But he liked his job and was perfectly happy with his station.
Of course, the milkman loved going to Yankee games and playing the horses. Grandpa did, however, bite off more than he could chew on one occasion.
He had to hock his wife's engagement ring to cover some gambling losses, but his furious mother-in-law intervened. Anna Manzione ponied up the balance and gave the money to her daughter to get the ring back.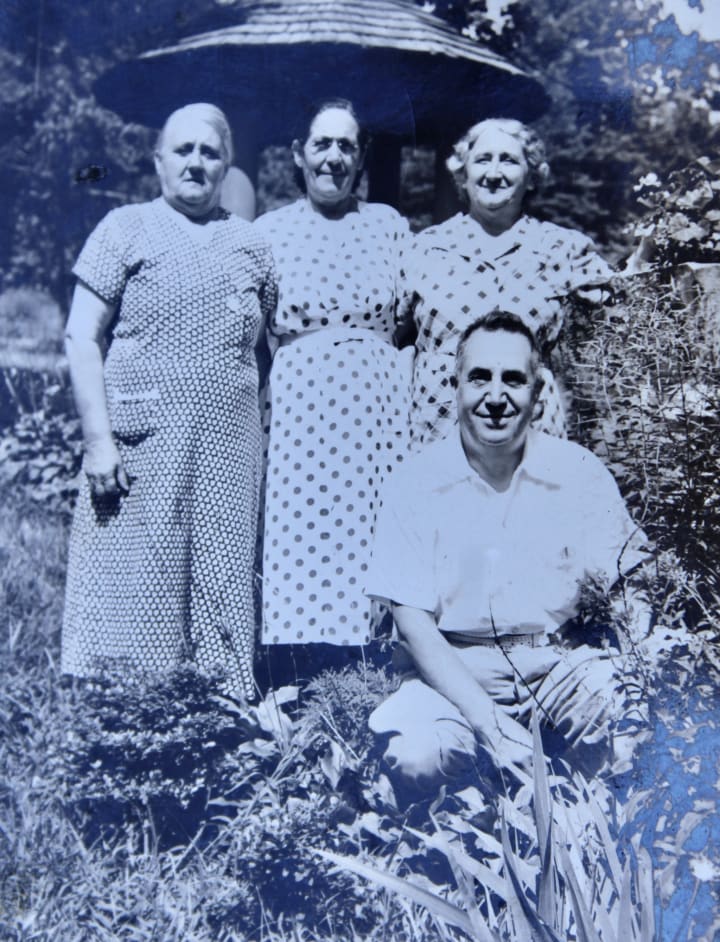 A little vice doesn't compare when truly called on December 7, 1941. Always certain that FDR knew the attack was coming, Charlie volunteered for WWII at the age of 37 and largely served as a dispatcher for Admiral Richard Connolly. "He carried messages to all of Connolly's different underlings," said Bill.
Charlie also served by sea, and the small boat was at the mercy of the ocean's whims. "Going across the water on that thing was a horror show," said Bill.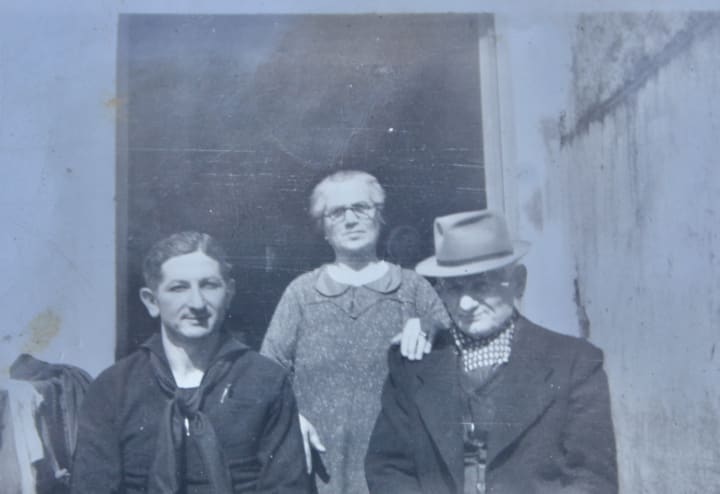 In the interim, Lizzy's mother moved in to help with expenses. A widow, her husband had made a very good living as a shoe shinner in Grand Central Station.
1945 brought Charlie home, and he picked up where he left off. The Bronx lifer went back to Borden's and resumed his deliveries. "I went with him Pop once. He was a strong little guy. He ran up and down the stairs. He was quick," beamed Bill.
But Charlie could have chosen a much different path again. "Mr. Hahn came to our house and offered my father some kind of job in Washington," said Bill.
Connolly's right hand man, the Navy higher up probably got it straight up from Charlie. "My father wanted to be with his family," concluded Bill. "So he did what he wanted to do and that was it."
Please Like My Page on Facebook.