Kindness Over Callousness
My Mother's Story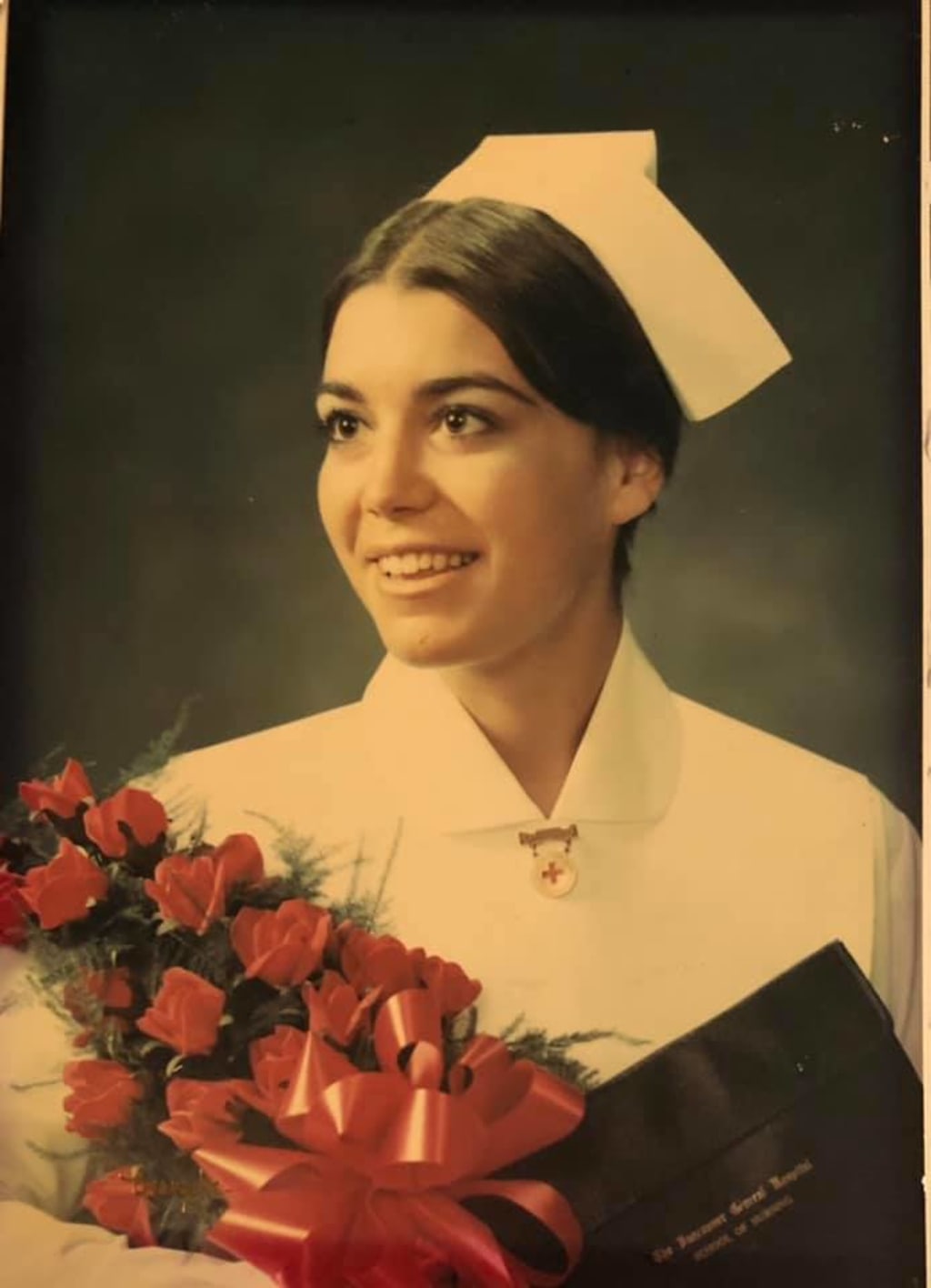 My Mother's Graduation Photo From Nursing School
My mother grew up on the less fortunate side of things. Her father was an army vet turned jukebox and pinball machine mechanic, while her mother stayed home to care for the children. Her family was full of love, but the void of extra money for luxury. She is the oldest of five, with a large age gap between her and her youngest two brothers. As the years went by, it became apparent that her mother's mental health was on a steady decline.
She never lived on her own. She went from my grandfather's roof, to the dorms of her nursing school, to the home she shared with my father. Through school and falling in love, she returned home frequently to assist with cooking, cleaning and caring for her younger brothers. As the older siblings moved away, my mother continued to support her family while trying to focus on her budding nursing career and new family of her own.
In December 1982, my mother's mother committed suicide rocking the family. Soon after this tragedy, my mother miscarried with her first expected child. This left her broken, picking up the pieces of both her old and new families. She spent more time at home, helping her father until he remarried.
I was born prematurely in late May 1985, my sister followed quickly in August 1986 and my youngest sister in February 1990.
I was 5 years old when I secretly witnessed the only time my father hit my mother, but would quickly learn that though his hand was seldom raised to her, his words often cut her down.
I was a latchkey kid growing up because our lives required a dual income; my father traveled the world for work and my mother was a dedicated registered nurse. She spent her work life and personal life taking care of others and never herself. When she was home, she cooked and baked, made sure to register my sisters and I in plenty of activities and attended most of them. I remember complaining about how much we did, but looking back am grateful to have had all those opportunities to find out what I loved or what I would one day become passionate about. Activities weren't cheap, but somehow my mother found a way to involve us in everything we wanted to do.
In spring of 1994, my youngest sister was diagnosed with cancer so severe, the doctors doubted her making it to her 5th birthday. My mother took leave from work and moved into the children's hospital to remain by her daughter's side. Our family struggled without my mother's constant influence at home. As a child, I did not understand what was going on and therefore experienced abandonment issues that as an adult, I deal with, but understand that a mother can only do what she feels is best in the moment. She had two healthy girls at home and a very sick child in the hospital. Once again, our family was rocked, this time, I feel, knocked off course and would not return to what we once were.
Fortunately, my little sister recovered and was granted remission status in the summer of 1995. It was an opportunity to grow together again as a family, but in that year apart, my father drowned in his depression and failed to break free of its hold. Their relationship, though living under the same roof, began its decline. My mother was now playing the part of two parents.
In 2000, I was 15 and the magic spell I was under of this perfect family I had was broken. My mother admits now that she and my father stayed together "for the kids." By this time, I knew this wasn't the love I saw in other families, but somehow, my mother still made us feel seen, loved, cared for, in spite of the random hurtful things my father would do or say to us. In spite of this, my mother would love other "forgotten" friends of ours, inviting them into our home, offering food and love when they had nowhere else to go. These friends remain a part of our family to this day and often speak of our mother as their "second mom."
This was our family's reality until 2012, when my mother and father separated. During the fallout of their almost 50-year relationship, some poor financial decisions made by my father surfaced. He fled somewhere warm down South and left my mother with 750 thousand dollars of debt. My mother had no choice but to sell our family home for much less than she would have liked to barely break even with the debt. Now, at almost 60, it was if the last 40 years of hard work and money earned disappeared and she was worse off than me. It was a major failure that reset her entire life, delaying her retirement and opportunity to finally care only for herself.
She worked her butt off to keep everything afloat and while I know she held a lot of hurt towards my father, she did her best to not feed it to my sisters and I. In fact, she continued to pay for his medication and required operations. She appreciated the fact that finally, for the first time in her life, she was living alone.
Here we are now, almost 10 years later and my mother has finally retired. The love shown to her by the people she influenced is unfounded and yet, she is surprised. She has dedicated her world to taking care of everyone else without expectation and now, she can take care of herself.
I found out I was pregnant and times are always tough during a pandemic with inconsistent work causing arguments between my partner and I on occasion due to finances. I held off for a long time opening up to my mom about this because of her experience with my father. When I finally did open up to her, she was supportive, not poisoned by my father's actions, but optimistic for my future and excited to be a grandmother. She said, "don't let what your dad did influence you with your boyfriend, he is a different man, and that was a different situation. Act with love. With kindness over callousness."