JAMmommy Adventures!
Enchanted Island review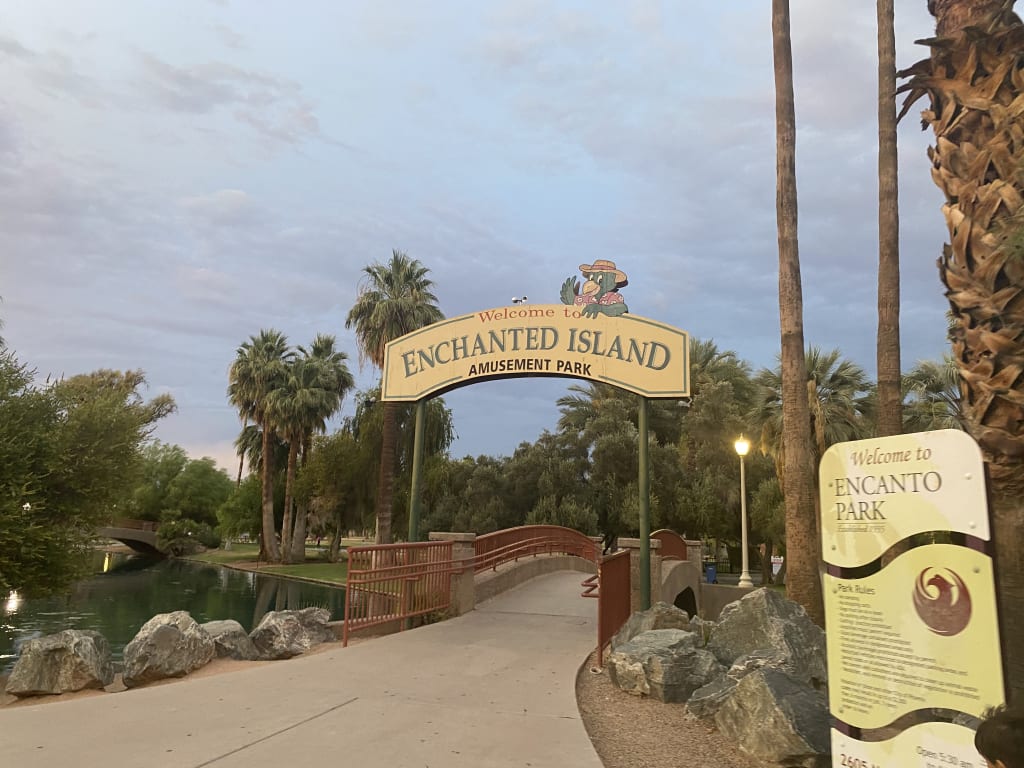 It's so hard to keep kids entertained. My boys have all the toys in the world(much to my messy houses' discontent) and they still come into my room asking to do something else. Recently I have been trying to take them to do something with them once or twice a week and today's pick was Enchanted Island! I'm sure I'm not the only one with restless kids that's looking for fun places to take them to that isn't going to make your pocketbook cry.
Enchanted Island is part of Encanto park located in Phoenix AZ. The park itself is huge and includes a jungle gym, a lake with ducks and fish, lots of fields, Enchanted Island, a full pool and probably more that I didn't get a glimpse of.
LOCATION: Encanto Park is located in Phoenix AZ on 15th avenue in between Thomas and McDowell rd. When driving down 15th Ave, turning right on Encanto blvd would bring you to signs directing to Enchanted Island.
PRICING: Entrance is free, the rides are $5 each or there is an option to purchase a ticket book. There is one for 10 tickets for $40, 20 tickets for $60 or an all day wrist band ($20). *YOU CAN USE THE TICKETS ANOTHER DAY IF YOU DONT USE THEM ALL THAT DAY. I purchased the 20 at first unsure whether my boys would want to ride and quickly realized I should have gotten the wristbands. Lol
RIDES: The boys(aged 5, 4, & 3)enjoyed themselves very much riding a lot of the rides multiple times. There are about 10(don't hold me to it) little kiddie rides including a Carousel and other variations of a carousel. There is also a splash pad, it was not a very big one, but it wasn't the smallest either. *IN ORDER TO GO IN THE SPLASH PAD YOU HAVE TO HAVE A WRISTBAND. There is also a train that takes you for a trip through half of Encanto Park. However, I found that there were rides in the pics on google that were not there when I went but did not think to ask why. But in case you are wondering I didn't see any of the boat bumper cars or anything like that.
BUSY vs NOT BUSY: It was not crowded at all when we went (6:30pm - 8:30) and upon asking an employee I found out they are most busy during the fall and spring months and less so in the summer due to the heat.
FOOD: There is a snack bar and a snow cone stand both are pay for only(Not ticket). The food is what you would expect at a carnival in my opinion. Not necessarily too expensive but not the cheapest either.
Overall:
The best way I would describe this place would be to say it's like a County Fair for young children but all year long. Great for introducing your children to rollercoasters and other thrill rides. If you have a bigger family I'd recommend doing the wristbands, for smaller families you may find that tickets are cheaper.
Not sure I'd take the boys back during busy months (IMO the rides aren't worth a line) but I'm sure the boys would disagree, But during the less busy months it's definitely worth it. It was a lot of fun watching the boys thoroughly enjoy themselves.
(Based on 5 star rating)
MOMMYRATING: ⭐️⭐️⭐️⭐️
JAM RATING: ⭐️⭐️⭐️⭐️⭐️
Side note 📝! If you like what you read please feel free to leave a tip! Tips help fund more JAMmommy Adventures and bring you more reviews on hidden family fun gems 💎!!