It's Time To Teach Kids That It's Cool To Be Creative
An easy way to expand your child's mind.
A Personal Beginning
Being raised in an immigrant household, creativity was never something that was prioritized in my childhood development. My life mainly consisted of three things: getting straight A's, daily competitive-level athletics (that would raise my chances of being admitted into a college), and sleep. Apart from those three foundations, I never truly found myself encouraged to take part in activities that wouldn't directly impact my future.
Many people that I've encountered in High School have shared the same story. Wake up, go to school, complete an afterschool activity that will leave a college admissions director in awe of your greatness, and go to sleep. Some of us, like myself, have been going through this routine for around a decade in time (more than half of my life!).
Don't get me wrong—it's not always a bad thing to fall into a positive routine. Human beings are creatures of habit. We find comfort in what was once uncomfortable, and we tend to stay there indefinitely. But, I think that those of us who resonate with this lifestyle can admit one thing—something significant feels missing. That omniscient knowing bubbles up within me every time I recall any of my early morning wake-ups or late night braindumps. I know that I've missed out on being a kid.
For The Parent Reader
What is one of the highest ranking personality traits that interviewers look for when they are potentially seeking to hire your child?
Reliability? Sure, but it's easy to claim that you've been the leader of a team project when no-one's going to inquire any further.
Honesty? Of course, but no one would ever admit to being a liar.
Flexibility? Without a doubt, but every kid learned how to be flexible on the play-ground (see what I did there?).
How about creativity? You really can't fake that one.
How To Raise A Creative Mind
A creative mind can be easily developed in childhood. Children are naturally intuitive and are curious creatures at heart. But, this creative energy is too often squashed by the expectations of parents who overlook the significance that a creative outlet will create for a child. So, how can parents take initiative to teach their kids that it's cool to be creative?
1. Give your kids some more free time (or, phone-free time).
Allow a few moments in your day that are completely unconstructed, and see what your kids turn to. Simply put, allow your child to explore their own interests and take note of what they seem to be engaged with.
2. Avoid micromanaging your kid's play time.
Children have an amazing innate ability to be creative when they play freely on their own, and unfortunately, the act of overparenting dampens or even wipes out that innate ability — Mike Lanza of Playborhood.com
3. Explore your own creativity!
Seriously, when was the last time that you picked up your sketchbook or took a stab at that new short-story idea that you had. Children are very observant and often learn from their parent's behavior, so taking some time for yourself is actually a great way to help your tot on their creative journey.
An Easy Way To Launch Your Kid's Creative Path
A simple, yet productive hobby that is easily encouraged to your child is photography.
What can photography teach my child?
Presentational and planning skills that are required to embark on a proper photoshoot.
How to be innovative in a competitive field of study.
The ability to communicate ideas and emotions through a form other than language.
What should I think about when buying a camera?
Is it small enough to fit into my child's hands?
Is it durable, and will it last a long time?
Is it digital, and does it come with storage?
What are some ways that I can engage my child in photography?
Set up a photoshoot that requires your child to take pictures of certain objects or particular colors.
Encourage your child to engage in portrait photography of their favorite dolls or action figures.
Become a model for a fashion shoot with your child and test out different poses for the camera.
A Great Camera To Get Started With
In doing some research, I found that the best company that encourages kids to become creatives and learn photography is Cams4Kids.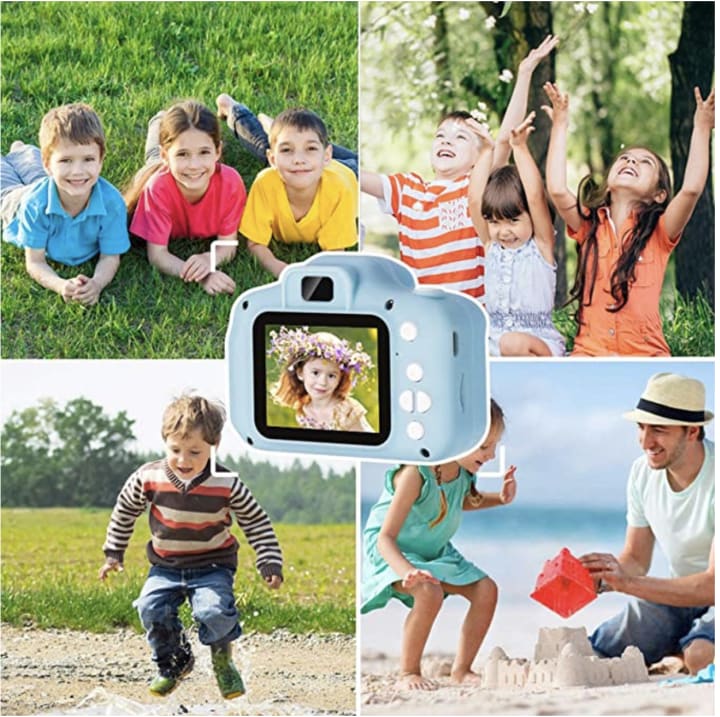 Cams4Kids is a fully woman-owned small business that sells lovely small digital cameras for kids. Their cameras come with 16 GB of storage and have excellent features such as video recording, fun filters, and educational games.
Right now they're having a 65% off sale in lieu of their cyber Monday week-long deals. The Cams4Kids Cameras are on sale now for only $34.99 — one of the most affordable prices on the market of child sized cameras.
Teach Your Kids That It's Cool To Be Creative
Please, don't raise a robotic kid. It's cool to recite every multiple of 565, but it's even "cooler" to create something that you can be really proud of.
So, really parents, take advantage of the sale going on at Cams4Kids, and introduce your children to the brilliant world of photography.
Additional Links and Information
Here's a direct link to the Cams4Kids product page.
If you want to see more of me you can find me on instagram, here.