India vs Australia 2nd ODI Summary
By Manoj Rishi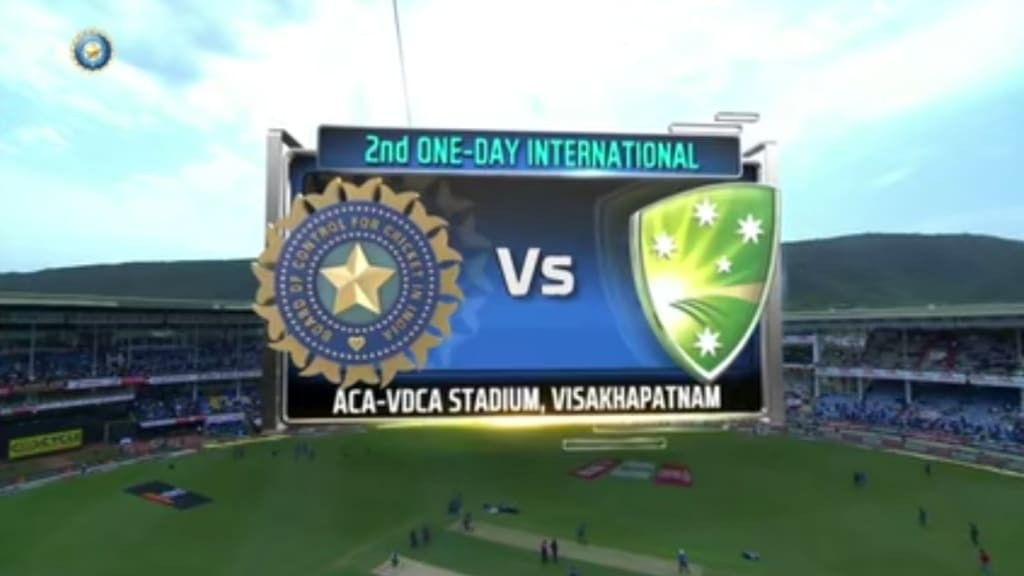 Tied (1-1)
5:32 pm Such a resounding win for the Australians! They defeat the hosts by 10 wickets with 234 balls remaining, handing them their greatest defeat in terms of remaining balls. India had high hopes of turning this into a match, but they were completely outclassed by the Marsh-Head storm, which carried their team to victory with ease.
5:35 pm Australia walked out to bat knowing that they needed to get off to a solid start and try not to give the hosts any opportunities. Every bowler was destroyed by Mitchell Marsh and Travis Head, who followed instructions to the letter. They made the pursuit appear effortless. Marsh maintained his undefeated record on 66 with six devastating hits and barelyHead also recorded an undefeated half-century while facing 36 balls. But, the bowlers set up this victory, and in the end, they stylishly tie the series. Moreover, Australia becomes the only side to defeat India by 10 wickets in an ODI. India, on the other hand, will need to forget about this match and enter the decider with good intentions.
5:46 pm India was bowled out for just 117 runs earlier in the game after being allowed to bat first, thanks to Mitchell Starc's five-wicket haul. The hosts would have been dissatisfied with that effort, and will need to work on it. They would have, however, considered making some early breakthroughs andput pressure on the Australian batting but were unsuccessful in doing so. As a result, the opening combination of Mitchell Marsh and Travis Head breezed by them to quickly chase down the score, making the third ODI a little more intriguing.
5:45 pm Travis Head and Mitchell Marsh have come in for a brief discussion. They enjoyed themselves, according to Marsh, and getting off to a good start was crucial. reveals that he made careful to keep an eye on the ball. feels that having just two fielders outside the 30-yard circle for the first 10 overs of the inning is thrilling. The first Powerplay of both games put India under strain, and Mitchell Starc deserves credit for that. It also states thatwill be a crucial third game for them. Travis Head says that it was good to contribute. reveals that he took his time and was content. Considers it to be pleasant when Mitchell Marsh is hitting like he did in this game. Mentions that he was hoped one of them would start moving, but that it was unusual that both did in this case.
6:00 pm The Indian team's captain, Rohit Sharma, says it's a little upsetting to lose this way and that they didn't play to their full ability. claims that this was not a 117 pitch at all and adds that they were unable to apply themselves with the bat. claims that they kept losing wickets anytime they tried to form a partnership.which wasn't the best. Mentions that he and Virat Kohli thought about applying pressure on Australia as they swiftly collected 30-35 runs, but he lost his wicket and then a few more, which put them at a disadvantage. The author praises Mitchell Starc's bowling performance and notes that he has always been a capable bowler who played to his advantages and kept the batsmen guessing by swinging the ball both ways. Considers Mitchell Marsh to be among the best players currently playing in terms of power hitting.
6:02 pm The captain of the winning Australia team, Steven Smith, praised the game's great bowlers. explains how Mitchell Starc put India under early strain and how other bowlers were complimentary of him. Sharesthat he had no idea how the wicket would play or what totals he should aim for. Seemed like it was just a matter of getting out there and applying pressure to the hitters. Mentions how it was one of those days when everything was taken and handed out. Travis Head and Mitchell Marsh deserve praise for getting things going and applying pressure to the opposing bowlers. He adds that he is quite proud of the work and that it was a nice day. He concludes by noting that because Hardik Pandya is such a fantastic player, he is delighted the ball got trapped in his hand.
6:03 pm With his outstanding five-wicket performance, Mitchell Starc is named PLAYER OF THE MATCH. He claims to have improved histrading through time. He continues by saying that he was able to swing the ball and has been in terrific rhythm lately. Mentions that while Marcus Stoinis and Cameron Green bowl different lengths, his talk is different from theirs. explains that the seamers benefited from both wickets and adds that his strategy is to assault the stumps.
6:08 pm So that's all there is to say about this game. Australia has levelled the series after making a strong comeback. India, on the other hand, had a forgettable game and must refocus going into the series finale. On March 22, the third and final One-Day International of the series will be contested in Chennai's MA Chidambaram Stadium. The initial ballwill start bowling at 1.30 IST (8.00 am GMT). You are always welcome to join us as we build up. Till then, have a wonderful day and bye!
Reader insights
Be the first to share your insights about this piece.
Add your insights