INDIA vs AUSTRALIA 1st ODI SUMMARY
india leads (1-0) Australia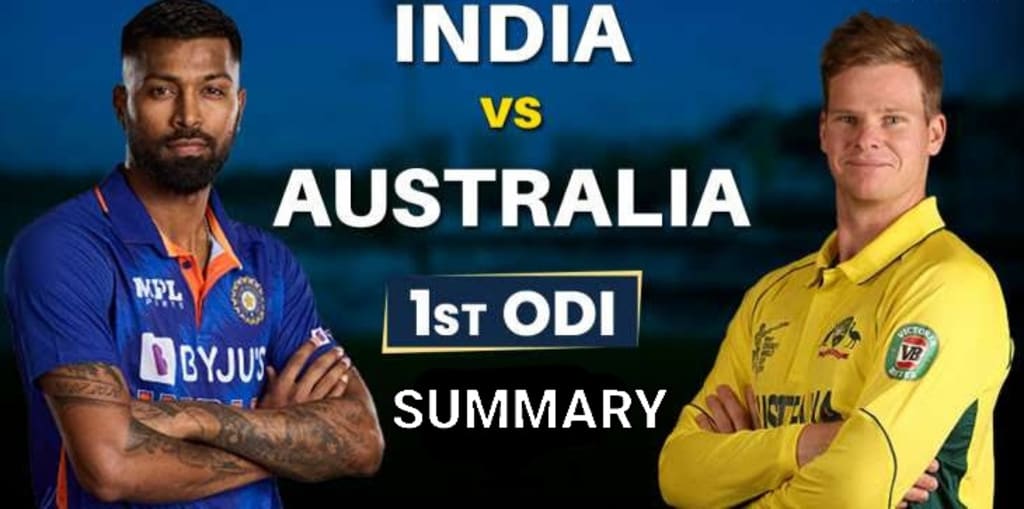 8:41 pm Well, no one anticipated that! The Wankhede stadium is typically used for high-energy games with big scoring, but this match was all about putting up a fight. In the end, India won thanks to a valiant unbeaten stand of 108 runs between KL Rahul and Ravindra Jadeja. The three-game ODI series is currently 1-0 in favour of the hosts, who will now try to win it all in their next match.
8:41 pm At 16/3 and 39/4, India was in in disarray, but KL When Hardik Pandya, the captain, stepped out to bat, Rahul was gripping one end. With 106 runs still needed for victory, the pair helped to steady the ship a little. However, just as things appeared to get simpler for them, Pandya also fell. Rahul maintained a cool head under pressure, and Ravindra Jadeja bravely offered assistance. The two struggled through several deliveries, but once the winning margin was within 50 runs, they too began to bat fluently. Rahul scored an undefeated 75 runs in the end, and Jadeja added 45 significant runs as well.
8:42 pm In the end, Australia will feel a little let down, but their batting was truly what failed them. When the Australians came out to bowl, Mitchell Starc appeared to be a man on a mission. He also got the ball to talk in the air and off the deck. He quickly took three wickets, and the other bowlers all kept things very tight to increase the pressure. The conditions improved for batting once the ball became old and there was little dew, but their spinners were mainly ineffectual, and the Australians were unable to respond as a result, losing.
8:53 pm Hardik Pandya, who had earlier won the toss and elected to bat first, chose Australia. This proved to be a wise choice because Mohammed Siraj quickly fired Travis Head. But after that, Mitchell Marsh launched a counterattack and convinced everyone that the wicket was a traditional Wankhede one. The Indian bowlers made quick work of the tall Australian batting order after Marsh, who had scored a scorching 81, was out at the other end of the field. The spinners and Mohammad Shami destroyed players like Cameron Green, Glenn Maxwell, and Marcus Stoinis because they were unable to offer much to the team. Siraj then entered the game, ran out the remaining batsmen, and joined Shami in the game with three wickets. WithDespite the lacklustre score, the Australian quicks made a significant effort early on in the chase to make it a real contest, but in the end, KL won. With a cool mind, Rahul and Ravindra Jadeja led India to victory.
8:54 pm KL, the man of the hour Rahul is open to a brief conversation. Rahul claims that because the score wasn't too high and he had lost three wickets early on, he wanted to bat out the first 20 to 25 balls without worrying too much about scoring. He continues by saying that a few early bounds relieved some of his pressure. Tells that the intention was not to withdraw and play their game with anyone he batted with. Mentions how much fun it was to bat with Hardik Pandya and Ravindra Jadeja, who both wanted to run hard and snag any loose balls. claims that when the left-hander entered, he too picked up a couple stray balls, and commends Ravindra Jadeja for in which he batted. He continues by saying that he did not anticipate the pitch to be as favourable to bowlers as it was, and he praises Mohammad Shami for his outstanding performance. He ends by noting that he enjoyed his keeping and that he loves it when there is bounce, but that if it keeps low, it becomes physically difficult.
8:59 pm Steven Smith, the captain of Australia, claims that they weren't prepared for this at the Wankhede and gives India credit for their bowling strategy, claiming that they should have reached a score of about 250. He continues by praising KL Rahul and Ravindra Jadeja for their batting performances. Mentions that Mitchell Marsh performed exceptionally well, but that they lost a lot of wickets in the middle and that, despite their outstanding bowling performance, India was always just one strong partnership away from winning. believes that given the poor quality of the ground and the fact that the ball swung for nearly 30 overs for both teams, they should have scored 260–270 runs.
9:07 pm Hardik Pandya, the captain of India feels that it was a nice win. adds that despite being under pressure in both innings, they maintained their composure and came up with solutions. demonstrates how they maintained their momentum after gaining it. praises Ravindra Jadeja for his performance in ODIs after a long absence. He claims to have enjoyed his bowling and hitting, but he really wanted to stay until the end. He ends by expressing his pride in the team and how wonderful it was to see KL Rahul and Jadeja from the outside.
9:08 pm The PLAYER OF THE MATCH award goes to Ravindra Jadeja for his outstanding all-around performance. He claims that he has not played ODI cricket in 8 months and that he was simply attempting to get used to the format. He continues, "Even if the target wasn't a big one, it was vital to develop a partnership with KL Rahul." Mentions that you need to adjust your length and pace because this is not Test cricket, and he told himself to just hit the key spots and let the ball do the work. He claims that he and Rahul attempted to put on 70–80 runs, which is what actually occurred, and that it was difficult to play huge smashes on this wicket.
9:10 pm The action now shifts to Visakhapatnam for the second ODI of the series after this game is over. It will be a crucial matchup since India wants to win the series, while Australia wants to even things up and make the third and final game more exciting. The second ODI will take place on Sunday, March 19, and it will start at 1:30 IST (8 am GMT). Nevertheless, you can join us much sooner for the build-up. Cheers!
India won the match :)
Reader insights
Be the first to share your insights about this piece.
Add your insights