In the End, We Were Champions
Our daddy-daughter team won big--and we were each other's biggest fans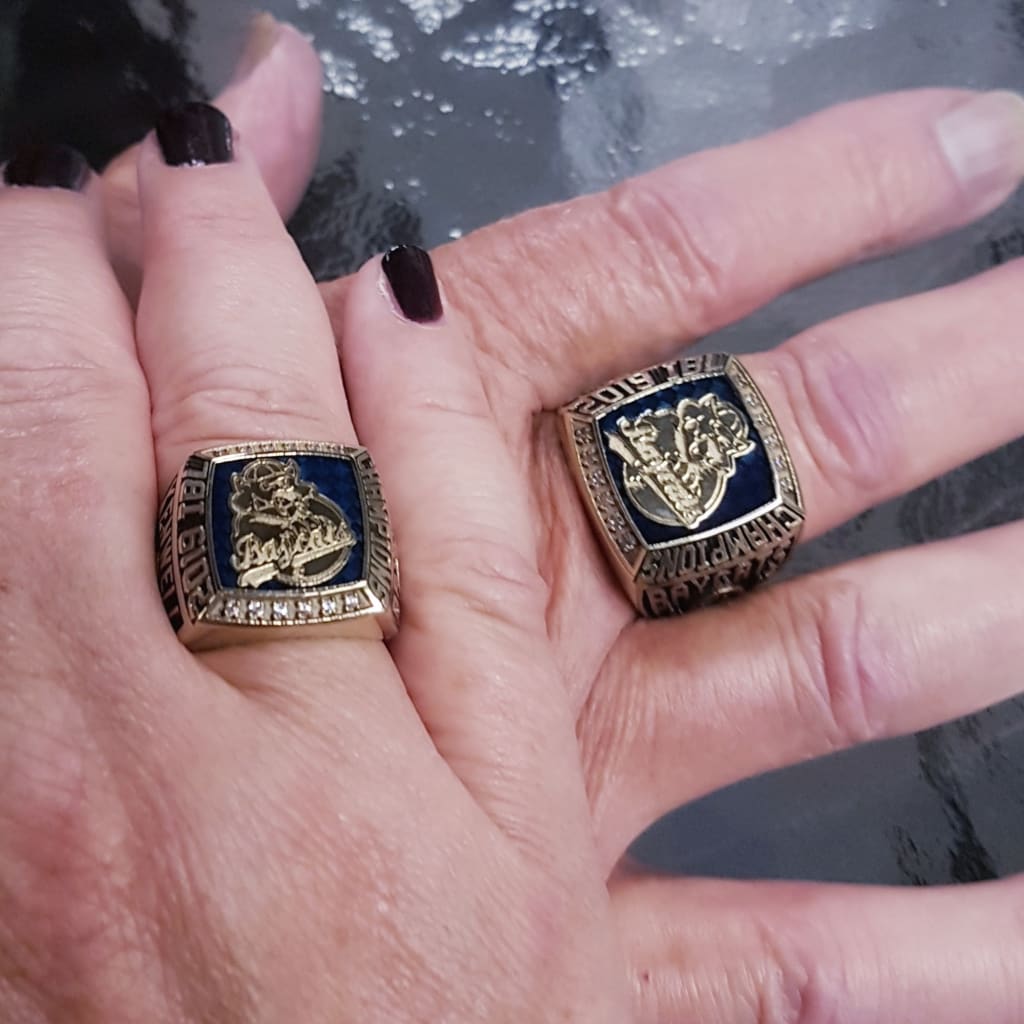 Our 2019 IBL Championship Baycats rings
Here's a photo.
Two hands, one over the other. Intimate. Each hand wearing a mammoth ring. Identical rings.
And that snapshot is a moment in time, a moment captured, because at least one of the owners of those hands believes that it could be the last time for those hands, together, one over the other.
September 8, 2020.
A moment in time.
And sadly, I was right. The hand that covers my father's hand is mine.
In June 2021, the day before Father's Day, he would fall. Despite his valiant efforts, he would never truly recover.
These hands. Life is made of these moments. Life is a series of snapshots, tangible or not, and that is what we cling to when life takes a loved one from us.
Someone recently told me that she believes I've always been a keen observer and protector of those moments; I don't remember much of my childhood, but I do carry those snapshots in my head. Not in video form, but in stills.
Those hands? We were at a celebration, in the middle of COVID.
When full lockdown and gatherings of more than five people were verboten, our 'annual' Baycats baseball championship ring ceremony was delayed. These rings celebrated the Intercounty Baseball League's 2019 winners, our Barrie Baycats. And here it was, more than a year later. The league didn't hit the field that summer of 2020, but we were finally able to get together in the fall.
Initially I volunteered with the Baycats because I wanted to be close to my dad, and we were our own little team. In 2015, months after my mom passed away, we left a playoff game with Dad in incredible pain. Later than night, I saved his life. At least that's how he told it. I was just being a daughter, who couldn't bear her father's anguish. I raced behind his ambulance and held his hand in hospital until docs could treat him. But they couldn't fix his broken heart. And while he was treated and eventually recovered from a serious infection, the grief from losing the love of his life continued to gnaw away at him.
My husband and I moved to Barrie by the end of that year, with the goal to be closer to my dad. We bought a house a few blocks away from his apartment. That first summer we were in town, I joined my dad in volunteering for our beloved baseball team.
People often remarked at our relationship, and yes, it was indeed something magical. I've always admired him for his ability to see people where they are, and not wish they were something or someone else. He counted many folks as friends, and after he died, I received notes and emails and letters and cards from people who I only knew on the periphery. Without exception, every missive shared a story about my Dad's kindness and generosity.
Dad and I were always smiling together. We 'got' each other, and constantly needled and joked when we were together. As adults, we brought out 'the kid' in one another and would often race each other down his apartment hallway or make faces at each other when we thought no one was looking. When we were at games, I'd steal away from my merchandise duties to sit on the stool beside him. Dad was the 'official' first face you'd see when you entered the stadium; since day 1, he (and my mom) took tickets and greeted everyone who walked in. He rarely missed a home game in 13 years, and he knew most of the people who walked through the gate.
From 2016 to 2019, Dad enjoyed what I will call him 'bonus' years; he traveled to Newfoundland to see the whales, he spent two summers with us at our Golden Lake vacation spot, and he loved having Sunday breakfasts with his kids, grandkids, and great-grandson. Though his life post-Mom was bittersweet, he lived it as fully as he could.
Then, in 2020, Dad's world came crashing in. COVID. An entire season would pass without him being able to assume his post. A year without greeting his friends. A year without the social and sports life he thrived on.
When COVID hit, Dad went into solitary confinement. As worried kids, we ensured he stayed home. We brought him food and eventually visited with him. He was a rascal, though. He'd go for 'walks'—to the pharmacy and the grocery store—without our knowledge (but of course the cookies he'd offer us with our tea—the ones we didn't buy for him—told the tale). He was a good sport about the rules and regs, but they wore him down. And when he couldn't cheer on his beloved Baycats or volunteer at the gate, his depression grew.
So, that evening—September 8, 2020—when we were finally able to pick up our rings, it was a celebration of momentous proportion. Because we hadn't been able to connect with others, Dad was a little overwhelmed with seeing our entire Baycats family at once. He tired quickly. He sat down. And as my dad and I were both known to do, he watched—he observed everything and everyone around him. He absorbed those moments of joy, of greeting, of celebration. As I walked over to his table to join him, I recognized his expression. I knew he was snapshooting precious moments.
Some say a picture captures a thousand words, and I'm closing in on that number right about now. But sometimes there truly are no words. Sometimes, a moment means more words than a dictionary can ever contain. I held this hand. I held this hand to the end and after. I'll hold this hand forever. What a team we were. And what fans we had in each other.
values
About the author
I live with a broken brain and PTSD--but that doesn't stop me! I'm an author, artist, and qualified mediator who loves life's detours.
I co-authored NOT CANCELLED: Canadian Kindness in the Face of COVID-19. I also publish horror stories.
Reader insights
Be the first to share your insights about this piece.
Add your insights