Imagine suffering from extremely bad health then waking to the "BEST HAPPINESS THERAPY"
News of Winning $20,000 worth of Travel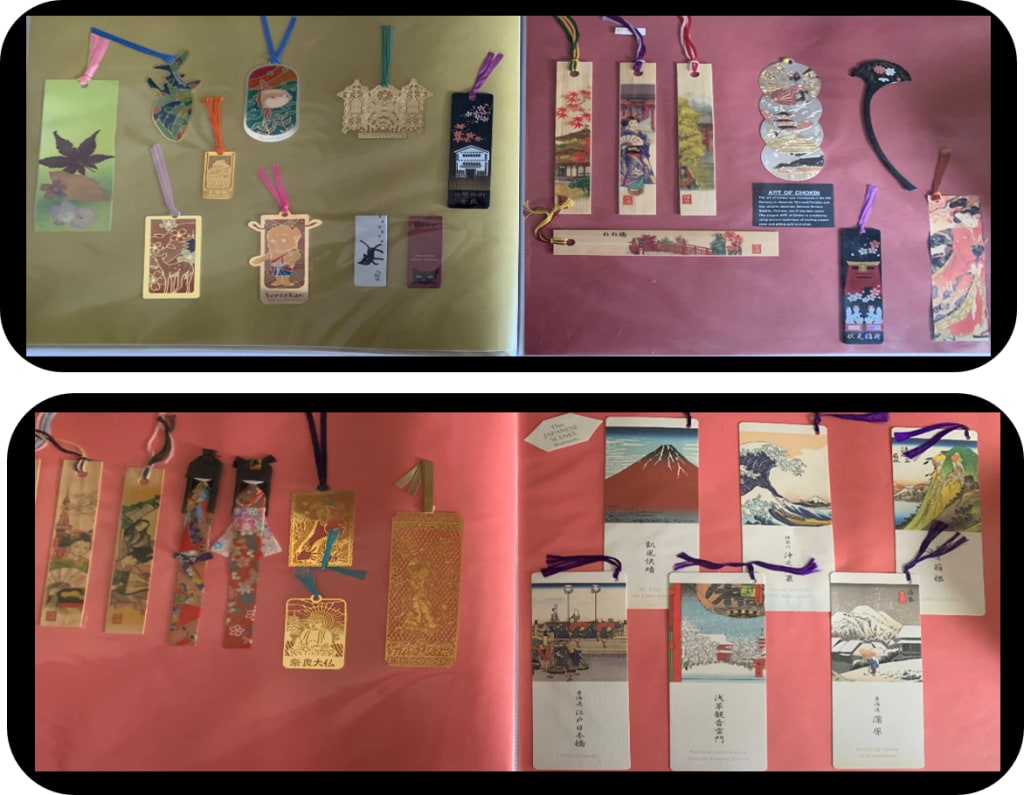 Some Japananese Bookmarks
After serious complications during surgery, lying in recovery mode in hospital, the phone started ringing.
Karin answered, then a gentleman proceeded to inform Karin, that she was the lucky winner in the BP raffle she had entered, with a prize of either her desired trip on the Orient Express or $20,000 was hers. Karin said, thinking this was a Hoax, YEA RIGHT and hung up.
He called back again and said – Do not hang up its true but was too late as Karin had hung up again.
Next day Karin's Mum, Ann, arrived along with 2 gentlemen. Ann introduced them as John and Bob. They indicated they were from BP Head Office and informed Karin again – you have won the prize you indicated on your entry form "An Orient Express Adventure" or alternatively, $20,000 Travel dollars. OMG it was true.
Karin said NO to her original prize request, as she could not enjoy the trip due to her bad health. But after a minute or two, she questioned them both - could she have the money and decide on a trip and outline where she wanted to go in a few months' time, after her health improved.
With a smile Bob said YES, but said that BP must organise the planning, trip details, and that she must travel one way around the world to her desired destinations.
Karin was Gobsmacked to say the least. As John and Bob had indicated Karin had 12 months to use the prize, Ann informed them that once Karin was out of hospital the extension would give her time to plan and organise her travel.
5 months later it was arranged. Karin was so excited and over the moon to travel around the world, on her own at 35. Karin felt this trip of a lifetime, travelling out of New Zealand, is to be her first trip overseas.
Karin's neighbor, Jill, had been overseas regularly. Jill pointed out to Karin that souvenirs are valued treasures of any trip. Jill said sometimes they can cost more than you paid for them, and in more cases than not leave you with overweight luggage bills as the Luggage weights vary from country to country.
Jill then gave away a secret to Karin. From all her overseas trips she had a mysterious "Little Black Book", in the form of an Album. Jill said she filled this with Bookmarks (great collectors' items), and phone numbers of any dishy fella's and friends she would meet, for prosperity of course. She showed Karin her 5 "Little Black Books" that she had collected along the way. They were spectacular. It gave Karin the idea of framing all the bookmarks, she would collect, on her return.
The day came for Karin to leave. At the airport, everyone was happy for her except Ann. She was worried for her travelling for so long and alone. However, Ann presented her with gift, a leather diary and said for Karin to record all her escapades that she could and share with her Mum via emails and on her return. She left with 1 Credit Card valued to $20,000 and $700 NZ$ in her pocket.
Karin's excitement grew as her first stop Melbourne for 3 days, then on to Asia for 3 days, then UK for 9 & 3/4 months, Europe 1 month, USA 1 month, Hawaii 3 days, then home.
Karin travelled anywhere and everywhere she could, and had the time of her life. From the first day of her trip Karin wrote daily of her escapades and places she visited. As she had filled one, she purchased several more diaries filling each with her thoughts of her journeys daily.
Once arriving in London, she found a hostel in Kensington, just around the corner from Kensington Palace. She was jumping for joy at all the things she could see and do in London. Karin found a Barmaid job at night and sourced work as an Office Manager for a Japanese company, to help pay for the extensive Credit Card purchases she had made to date. Once paid off, and more earnings in her pocket, she also took short trips all over the UK. One afternoon, as a thank you for all her hard work from her boss - he presented her with a Friends of the Opera pass to all dress rehearsals and more. She was over the moon especially as she had never been to the Opera.
Karin participated in things she had never done nor had access to in her life as she ran her own Hairdressing Salon in a small community of 3.000 people in NZ. This included Community activities, Art Galleries, saw copious amounts of Opera shows - thanks to her boss and all places of interest in the various countries she visited. And along the way she was also collecting her many treasures for her "Little Black Book".
During her long stay in London was at a Hostel. She thoroughly enjoyed the lifestyle they all lived, and she participated and drank up all the exciting experiences they participated in – more treasures for her "Little Black Book", addresses etc.
On one of the many drinking game nights, Karin revealed she adored U2. For Karin's 36th Birthday, all the Hostel group contributed to a magnificent gift for her. They arranged a trip to Ireland to see U2 in concert. She was so excited but when the date was near she was unable to go due to ill health with another trip to hospital.
Not to be beaten, the group changed her ticket to a "Surprise Weekend in Paris" as U2 were playing in Concert there.
Karin had no idea where she was being taken and what the weekend would produce. But once there brimmed with anticipation, she felt it was the most magnificent birthday present ever. She was in her favourite city in the world – Paris. And staying at a wonderful Hotel with a personal chauffeur for the weekend. What more Karin could wish for.
Unbeknownst to Karin, and still not to be outdone, the group organised for her to be sitting in on 1st floor right above the stage, sadly in her wheelchair. 2ndly, they had also organised for Bono to sing a song just to her. Yes, Karin felt he was singing to little ole her, as she said, and was crying through the whole performance with tears of joy and appreciation.
What they did not know was how well she got on with the Chauffeur, bad health or no bad health – what happens in Paris - stays in Paris wink wink.
From there, every destination was more exciting than the last, and Karin had to pinch herself from time to time to ensure this was all but a dream.
After 12 months, Karin returned home to Auckland, but she soon became disenchanted with her life and needed to see what else was in store for her. Karin thought that her first overseas stop, on her exciting journey, was Melbourne Australia. So, with no time to waste, she decided to migrate there, much to the dismay of her family especially Ann. But after long hours of discussions, she was ready for her next adventure.
Karin's best and most exciting factor of her world tour was her "Little Black Book" Albums, as she filled them with magnificent memories of her valued collection of bookmarks and phone numbers/pictures of friends she met on her journey.
Each bookmark Karin collected reminded her of the town, village, or city she visited and what it took to find each bookmark. They proved to be a little treasure hunt for each bookmark. Karin thought to herself, as she packed them in her suitcase. These prize treasures were never going to be left behind.
Karin's "Little Black Book" Albums are still her prize possession 31 years on. They were upgraded from her "Little Black Book" Albums to be presented as sensational framed art works displayed all around her home to this day.
Karin considers herself extremely lucky to have completed such a wonderful journey, on her own, and met the most amazing people. To this day, she contacts and remains friends with many of the people she me. Mind you Karin would not share some of "Little Black Book" Album's contents - wink wink say no more.
Karin now has her own Real Estate business and draws on her overseas experiences and believes they have contributed to her success in dealing with the diversity of cultures and people in Melbourne, during her successful career.
Karin has never regretted the decision to immigrate, and certainly is forever extremely grateful for Jill's memorable gift to her of the "Little Black Book" idea and still has carried on the tradition of writing her many trips using her Moleskine notebooks.
Especially now, during the regular Covid-19 lockdowns, Karin has been able to relive her 12- month journey of a lifetime around the world daily, whilst viewing her delightful Art Works. Whilst they were not Vincent Van Gogh, Pablo Picasso or even Ernest Hemingway paintings, these were Karin's valued Bookmark Art Collection that she created some 31 years ago.
travel
As a business owner I enjoy travel, sunsets, working in the garden and playing with my dog.
Life should be like a box of chocolates, you don't know what you get until you open it, see it and taste it. Pure delight is usually the end result.