Created with Basis
How I Focus on Getting a Better Night Sleep as a Mom of 5
Rach has her hands full, and getting enough quality sleep isn't always easy, but she's found ways to make the restful nights way more frequent!
As a mom—and a mom to five kids, no less—I'm pretty well-versed in what exhaustion feels like. After having IVF twins, then a surprise baby, and then another set of twins, I had just started to feel better in my most recent postpartum recovery.
Then I hit a wall.
The same thing happened after I gave birth to my daughter Eloise. While I wasn't shocked by this sudden exhaustion, I knew that I needed to find a way to become more energized and less stressed. After all, I have five kids to care for now instead of just three!
To be a better mom and to better care for my kids, I need to get the best quality sleep I possibly can. In this post, I'll take a deep dive into my top tips for how moms can get not only more sleep—but better sleep at that.
How I Focus on Getting a Better Night Sleep as a Mom of 5
Night time is precious to me. Between the hours of 8pm and 7am I am either working on my blog, sleeping, or spending time with my husband. Rarely will you ever find me out and about during those hours.
Why? Because getting a good night's sleep is crucial for me to function properly during the day.
And as a mom of five kids, getting enough sleep is not always easy. Let me share with you how I focus on getting a better night's sleep.
1. Staying Hydrated
Something I didn't realize until recently was that I don't sleep as well when I don't take the time to drink enough water during the day.
For a while, I thought this was just me, until I did some research and found out that electrolyte imbalances are closely linked to a wide variety of sleep problems. Who knew!
Fitting water into my schedule can be a challenge. It's hard enough to find time to fill up my water bottle during the day, let alone to drink it.
During my search for the perfect hydration solution, I stumbled upon Basis.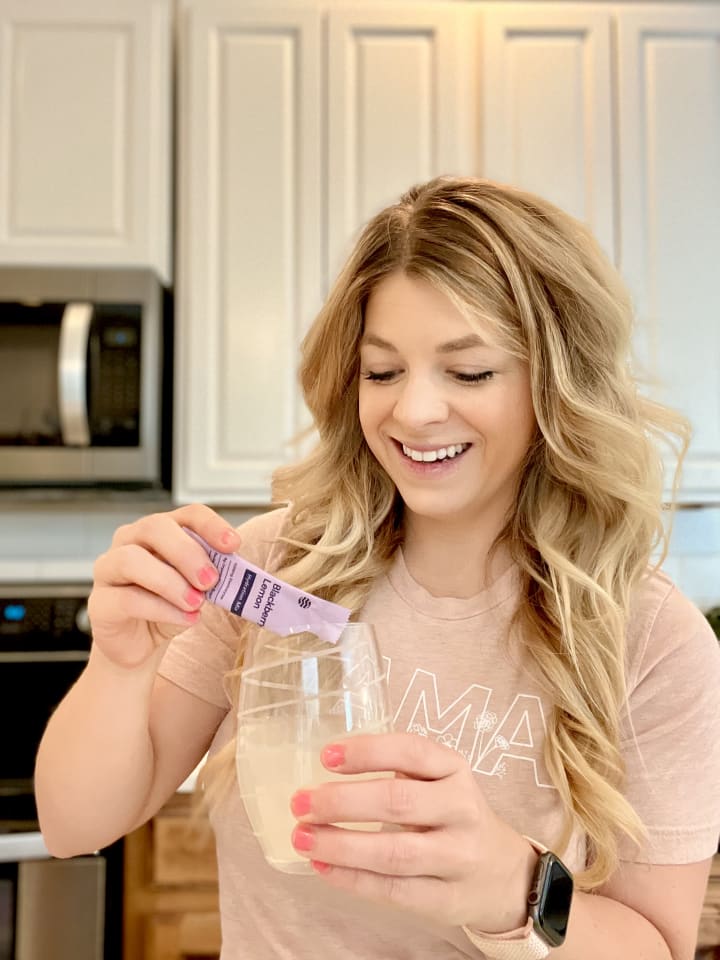 It wasn't the first hydration solution I've found, but it stood out to me in a few important ways.
In the past, all the hydration solutions I've found are loaded with sugar. I'm still recovering from giving birth so I like to keep my diet as low in sugars and carbohydrates as possible.
Basis is an awesome solution because it contains just four grams of organic cane sugar. For reference, most competitors contain at least 11 grams of sugar per serving (yikes!) and double the amount of calories - double yikes!
Basis has a subtle taste that keeps me coming back for more—meaning I drink more water during the day.
2. Having a Solid Nighttime Routine
As a mom, I've come to realize that routine is EVERYTHING—both for myself and for my kids.
Children thrive on routine. Although it might seem a little "Type A," I think it's so important to keep my kids on a tight schedule at night. Not only does this set clear expectations for them—meaning they fall asleep better and actually stay asleep—but it also makes sure I have some time for that ever-important self care before I hit the hay, too.
There are a few staples in my kids' bedtime routines. These vary by the kid (obviously the newborns have a different routine than my older children) and by the day. Some nights are just rushed—and that's okay. The main point here is to make sure that the routine is followed as closely as possible as many nights of the week as possible. Consistency!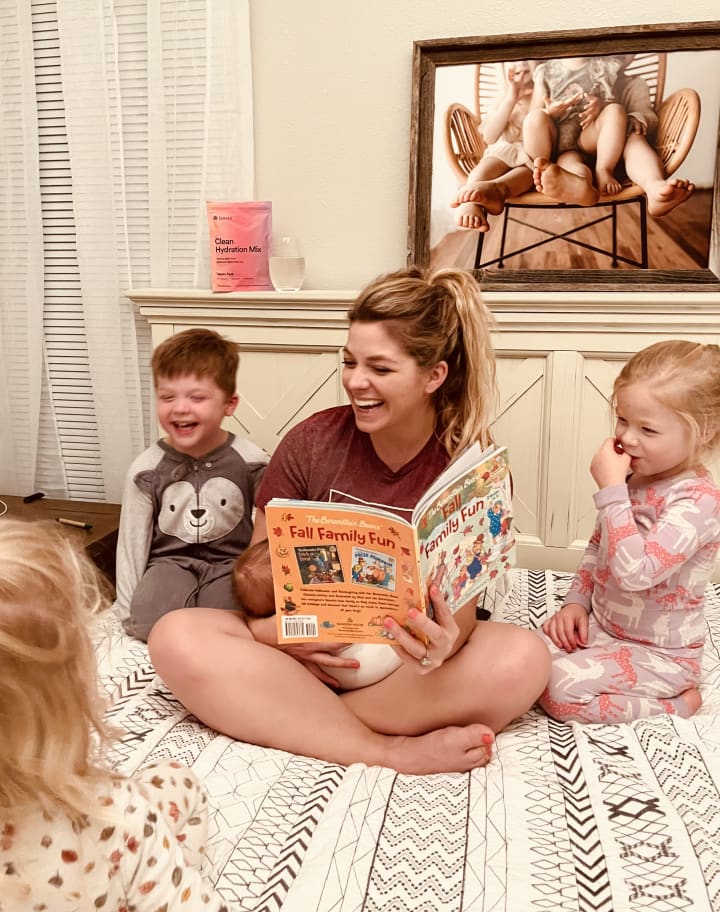 Some things we like to do as part of the routine is to have a little snack about an hour before we close out the night (for the little ones, this is milk a bit closer to bedtime). Then we have a bath and diaper change, brush their teeth, and read together. Some cuddles are essential, too!
As for me and Brad, our nighttime routine looks sort of similar (okay, no diaper changes though...at least not yet!).
We like to spend some time cuddling and talking about our day. I'll usually read a book and brush my teeth. Most nights, I also shower or take a bath, just to buy myself some extra time in the morning. Stretching and meditation are essential, too!
3. Focusing on Quality Over Quantity
As a mom, I know that a good night's sleep is essential for both my physical and mental health. However, I also know that getting a full eight hours of sleep is often easier said than done.
That's why I focus on quality over quantity when it comes to my sleep. I make sure to disconnect from electronics an hour before bed (to avoid that blue light!), and I create a relaxing bedtime routine that includes reading or taking a bath.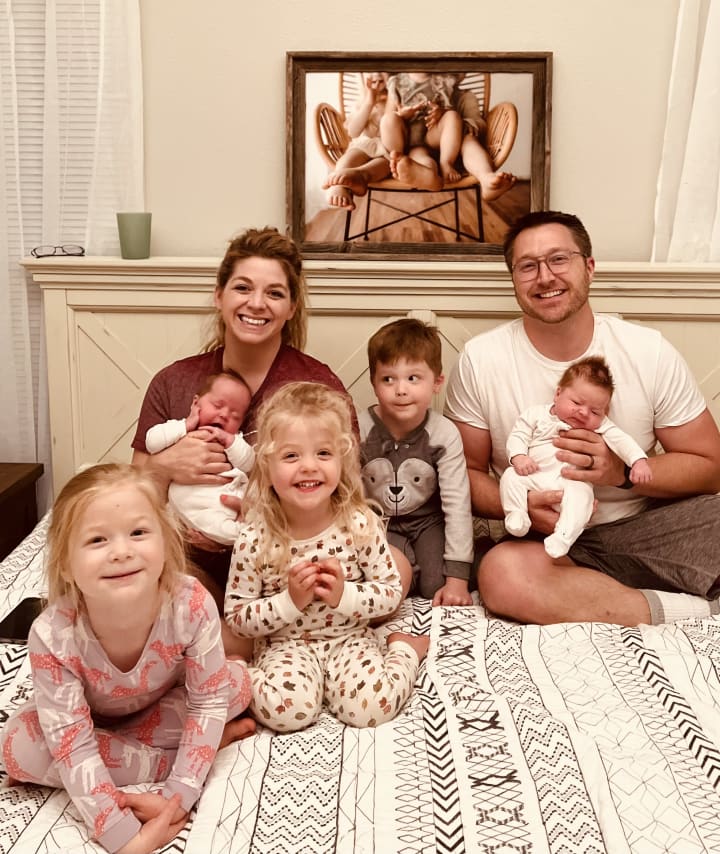 I also try to stick to a regular sleep schedule as much as possible. By focusing on quality sleep, I'm able to get the most out of the time I do have to rest. As a result, I'm able to be more present and patient with my kids during the daytime hours.
4. Optimizing My Bedroom for Restful Sleep
Between work and taking care of my family, it can be difficult to find the time to wind down before bed.
To help ensure that I get the restful sleep I need, I have made some changes to my bedroom to create a more relaxing environment. I have replaced my heavy curtains with light-blocking shades, installed a white noise machine, and swapped out my hard mattress for a memory foam one.
I have also made sure to keep my bedroom dark and cool, as these are ideal conditions for sleeping. I also avoid caffeine and alcohol before bed. Caffeine can keep you awake for hours after drinking it, while alcohol may make you feel tired at first but often disrupts your sleep later in the night.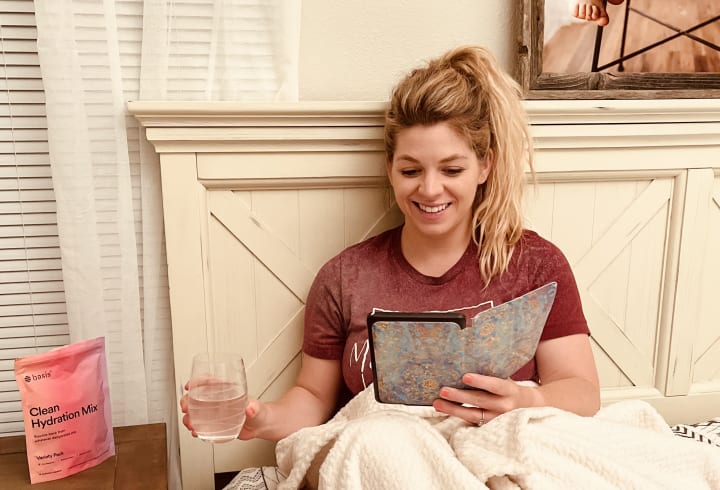 By making these simple changes, I have been able to get better quality sleep, which has made me feel more rested and energized during the day.
Catch the ZZZs You Need for Better Parenting Tonight!
As a mom, I know how important it is to get a good night's sleep. Not only do I need to be well-rested to care for my family, but I also need to be at my best during the day.
Do you have any additional suggestions that have worked for you?
product review
About the author
I am a proud mother of 5 kids under 5, I'm half of "Brad and Rach" from YouTube. We are professional optometrists turned YouTube creators who gained popularity as we documented our journey to conceive with IVF. We love sharing traditions from our hometown in Missouri and have been guests on the Drew Barrymore Show.