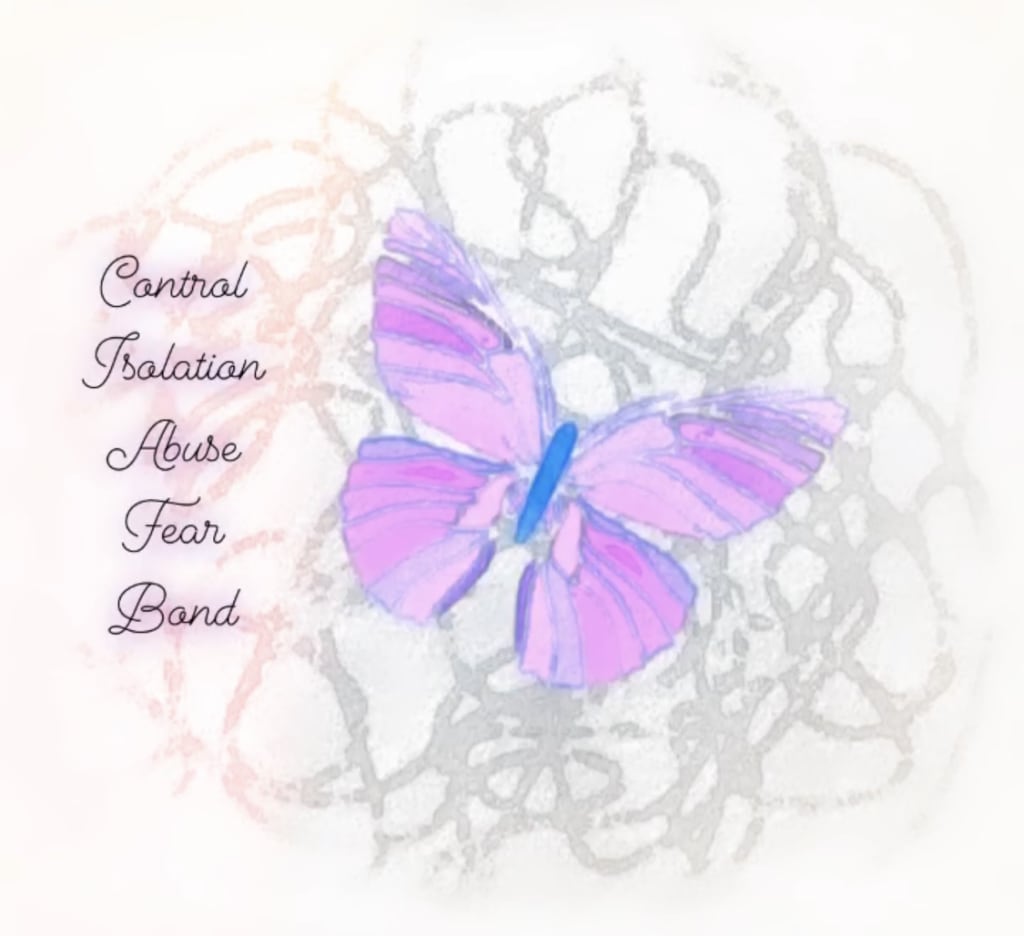 "He fucking kicked me." As I held our, at the time, 6-month-old daughter, my brain struggled to comprehend what the actual fuck was going on. October 7th, 2019 was the beginning to the end of my relationship with my daughter's narcissistic, substance-abusing father. I met him at work. He was married at the time and I was about 4-months single after a 5-year relationship. Oh, how my demons loved his demons. Somehow everyone around me noticed that I had "Daddy issues" but not me. No, I thought I was a valiant warrior of love, that I was going to show this broken man by my example what love looks like, acts like, feels like. What. An. Idiot. My therapist tells me to "have some Grace" so I shouldn't say that. Rather, what was I thinking?
I, a complete empath and hopeless romantic, was attracted to his pain and his story—like a moth to a flame burned by the fire… that's the way love goes. Umm, no! That's not love. That is sick people attracted to other sick people. That is the product of one's self punishment and the other's selfishness. This man picked me. Happy little unsuspecting me. I was his target, his victim. He prayed on the best parts of me. He deployed tactics of confusion and gaslighting. Amongst the physical, psychological, financial and emotional abuse, he amusingly mixed in tenderness to subdue and confuse me even further. I was being controlled. Ever heard of traumatic bonding? Traumatic bonding is a phenomenon in which the victim becomes attached to their abuser. The scary truth about traumatic bonding is that it is one of the many survival tactics created by your brain to overcome the stress of it all. Again, what the actual fuck. So now I am mentally ill? Yes, yes I am.
That night he had called me to tell me he was pulling into the garage. Almost 30 minutes later and he hadn't come home yet. I found him passed out with his mouth open in the driver's seat of his car. With. The. Car. Still. Running. I thought he was dead. Nope, he had taken a little too much Xanax. Not prescription Xanax, street Xanax. Though taking prescription drugs can also be addicting and lethal, street drugs are often laced with other materials like Fentanyl. But that is an article for another day. As the 3 of us headed upstairs to our apartment, I told him I was done, we were done and that he needed to pack a bag for the next couple days and park his ass at work and sleep in the car so it is not my fault again why he's late for work tomorrow (it is always my fault, because narcissists act as victims themselves).
My daughter, being 6 months old, was pretty much holstered to my left hip at all times. We paced from room to room as her Dad desperately followed us as if he could charm his way out of this one. With all my effort to remain calm, I repeatedly asked him to leave me alone until I put the baby down for the night as it was getting close to her bedtime. He literally could not even. He held my daughter and I hostage in her nursery. He blocked the doorway so we couldn't leave. At this point he was scary-angry and screaming at me (while my daughter remained in her holster). Because her head was next to mine, I became defensive. "This is crazy, you're yelling at our daughter," I thought as I stiff-armed him to create some distance. He pushed me back. "Huh?" I pushed him back thinking if we could create some distance, he would see what he was doing. But he took it as a challenge. "You think you're tough?!" He bullied me as he kicked me in the knees repeatedly as I turned in attempt to shield my daughter from the abuse. I remember the look on her face when the first kick occurred. It was like a nervous laugh. She thought we were playing…
At this point I was frantic, "please let me put her down!" I screamed. He pulled her from my arms and placed her in the crib. I ran. I ran knowing that at this point she was safer away from me so she wouldn't get caught in the crossfire. I made it just past the doorway before what seemed like a lightening strike. He pinned me to the ground with my arms behind my back. He's a trained Mixed Martial Artist so I like to call it a submission, but the cops call it a hogtie. I repeatedly cried out for him to stop. He yanked my upper body in half replying, "you stop, you stop!" He was crushing me and I couldn't breathe. In fear of passing out and leaving my daughter alone, I went limp. I stopped resisting. At that very second, we received a knock on the door. I ran to my bedroom sobbing, "oh my God." I was hoping it was the neighbors or the cops but it was fucking Postmates. That was supposed to be our first Meatless Monday.
Things settled down for a little. Neither of us ate. I took my daughter to bed with me to watch a movie and pretend everything was normal. I had her nestled right under my right arm. He stood at the doorway eyeing us. "You're hogging her," he exclaimed as he pulled her from me. "I'm taking her to Del Taco," as he set her in her stroller. I sat in front of the door, in my head praying he wouldn't physically try to move me as I don't know what I would do at that point. He threatened me to go ahead and call the cops as they would take our daughter away from me too because I was unemployed. I then negotiated with the terrorist, I deployed tactful empathy the best I could, I agreed to not break up with him if he would just leave us alone for the rest of the night. He walked to the couch and I got up and relieved my daughter from her post. I hate that I have to say this, but she did amazing. She was fearful and she maintained a low profile without a single cry. Though I had been psychologically toyed with, and physically beaten, the image of him putting my daughter into the car seat to go for a joyride was absolutely horrifying. The intense feeling of shock and disgust left me nauseous for months.
If there is one thing I want you to take away from my story it is this: women face the greatest risk of assault when they leave or threaten to leave their partners, or report the abuse to authorities. Nearly 1 in 3 women and 1 in 4 men experience domestic violence in their lifetime. If you or someone you know is in an abusive relationship, help them to find knowledgeable and resourceful support that can guide them out safely.
Your friend,
Izzy Vo