Cyclone Warriors
Saving our Christmas celebration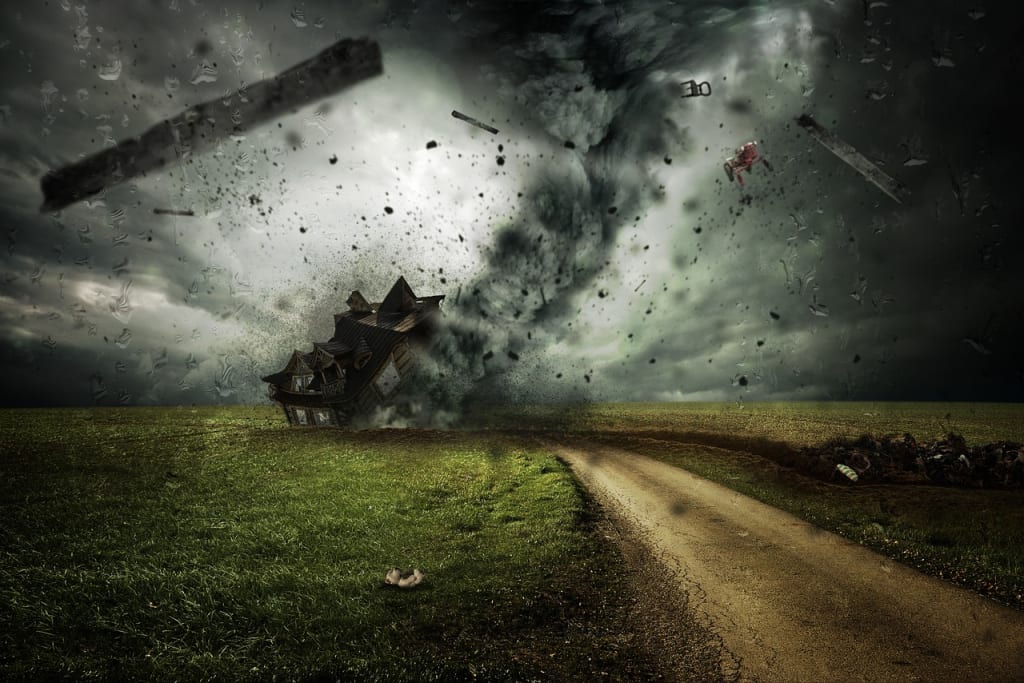 Photo courtesy of Pixabay
I wearily climbed into bed at 3am, Christmas Eve. Well technically I guess it's Christmas morning.
Why was I getting to bed so late?
Well Father Christmas has only just left, after delivering my boys gifts and placing them in a pillow case on the end of their beds, scoffing down the milk and cookies left out for him and feeding the carrot sticks to his reindeer.
Now he's off to make some other child happy and I'm climbing into bed.
The weather outside is a little wild tonight and I don't envy Father Christmas and his reindeers flying around in that, but my weary head tells me they'll be fine, as I fall asleep as soon as my head hits the pillow.
"Mummy, Mummy, wake up, it's Christmas," I hear as my oldest boy shakes my shoulder.
I gingerly open one eye and ask what time it is.
"It's 6am Mummy. You said we could wake you up at 6am and Father Christmas has given me the best presents," he responds.
I groan as I open my eyes and sit up, "mmmmm I did say you could wake me at 6am, so let's have a look at what he gave you."
I can't help but smile at the excitement on his little face.
At that moment my youngest son runs into the room, "Mummy, you are finally awake. We've been waiting for hours and hours. Father Christmas was here last night so it shows I've been a good boy all year long."
How precious!
"Okay boys, let me see all these cool gifts you received," I reply, relishing their joy.
Two pillow cases are excitedly upended onto my bed and a marathon of commentary follows from each child. I may be extremely sleep deprived but I'm happy, because these two beautiful boys are happy.
"Okay boys, let me get up and make a coffee and then we'll hit the presents under the Christmas tree," I said after we'd gone through every Santa gift in great detail. They both race off in excitement.
I wearily climb out of bed, and walk out into the lounge room, only to notice that the Christmas tree lights are off.
"Boys, who turned the Christmas tree lights off," I asked? "You know we don't turn them off on Christmas Day."
Both boys looked confused as they rush back into the room. "We didn't turn them off Mummy," my littlest tells me.
Mmmmmm that's weird. I reach behind the tree to turn them back on, when I notice the wall switch hasn't been turned off after all. Strange.
I walk over to the nearest light switch and flick it on, moving my gaze to the ceiling, only to note that the light doesn't turn on. It seems we don't have any power.
Oh there goes my much needed coffee.
I begin to walk around the house, moving towards the front door, to head outside to the electricity meter box. We must have blown a fuse.
As I open the door, I'm a little shocked at the sight.
My front yard is strewn with vegetation debris and the give way sign standing on my verge, is now bent at a sixty degree angle. What in the world?
I still check the meter box in the hope that it is just a blown fuse but by this time I seriously have my doubts. As I thought, the fuses are all fine.
I head back inside and check out the rest of the house. To my surprise I find half my bed is absolutely drenched. The half I don't sleep on, thankfully. About half a metre from that side of my bed is three sets of glass louvres, but the strange thing is they are all closed. How did my bed get so wet?
After checking the back yard and seeing the debris out there, I begin to realise what has happened.
Last night, around 9pm, the weather started to turn bad. By 10pm it was raining and blowing a gale.
As we had, only the year before, been devastated by a category 5 cyclone, and lost so much to another category 5 cyclone five years before that, it's understandable that I've become a little frightened of big winds.
Now the wind outside was nothing like a cat 5 cyclone, but it was definitely windy. I jokingly text a friend who lives inland, in another town, as we live on the beach, and ask him if a cyclone was sitting off the coast, heading our way. My text said it seems to definitely be cyclonic winds building up outside, but he responds telling me there was nothing forecast.
With that easing my mind, I let the worry go and continued on with my night.
So imagine my surprise when, on Christmas morning, I ring a friend who lives in the same town and she informs me that a rogue cyclone had in fact hit us overnight and we'd slept through it.
Sure it was only a category 1 cyclone but it had showered the town in debris, bent the steel post housing the give way sign and thrown rain at us with enough force to push it through the closed window louvres and drench my bed. Not to mention taken the power away from us on Christmas Day.
Power — oh no!
There goes our roast turkey Christmas lunch, because my entire house runs on electricity. Not a gas burner in sight.
I gather the boys and tell them not to worry as we'll open the presents, which were thankfully undamaged, and I'm sure the electricity will be back on in time to cook the roast turkey.
I'm not sure we could take another set of losses after the last two cyclones, where we lost everything, especially not on Christmas Day.
We perch ourselves on cushions on the floor, dry ones, and gather around the Christmas tree, where I precede to hand out gifts to the boys. The delight, as each one was opened, was enough to forget about the lack of power for awhile.
As the ending of the gift giving, the boys happily playing with their new toys, I scout through the fridge to see what I can scrounge up for our celebratory lunch, but sadly there is not a lot that I can make, without being able to cook.
I am left with only one option and I turn to the boys and suggest, "How about we have an unusual Christmas lunch today — of ………. wait for it — fruit salad and icecream."
Both boys look at me in surprise, eyes wide open. My oldest child whispers, as if scared I'll change my mind, "We've never been allowed dessert for lunch before. That would be wicked."
Then both little faces light up once more in glee. "Dessert for lunch, dessert for lunch," they both sing as they run around the room in excitement.
I smile back at them, thankful that Christmas has been saved, as I precede to cut up the fruit for lunch.
You know, all those glorious Christmas fruits that aren't available any other time of the year? Cherries, peaches, apricots, plums, mangoes and the like?
That year everything was a little different for Christmas but we were cyclone warriors and didn't allow it to ruin our day!

If you liked my writing, please click on the small heart underneath, near my name. Or send me a tip and let me know you enjoyed it.
****
Please click the link below my name to read more of my work. I would also like to thank you for taking the time to read this today and for all your support.
If you enjoy this piece, you may enjoy this one too.
values
siblings
parents
immediate family
feature
children
About the author
My first love is poetry — it's like a desperate need to write, to free up space in my mind, to escape the constant noise in my head. Most of the time the poems write themselves — I'm just the conduit holding the metaphorical pen.
Reader insights
Outstanding
Excellent work. Looking forward to reading more!
Top insights
Easy to read and follow

Well-structured & engaging content

Excellent storytelling

Original narrative & well developed characters

Expert insights and opinions

Arguments were carefully researched and presented
Eye opening

Niche topic & fresh perspectives

Heartfelt and relatable

The story invoked strong personal emotions

On-point and relevant

Writing reflected the title & theme
Add your insights