American life
The insight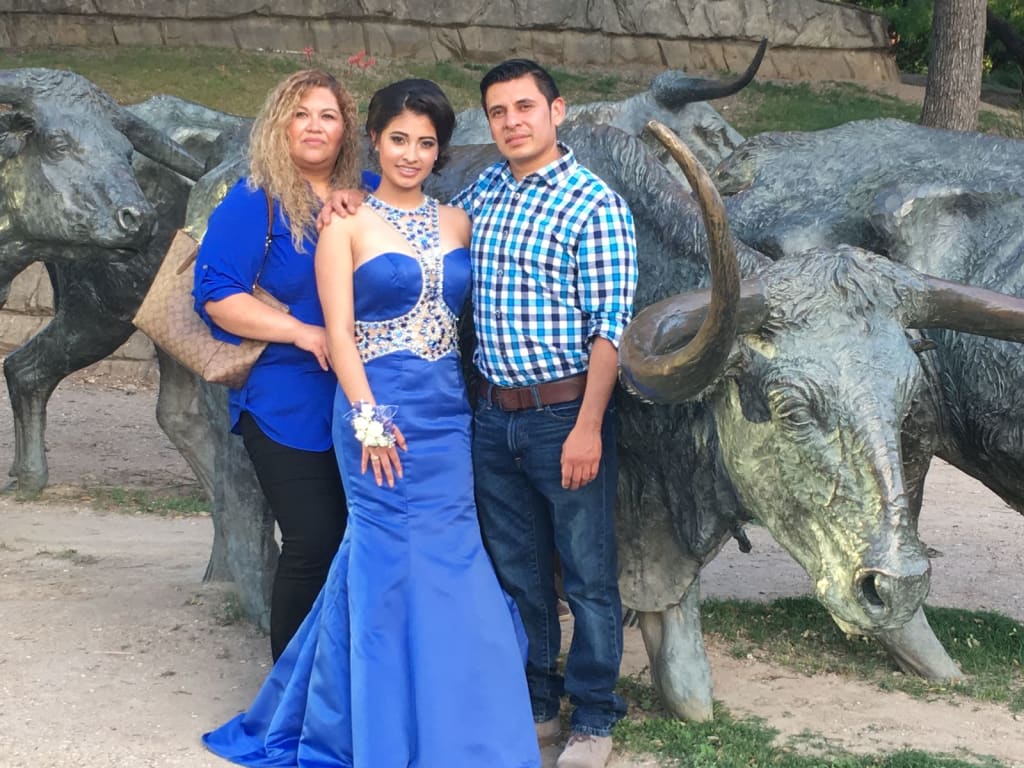 THE AMERICAN LIFE
INTRO
A 20 YEAR OLD GIRL BORN IN THE CITY OF MEXICO BUT RAISED IN THE UNITED STATES. WONDERING WHAT THAT IS LIKE? MY FAMILY FROM MEXICO THINKS I HAVE IT EASY BECAUSE IM ON THE OTHER SIDE.THAT MY PARENTS OR MYSELF HAVE PLENTY OF MONEY BECAUSE WE WORK IN AMERICA. THEY THINK WE HAVE THE BEST CARS OR THE BEST HOUSES,THAT WE DRESS NICE AND HAVE A NICE LIFE STYLE BUT TO THOSE WHO DO HAVE A NICE LIFE STYLE OR ANY OF THE ABOVE THEY SACRIFICED A-LOT TO GET EVERYTHING. A LOT OF PEOPLE MAY THINK I HATE BEING MEXICAN OR EVEN HATE SPEAKING ABOUT THE CULTURE BUT THATS NOT THE CASE SO LET ME TELL YOU MY STORY.
COMING TO AMERICA
JUNE 30,1999, BORN IN San Luis, Mexico City.A COUPLE DAYS AFTER I WAS BORN MY DAD CAME TO THE UNITED STATES, AFTER MY FIRST YEAR MY MOM AND GRANDMA DECIDED TO BRING ME AS WELL .MY MOM WAS NOT ABLE TO CROSS WITH ME SO I CROSSED THE BOARDER WITH A FAMILY FRIEND.I LIVED WITH MY GRANDMA FOR A SHORT PERIOD OF TIME UNTIL MY MOM WAS ABLE TO CROSS THE BOARDER. MY AUNT (HER SISTER) HAD TO BREAST FEED ME AND TAKE CARE OF ME UNTIL I WAS ABLE TO BE WITH HER AGAIN.I GREW UP IN A SMALL HOME WITH MOM AND DAD. WHEN I WAS THREE MY DAD LEFT US FOR SOMEONE ELSE AND EVENTUALLY STARTED A NEW FAMILY. I DON'T HAVE ANY MEMORIES OF ACTUALLY LIVING WITH HIM EVEN IN THE 3 YEARS SINCE HE WAS NEVER PRESENT.
I STARTED SCHOOL AND EVENTUALLY LEARNED ENGLISH.MY MOM THEN FOUND SOMEONE ELSE HE TOOK ME IN AS HIS OWN AND RAISED ME AS HIS OWN. MY BIO DAD WOULDN'T COME AROUND ANYMORE, I MEAN WAS HE EVER AROUND?NO!…. WHEN EVER HE FELT LIKE "SEEING" ME HE WOULD COME BY BUT THE ONLY THING HE DID WAS ARGUE WITH MY MOM OR SLASH MY DADS TIRED, BREAK THE CAR WINDOWS AND JUST START FIGHTS WITH BOTH OF THEM. MY MOM SOON GREW TIRED OF HIS MESS AND OBTAIN A RESTRAINING ORDER AGAINST HIM. I GREW UP SCARED OF HIM BECAUSE ALL I SAW WAS HOW PROBLEMATIC HE WAS.
WHEN I WAS 12 WE WERE LIVING IN ANOTHER HOUSE A COUPLE MONTHS WENT BY AND THERE WERE RUMORS THAT A GUY WOULD BE DRIVNG BY MY HOUSE AND JUST PARK OUTSIDE OF MINE. ONE DAY AFTER SCHOOL I WAS OUTSIDE WITH MY NEIGHBORS AND MY MO. A TRUCK APPROACHED MY HOUSE AND MY MOM JUST LOOKED AT ME AND SAID " GO INSIDE AND DON'T COME OUT UNTIL I TELL YOU TOO",I DID'NT LISTEN I STAYED AND THEN I HEARD THE MAN ASK MY MOM TO SEE ME AND THATS WHEN I SAW HIM… MY DAD. HE LOOKED STRAIGHT AT ME BUT DID'NT EVEN SAY HI, HE KEPT YELLING AT MY MOM NOT EVEN ACKNOWLEDGING THAT I WAS STANDING RIGHT THERE AND THEN JUST LIKE THAT HE DROVE OFF.
I RAN INSIDE AND JUST STARTED CRYING FEELING SCARED AND SAD. SCARED OF HIM COMING BACK AND DOING SOMETHING MORE THEN JUST YELL AT HER. I WAS SAD THAT HE DID'NT EVEN ACKNOWLEDGE ME AFTER ALL THIS TIME. MY MOM HAD GONE INSIDE AND BECAUSE I WAS STILL WEARING MY SCHOOL UNIFORM SHE SAID "IF HE EVER GOES TO YOUR SCHOOL AND TRYS PICKING YOU UP, DON'T GO" BUT AFTER WHAT HAPPENED AT MY HOUSE I NEVER SAW HIS FACE AGAIN. HE WAS NOT THE ONLY ONE WHO HAD EVER MADE ME FEEL LIKE THAT. DURING THATV YEAR I WAS ALSO SEXUALLY ABUSED.DID I DO ANYTHING …NO! DO I REGEAT IT ? NO!… I DID'NT KNOW WHAT TO DO, HOW TO FEEL, OR WHO TO TALK TOO. I DID'NT WANT HIM TO HURT MY SISTER OR MY COUSIN. I FELT LIKE I COULD'NT MOVE, I COULD'NT SCREAM OR GET HELP. I JUST FELT FROZEN WHILE TEARS RAN DOWN MY FACE. I DID'NT SPEAK ABOUT IT AFTER BECAUSE I DIDN'T WANT MY ANYONE TO TO BE HURT AND I DIDN'T WANT TO TAKE MY SOMEONES FATHER AWAY. I DIDN'T WANT THEM TO GROW UP LIKE ME.AFTER WHAT HAD HAPPENED TO ME I FELT MORE ALONE THEN EVER DROWNING IN MY OWN SECRET, I FELT WORTHLESS, SCARED, I FELT LIKE I HAD LOST EVERYTHING…I LOST MYSELF.
I ALWAYS ASKED MYSELF " WHY ME?!" "WHAT DID I DO TO PROVOC IT?!" "WHY COULDN'T I GET HELP OR DO ANYTHING?". I HELD IN MY SILENCE TO PROTECT THE ONES I LOVE.I DON'T REGRET HOW I DID THINGS BUT I WISH I WOULD OF BEEN AS STRONG AS I AM NOW TO HAVE SEEKED HELPED. AS TIME WENT ON I LEARNED TO BE OKAY AND EVENTUALLY FORGAVE HIM AND FORGAVE MY DAD. I HAD FORGIVEN A PERSON WHO WAS NEVER SORRY FOR WHAT HE HAD DONE TO ME.
BEING AN IMMIGRANT
THROUGH OUT THE YEARS I STARTED TO SPEAK ENGLISH FLUENTLY LIKE ANY OTHER PERSON IN AMERICA BEING RAISED HERE.I NEVER REALLY KNEW WHAT IT WAS LIKE TO BE AN IMMIGRANT OR WHAT WOULD HAPPEN TO A MEXICAN IF THEY EVER GOT STOPPED BY ICE OR HAD AN ENCOUNTER WITH THEM BUT MY MOM DID. ONE DAY WE WERE VISITING HER FRIEND IN EULESS SHE HAD TURN A RED LIGHT AND WAS STOPPED.SHE DID'NT KNOW SHE COULDN'T DO THAT IN THAT AREA, THE COP ASKED HER FOR HER DRIVERS LICENSE BUT SHE DIDN'T HAVE ONE THEN SO THEY TOOK HER AND I WAS LEFT IN THE CAR WITH ANOTHER COP UNTIL HER FRIEND CAME AND GOT ME. SEEING HOW THEY TOOK MY MOM WAS SOMETHING ILL NEVER FORGET AND YES I KNOW ITS NOT THE SAME AS ANY OTHER IMMIGRANT FAMILY BUT ITS AS SCARY AS THE REST. SHE WAS TAKEN TO THE ICE DEPARTMENT.
WHAT DOES AN IMMIGRANT THINK WHEN THEY GET PULLED OVER AND TAKEN TO THE MAIN OFFICE WHERE ICE IS LOCATED?I DIDN'T KNOW WHAT WOULD HAPPEN TO MY MOM OR ANYTHING. I WAS JUST LEFT THERE AND ALL I WANTED WAS TO DO WAS GO BE WITH HER.
MY AUNT AND UNCLES PICKED ME UP FROM MY MOMS FRIENDS, WE DROVE TO WHERE MY MOM WAS AND MY UNCLE PAYED HER FEE.SHE THEN WAS ABLE TO LEAVE AND WITH A CLEAN RECORD, NOT SO MANY OFFICERS WILL DO THAT. AFTER WTHAT HAPPENED I WAS ALWASY SCARED WHEN I SAW A COP, I ALWAYS FELT LIKE THEY WOULD TAKE MY MOM AGAIN.THE FEAR OF AN IMMIGRANT IS BEING SENT BACK TO THEIR COUNTRY AFTER COMING TO THE UNITED STATED FOR A BETTER FUTURE. FOR THOSE WHO HAVE FAMILY HERE THEY FEAR OF BEING DEPORTED AND LEAVING BEHIND KIDS THEY HAVE IN THE UNITED STATES.
WHEN I TURNED 15 I WAS ABLE TO BE A RECIPIENT OF (DACA). DOES HAVING THAT REALLY HELP THE SITUATION? NO, BUT IT GIVES YOU OPPORTUNITIES. WHEN I GRADUATED HIGH SCHOOL I HAD APPLIED TO A UNIVERSITY,I TOOK THE EVALUATION TEST AND SCORED HIGH ON EVERYTHING. AFTER MY RESULTS I HAD TO MAKE AN APPOINTMENT WITH AN ADMISSIONS ADVISOR TO LOOK AT THE COST FOR NURSING. I WENT WITH MY PARENTS TO THE APPOINTMENT I ENTERED WITH A SMILE AND HAPPY AND I CAME OUT IN TEARS.
DURING THE APPOINTMENT WE TALKED ABOUT FINANCIAL AID AND ALL THE RESOURCES THEY OFFERED TO BE ABLE TO PAY. THE LADY HAD OFFERED ME TO APPLY FOR FASFA WHICH IS WHAT ALL "AMERICANS" APPLY TOO TO RECEIVE FINANCIAL AID BUT FOR ME THAT WASN'T THE CASE. I TOLD HER I WASN'T ELIGIBLE TO APPLY BUT THAT I DID HAVE TASFA. THE SAME EXECPT FOR OUT OF STATE STUDENTS WITH DACA, AFTER TELLING HER THAT SHE IMMEDIATELY TOLD ME THAT THEY DIDN'T ACCEPT THAT FOLLOWING WITH WHAT I COULD DO TO OBTAIN THE HELP I NEEDED.WELL OVER ALL I COULDN'T DO ANYTHING BECAUSE MY FAMILY ISN'T FROM HERE AS WELL.
I WAS DEVASTATED I FELT LIKE IVE NEVER FELT BEFORE AND ILL NEVER FORGET THE WORDS OF MY DAD "NOW YOU WILL KNOW WHAT ITS LIKE TO NOT BE AMERICAN", I NEVER UNDERSTOOD THAT UNTIL NOW. I FELT LIKE I WAS NEVER GOING TO BE ABLE AND PURSUE THE CAREER OF MY CHOICE. I FELT WORTHLESS BUT I GUESS I FELT MORE MAD FOR NOT BEING AMERICAN. IT MAKES ME MAD SEEING SO MANY AMERICAN PEOPLE OUT IN THE STREETS, DOING DRUGS AND NOT TAKING THE OPPORTUNITY TO GO TO SCHOOL, TO MAKE SOMETHING OUT OF THE NAME THEY GET TO USE "I AM AMERICAN".
I DON'T HATE BEING MEXICAN. WHAT I HATE IS THE DIFFICULTIES THAT COMES WITH BEING ONE. I HATE HOW ARROGANT SOME PEOPLE OF MY SAME NATIONALITY ARE, I HATE HOW MY OWN PEOPLE WILL ABUSE THERE OWN FAMILY, I HATE HOW MY OWN WILL TURN ON EACH OTHER. WHAT I DO LOVE IS BEING GIVEN THE OPPORTUNITY TO GO TO SCHOOL AND MAKE MY FAMILY PROUD, MY MOM WHO CAME TO THIS COUNTRY TO GIVE ME A BETTER FUTURE. IM PROUD TO BE MEXICAN AND STILL BE ABLE TO GET AN EDUCATION AND GO TO COLLEGE. MANY OF US DREAMERS ARE THE ONES WHO STAND TALL DURING GRADUATION AND WEAR THE CAP AND GOWN WITH PRIDE.WHETHER ITS FROM HIGH SCHOOL OR A UNIVERSITY EACH AND EVERY ACHIEVEMENT MEANS SOMETHING TO US. BUT WHEN WILL WE STOP BEING JUST "DREAMERS"? WHEN WILL WE STOP BEING SCARED OF OUR FAMILY BEING TAKEN AWAY? WHEN WILL WE STOP BEING SCARED OF OUR DACA BEING TAKEN AWAY? I DON'T KNOW HOW MANY TIMES IVE HAD TO HEAR THAT FROM MY WHOLE FAMILY.KNOWING THAT IT WILL BE THE ONLY WAY TO CHANGE MY STATUS I DON'T LOOK FOR IT AND I DON'T WANT TO MARRY SOMEONE FOR THAT. WE WILL ALWAYS BE DREAMERS NO MATTER WHAT OUR STATUS IS. WE STARTED AS DREAMERS WE FOUGHT AS DREAMERS AND WE HAVE WHAT WE HAVE FROM BEING A DREAMER. OUE STATUS WILL CHANGE BUT IT WILL NOT CHANGE WHO WE ARE. THERE WAS A MOMENT IN TIME WHEN I COMPLETELY FORGOT WHO I WAS. I WAS DOING THINGS WITH OUT THINKING OF WHAT WOULD HAPPEN. I WOULD BE OUT LATE AT NIGHT, DRINKING, HANGING OUT WITH THE WRONG CROWD… I DID'NT CARE.
I STOPPED GOING TO SCHOOL AND STOPPED TRYING TO DO SOMETHING FOR MYSELF. I TRUSTED THE WRONG PERSON WHOM I GAVE UP EVERYTHING FOR, LEAVING MY FAMILY AND EVEN THINKING ON MOVING OUT OF STATE. I WOULD'NT BE HERE NOW IF I DID'NT HAVE SOMEONE LOOKING OUT FOR ME AND ALWAYS TRYING TO MAKE ME SEE WHO I WAS. MARCH 6TH,2019 I FOUND OUT I WAS PREGNANT.I KNEW I HAD TO STOP WHAT I WAS DOING, IT WAS NO LONGER GOING TO BE JUST ME, I HAD TO MAKE A DECISION FOR THE BOTH OF US. AT FIRST THE FIRST THOUGHT THAT CAME TO MIND WAS ABORTION AND THEN IT WAS ADOPTION BUT WHO I AM ISN'T SOMEONE WHO WOULD DO ANY OF THOSE THINGS. I DECIDED TO KEEP MY BABY AND IT WAS THE BEST DECISION I HAD EVER MADE. SHE SAVED ME FROM MYSELF.
I REALIZED WHO I WAS.… I WENT BACK TO SCHOOL AND EVENTUALLY FINISHED SOMETHING SMALL, EVERYTHING I DID FROM THAT DAY FORWARD WAS THINKING FOR THE BOTH OF US. I FOUND MY WAY OUT A DARK TUNEL. I WOULD'NT BE AS STRONG AS I AM NOW IF I DID'NT GO THROUGH WHAT I WENT THROUGH. I HAVE MOVED FROM BEING THE DRIVER OF MY LIFE TO BEING THE PASSENGER. I HAVE BEEN DOING BETTER. NO MORE FORGETTING THE DREAMER THAT I AM, NO MORE THROWING AWAY THE OPPORTUNITY LIFE HAS GIVEN ME. I AM A PARENT NOW AND BECAUSE I AM A MOTHER TO SOMEONE I HAVE TO FIGHT EVEN HARDER FOR US BUT ESPECIALLY FOR HER. BEING A DACA RECIPIENT AND A MOTHER AT THE SAME TIME ITS SCARRY BECAUSE YOU DON'T KNOW WHAT WILL HAPPEN IF THEY EVER TAKE IT AWAY. WHAT I DO KNOW IS THAT I WOULD'NT WANT TO LEAVE MY DAUGHTER AND I WOULD'NT WANT TO NOT BE ABLE TO FIGHT FOR HER.BEING A DREAMER GIVES US HOPE AND GIVES US THE WINGS WE HAD CUT OFF