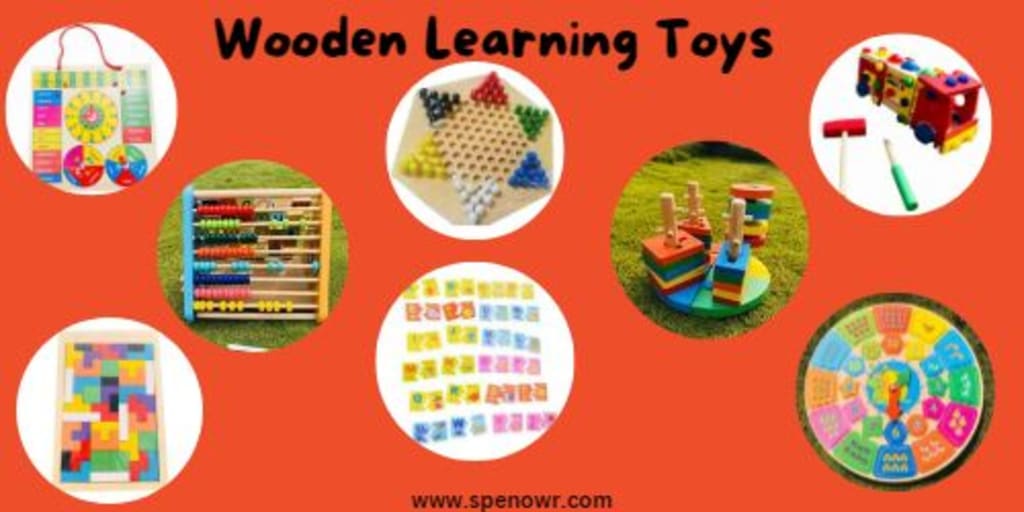 www.spenowr.com
Toys are great for a child's imagination, creative thinking, problem solving and its also a very useful tool to explore geometrical and mathematical concepts. We think a million times before choosing a toy for our young minds. We keep in mind lot many aspects before hopping to any decision.
As wood is a natural material, toys made from it are safe, healthy, and inspiring. Wooden toys are durable, strong, and attractive. Choosing a wooden toy over a plastic toy is not only safe for the environment but also for your child. Wooden toys are organic and absolutely chemical-free, unlike plastic toys loaded with two hazardous chemicals i.e BPA and PVC.
Wooden toys come in the form of stackers, building blocks, puzzles, etc which triggers inventiveness. They are fun to play meanwhile encouraging eye-hand coordination.
Wooden Shape Sorting Clock
Puzzles develop logic, a sense of order, and spacing in a child. Depending upon the theme, it can also teach them the alphabet, shapes, numbers, colors, and many other things. 3D puzzles like this develop problem-solving mastery as children coordinate the interlocking parts together to construct an animal shape.
Alphabet Puzzle
The alphabet puzzle is made up of organic wood. It is eco-friendly. It comes with all 26 English alphabet letters along with pictures. This puzzle set activates a child's thinking ability. It develops eye-hand coordination. A child can spend hours getting involved in the activity.
Triangle Activity Set
This activity set is made up of wood and nontoxic colors. We call it an activity set as it has many activities in one place. It is the best-chosen learning toy for kids aged 2 years or more. It's a triangular activity set. On one side of it is a counting frame and on the other side, 3D shaped alphabets. It also has more activities in it such as a clock and fishing. This set teaches kids to recognize colors, count, and identify alphabets and objects.
Wooden Calendar
A wooden Calendar is a good learning toy that comes with the days of the week, and months of the year as well as a clock in it. Not only that kids also learn about weather and seasons. It is a perfect start-up for a kid aged 3 years or more. It strengthens memory. The bright colors stimulate visual development.
Construction Truck
This construction truck is an innovative learning toy that helps promote hand-eye coordination, sensory reception, and motor skills. Your child will spend more hours staying active and outdoors than playing video games.
Multicolor Stackers
This stacking toy helps teach sorting skills, color and shape recognition, and helps children develop fine motor skills. The blocks are detachable and removable. It helps kids to create or build. This toy is made up of organic wood and non-toxic colors. These blocks not only will help in recognizing colors but also will teach the kids shapes and their attributes.
Chinese Checker
Chinese Checker is a board game that involves 2 to 6 players. It's made up of high-quality wood. It perfectly fits most tables and it's easy to carry. This set comes with 60 wooden marbles in 6 different bright colors, i.e yellow, blue, green, black, red, and white. It engages tween for hours.
Wooden Tetris Multicolor Puzzle
These bright colorful puzzles kindles young minds. Tetris puzzle is the best puzzle invented in modern times for kids. It keeps your kid busy for hours and offers excellent educational value. This Puzzle set is best suitable for 3 years and above kids. It helps in enhancing their thinking ability, problem solving and creative thinking. This toy is safe and eco friendly.
About the Creator
Spenowr is a professional network and e-commerce marketplace built for the creative industry to showcase creative portfolio, buy / sell creative products through marketplace, offer custom trainings or services, look for jobs.
Reader insights
Be the first to share your insights about this piece.
Add your insights