The LAUSD School Board Fails To Prevent A Strike
Parents and teachers join SEIU Local 99 in the rain to protest a lack of respect for the essential workers who keep the LAUSD running.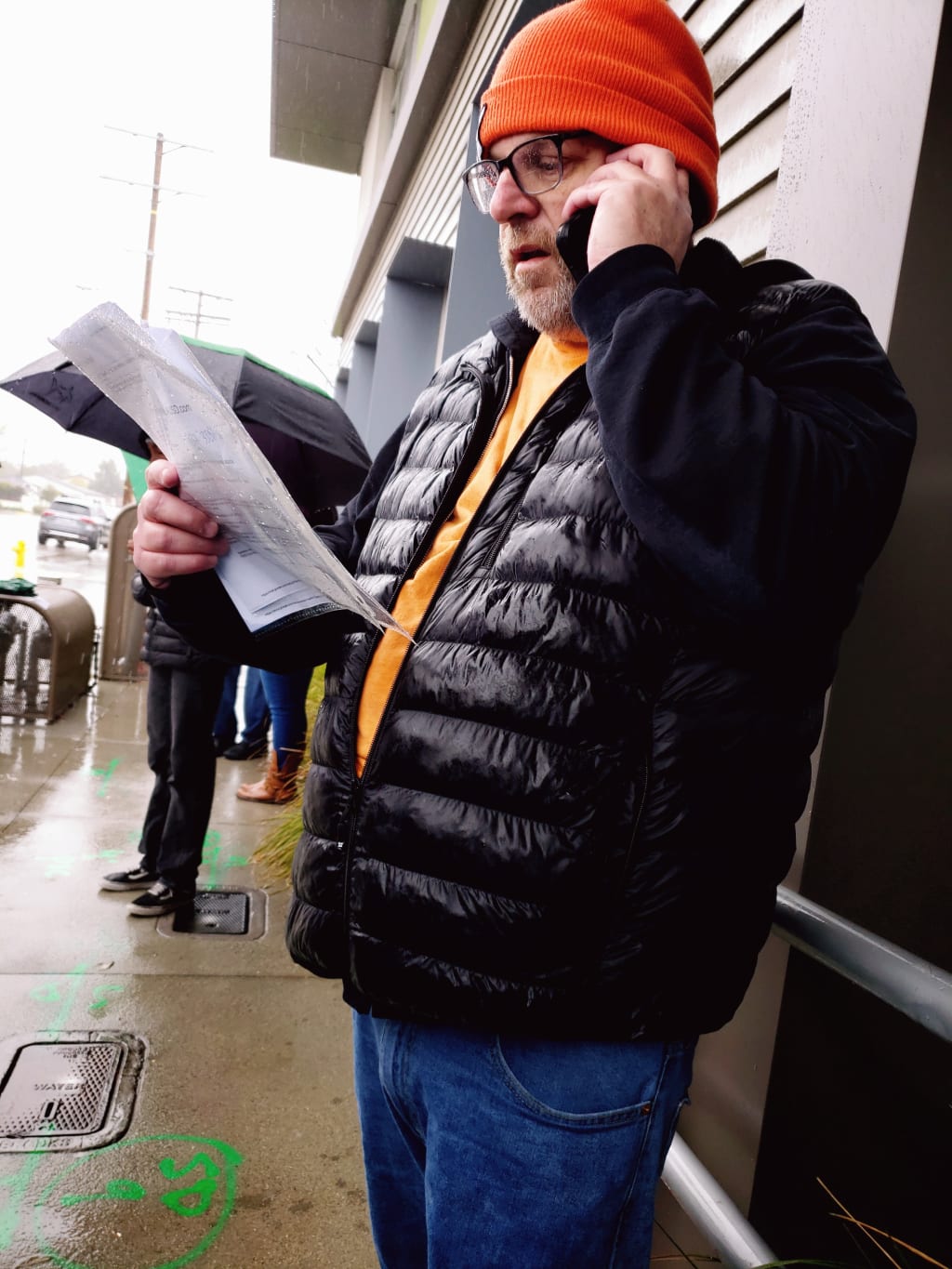 "If LAUSD is truly serious about negotiating, they must begin by addressing and recognizing the blatant harassment of workers who are exercising their legal right to demand improvements to their wages and work hours, and increased staffing for the student services they provide."

– SEIU Local 99
The workers belonging to SEIU Local 99 have been working without a contract since 2020. As the union has tried to negotiate with the LAUSD, it alleges that the District has illegally subjected its members "to threats, harassment, surveillance, and interrogation about their participation in union activities." To protest this behavior, SEIU Local 99 announced last week that it intended to hold a three-day strike to protest a lack of "respect for essential workers who have been treated as a second-class workforce by LAUSD for far too long."
Knowing that the teacher's union, UTLA, would honor the picket lines by the District's cafeteria workers, janitors, bus drivers, and special education assistants, Superintendent Carvalho knew that the announced work stoppage would force the closure of LAUSD schools. Unfortunately, instead of putting his ego aside and personally working towards a solution, Carvalho tried to negotiate in the media, further inflaming the situation and guaranteeing school closures for LAUSD students.
As the District's workers set up picket lines on Tuesday morning, the LAUSD Board prepared to meet behind closed doors for an update from labor negotiators. However, before doing so the law required them to hear public comment. I made mine from the picket line at Colfax Elementary in North Hollywood:
Four months ago, supporters of public education in Los Angeles were filled with hope as the charter school industry's control of the LAUSD Board was finally broken. For the first time in over a decade, decisions would not be made by those who put the needs of these publicly funded private schools over students attending District schools.
This victory resulted from many people's hard work over several election cycles looking for substantial and immediate change. The damage caused by past and current board members elected with millions of dollars in campaign funding from Eli Broad, The Waltons, Reed Hastings, and other supporters of privatizing education has been severe. Incremental change would not be enough to reverse the harm caused to our students.
Today as I walk the picket line with members of SEIU and UTLA at Colfax Elementary in Board District 3, I can tell you that the hope felt in November has been replaced by extreme disappointment. Today children are being deprived of an education because the LAUSD has shot itself in the foot. Instead of negotiating in good faith, the Superintendent that you allow to remain in power is alleged to have engaged in actions that can only be described as attempted union busting. While these types of actions may be considered acceptable in Florida, they should have been firmly rejected by this Board:
The District is accused of interrogating workers about what was said in union meetings.
Union members have alleged that they were told that they would be fired if they participated in the strike.
Food service workers allege that they were locked in a cafeteria to prevent them from participating in the strike vote.
A special education assistant, who was six months pregnant, says that police were called and she was threatened with arrest for updating her collegues on the bargaining process.
A member of the SEIU bargaining team alleges that she was given a bad performance review because she attended "too many" union meetings.
Instead of addressing these accusations, Superintendent Carvalho filed a complaint against the union at the end of the day on Friday. Even with the district headed towards a strike, you have not met since last Tuesday. Did you vote on approving this action during your closed session at that meeting?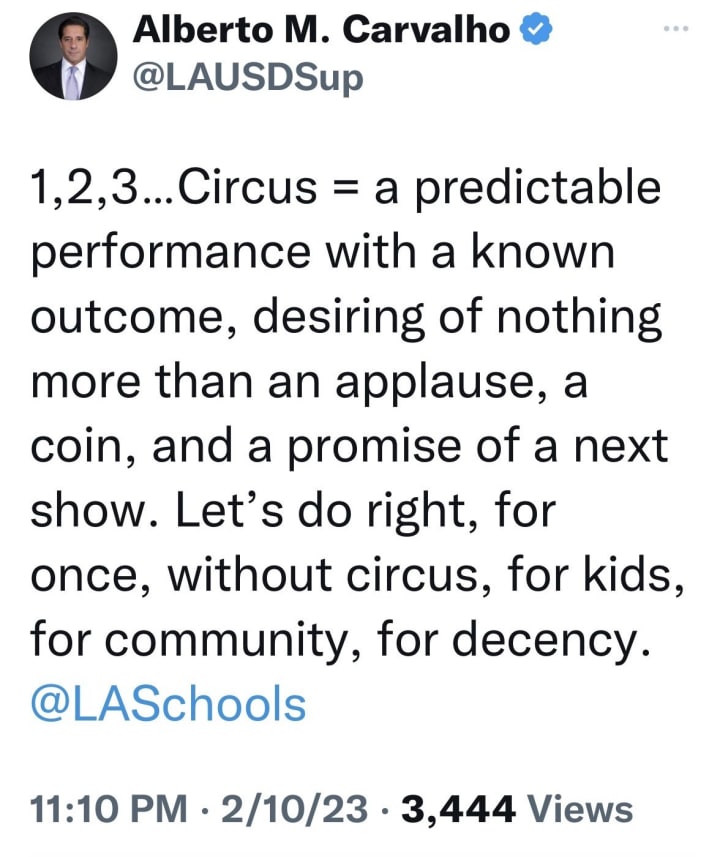 According to a Tweet by Carvalho on February 10, apparently in reaction to the SEIU strike vote, he thinks that the labor negotiations are a "Circus." Apparently, with his $440,000 salary that allows him to purchase fancy suits and skydiving trips, he has lost the ability to understand the difficulties faced by employees making $17 an hour in a city as expensive as Los Angeles.
If these negotiations are a circus, then there is only one clown to blame for students missing school today. All but one of you voted to hire Carvalho despite his record in Miami and his failure to follow through with his acceptance of the Superintendent job in New York. You have already let him get away with ignoring children with special education needs. You did not intervene when he lied about the computer hack. Will you also look the other way while the students of the district miss three days of school because of his open disrespect of the employees who clean our schools, drive students with special education needs to school, and change the diapers of our most vulnerable children?
____________________________
Carl Petersen is a parent advocate for public education, particularly for students with special education needs. He was elected to the Northridge East Neighborhood Council and is the Education Chair. As a Green Party candidate in LAUSD's District 2 School Board race, he was endorsed by Network for Public Education (NPE) Action. Dr. Diane Ravitch has called him "a valiant fighter for public schools in Los Angeles." For links to his blogs, please visit www.ChangeTheLAUSD.com. Opinions are his own.
About the Creator
Carl Petersen is a parent advocate for students with SpEd needs and public education. As a Green Party candidate in LAUSD's District 2 School Board race, he was endorsed by Network for Public Education (NPE) Action. Opinions are his own.
Reader insights
Be the first to share your insights about this piece.
Add your insights