I raised $10,000 for my autonomous education during a pandemic
and I'm still going: the takeaways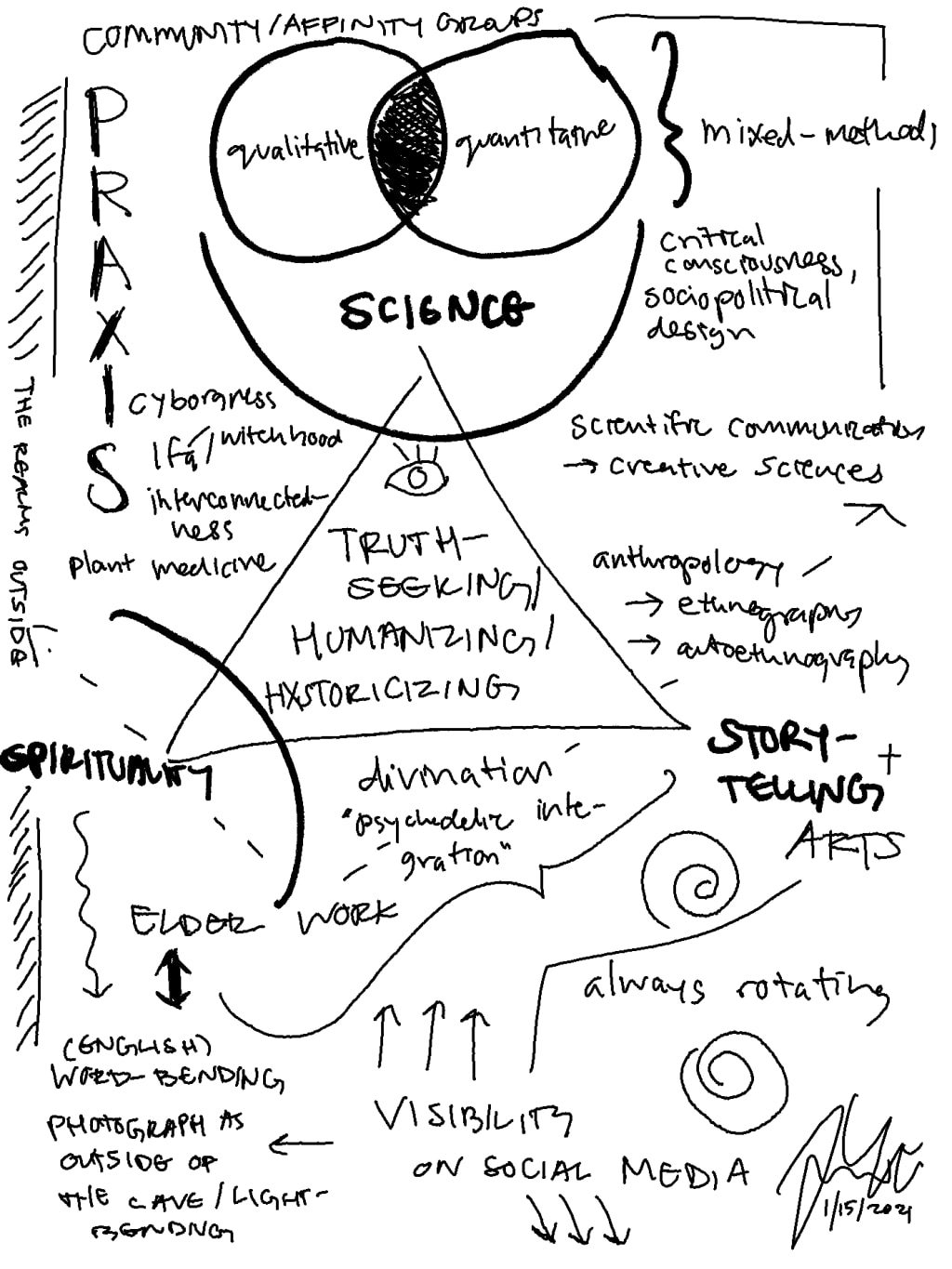 In 2016, I joined a sciences, technologies, engineering, and maths program in the middle of 4-year university. Overtime, I became sick, overworked, tired, and decided that I didn't want to go directly into a PhD program as the STEM program required.
In 2018, I received my bachelors in psychology magnum cum laude, then lost access to important resources with the deactivation of my student ID. I halted my work in the sciences that I was not being paid enough/at all for. With a number of my boundaries crossed, being threatened with not getting paid if we didn't take certain actions, and a really horrible relationship to money created by the program, I decided that taking ample space from academia would be a good choice. I needed to heal.
I somehow did not drop out through all of the sickness and pain, but I did quit my original "required" course of action that was co-designed with the STEM program that would place me into a fast-tracked journey from BA to PhD. I decided, instead, to rest and live my life outside of school for the first time in 20 years.
I got the study bug again in 2020. I found myself wanting to do deeply rigorous work again. Having chosen to work only intermittently, living under horrible conditions, and almost all of my earnings going to rent, I knew I needed to raise some funds. I was deeply frustrated by the fact that I needed to RAISE MONEY to WORK, but I recognized that I would also be gaining necessary tools, and building out a lesser known path in the process.
With $10,000 worth of donations, $8,000 have been spent on building myself as an independent scholar. I spent toward machinery, accessibility tools, tuitions for three decentralized school platforms, housing, and the full launch of my tiny little business, Mx. Lifestyling. I stretched the money with all of my might, careful about the allocation of each dollar knowing that it's all intended to be funneled into offerings for my growing communities across several schools, organizations, and platforms. With all of this, I was able to join two justice-and-healing-focused fellowships, re-enter my work in psychological research with financial support, and join a number of extremely fulfilling projects that all started in 2019 (from the Trans Youth Justice Project to Black Girl Skate's new initiatives). The funds have brought me what I needed to get my foot in the door to more well-paying opportunities as a healthier, well-rested researcher and entrepreneur, and to imagine what sustainable work can look like for folx like me.
The DIY PhD has also brought a lot of intangible abundance in the form of connection, lessons, and insight into other folx lives who are taking similar autonomous paths. It's been the vessel for beginning again, starting the journey to achieving many of my childhood dreams, following soulmate cohorts at the School for the Ecocene. We've been plotting on creating a relatively new educational paradigm as Panchamama people, as interconnected beings, finally moving into vision collectively. What we are building feels worthwhile, and my journey feels as though its on its way to sustainability for the first time.
the mutual aid effort
I designed the first photoset that started the campaign on Canva. I posted it to Instagram, and used my eWallet to raise and manage funds so I didn't have to rely on GoFundMe's limited dispersal system, or them taking anything off the top. Raising money on this scale was pretty new for me, but I decided that it would be worth learning, and with the goals I wanted to achieve, I had no choice but to try. Raising money on the internet taught me a few things:
Optimism works
I've learned how to celebrate e v e r y t h i n g. Why? Because I love myself, and my journey is worth it. Public celebration has shown me that people really genuinely want to see me doing well, doing the things that I am best at. Plus, showing people that they can work at what makes them happy, and do this with an audience, has been really fucking cool. I have made interesting friends and met people on similar journeys just by daring to add hashtags to my mutual aid posts. My online community is growing steadily, and it gives me a ton of hope and motivation to learn more and get better at everything I do.
Suffering publicly is a horribly uncomfortable art
Sharing about trauma has no benefit. It actually sucks. A lot. The donations that come through in response to sharing about trauma only last as long as one's lunch, and it makes my whole being ache knowing that so many of us must do this to survive safely.
I have seen a silver lining: it connects us. I have become connected to a gigantic community of intellectual, disabled Black and brown queer and trans folx who are imagining realities outside of survival mode, stress, burnout, and exploitation. All of this is by design, and I have looked into the eyes of the people who continue to make things this way all over the Western states during protest and in my travels. (As I remind many, these gatekeepers are elderly white men, and they will have to die, eventually).
I can only hope that carving this path creates more options for people as I continue to pushback at debt industrial complexes and capitalist structures like higher education and the field of psychology in specific. The violences are horrible, and they need to end. I fully support the systemic crumbling I see all around me with the hope that what we are all building will prevail.
Yea, this part hasn't been fun. People have tried to knock me down and sabotage me. I share about these things, too.
I notice every single person who is there for me when I share about the barriers I have to overcome in housing, trying to apply to 9-to-5's for four years straight (I'm never doing this again as of September! I quit!), and the difficulties of navigating neurodivergency and chronic pain as a very ambitious career person with so much to offer. I'm so deeply grateful for the people who follow my story and collectively build my path to thrival with me.
You gotta put respect on your name
You have to. If you're just starting something out or new in your fields, ain't nobody gonna do it for you.
I'm happy I'm not new anymore, though, because people are definitely out there spreading the word about my work and abundant offerings. I appreciate it so, so much.
People have to see something at least 7 times for them to care about what you post to your feed
First of all, fuck being shadowbanned. It's a lot of work to undo that shit.
Also, have you ever posted something—given that you're NOT shadowbanned—and no one responds? It's demoralizing… only when you care. Tip: stop caring about the posts, and care more about the journey.
Through learning this, I've also been more comfortable with deleting tons of posts for the sake of clarity, and reposting the same things a few times over in order to make sure that people know what's going on with this as I build out loud.
dreams to goals to reality
Ever since my Junie B. Jones and The Magic School Bus days as a child, I've had a few modest goals:
Be a badass, interdisciplinary femme scientist creator person who knows a lot about a lot
1. To live in a skoolie
2. To live in a tree
3. To become an educator and start a school
Are all these things on their way to happening? Yes. Are they already kinda happening? In many ways, yes, and in many ways, no. Do I know exactly how I'm gonna finance and live in a treehouse? No... but I now I at least have access to crucial resources at my fingertips through a year of awesome support and time to plan with much more learning and collaborating to come… and the will power to make them all happen. In the beginning, I was so, so lost, but I assure you that finding the School for the Ecocene (during a psilocybin journey!) was one of the best things that have ever happened in my 25-year-old life. In the fleeting moments where I travel back into feeling lost, I remember that I can continue to execute my plans, call a friend, FORGET ABOUT MY PHD AND FUCKING… DO SOMETHING ELSE, and take a nap. I get up, I ask myself if I need more rest, rest, and then keep going.
The goal is $15,000, and I am over halfway there. If you would like to support my journey and living expenses while I volunteer to strengthen the School for the Ecocene future co-working co-operative's goals, plot through Black Girls Skate's new initiatives, work to find a schoolbus home, and work on the Trans CARE Collaborative's robust Black and brown psychotherapy study, consider:
Reposting my DIY PhD fundraiser posts on social media, accessible from my Instragram
Join my Patreon
Sharing my Patreon with folx who are frustrated with college and school systems (or who like queer/autie visual art, poetry, and music) <3
student
mx. j. nyla mcneill is a Black-pinxy, queer and trans polymath.
Receive stories by mx. j. nyla mcneill in

your feed