Cosmetology School: Is It Right for You?
How I like it so far and my feelings towards it.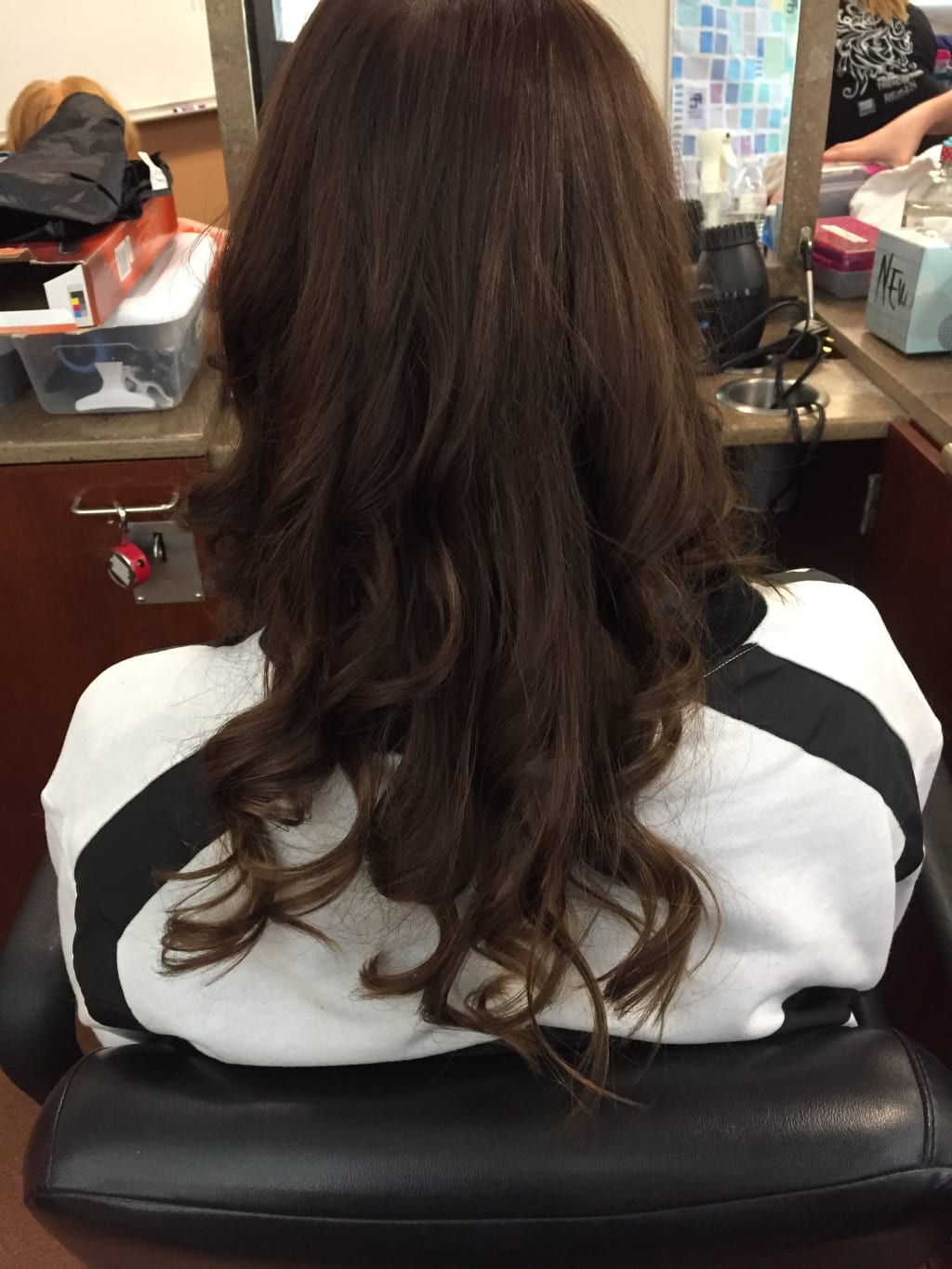 After giving my friend layers and curling her hair 
I started cosmetology school because I love makeup, and I recently started loving hair. I am not attending the class at a private school like most, I am attending at a community college. The school I'm going to is really good but also the cheapest (score!). I have been in the class since late August of 2017 and plan on being done by late July/early August of 2018.
But is it as easy as everyone believes? A girl in my class always makes the statement, "Let's be real, we're all here because we're too dumb for actual college." Yeah, super offensive and annoying. The class is not just hair cutting and applying makeup. We learn the science behind how all of this works. We learn chemistry. We learn anatomy. We learn about electricity. We learn how to deal with diseases and disorders and what we are allowed to perform a service on and what to do to disinfect everything.
It is not easy.
We started out with 25 students and now we only have 21. People realized it is harder than they thought. I realized it is harder than I thought, but I'm sticking it through.
Every school is different so I won't even bring up the fact of how tired I am due to how long this class is because that's irrelevant when it comes down to if the school is made for you. If you want something slow paced and want to work too, take a class that is as night or a class that is only Monday through Thursday. I'm taking an all day class that is Monday through Friday. But if you want to be done within a year, that is your best bet.
If you just want to go to school for makeup, go to a makeup academy. It's cheaper. If you want to be an aesthetician, go to school for that. If you want to do a little bit of everything, take a cosmetology course. You learn how to give facials, cut and dye hair, give manicures and pedicures and acrylics, and how to apply makeup. You also learn how to work with each other and how to talk to clients and give them what they ask for. You will always have something to fall back on if you get bored of one thing, for example if you cannot stand cutting hair anymore, you can do nails, and if you do not like nails, you could do makeup, and so on and so forth. I am taking the course so I can have a better resume when I want to work for a beauty-based magazine. It is a lot of work, but if this is something you are really committed to, go for it. If not, then do not waste the money, because this course does cost money, and a lot of it.
A really cool perk is that you get to shop at stores like Salon Centric and it is super cheep. You also get discounts at Cosmoprof and Sally's Beauty Supply, which is always handy. You also get to attend a lot of conventions that are meant for licensed cosmetologist, but they allow students to go also.
Something to keep in mind too is that to become licensed, you have to have a minimum of 1,600 hours and you will have to take a state board test to show you know how to do things properly (I have not taken mine yet but I will let you know how that goes when I do).
It is overall a fun class if you enjoy all things beauty. If you have any questions about the class or anything, you can email me at: [email protected]
trade school
About the author
I am a hairstylist going to school for journalism. Hope you enjoy what I write! I also love to draw, so check out my Redbubble: https://www.redbubble.com/people/AnnisaC/shop?asc=u
Reader insights
Be the first to share your insights about this piece.
Add your insights