Should You Get a Breast Reduction?
My Story on When I Got a Breast Reduction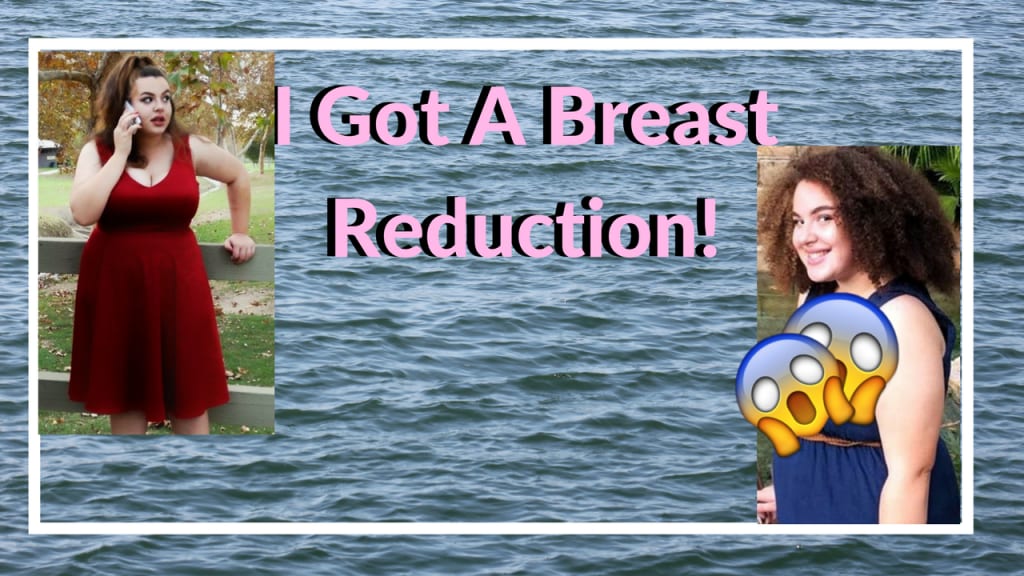 From my YouTube Channel: Annisa Love
For years I suffered from horrible upper back pain and lower back pain as well. My breast reduction was the best choice I have ever made in my life.
I have had a herniated disc in my lower back since I was fourteen (I am eighteen now) and I have had scoliosis in my upper back since I was fifteen. My scoliosis was never considered bad, but I never could understand why I was in so much pain.
At thirteen I had size DD breast. I was always bullied for them and got the wrong attention. At fourteen I was a DDD. By seventeen, I was an I cup. Most people have told me they did not know they make cups that large. Well, to let you know, yes, they exist, and no, Victoria's Secret does not sell anything for that size. Bonus, that XL size in sports bras still do not fit.
At sixteen I started going to physical therapy for all of my pain, and while it sort of helped, I was still in a lot of pain after almost a year of going. I hated how much pain I was in, but a therapist had made a joke saying I should get a breast reduction and that it would help. I ignored him because I did not believe it would help and that my medical (CHOC) would cover it.
Well, I started becoming curious about the idea a couple weeks later. I talked to my favorite therapist about it for literally 45 minutes and she agreed it would help and that the worse my medical could say was "no." So, we started having the physical therapist write in my reports that it was probably needed and we went to my back doctor who agreed that it would help. And if it did not help, at least I would be smaller and happier. We did not believe that CHOC, a children's medical, would cover it, but as my physical therapist said, it was worth a try.
Always ask!!! It does not hurt!!
I got a letter in the mail saying that my appointment with a surgeon was in February! I went and saw him and he said I needed it done. The minute he looked at me, he started writing, "Annisa needs this surgery done!" Only issue was, he wanted to do it in the Fall. That was not going to work for me, because that was when I would be starting Cosmetology school, and I could not miss more that 22 hours for my class. So, he recommended for me to see his friend who could get me done in August.
I went and saw her and she agreed, I needed it done. And she told me she could get me in sooner, which was June 30th! I was so excited and was so ready for this. So ready to not be in pain anymore and to be just overall smaller. She told me that I would be going from an I cup down to between a C cup and a D cup. For my birthday, everyone got me Victoria's Secret gift cards, because they knew I would need a whole new wardrobe of bras.
For the surgery, I was not able to eat for twelve hours before and I had to go to CHOC Hospital at 8:30 AM for my 9 AM appointment. The surgery was three hours long and I stayed for another three after, due to them checking me. The pain was not that bad, it was more of a burning sensation, but that is really it. They gave me codeine and an antibiotic for a week, but the codeine I only stayed on for about two days. She ended up taking 2.4 pounds out of each side, which was great! I can finally fit into an XL sports bra and I am a DD in Victoria's Secret bras. I absolutely love my new chest size. It was a six week recovery where I was not able to lift my arms above my head, go swimming, and take a bath. It was not bad at all and five days after my surgery, I was walking around Downtown Disney for a couple hours with friends.
If you suffer from upper back pain and you have large breasts, consider getting this done. It will most likely help you and make you feel so much better.
I am going back in for surgery for touch ups on December 20th, which will be an hour procedure and will be a four week recovery. I'll write about that and how it goes once I get it done.
If you have any questions, please email me at [email protected]
body
About the author
I am a hairstylist going to school for journalism. Hope you enjoy what I write! I also love to draw, so check out my Redbubble: https://www.redbubble.com/people/AnnisaC/shop?asc=u
Reader insights
Be the first to share your insights about this piece.
Add your insights