Confessions of a Beauty School Graduate, Part Two
And Why It's a Sham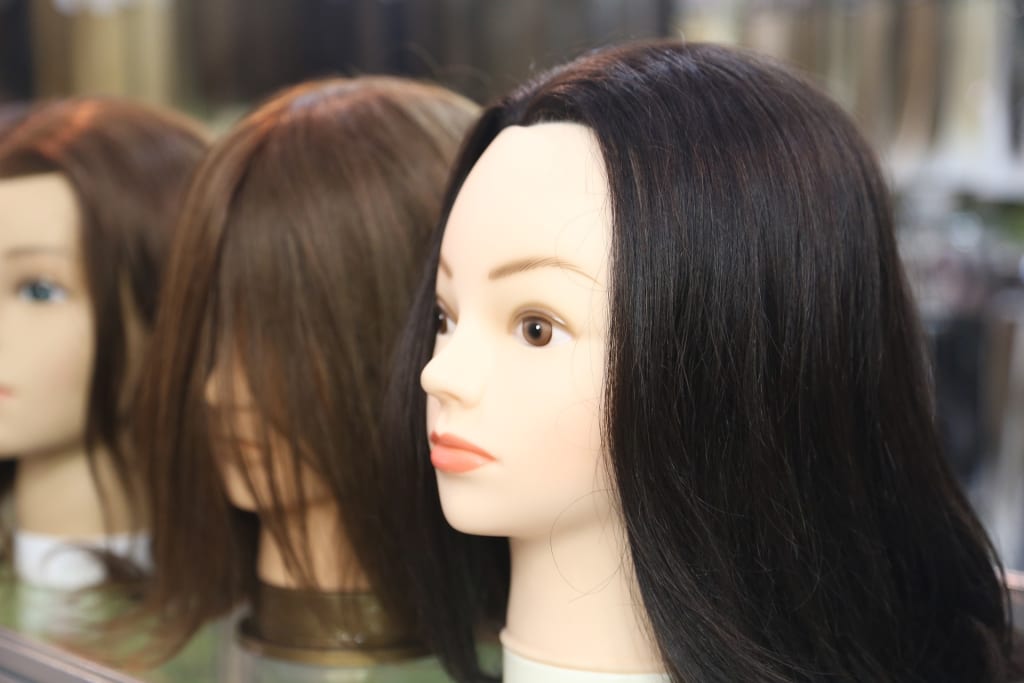 "You're sure you want to do this?" My mother drove me to take a tour of one of the top cosmetology schools in the country. It was cold, raining, and just a week after our first snowfall — that way all the ice would dissolve quicker. I sighed, nodded, and got out of the car. The interior of the school was all white. White furniture, white tables, white floor, white, white, white. It made you feel like you were inside a crystal, or an insane asylum. It also made you feel unbelievably cold.
The girl at the front desk was all smiles. She had a mess of curly chocolate hair and freckles. Her name was Cynthia, and she had me fill out an enrollment "Welcome" form before letting the admissions adviser know I was there for my tour. It hardly took a moment before I handed the paperwork back to Cynthia, and the admissions adviser appeared in heels and a flowing skirt, with ten tons of necklaces jingling around her neck. I was nervous. I hated authority figures.
"Hello, welcome to T----- Academy of Hair! I'm so eager to meet you, A------. I'm Maria, the admissions adviser." I performed an awkward smile and introduced my mother. I was in my early twenties, but didn't drive (I lived in the city, so that's hardly unheard of) and needed my mother's reassurance that I was doing the right thing. That sounds a little odd, I know, but I needed someone I trusted to encourage me that, one, I wasn't falling into a scam; and two, that cosmetology was the answer.
Maria's face looked strained, like she was performing. Somewhere in her expression, the lines etched out the truth, but I couldn't pinpoint where the guilt was coming from. We followed her past glass-encased rooms, two offices, one break room, one staff room, and at the very end, her office. It was like being in a fish bowl. Students were amassed in the center of the building surrounded by eyes on either side. The staff looked over the entire floor from the center staff room, munching all day on food while the students pretended they weren't being watched. Maria's office was as sparse as everything else. Behind her were mannequin heads showing theatrical skill, feathers and jewels and whatnot popping out of every side of the false human head. Beside them was an open makeup case — clearly all the things she used to entice prospective students. Maria gave us the usual introduction she had probably memorized and recited a thousand times: a history about the school, the founders, their mission statement, etc. They boasted a higher level of hairdressing unmatched by their competitors, and me — well, I like the idea of having the best in certain situations, a flaw that would burst my reality bubble in the next year to come. Their cutting system was more advanced as far as American beauty education went. The French founders, of course, made sure of that. You were taught European techniques that you would later bring out into the salon world, ahead of the game as opposed to your fellow baby stylists branching out on the market.
I remember staring at the enrollment form for a long time, looking at the tuition costs and wondering how the fuck I was going to do that. Since I had left my job at the photography company, I had been filing for unemployment and living off of that while reconstructing my life. There was no way that I could pay the thousands of dollars up front that the academy was asking for. I looked at my mother, heartbroken, and my mind circled back to my constant misery sitting in those lecture courses. I really didn't want to go back there again. My mother didn't have the money to foot the costs, but according to the academy, since she was my co-signer (due to the fact that I was under 25-years-old) she made too much for me to qualify for financial aid. Maria must have seen the look on my face: loss and absolute hopelessness. She took a deep breath, as did I. Then, she stood up, exclaiming, "Hold on. Let me see if you qualify for any grants. Also, I'll speak to our director, Josie."
First, let's pause here. You would think my mother and I would have taken a second to go over the director's name: JOSIE. Hello? Is that a joke? Is she going to come out of her office in cat ears followed by her entourage of pussycats?
Josie was just as flamboyant as her name. Her outfits were outrageous in a bad way. They were, as you would say, "LOUD." She was a partial dirty hippy, which was weird and somewhat off-putting, like an estranged art teacher — the kind you hated in high school because, according to her, you could never "channel your highest self" in her class. Josie had several highlights and layers to her hair. It was almost as ridiculous as her yellow beach skirt and matching top and sandals. Josie, did you notice the weather report? It's eleven degrees outside and raining. Beware of black ice. Her gesture of chewing gum like a cow, smacking and blowing bubbles, did not help her case. Forty-four going on fourteen.
"You're a perfect candidate for our school," she mused, her eyes wide and pupils dilated. Was she high, or just out-of-this-world crazy? Josie praised me like I was the most perfect beauty contestant of all time. "With your look, oh my god, you'll get far in the industry in no time." What a good line she fed me. She even tugged out one of the models from the latest in the school's promotional campaign, a thin Twiggy type with a chocolate-colored bob and Lydia chopped bangs. My smile widened. "Yeah," I nodded, "I was looking at this cut. I love it!"
"You look so much like her!" Josie mumbled, referencing my black 20s-style bob and big eyes hiding under a curtain of bangs.
Josie grinned, an expression that I saw as a ray of hope at the time. Nodding, she folded the promo up, tucked it away somewhere, and leaned on Maria's desk, her ankle swaying back and forth in the air like a little girl's. Her sandals had tropical beads on them, adding to her "loud" appearance. Finally, she made eye contact with Maria, smiling, and said, "Let's get her in here."
Maria, who half-smiled, half-nodded, squeaked, "Okay," and asked for my mother and I to follow her on the tour. We emerged back out onto the floor, and as Josie exited with us, she waved and replied, "Look forward to having you aboard, A----!" and jingled off in her beaded, tropical outfit towards her own office.
Maria turned our attention to the central floor, where the staff watched the students like hungry wolves from every side of the building. "This is the junior and senior floor. Once you've made it past the freshman and sophomore semester in the classrooms, you're able to take clients and practice your skills, supervised, on actual clientele." Many of the students seemed to be made up of inner-city girls who would cut you with their shears, and some coked-up Kardashian-type bitches whose Mommy and Daddy paid for them to attend beauty school. Then, of course, there were one or two cheerleader-turned-"witchy" types who thought mimicking Kat Von D made them "goth." Great.
A few turned and scowled at me, but I laughed. It wasn't my first time around the block with ladies like these. Maria then brought us to the shampoo bowls, the color counter, the makeup/recreational room, computer lab, café, and back around to the other side of the building that housed the technical classrooms.
"As a freshman, you'll start out here in classroom one, then to room two as a sophomore, room three as a junior in semester one. Once you're a junior in semester one, you'll spend your morning doing theory in the classroom and your afternoon out on the floor with juniors in semester two, and the graduating seniors. Juniors in semester two learn theory and technical for skincare, makeup, nails, and esthetics. Seniors practice theory and technical in preparation for their state boards, as well as your exit exam for the academy."
The whole place felt cold. I had my arms crossed over my chest in a vain attempt to hold in the heat that the my jacket provided. I must have been staring out of the large windows, zoning out at the rain.
"Well?" My mother whispered to me. I gave her a weak smile, nodding.
"Yeah."
I had already started to register for the next semester of college, just in case, for some reason, beauty school didn't work out. At least I had that to fall back on. Maria urged us back into her office where Josie was waiting, her leg swinging over the desk, childlike. She looked at Maria, and said, "Pull some strings. Get this girl in."
Pull some strings, they did. Somehow, I suddenly qualified for several grants, and they contacted the college in order to cancel my registration with them and have whatever money they needed transferred over.
"Okay!" Maria clapped her hands together, beaming. It was a fake smile, but still very convincing at the time. "You're good to go. You'll start the following semester in February. You'll receive everything you need that day, so just come wearing all black."
I laughed. Wearing all black wasn't ever going to be an issue for me.
trade school