Best MBA Institute in Pune, Maharashtra - Lotus Business School
Lotus Business School is an Institute which has been created with a vision of imparting quality management education and create world class leaders. Infact, Lotus Business School encourages the students to challenge the very basic concepts of management and leadership. The Lotus core team comprises of individuals who are the alumni of IIMs, JBIMS, Symbiosis etc. and other ex-corporate employees from renowned organizations.For more information visit https://www.lotuscentre.ac.in/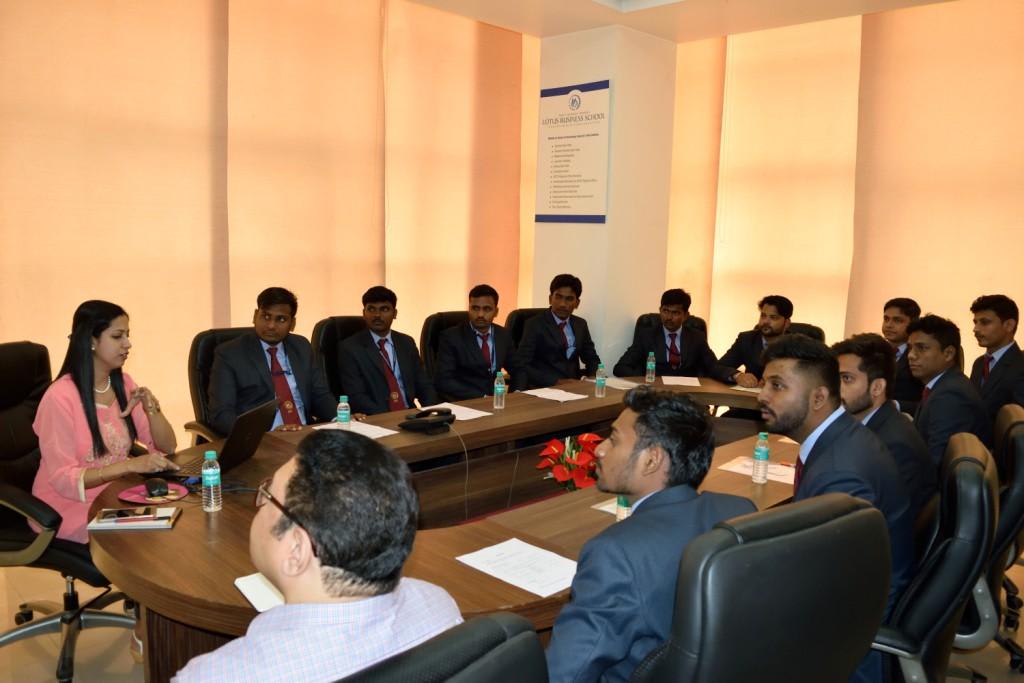 LOTUS BUSINESS SCHOOL, is a part of a Rs. 600 Cr. Industrial Group. It is an Institute which has been created with a vision of imparting quality management education and create world class leaders. Infact, Lotus encourages the students to challenge the very basic concepts of management and leadership. The Lotus core team comprises of individuals who are the alumni of IIMs, JBIMS, Symbiosis etc. and other ex-corporate employees from renowned organizations. In today`s world where the industry and corporate life has become highly demanding and dynamic, it is imperative that future leaders are innovative and do not take things for granted. Infact the encouragement to be innovative and be a maverick is also the essence of the Lotus Pedagogy. Formed by a group of renowned Industrialists and Academicians, Lotus is an attempt to not only bridge the gap between the theory and the practical but also the effort at ensuring that the relevance of academics with the practicality of the subject.
Lotus Business School, an enterprising management institute on the landscape of Pune with a living philosophy, a strengthened belief system and a vision of "Innovating Business Leadership" has taken the onus upon itself of building a culture that fosters innovation and creativity. It is with this endeavor that it unfolds a national level symposium titled Synnovation 2021.
The institute has an excellent Corporate Interface where all the Major Brands Personnel visit our campus either through the medium of Guest Lectures or Skill Workshops or Guidance Sessions or Mentorship. At the same time most of the Top Known Brands in India have visited our Campus for Recruitment either in SIP or for Final Placements. Few of the Feedback of Corporate Visitors…
Like any Institute our Alumni are our Brand Ambassadors and they have their share of wonderful Memories with Lotus. They are the students who have taken life in their hands and made a career with their ability and support from their beloved Lotus Business School
MBA in BUSINESS ANALYTICS
Looking for high paying careers in the field of management? Business Analyst is a profile that you should most certainly look into. As a Business Analyst, you will be able to explore the business world from a research and evaluation perspective. Being a critical role for every organisation, this is one of the highest paying management profiles.
The job of a business analyst is to understand the requirements of clients and suggest procedures that help in improving the services of an organisation. The process may include evaluating competition, reviewing financial statements along with analysing business practices.
MBA in AGRICULTURE BUSINESS MANAGEMENT
India is one of the largest manufacture nation of farm equipment and world's second largest agricultural land holder. Around 70% of our population earns livelihood from agricultural sector with growing economy and rapidly increasing lifestyle. Agricultural Sector is set to boom producing huge population for the skilled manpower in agricultural business management sector.
Thus, This 2 year full time MBA in Agricultural Business Management from SPPU with one year internship will provide unique opprtunities to our students to not only work but excel in the ever booming agricultural sector in India and abroad.
MBA in Pharma and HEALTHCARE MANAGEMENT
With the concept of healthcare going beyond hospitals, the health care industry in India has witnessed remarkable growth in the past few years. According to India Brand Equity Foundation (IBEF,) the Indian health care sector, which consists of hospitals, medical devices and equipment and health insurance, is expected to reach U.S. $372 billion by 2022 driven by rising incomes, greater health awareness, lifestyle diseases and increasing access to insurance.
MBA in (HR/Finance/Marketing/Operations & Supply Chain Management)
The LBS pedagogy has developed by renowned Industrialist and Academicians with the respect to new trends in various Sectors. The curriculum of MBA Course has been designed by Savitribai Phule University (SPPU). LBS has added practical base learning program in University curriculum to enhance managerial skill of Students. The content of the program is designed to address the challenges being faced by the industry.