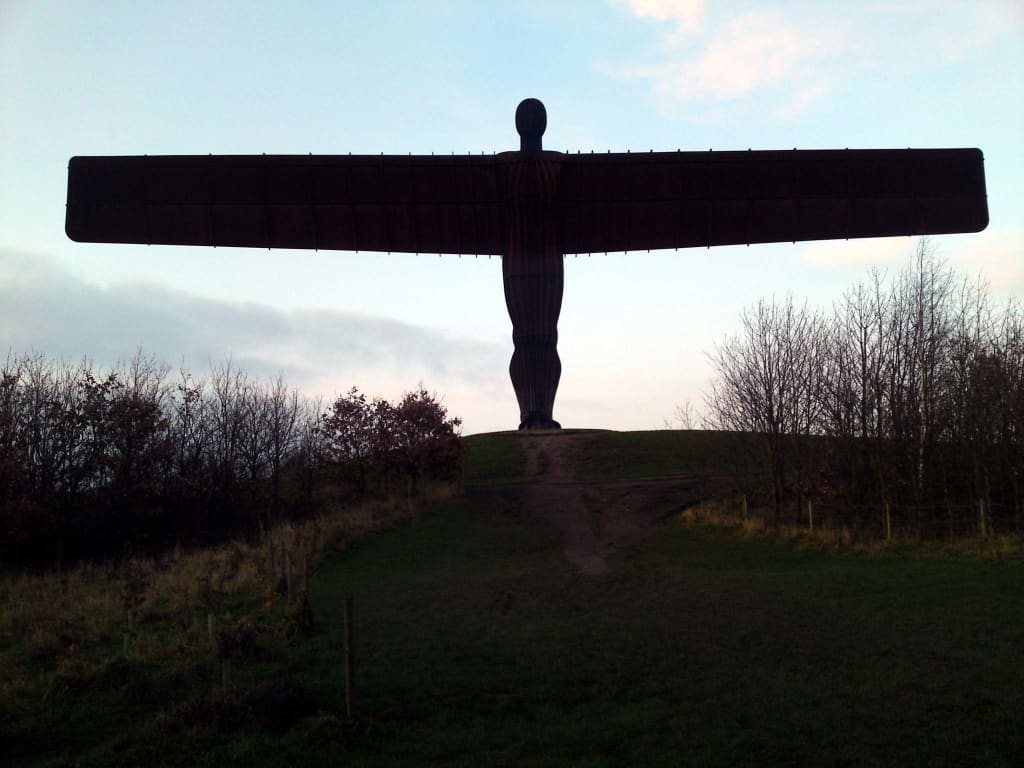 Welcome home (My own photo)
Do you have a landmark that is always there to welcome you home after a long trip; a welcoming sight that lets you know your journey is almost at an end? This may be a mighty structure, like a bridge, or something less significant, like specific graffiti on a road sign.
Indeed, one of the roadside indicators that tells me I am back in my native north-east of England is a cluster of cherry-pickers in a compound, that stand tall and erect as though in salute to my homecoming (at least that's what I like to think).
But, of course, given my location, the big one for me, and many others returning northwards on the A1, is the Antony Gormley designed structure The Angel of the North, which unfurled its wings for the first time in 1998.
Divided Opinion
The Angel stands on a hill near Low Fell in Gateshead, on the site of a former coal mine. The statue overlooks the busy A1 road, as well as the A167, and it can also be viewed by passing rail passengers on the East Coast Main line.
The statue has divided opinion since its conception. To some it is a rusting monstrosity, while others see it as a graceful piece of public art. Prior to its erection, there were complaints about cost, and doom-mongers predicted mass accidents on the busy road, as drivers had their attention diverted by the giant looming figure.
As far as I am aware, there has not been a single Angel related accident on that stretch of road. Given that over 30 million people pass the sculpture each year, the majority of who are motorists, I'd say that's a fairly good safety record.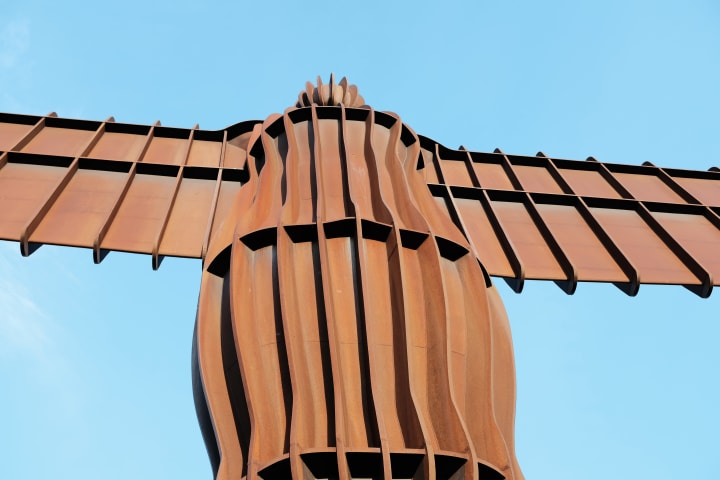 Vital Statistics
The Angel, which cost some £800,000 to build, stands 20 metres (66 feet) tall, with a wingspan of 54 metres (177 feet). The vertical ribs of the structure help divert strong winds to its base, allowing it to withstand gales of up to 100 miles per hour. The human part of the sculpture is based on a cast of Gormley's own body, a recurring trait of his work.
These days, if a movie or TV show is filming on location in the north-east of England, the chances are the Angel of the North will be shown to give viewers a location prompt. This role used to be carried out by the Tyne Bridge, but since Gormley's sculpture was unveiled, it has taken over as the region's number one icon.
A Doubter Silenced
I like the Angel, particularly for being that welcoming sight that tells me I'm almost home after a long drive. From that viewpoint, I was discussing it one day in a bar with one of the rusting monstrosity naysayers. My opponent considered the sculpture an eyesore, and a waste of money.
A friend of mine, who knows a bit about art, happened to be passing, and so I asked his opinion of the Angel, not knowing if he would approve or disapprove.
"I think it's great," he said. "It says a lot about the region in the blink of an eye: heavy industry, engineering, steel and design. And it's standing on a hill, facing south with its wings outstretched saying come on, you bastards!"
My opponent could make no response to such a resounding blow.
But the final word on this appraisal of the Angel should go to its creator. On a plaque by the statue, Gormley's words read;
"The hill top site is important and has the feeling of being a megalithic mound. When you think of the mining that was done underneath the site, there is a poetic resonance. Men worked beneath the surface in the dark…. It is important to me that the Angel is rooted in the ground — the complete antithesis of what an angel is, floating about in the ether. It has an air of mystery. You make things because they cannot be said."
So there it is, The Angel of the North: long may its wings continue to welcome travellers to the region.
Reader insights
Be the first to share your insights about this piece.
Add your insights