The 35-Year Mystery of the Garfield Telephones
Why did orange phones keep appearing on French beaches for over three decades?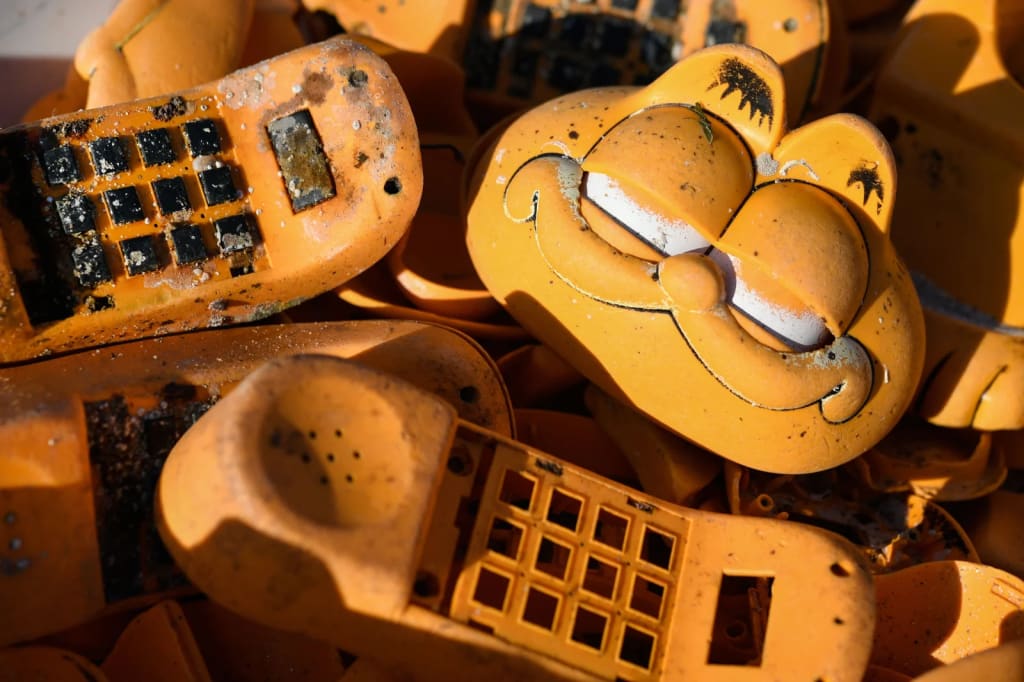 Photo credit: FRED TANNEAU/AFP/Getty Images
Imagine that one day you are strolling along the beach, feeling the salty air against your face and listening to the churning hum of waves cresting. You continue walking, basking in your moment of peace until something vibrantly orange catches your eye...
A disembodied head of a cat. The pupils have been scrubbed away, and yet the cat smiles.
My God... It's Garfield.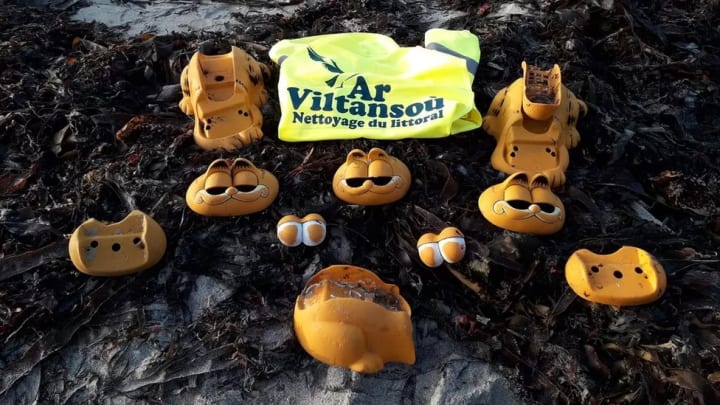 This scenario sounds strange, maybe even apocalyptic, but it's based on a true phenomenon that plagued the beaches of Northwestern France. Between the 1980s and now, hundreds of waterlogged Garfield telephones have washed up on the beaches of Brittany, France. No one understood where they came from, why there were so many, and who put them there. And for over three decades... there were no answers.
The Mystery of the Garfield Telephones
In 1978, Tyco released a novelty telephone product which featured the popular, lasagna-loving cat, Garfield. Novelty telephones were loved and admired by collectors with niche interests, and Jim Davis' Garfield Comic attracted a large fanbase of dedicated collectors and fans. This particular phone was just another gimmicky trinket to net some profit in the good cat's name. It was shaped like Garfield, with a corded telephone lodging into his back. When the phone was picked up, Garfield would open his eyes, and when the phone was put back, the cat would return to a "naping" state.
But then suddenly, starting in the mid-1980s, these exact phones began washing up on multiple shores around France. And not just a few, but hundreds of them, day after day. This issue bothered the local environmental activist group, Ar Viltansoù, who jokingly made Garfield the face of their Ocean Pollution Campaigns.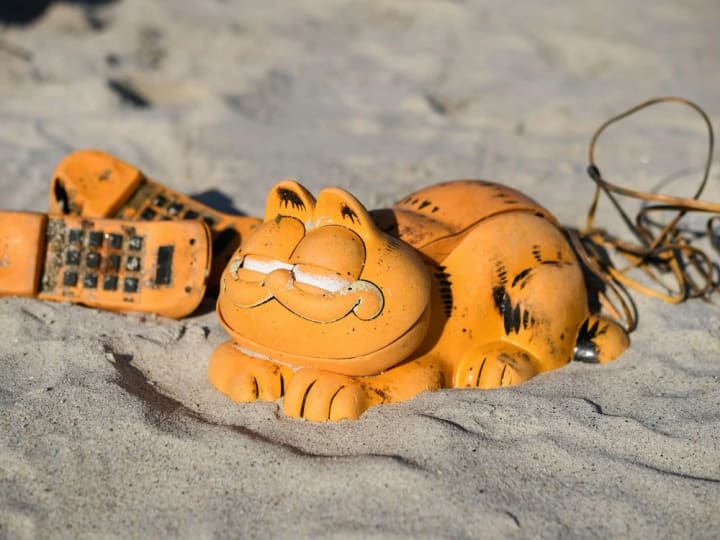 After decades of searching, a local farmer finally came forward with information. There was a secluded sea cave nearby that could only be accessed at low tide. In there, hid the secret.
In 2019, a small crew comprised of members of Ar Viltansoù and journalists climbed down the slippery rocks and found a fissure, where orange plastic poked out just beneath the rocks.
As it turns out, a shipping container had fallen off of a cargo ship during a terrible storm in the eightes. Some of the cargo included novelty items, particularly, the Garfield Telephone. The cargo became lodged within this particular sea cave, and the tides had slowly been pulling the phones out of the cave and onto the shores.
Unfortunately, even with the mystery of the phone solved, an appropriate solution to the problem of the Garfield phones has not yet been found. Because the cargo had become somewhat buried, it is impossible to know how much cargo is still sealed away, and for how many years the residents of Brittany, France will continue to have to clean the fragments of Garfield telephones off of their beaches.
According to the president of Ar Viltansoù, Claire Simonin-Le Meur, "[T]he bulk of the phones are already gone, the sea has done its job for 30 years. We arrive after the battle."
What Garfield Reminds Us about Oceanic Pollution
While Garfield Phones may be the most comical (ha) thing to wash up on beaches, this incident is far from an isolated one. In 1992, a container ship lost shipments of around 28,800 rubber duck bath toys (Source). In 2018, thousands of shoe containers went overboard, and Nike Trainers begin washing up on beaches from Bermuda to Ireland (Source). The World Shipping Council estimates that around 1,000 cargo containers go overboard every year, polluting oceans and beaches with thousands of pounds of trash.
This pollution compounds with other man-made environmental mistakes, to dump between 4.8 million and 12.7 million tons of plastic into the ocean each year. This plastic goes on to disrupt ocean-based ecosystems in a myriad of ways: trash entangles marine life, gets mistakenly eaten by sea creatures, or breaks down into "microplastics" that have made their way up food chains.
The issue of microplastic consumption even extends to humans, who ingest microplastics through drinking water and seafood consumption - microplastics have even been found in the placentas of unborn babies for the first time ever (Source). Scientists are still studying the health risks of this consequence of pollution, and what it may mean for future generations.
The Pathway Forward
Oceanic pollution and microplastics are complex and intricate ecological problems, but there are a few things you can do to help. Taken from the Oceanic Society (an organization dedicated to improving ocean health) here are 7 steps that you can take to help reduce ocean plastic pollution (More detail here):
Reduce Your Use of Single-Use Plastics
Support Legislation to Curb Plastic Production and Waste
Recycle Properly
Participate In (or Organize) a Beach or River Cleanup
Avoid Products Containing Microbeads
Spread the Word
Support Organizations Addressing Plastic Pollution
~
And remember... Garfield would want you to help.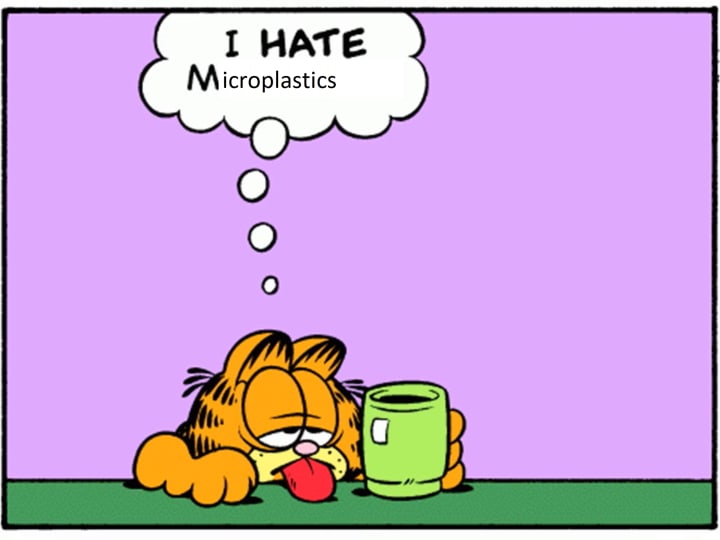 Thank you for reading
If you enjoyed this article, check out the following piece about a "Fish Doorbell" project in the Netherlands:
Main Sources:
"Garfield Phones Beach Mystery Finally Solved after 35 Years." BBC News, 28 Mar. 2019, www.bbc.com/news/world-europe-47732553.
Hoffman, Ashley. "Mystery of Garfield Phones Washing up on French Beached Solved after 35 Years." Time, 29 Mar. 2019, time.com/5561165/garfield-phones-france/.
Magazine, Smithsonian. "Why Have Garfield Phones Been Washing Ashore in France for 30 Years?" Smithsonian.Com, 1 Apr. 2019, www.smithsonianmag.com/smart-news/why-have-garfield-phones-been-washing-ashore-france-30-years-180971835/.
Reader insights
Nice work
Very well written. Keep up the good work!
Top insights
Expert insights and opinions

Arguments were carefully researched and presented

Easy to read and follow

Well-structured & engaging content

Eye opening

Niche topic & fresh perspectives
On-point and relevant

Writing reflected the title & theme
Add your insights