How Moving to the PNW Made Me Take Ocean Conservation Seriously
And Ways We Can All Help Save Our Oceans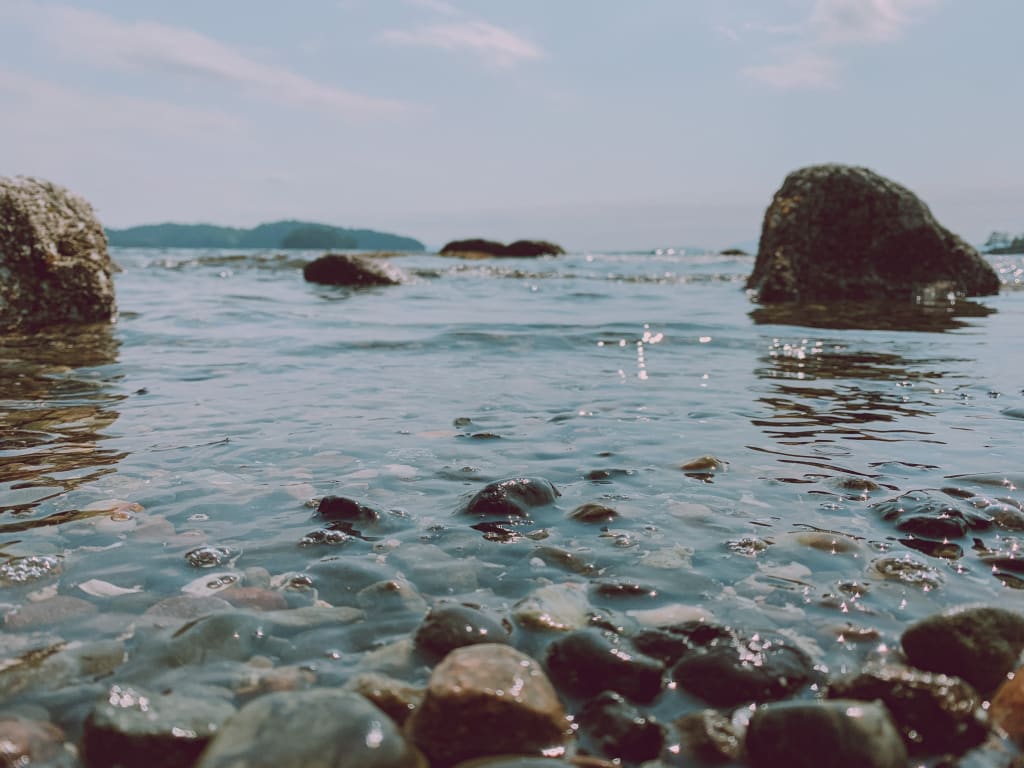 Teddy Bear Cove, Bellingham, WA
I've always loved water. Born in Minnesota, I remember exploring Minnehaha Falls as a child, and I enjoyed visiting my grandparents in California because we would spend time in Monterey. I've always felt connected to the water, and everything in it.
When I was eleven, I dreamed of being a marine biologist. I was obsessed with sharks – specifically great whites – and wanted to devote my life to studying and protecting them. Although I chose a different path, I have the same desire to learn and protect our oceans.
When I was twelve, my family moved to the Pacific Northwest. We lived in British Columbia for six years before moving to a small, seaside town in Washington state. I worked part-time as a barista while I studied for my associate degree and, in my spare time, explored the beautiful land around me.
I chose to finish my bachelor's degree in Bellingham, less than an hour from home. I loved that you could look out across the bay from campus, and that I was still a short drive from the water. After thirteen years, the Pacific Northwest is still my home, and it always will be.
I may have always loved the oceans, but living in the Pacific Northwest has made me more mindful about my own habits, and introduced me to ocean conservations resources I may have missed out on if I had remained in the Midwest. There are many things, no matter how small, we can all do in order to help protect our oceans.
Below are some of the ways I try to protect the oceans, and tips for getting started if you haven't given ocean conservation much thought.
Educate yourself.
If you want to save the oceans, it's important to understand what's happening and why the oceans are so important. It's not enough to read a headline that says, "Climate Change Causes Coral Bleaching." Read the article. Find out what coral bleaching is and why it's so bad for our oceans. Look at photos and watch documentaries. Learn a little bit about everything, or find a cause to focus on.
Documentaries are great tools. I recently watched Seaspiracy on Netflix, which opened my eyes to the reality of "sustainable" fishing. Podcasts are another good source of information (I just listened to this cool podcast about turning old oil rigs into artificial reefs), as are books, blogs, and websites. The resources are out there – you just need to find the education tools that work for you.
Get involved locally (if you can).
If you live on the coast, it should be easy to find organizations or people interested in protecting the oceans. Maybe you spend time collecting trash from the beach, or volunteer with a local organization to educate students. If you live inland, there will still be opportunities to help, even if you can't physically go to the ocean. There could be opportunities for community outreach at a nearby aquarium, virtual groups committed to conservation, or ways to fundraise. There's always something you can do!
A couple of summers ago, I went to a small, local theater to watch Damned to Extinction, a documentary about the Southern Resident Orcas (and, more specifically, about how the Snake River dams harm them by reducing their salmon supply). I knew Washingtonians loved the local orcas, but I hadn't realized how amazing they really were. I did more research, wrote about it, and donated to the Center for Whale Research, in Friday Harbor, WA. Once they're open again, I hope to find more ways to be involved.
Significantly reduce your seafood consumption – or quit eating seafood altogether.
If you truly want to save the oceans, then you must understand this: there is no such thing as sustainably caught seafood. Hundreds of thousands of sea turtles, dolphins, and other sea creatures are killed each year as bycatch in fishing nets. Overfishing threatens not just a single species, but the entire oceanic food chain. Fishing nets alone make up 46 percent of the Great Pacific Garbage Patch, which also contains fishing gear such as ropes, crates, and baskets.
Fishing is a huge threat to our oceans. Because there's no such thing as sustainable fishing, the best way to help our oceans is to significantly reduce your seafood intake or, if you can, quit eating seafood completely. Seafood doesn't make up a huge part of my diet, so it's something I can live comfortably without, only eating it on special occasions.
Be mindful of the waste you produce.
Banning plastic straws isn't enough to save the oceans, but it's a step in the right direction. Although fishing gear makes up a large portion of the debris in our oceans, we can't ignore the amount of trash that ends up in the sea. Being mindful of how much waste you produce is an easy way to help ocean conservation efforts.
I carry this reusable metal straw from Sand Cloud with me wherever I go, so I don't have to use disposable ones. I bring reusable bags to the grocery store with me, and I buy locally sourced food as often as possible. I limit online shopping to avoid transportation pollution, and I donate or sell anything that can be used by someone else, so it doesn't end up in a landfill. Though these small actions won't allow me to singlehandedly save the oceans, I know that doing my part to reduce waste is part of a bigger global movement.
Find ways to reduce your carbon footprint.
The biggest threat to our oceans is climate change. Our oceans have actually protected us from experiencing global climate change on a larger scale; over 90 percent of the heat caused by carbon emissions has been absorbed by the sea. This has caused ocean warming, ocean acidification, and rising ocean levels (among other things). All of these are bad for the ocean, and leading us towards catastrophic, irreversible change.
There are small ways I reduce my carbon footprint – like using natural light whenever the sun is out and traveling by public transportation – but change needs to happen at a higher level. Learning about the policies of both local and federal governments, and voting for environmentally friendly policies, is incredibly important. Voting for politicians who take climate change seriously is crucial if we want to stop climate change before it can't be undone.
It's critical to understand that we can't lose our oceans. They sustain our lives on land; if the oceans die, so do we.
If you enjoyed reading this, please consider sharing or leaving a tip.
Advocacy
pnw | pisces | poet
wwu grad
IG: @kjzwrites
Receive stories by Katherine J. Zumpano in

your feed