Haiku to Maya Blue
Rich, Unique & Beautiful - A Masterpiece of Nature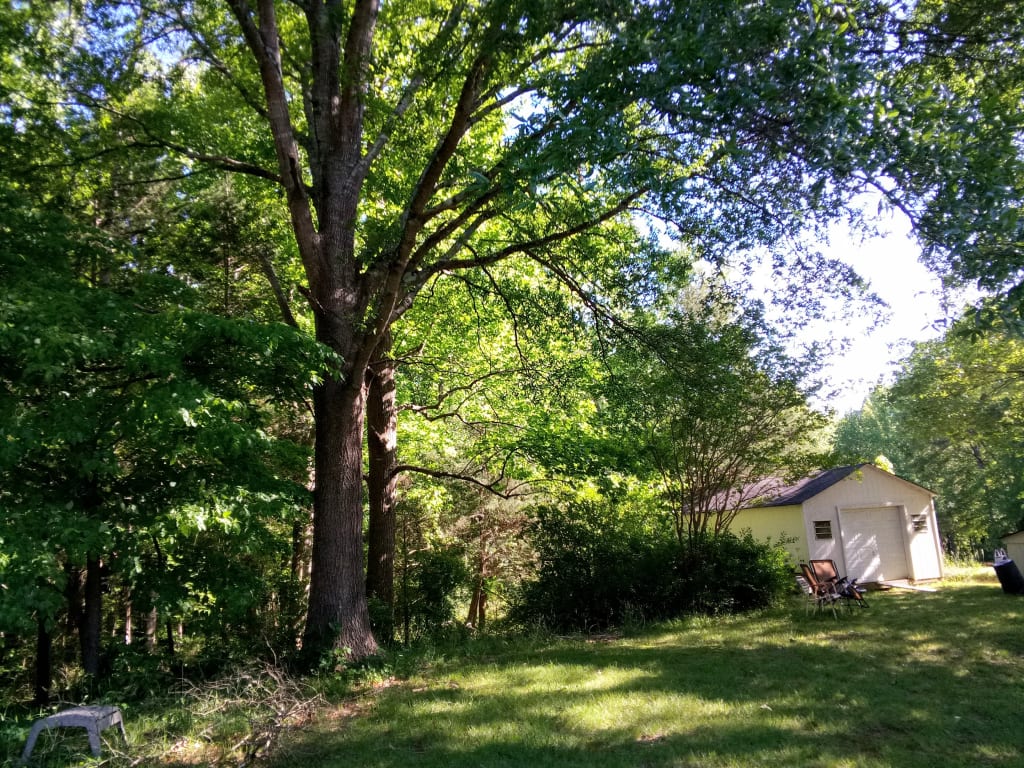 Photo By Author
Ever meet a blue
That you could not call by name?
It put all to shame!
***
What is in a name
Like Royal, Azure, or Slate?
Or Ultramarine?
***
Today I saw the sky
Peeking boldly through the leaves
A new shade of blue?
***
Maya Blue it was,
No clouds to share the glory,
Blissful Maya Blue!
***
Maya in May
On an early May afternoon, I went outside to take a walk around my yard. The weather was just right with temperatures not too cool, not too hot, just perfect.
The first thing that struck me was that something seemed different, unusual, about the lighting, almost as if some atmospheric change was in the air. I wondered if a storm was coming our way.
Then I realized that there was not even a wisp of a cloud anywhere in the sky that was within my field of vision. Just clear blue. Not just the ordinary, exquisite Carolina blue sky I see almost every day (barring a cloudy, rainy, or overcast day).
It was the shade of blue that immediately had me asking, "What kind of blue is this?". None of the names of the color blue seemed to fit it. I thought of electric blue, but that didn't sound just right.
The deep blue sky defied description.
I took my cell phone out of my pocket and began snapping pictures, trying to accommodate the afternoon light from the sun going down and the way the blue sky seemed to perfectly frame the openings between the branches and brilliant green leaves of the trees.
Even as I tried to hold my phone perfectly still and get the best picture possible, I knew the pictures would not begin to do justice to the picture I was seeing in real time.
So what you see in the photo is just a hint of what I really saw that stopped me in my tracks.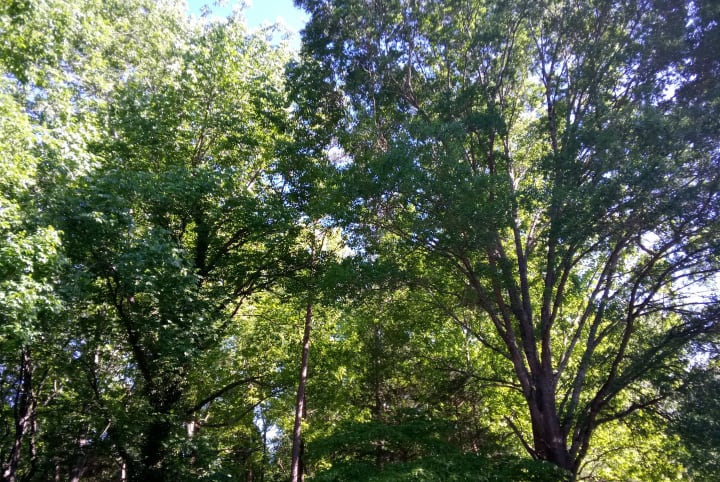 I came inside and got on my computer to look up shades of blue. One website listed 144 names for unique shades of blue. It was fascinating!
I know that royal blue has many manifestations, but this blue seemed to be almost totally uniform everywhere.
Way down on the website page, I found Maya Blue.
The description and history of the Maya Blue hue had me captivated from start to finish. Allow me, please, to share some of the information here.
Origin of Maya Blue Paint
It seems that throughout human history, blue paint has been a challenge to figure out how to make.
According to an article by John H. Lienhard at the University of Houston's College of Engineering, Neolithic cave painters were never able to produce the highly-prized color.
Book illustrators during Medieval times learned to produce a shade of blue paint by grinding precious stones called lapis lazuli.
The discovery of potassium ferric cyanide in the 1700s led to the production of the brilliant-hued Prussian Blue paint.
The discovery of Aniline dyes in Germany in the mid-1800s led to a boost in industrialization as the supply of these paints kept pace with the demand.
But what about Maya Blue?
The Mayan civilization learned to produce this brilliant, durable, almost indestructible paint as a gradual process beginning about 300 A.D. and extending to around 900 A.D.
What is it made of, you might be wondering. This mystery was not unlocked by scientists until the 1960s.
The stability of the combination of ingredients made it almost impossible to identify because it was not susceptible to most of the reagents used for that purpose.
Spectroscopic techniques were used to identify the two main ingredients: Indigo dye (actually a vegetable dye) and palygorskite clay, which is an uncommon, magnesium-aluminium silicate clay.
It was later discovered that a third ingredient, copal (a natural resin or incense) was used in making Maya paint. Its role was binding the other two ingredients together in an almost inseparable way. Thus, pottery or other items painted with Maya blue paint seemed to defy fading under sunlight like most paints are subject to.
The palygorskite clay has an unusual characteristic. It contains long internal channels which can absorb and contain large amounts of dye.
The Role of Maya Blue Paint in Mayan Culture
Even after the composition of the Blue Maya Paint was discovered, little to nothing had been known about how the paint was produced, nor what part it might have played in Maya culture.
A key to unlocking the mystery may have been found in a piece of blue pottery that had been donated to the Field Museum in Chicago, Illinois in 1904.
This piece of pottery was recovered from a Sacred Cenote (sinkhole) in Chichén Itzá on the Yucatan Peninsula (a part of Mexico) by anthropologist Edward Thompson when he dredged a water-filled sinkhole. Other blue items and human bones were found there, too.
At the bottom of the sinkhole, fourteen feet of blue-colored sediment was found. This would have required an incredible amount of paint to produce, and the durability of the dye is demonstrated.
Mayan Ritual of Human Sacrifice
It is believed that the Mayans used the cenotes (pronounced seh-no-tays) in their ritual of human sacrifice to Chaak - their rain god.
Before the Spanish began their conquest of the Mayan civilization, for about 1200 years, farming had been their livelihood, and it had to be done in often dry climates. Rain was needed to sustain their lives.
When the sky had remained cloud-free and constantly blue for some time, a sacrificial ceremony was planned, and the Maya Blue paint was believed to have been prepared specifically for the ritual.
Items such as pottery and other artistic creations were painted blue along with the humans chosen for sacrifice, and they were thrown into the cenote to appease Chaak. They believed that this would please Chaak, their rain god, and rain would come to water their crops and sustain their lives.
Meanings of the Color Blue
The color Blue is associated with different qualities depending on place and time. It has been considered the color of water, the color of empathy, virtue, loyalty, and the color of sadness. When a person is feeling down and depressed, they might say they have the "blues".
This author would add to this list, the color of a radiant clear, deep blue sky sometimes on a nearly perfect spring day.
If you would like to learn more about Maya Blue, check out the links below:
https://www.mcgill.ca/oss/article/science-science-verywhere/mystery-maya-blue-finally-solved
https://www.uh.edu/engines/epi2342.htm
About the Creator
I believe in the magic of words, love, and tenacity. There is a world out there that needs to be explored, researched, and written out to try to make some sense of it, and to make a better place for the children of tomorrow.
Reader insights
Outstanding
Excellent work. Looking forward to reading more!
Top insights
Heartfelt and relatable

The story invoked strong personal emotions

Expert insights and opinions

Arguments were carefully researched and presented

Eye opening

Niche topic & fresh perspectives
Masterful proofreading

Zero grammar & spelling mistakes

Compelling and original writing

Creative use of language & vocab

On-point and relevant

Writing reflected the title & theme

Easy to read and follow

Well-structured & engaging content

Excellent storytelling

Original narrative & well developed characters
Add your insights