Baker's Dozen: Favorite 13 Eco-Friendly Product Swaps (2022)
A List of 13 Eco-Friendly Product Swaps I Enjoyed in 2022
I'll admit; in 2022, I didn't do as well as previous years in curbing my carbon footprint! It wasn't for a lack of trying, but rather just me saying, "I need to catch up". The thing about making eco-friendly choices is that, a lot of the time, it takes a great deal more time than just buying a commercially-produced product. Especially if, like me, you usually DIY and make homemade versions.
A good example of this would be doing my laundry. Many folks wash in hot water without question, toss in chemical cleaners and softeners, and then run a hot cycle on the dryer. Whole process takes a few hours.
I do virtually none of that. Not anymore anyway. Sure, sometimes a hot wash cycle is just what I need, but a lot of the time, I can do without. Cold wash, with "homemade" laundry powder, a no-heat cycle on the dryer with wool dryer balls to soften clothes, and then line-drying is how I've handled my laundry for the last five years or so. This process can take many hours longer than "normal". But I feel better doing things the hard way. And honestly, line-drying laundry is pretty relaxing to me.
The extent of my past efforts is roughly explained here, if you're interested. It's been a journey, and I'm not done yet!
Any case, just because I didn't do as well on the carbon footprint as I had previously doesn't mean I didn't include new items to help offset my footprint for the future.
So let me introduce you (in no particular order) to the small items I tried this year that I think will help me offset my footprint for next year. Maybe you'll decide to try one or two for yourself? Enjoy!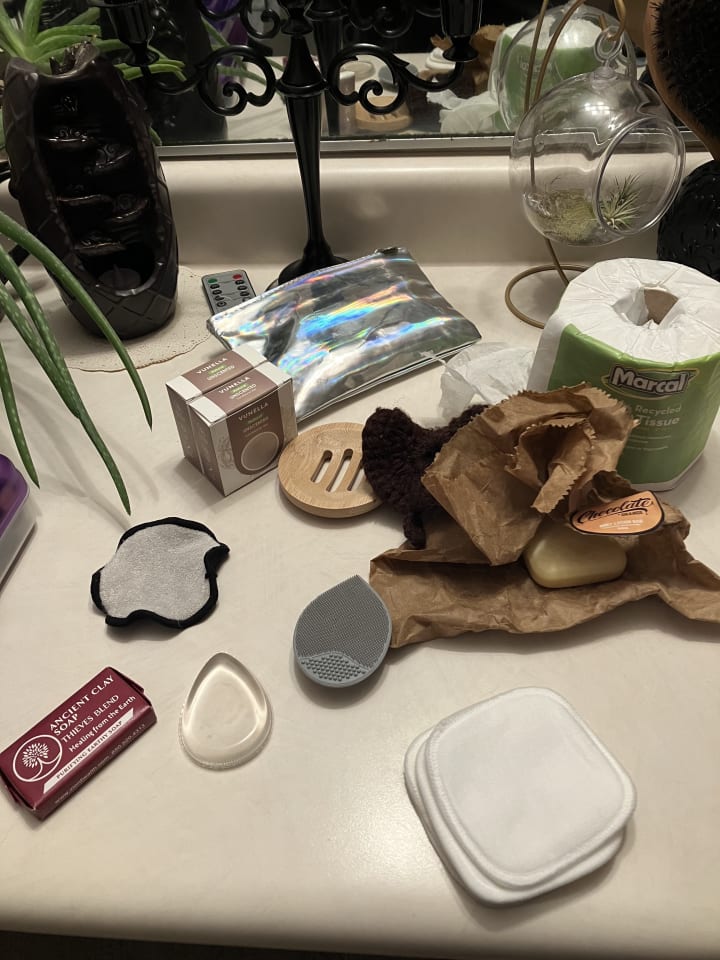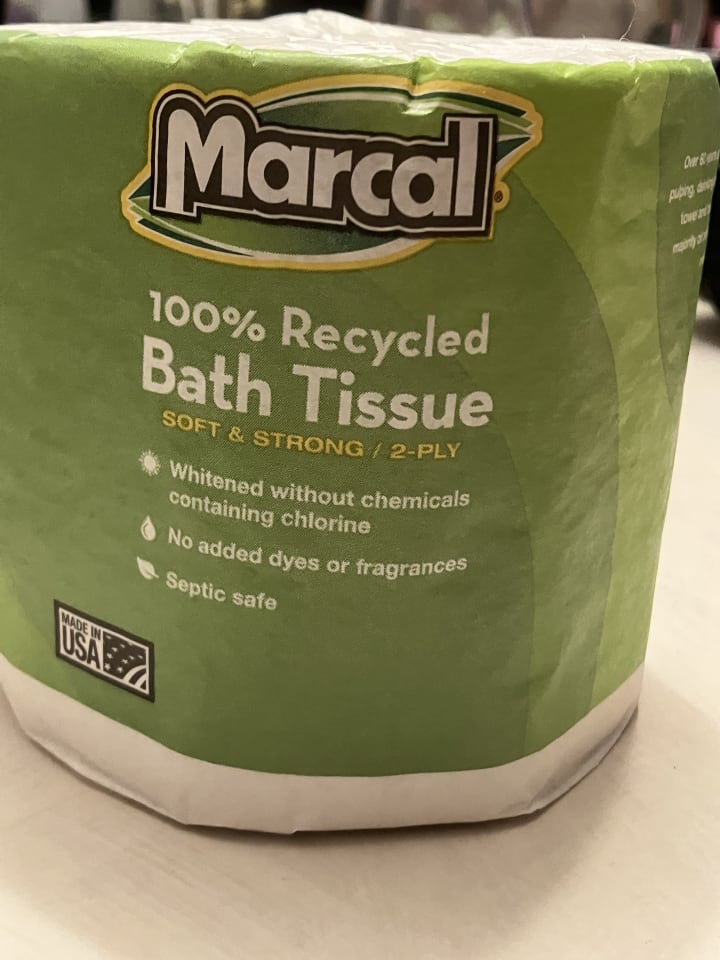 The term, "recycled toilet paper" likely brings to mind undesirable images of how such a product is made. However, it is not nearly as scary or disgusting as you might think! Recycled toilet paper does not mean someone is fishing out used toilet paper, somehow sanitizing it, and then recreating that product. However, paper products turned in for recycling can be made into toilet tissue. This saves resources and energy, and leaves more trees standing tall to soak up some of that excess carbon.
So how did this toilet tissue hold up?
Not bad. Understandably, it's not as thick as name-brand, which would probably be the biggest complaint given by most. Given that I use old scraps of clothes for all but the dirtiest bathroom tasks, I used very little of the product compared to the average, but I still used enough to get the gist. If my partner had a complaint, I never heard it, and he's usually not shy to let me know if my good-intentioned paper products are not up to snuff - typically in the paper towel category. Man, my man loves to complain about paper towels.
These rolls came individually wrapped in paper rather than plastic film, and they do have a cardboard center; so there is still some "extra" materials that need to be composted or recycled versus a brand that doesn't include a cardboard roll at all. Still, better than being wrapped in plastic film, which is very difficult to recycle due to its thin nature.
Would order again.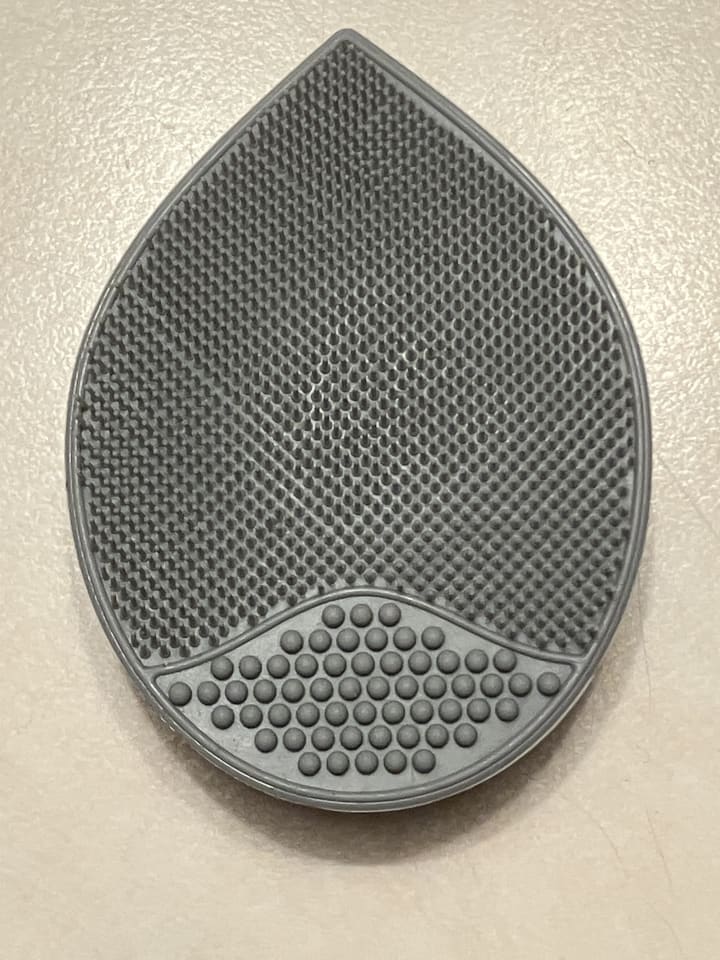 Part of the reason my carbon footprint is a little bigger this year is that, for once, I tried to focus on me. Not just, "how can I get by with less" like I've been doing, but "hey, I've neglected parts of myself and should work on fixing that". Which led to trying to do better about skincare in particular, since my skin always suffers in the colder, dryer winter months.
And then I found these. Usually, I'd just use regular bar soap for hand-washing to wash my face. Results weren't terrible, but especially after putting on makeup, I wondered just how well things were being removed. Once I tried one of these, however, I kinda fell in love!
The silicone bristles are soft and flexible, but add texture that helps remove traces of makeup and dead skin. Best of all, they rinse clean rather well! They do come in plastic packaging, but it is recyclable. Since I'm not really replacing anything with them, they kinda add to my carbon footprint, but if you use disposable scrubbers, this might be worth the trade-in!
I enjoyed these so much and wanted to make sure I didn't have a bad excuse not to clean my face with them anymore, so I bought a few for around the sinks and shower. There's now always one in reach when I'm cleaning up, so I stand a good chance of actually using them!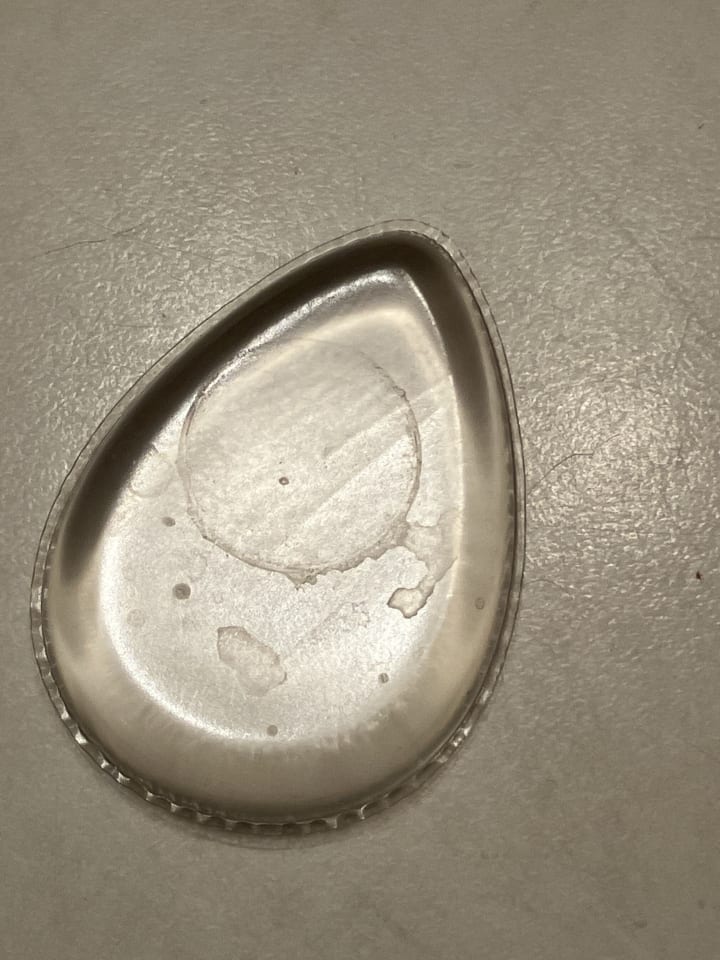 These nifty little things are another, "didn't know I needed it until I got it" product.
As I've been working through an identity crisis, I've begun playing with makeup a little more. Early on, while watching tutorials, I realized I didn't have a makeup sponge. I'd always applied makeup with my fingers or powders with brushes in the past.
One thing I wasn't keen on about makeup sponges is the cleanup: there's so many videos detailing these long, drawn-out processes for cleaning those stupid little sponges! Moreover, watching those videos of others cleaning their sponges, I couldn't get over how much product was absorbed into them and ultimately wasted.
So when I started looking for a makeup sponge and these popped up as an alternative, I had to take a look!
Made of clear silicone, these are fairly flexible - especially after a few uses. They don't absorb products, making them easy to clean and saving said products, which also saves money!
There is, however, a bit of a learning curve with them, such as how much product to apply and whether dabbing or "smearing" applies best (depending on the products of course). There is also a border of thin silicone around it. I saw a review or two where someone complained about this border leaving unsightly lines in the makeup; this could happen, but only if you're using the "wrong" side. The border is on the backside of the applicator; the back is more flat and goes in the palm. The surface area left exposed is not near the border, and application is unhindered. But if you placed the applicator with the flat side and border exposed, that would leave those marks people spoke of in reviews.
They could not be more simple; simply use, rinse, and repeat.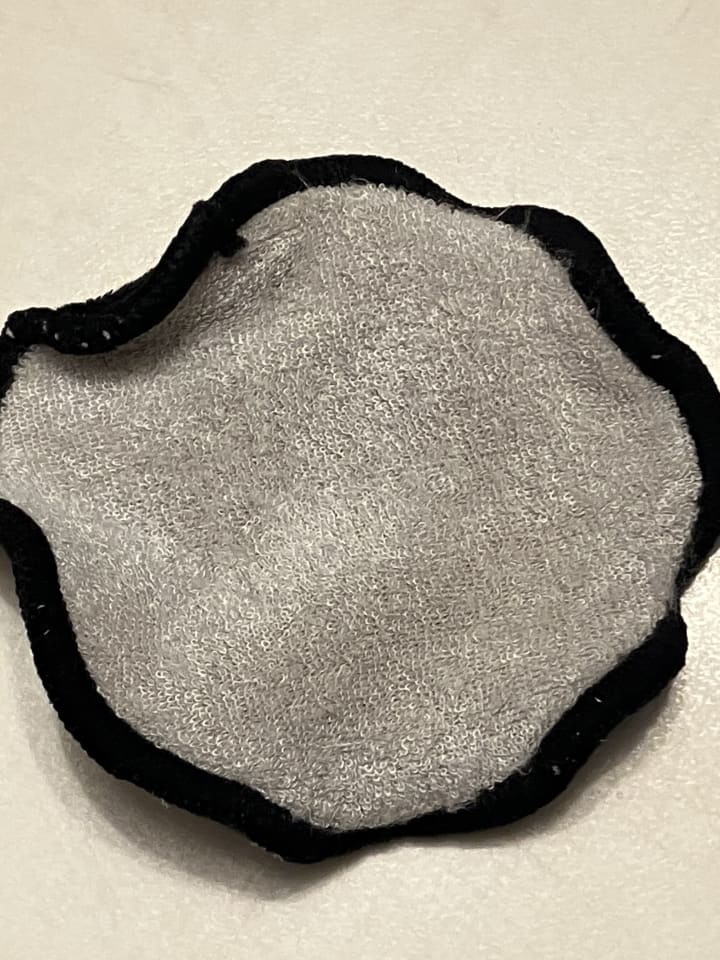 Speaking of makeup, how about we talk about how we remove it?
I actually bought the charcoal variety of these a few years back; I even bought some for my sister as well! However, unlike my sister, I do like to have extras! I've since bought a few different types, happy to keep some in either bathroom, a few in my purse, in my emergency overnight bags...etc! They're handy and you never know when you might need one!
These makeup removers are simple enough; simply wet the pad, scrub off the makeup, and toss the remover pads into the wash! One side is a little rough, the other soft. I've had success with just warm water on the pad, but for more stubborn types of makeup (waterproof eyeliner, for example), a bit of baby oil can really help! While the disposable removers work well and can be a nice touch every now and then, I'm much happier with this alternative! How long would $20 supply you with disposable removers? I've had the first set (pictured above) for years!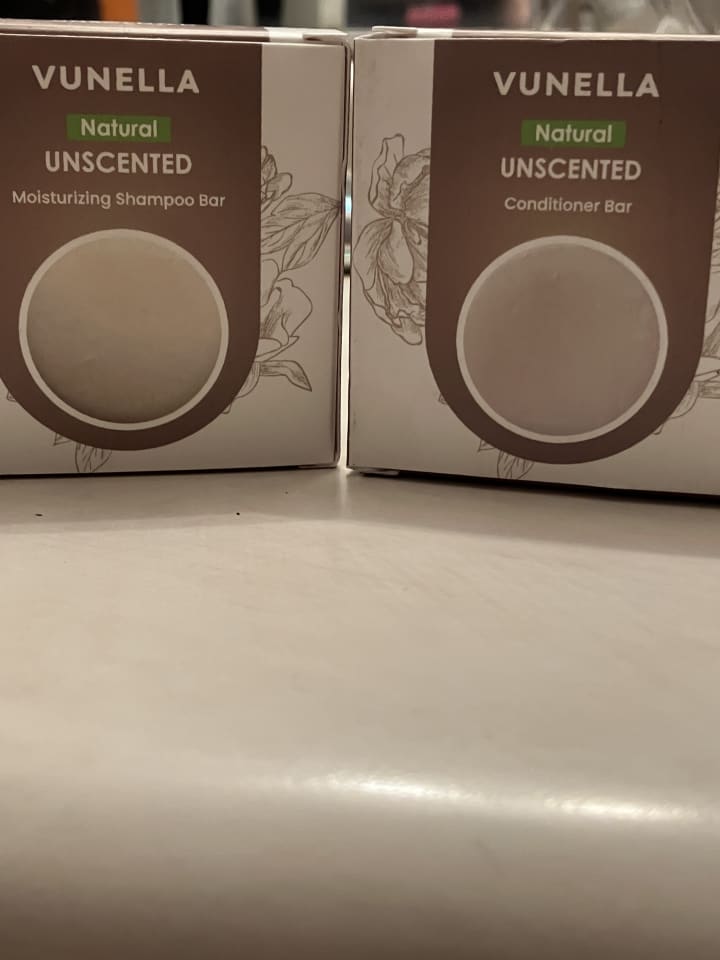 One of the most annoying things to me about bathroom products is how much plastic is used. My partner and I both have long hair, and before I switched to shampoo and conditioner bars, we were throwing out several plastic bottles a month. Now, my partner still uses the stuff in bottles (we do recycle them), but since I don't, we throw out less plastic, less often.
I've tried a few different bars. Some, like these, are two separate bars. I've also had great success with the 2-in-1 bars, though my hair is fine and it doesn't take much product to handle my hair. Either way, I don't think I'm ever going back to bottles!
Most of the bars are eco-friendly, with zero-waste packaging. Most claim 75+ washes - equivalent to about 3 bottles of each product. All of them are much smaller than products in plastic bottles, saving a lot of closet space at home or luggage space when abroad!
I listed Vunella in particular due to the bars pictured above; while not a huge deal for me, other users might be looking for unscented products. However, BambooEarth 2-in-1 bars might be the way to go for those seeking a more frugal approach. I highly recommend either.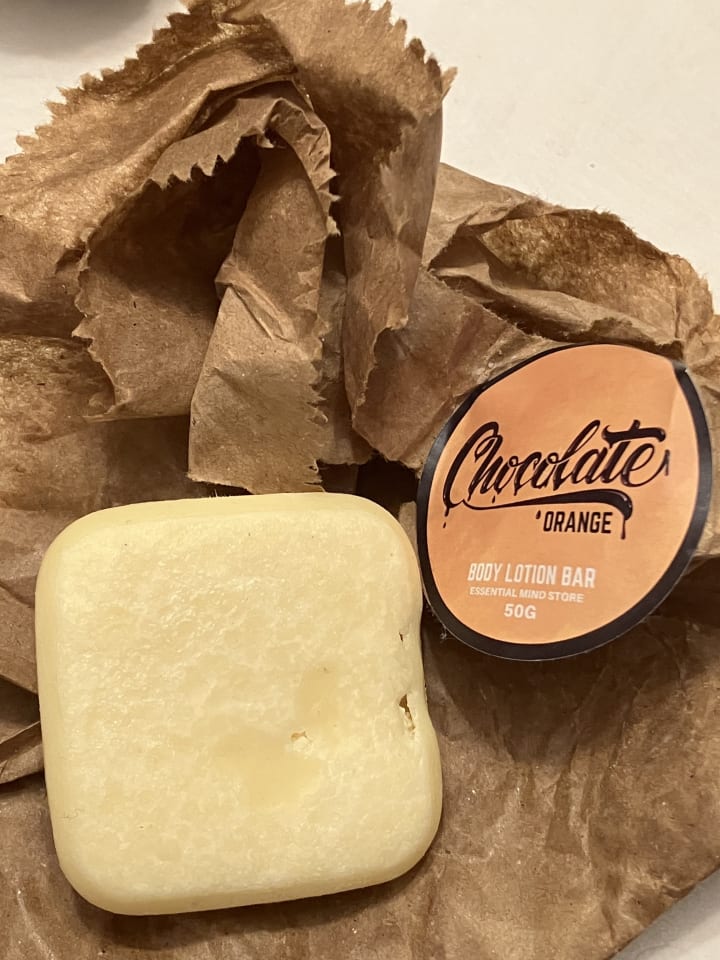 Some insightful readers may have noticed that a few products on this list come from a company in the UK. Naturally, this also counts against this year's carbon footprint, but they had some good deals on some products I hadn't considered before, and that made the products - and the company as a result - worth checking out! Among my haul from this UK company, Honestly Eco, were a few lotion bars I decided I wanted to try.
The main draws were that there is no plastic and that these are solid bars. A huge reason why I've always lacked a skincare routine is that I hate how lotions make me feel: I hate not being able to turn a doorknob after using lotion, I hate how any loose fur sticks to my feet when I put on foot creams or I lose traction on our hardwood floors, and I hate how long I have to work extra lotion in when I put too much on! Now, I still have to contend with hand lotions and foot creams and all their shortcomings, but at least now I don't mind moisturizing my skin after a shower or bath!
I also enjoy the fact that these, like the shampoo and conditioner bars, are much smaller than their counterparts, saving room in closets and luggage! They also come in unscented, if that's something you're interested in.
The bars themselves fit in your hand, and as you drag the bars over your skin, the heat from your skin melts the oils in it, moisturizing your skin. A quick followup, rubbing the oils in, and you're all set! My only "complaint" is my dogs like the scents - so much that they try licking the lotion off, which is kinda opposite the point... I'll have to shop around more locally for future bars now that I know I like the products. At least until I can attempt making my own batch.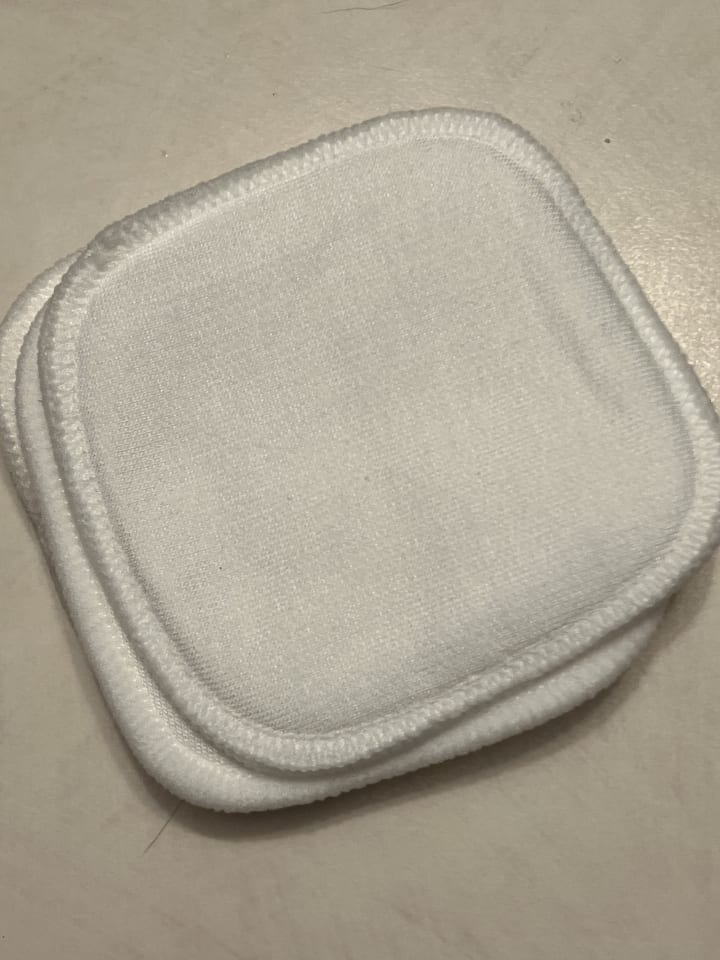 Now, these look clean because, admittedly, I haven't actually used the product yet. Nails can be a bit of a chore to me.
Part of the reason I rarely paint my nails is that, every time I start to think they are the perfect length to do so, they begin to catch on clothes and rip and break and bend before I can actually do anything... I'm also not very patient when it comes to nail polish drying.
However, I do want to start painting my nails more, so when I saw these, I thought it would be a perfect catalyst to start doing so. To be fair, I only recently received these, so I haven't had the chance yet. However, they are similar to the makeup remover pads mentioned earlier; in fact, these are actually slightly larger than the other makeup remover pads. They seem softer overall, but operate in a similar fashion; wet the pads and use them to scrub polish off your nails. Like cotton balls, but reusable and with more surface area - that wins points!
The only things I am slightly concerned about are washing them with regular laundry after nail polish remover has been applied and how the removed polish interacts with laundry, though the acetone should evaporate long before that and I guess other people have been washing them just fine. I had the same concerns with the other makeup remover pads, and so far, there's been no issues.
8) Crochet Scrubbers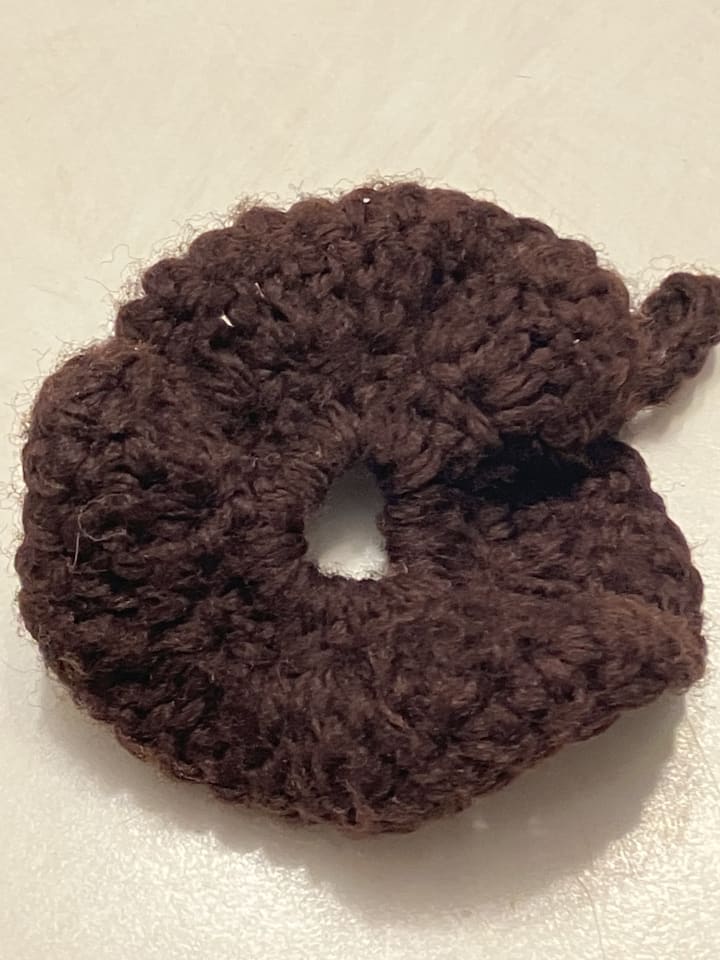 That's right - there's no link for this one! It's not a mistake; these crochet scrubbers were made by someone my aunt knows in her hometown in South Dakota. My aunt shares my passions for DIY alternatives, saving money, and supporting local creators on occasion. Well, my aunt supports local creators more than me, but it's a small town where she's at and it's a little easier.
As such, she buys extras, happy to share with me and other relatives and friends. I was given 3 of these when I visited her in 2021 for the better part of a month. I was out there to help pick corn, and they were a small addition to the other items she sent home with me for my help.
They have been a most useful addition, and I think about that visit - and my aunt and uncle - every time I use one. The one pictured above, I use for cleaning inside my home office's coffee maker and my coffee mugs, rather than taking everything downstairs to the kitchen to clean them. Others await the day the sponges I bought previously are beyond use, and then they will help clean our dishes!
I don't know who exactly made them, but they are nifty, durable, and hold a bit of a story in my case! If you know how to make them, they are worth it! And if you find someone who sells them, try it!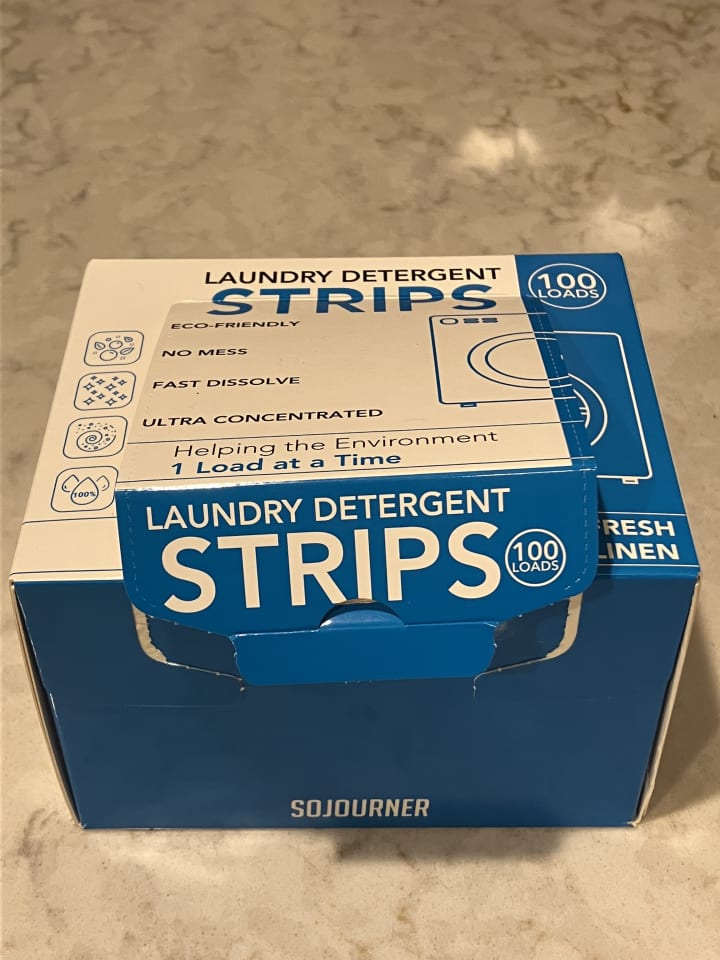 While I do make my own laundry powder, (based off of a DIY recipe I found years ago on someone's blog,) I couldn't resist trying these detergent sheets out!
They are small and compact - perfect for travel or small spaces. They don't come diluted in water in giant plastic jugs. And most come in cardboard packaging, making it easy to compost or recycle the box.
I was particularly interested in these when I was trying to stay on at my temp job at Jurassic World: The Exhibition (I fucking miss that job, so much). The exhibition was getting ready to move from Denver, Colorado to San Diego, California, and I was one of the only ones interested in following the job out of state - for a while. I was trying to get as many things as I could think of bought up before potentially leaving, given how expensive San Diego is even compared to Denver. And one concern was my laundry; I didn't want to drag the big tote I keep my DIY powder in to California! These were going to be my solution!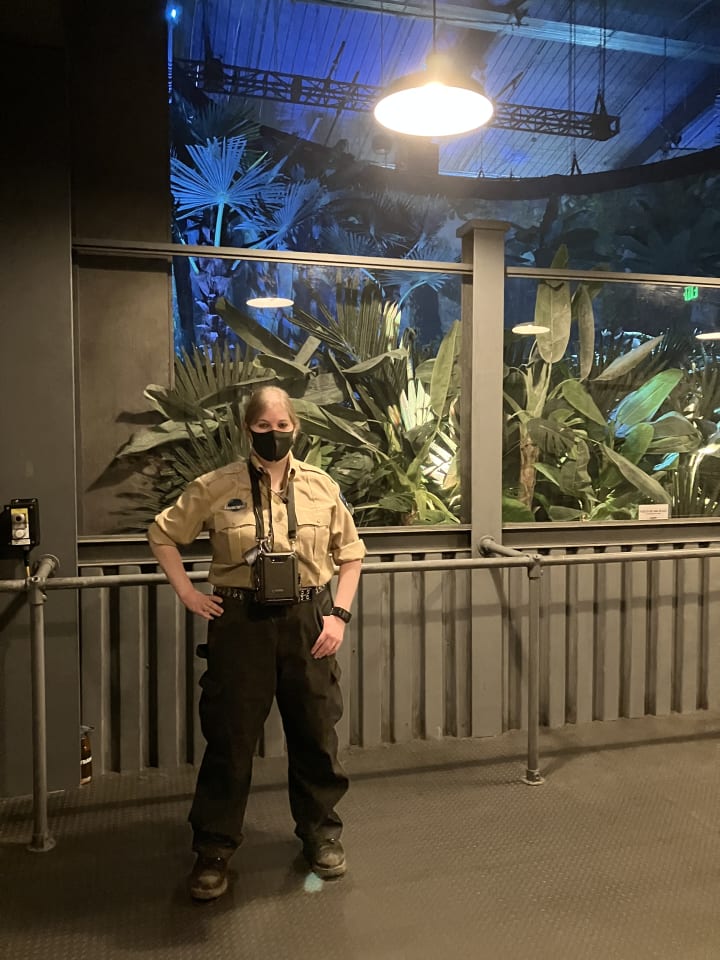 If I had stayed on, I would've had to leave my boyfriend and our pets for up to six months, though I told my employers when reinterviewed that I would probably only be able to do another 4 months. As it happened, despite how ready I was to follow the job and how competent an employee I had been to them for 4 months already, I was not asked to rejoin the team in San Diego. Kinda broke my heart, really; it was the coolest job I never could have dreamt of and I made such great personal progress while working it in Denver...
But at least I bought these detergent strips as a result! They work very well; I might even take a break from making the DIY powder next year and just use these exclusively, just to change it up! They smell fresh, but not overpowering, and are so simple to use!
I highly recommend them!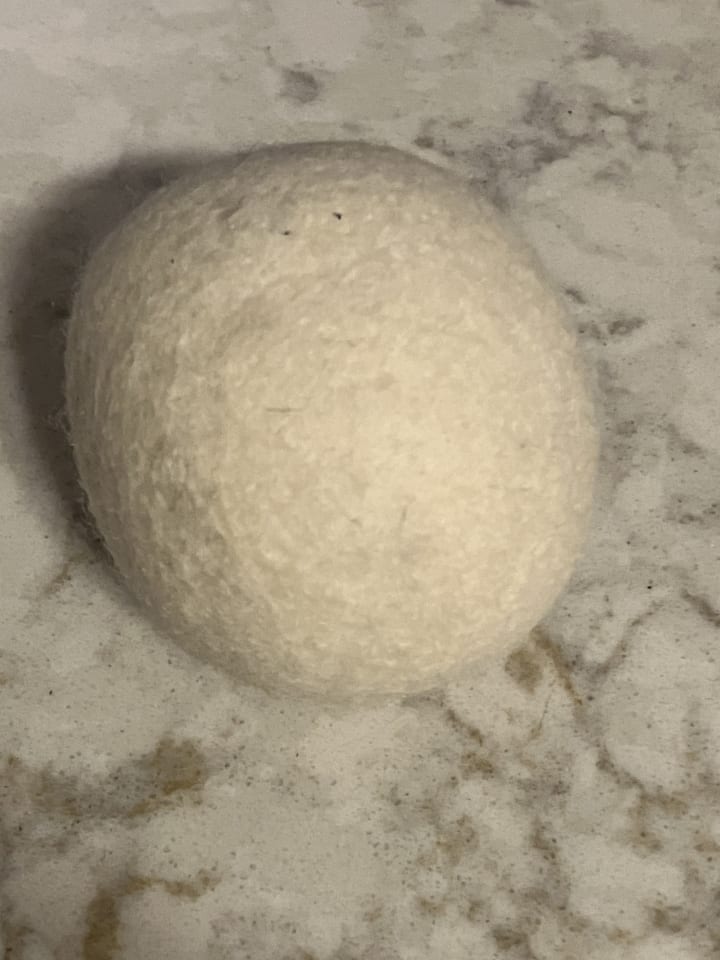 Now, I mentioned wool dryer balls in my review of products I tried in 2021. However, these are such a staple in my laundry routine, I felt they had to make another appearance!
As mentioned early on, I run my dryer on the no-heat cycle. Why run it at all then? Well...
Pet fur, mostly. Lots of pet fur - we've got 6 animals in the house. I run the dryer on no-heat with dryer balls to help speed up the drying process and the help beat out the fur stuck in my clothing.
Now, whether the heat is on or not, the dryer balls absorb some moisture and the movement of a few of them tumbling around in the dryer helps air move better around the clothing, allowing faster drying times. They are also nice for those times that I forgot to remove clothes for a bit and they've gotten a little wrinkled; simply run another no-heat cycle, and the clothes are typically soft and look much better!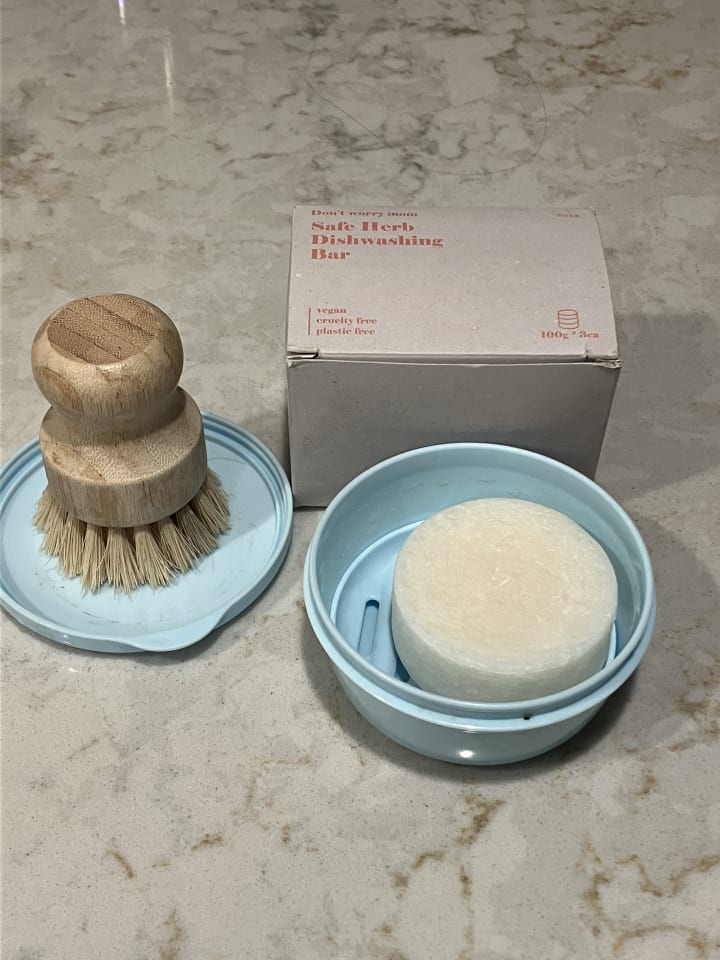 While I mention dishwashing bar soaps in particular, I have adopted bar soaps for hand-washing and showering as well. They again take up much less space than the refill jugs of soft hand soaps and don't usually come in plastic.
Now, I do have one gripe about these dishwashing bars, and that is that I don't care for the scent they give off. However, overlooking that, these have been great to use! It doesn't always have to be the ideal product to be a great product. These are good where it counts.
These are vegan bars, for those who are interested, and they lather and clean dishes well! While I've always been more of a dishwasher fan, I have been trying to hand-wash more often, especially on days I want a relaxing bath because the dishwasher uses up a lot of our hot water. While the name brand liquid soap still has a place in our home, I'm finding I need it less as these bars are just as effective in most cases!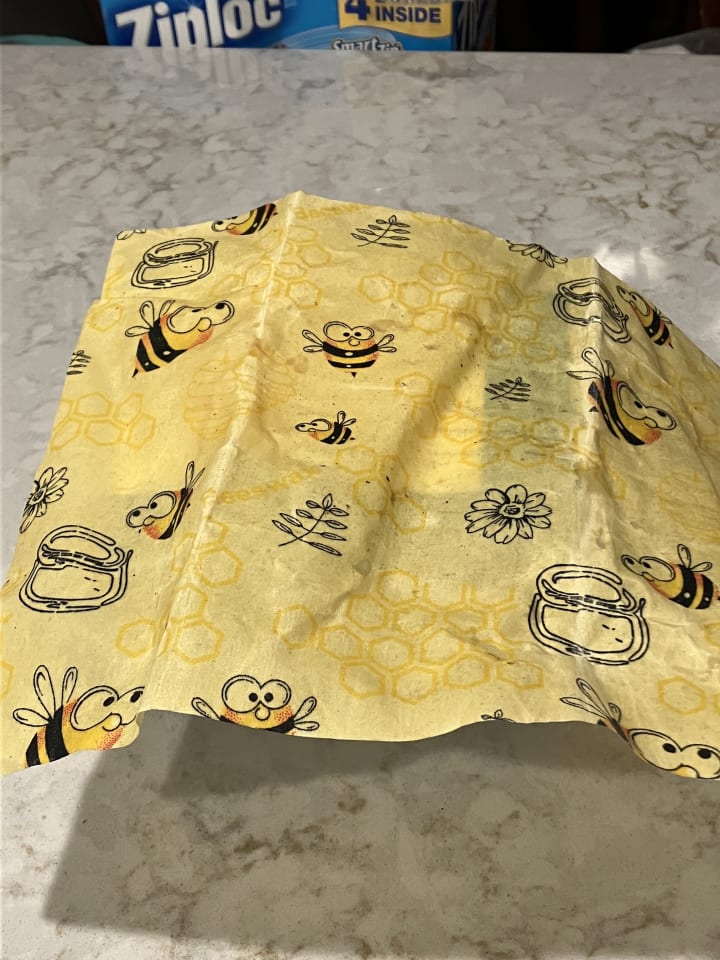 These are actually the second batch of beeswax wraps I have bought. My well-meaning partner accidentally threw out some of the first set, which had no patterns and to him looked like old fast food hamburger wrappers...
Any case, this are nifty little things! Meant to replace plastic zip bags in some cases, these got quite a workout covering my peanut butter sandwiches that I took for lunch at Jurassic World! A little body heat helps them seal temporarily, a little cool water and soap cleans them, and they are reusable! They are also great for covering, say, the unused half of an onion!
The only issue I can see with these is for vegans - obviously, beeswax isn't really in line with veganism.
I did also find it funny as I selected this image that there is a box of name-brand zip bags in the background. Funny story - that box is actually from my partner's previous girlfriend. It had under 500 bags when we began dating 8 years ago, and there's still bags in that box, though certainly not anywhere near 500. I actually use those bags more as dry-erase type things than as food storage.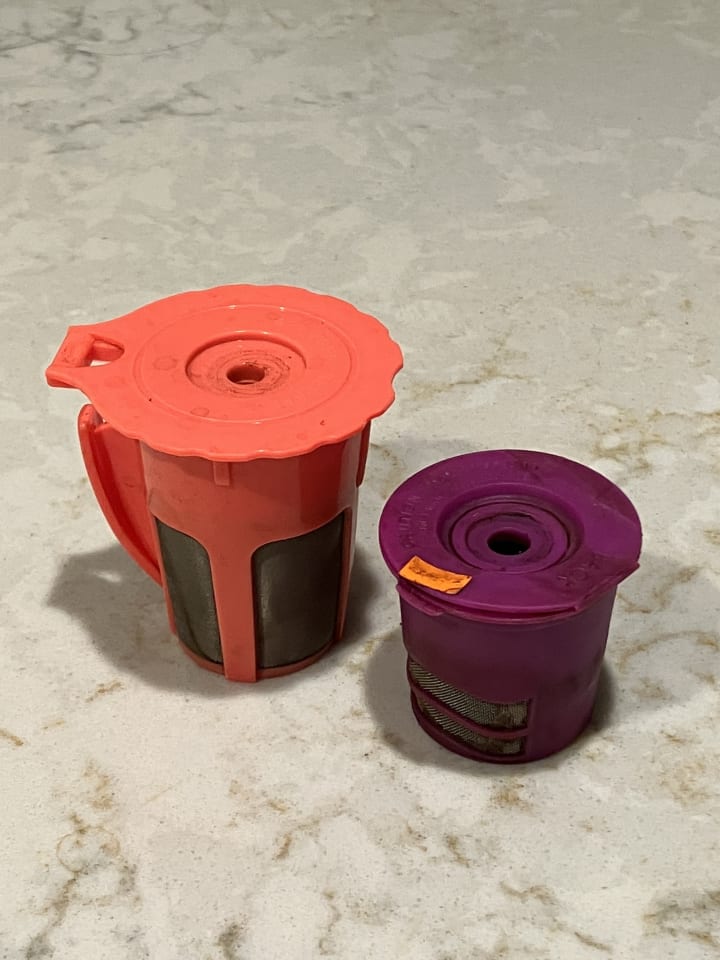 I've been using these for several years now!
Like many, I fell to the appeal of the Keurig; the machine that made a single cup of coffee an easy thing! However, like many, I noticed those K-cups had some unexpected consequences. The single-use pods were - and are - a significant pile of plastic. Moreover, they aren't as cost-effective as buying a large container of coffee and filling a reusable filter with it.
These have become a staple in my family; I've bought them for myself, my parents, and my grandma for all our Keurigs! They see near-daily use and, to my knowledge, none of them have broken!
It's a simple swap, but one that many in my family have been reaping the rewards of for years! It's as simple as making a full pot of coffee, but produces much less plastic! It's one of those swaps that, years later, I'm still sticking with and so happy I made!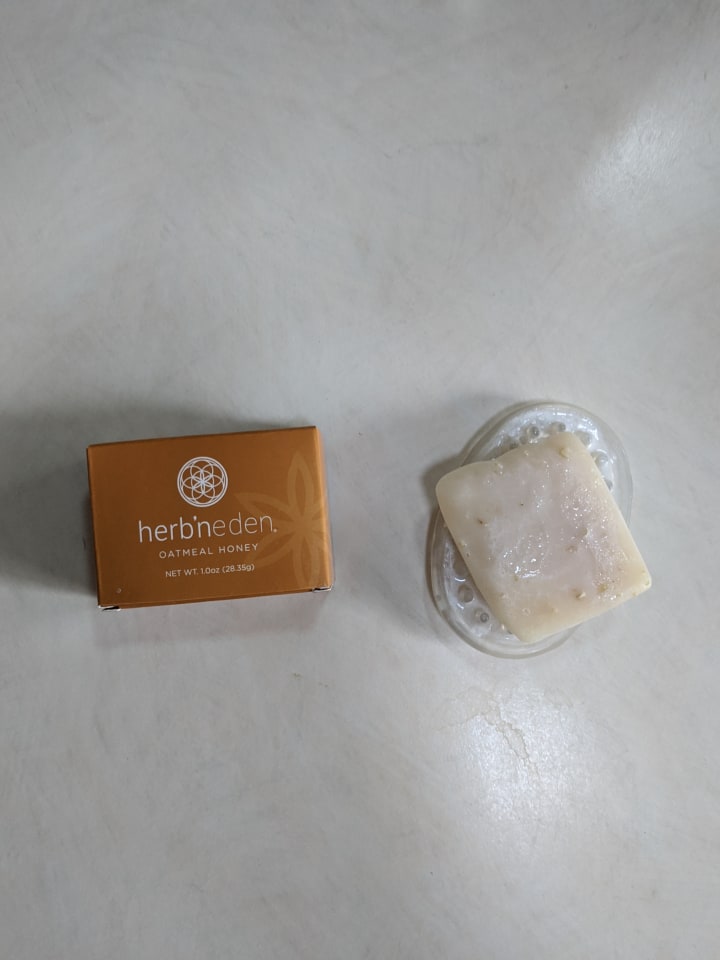 Thank you for reading! I hope this year's Baker's Dozen list of eco-friendly swaps gave you some ideas on how you can curb your own carbon footprint! I know I can do even better!
For more Baker's Dozen lists, personal stories and struggles, and a lot of short fiction, please consider checking out more of my works from my profile! Below, links to Baker's Dozen lists that have made it as Top Stories on Vocal.media!
About the Creator
A fun spin on her last name, Baker enjoys creating "Baker's Dozen" lists for various topics, several of which have earned Top Story honors on Vocal.media! However, she also writes candidly about her mental health and a LOT of fiction.
Reader insights
Be the first to share your insights about this piece.
Add your insights