As the nights begin to cool, the change in seasons brings new harvest
I forgot how much I love fall until today.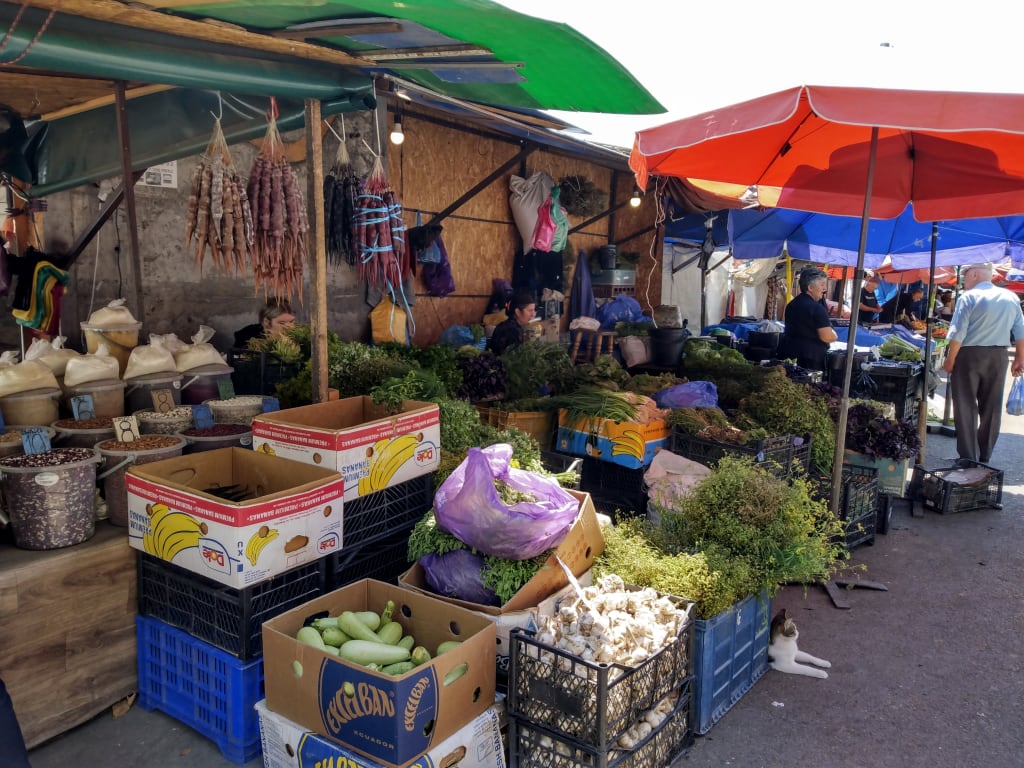 Market in Georgia
Georgia has been teasing us for the past few days about the promise of fall and the lingering summer. The cool nights and the warm days, and until I saw the yellow of the leaves, I thought fall would never arrive.
It was this afternoon when I noticed; I looked out my window and saw the persimmons in the tree had a slight orange color to them. The leaves on my walk today were beginning to change from a dark, crisp green to a faint yellow hue, and the sidewalks had a few more fallen leaves than usual.
We had an afternoon rain shower after a very grey day. I love fall.
The rainy grey days feel as if Mother Nature is mourning the loss of one season as she welcomes another, leaving a refreshed look to everything around renewed and sinking into a new season in her life.
I, too, need to sigh it all out after a scorching and busy summer. I did not realize how much I appreciated living in a country that honors fall until I went to the market.
I go to the local outdoor market at least twice a week and stock up on fresh fruits and veggies. Today, I noticed more apples and fewer berries; persimmons will start to show up if I am here in a couple of weeks. I will not be here to enjoy the persimmons, unfortunately.
It made me appreciate living in a country that lives and breathes with the seasons.
If it is September, there are no more fresh strawberries; they are not imported and sold; what grows local is what they sell. Yes, maybe in the big markets in Tbilisi, the grocery stores are tailored to those who move here and have to have their items.
Yet that is not how we are meant to live.
We are meant to live by the seasons. When watermelon season is over, there will be no more. It helps you to appreciate not only the freshness of the flavors but that it is a particular time and that special time is not year-round.
I think this is on my mind as I mentally prepare to go to my homeland.
It is a land that thinks watermelon season is all year round, as well as apple, strawberry, and blueberries. But they are wrong; blueberries are meant to grow once a year.
Ok, suppose you live in a more tropical area such as Florida or California. In that case, your seasons are very different, except instead of honoring those differences, we export to every state and import goods from other countries. Hence, we are always freshly stocked; even without flavor, it is still there.
I am not sure I will ever be able to eat watermelon again unless I am in Israel or Georgia, as I have never tasted such juicy watermelons in my life.
I wonder if living in Georgia with some of the best fruits and veg has changed me as living in Colombia changed my palate for tropical fruits. I will never eat pineapple if I am not where they are grown fresh without chemicals and not a GMO-modified seed sprayed with roundup.
I am already looking for water bottles with filters to filter out my intake of chemicals the US pumps in the tap water without buying water and waste bottles — the thought of how I distinctly remember water in the US smelling like chlorine and full of toxins.
Am I supposed to shower in that? I would rather stand in the rain with a bar of soap.
I am overreacting a bit, as I will only be there for a brief stopover on my way south yet again.
I will enjoy being in a country with the fresh smell of fall and rain and eating with the seasons, at least for the brief time I have left.
XOXO
S.
About the Creator
I quit the rat race after working as a nurse for 16 years. I now write online and live abroad, currently Nomading, as I search for my forever home. Personal Stories, Travel and History
Reader insights
Be the first to share your insights about this piece.
Add your insights