What Makes a Mass Murderer?
A Guide to Mass Murderers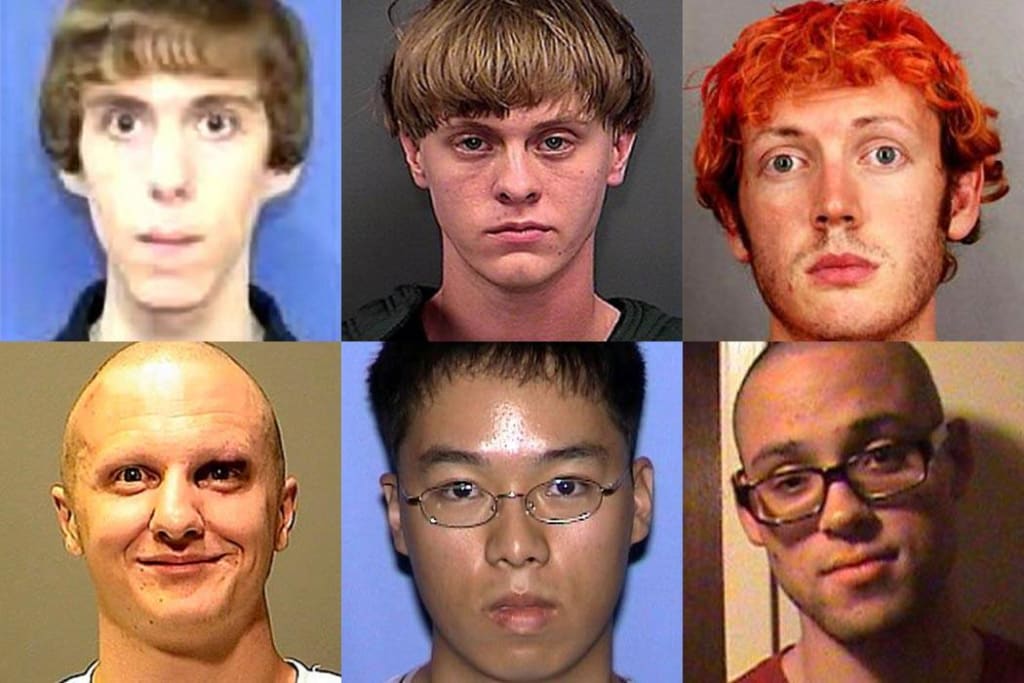 Making a Mass Murderer
What is a mass murder?
A mass murder is the act of murdering a number of people, typically simultaneously or over a relatively short period of time and in close geographic proximity. The FBI defines mass murder as murdering four or more persons during an event with no "cooling-off period" between the murders.
What is a mass murderer?
A mass murderer is a person who carries out these acts, typically in a fit of rage, or as a well-calculated plan.
Types
The mass murderers themselves can be divided into these categories:
The Pseudo Commando
Calculated and adequately planned out
Attack is often seen as a 'cause' or 'duty'
Killer often seeks revenge
Likely stock piles weapons and ammunition before attack
Prior to attack, perp often becomes very interested in guns and/or military
Killer believes the attack is justified
After attack, perpetrator often commits suicide or lets themselves get killed
Can shoot up a school but it is not a typical "school shooting."
Example: Eric Harris and Dylan Klebold
The Family Annihilator
Usually senior male
Half of cases are murder suicide
Not usually premeditated, often occurs after killer is pushed to a breaking point/triggered
Often committed in a 'fit of rage'
Gun is most likely murder weapon
Doesn't always have history of mental illness or violence
In a murder suicide, they believe they have to kill their family in order to truly kill themselves (suicide by proxy)
Example: Kip Kinkel and Ronald Gene Simmons
The Set and Run Killer
Use bombs, explosives or poison/toxic consumables
Does not commit suicide, are not present when attack happens
Main goal is to gain attention and become infamous
Often there's an agenda or political statement behind the attacks
Wants to remain anonymous
Often plans to get away with crimes or escape
Example: Ted Kaczynski and The Chicago Tylenol Killings
Disciple Killer
The attacks are organised by a cult leader
The victims are either random, have a symbolic meaning or are the disciples themselves
The disciples or cult members often kill under the influence of their leader
Although there are exceptions, most leaders do not commit suicide
Disciples kill to gain leader's approval or acceptance
Example: The Manson Family and Jim Jones' People's Temple
Disgruntled Employee
Former/current employee of target site
Believes the employers, co-workers or workplace in general has wronged them
Usually murder-suicide
Often suffers from severe anxiety
Victims are the employer and co-workers
Motivated by revenge
Believes the world is unjust
Example: Patrick Sherrill (Postal worker) and Joseph T. Wesbecker
School Shooter
Usually white male in teens or early 20s
Subject to bullying or rejection, and feels hatred because of this
Has mental health issues or learning difficulties
Often takes inspiration from past mass murders
Likely to be a copycat killer
A pseudo commando can shoot up a school but is not a typical school shooter
Example: Adam Lanza and Elliot Rodger
Terrorist
Kills for political/ideological reasons
Believes killings are justified
Likely an extremist
Wishes to kick start their agenda or gain attention to their cause
Either part of terrorist group (ISIS) or act alone
Intend to cause fear and alarm
Often will even die for their cause, though not always
Example: Dylann Roof and Omar Mateen
*not every killer will be an EXACT match with description, some may even be more than one type*
What can put someone at risk of becoming a mass murderer?
Long Term:
A history of anger, humiliation and lack of success
Low self-esteem
Mental health issues
Difficulty coping
Resentment and externalized anger
Few friends/poor social skills
Sense of entitlement
Full of rage, hate, anger, etc.
Social isolation
Short Term:
A 'final straw'
Losing job
Being dumped or divorced
Becoming bankrupt
Bullying
Threatened
How to Prevent Attacks:
Bullying
Trying to stop bullying and mistreatment of others in schools. Helping others to feel included so nobody is isolated.
Mental Health
Recognising when a child is troubled and assisting them in socialising and seeking support. Stand up for those who cannot stand up for themselves.
Listen
80 percent of mass murderers reveal their plans to someone and 59 percent do to more than one. If someone is talking about an attack discourage them and report it. Do not feel bad for reporting it because in the end you could be saving lives, including theirs.
Media
Media and news sources should put the focus on victims rather than the killers themselves. Many of them want the attention and notoriety that comes with their crimes, if they believe they will not get it they may not kill.
guilty
19 yo personal trainer and student with a vast curiosity
Receive stories by Carolyn Graves in

your feed