'Westside': S05.E09. 'Episode 9'
The war that has been simmering under the surface, between Rita and Wolf bursts into fruition as Wolf takes matters into his own hands.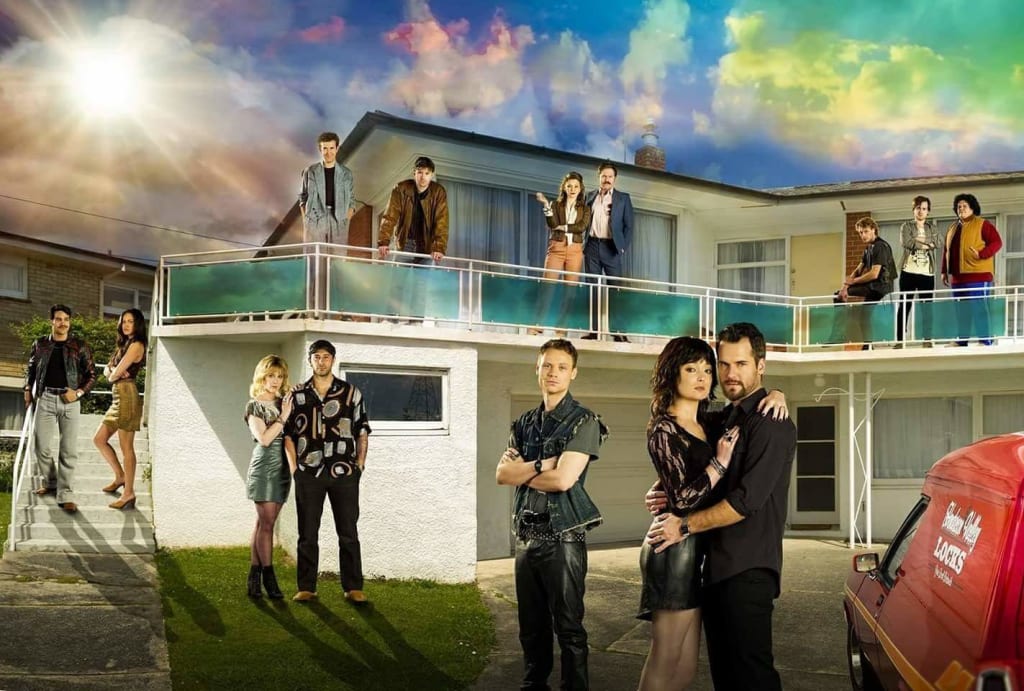 The latest episode of the New Zealand period dramedy Westside saw the war between Rita West (Antonia Prebble) and Wolf West (Reef Ireland) finally break through the surface and take on a new dynamic. The war has been simmering for a while. It was only a matter of time before the pot boiled over and the sh*t finally hit the fan.
The feature-length episode opens with the police raiding the West residence and the galleria. Riana (Kirsten Ibbetson) wasn't too happy that the West family weren't interested in helping her take down Frankie Figgs (Peter Elliott) so she served a search warrant on all the West's properties, seeing Sparky (Caleb Wells) in virtually nothing as one of the cops pulls back the curtain was a picture.
Eric (Jordan Mooney) is still in pain after Frankie had his thugs beat the crap out of him. Eric put a bun in Krystle Figgs' (Emily McKenzie) oven and her father, Frankie, isn't pleased his youngest is having a kid.
"Eric copped a beating because he doesn't know how to operate a condom," Rita told Wolf.
Eric's not the only one that doesn't know how to use a condom. It's the late 1980s. Men Eric's age frequently didn't understand the consequences of not using a jacket.
Wolf's anger at Rita for not doing anything to help Eric had nothing to do with Eric as much as it did with Wolf not being able to see his son again. Wolf motivates Rita to take some time to visit Frankie about the Eric situation.
Wolf and the guys planned to steal Frankie's motorbike but when they got to the property, there are four motorbikes. They took all four bikes. Hidden in the bikes is a sizable stash of speed. The bikes, brought into the country for The Horseman, was a deal Bianca Figgs (Michelle Langstone) was working on. Because Frankie thought he could trust his eldest daughter, he left her alone to do the deal. Little did Frankie know Bianca would use this deal as an opportunity to bring drugs into the country for The Horseman.
Will's (Kip Chapman) condition is worse. The HIV/AIDS medications available to people in the late 1980s weren't what they are today. Phineas (Xavier Horan) and Bert (Pana Hema Taylor) talk Bilkey (Todd Emerson) into breaking Will out of the hospice so that he can enjoy one last party. Will dies during the night.
Valerie (Renee Lyons) has some nerve pouring Lefty's (Daniel Musgrove) booze down the sink. It's not even her grog to dispose of. Even though Valerie is a self-professed sex addict, it doesn't stop her from getting it on with Phineas. Who wouldn't? Have you seen Phineas? Even though Phineas isn't into Valerie as much as she's into him, Lefty talks him into living with the fact she's a nympho.
Cheryl West (Jessica Grace Smith) and her husband move out of the West residence and moves into their own home. Wolf gives Sparky the speed and tells him to leave town.
The episode closes with Rita discovering she might have a medical issue, but the scene doesn't go into any detail. Could this be the first signs of Rita having cancer?
Westside will be returning next year for the sixth and final series.
tv review

Shain Thomas
I'm a freelance journalist. A member of both the NLGJA and SPJ, I currently write articles for Harsh Light News on Medium and HVY.Com. When I was a university student, I wrote articles for the NT Daily and TCU 360.
See all posts by Shain Thomas →