'Westside': S05. E08. Episode Eight
The Wests are a family with a lot of secrets. Having these secrets is not the problem; keeping the secrets is the problem. Rita and Wolf go head-to-head in a game of mutually assured destruction.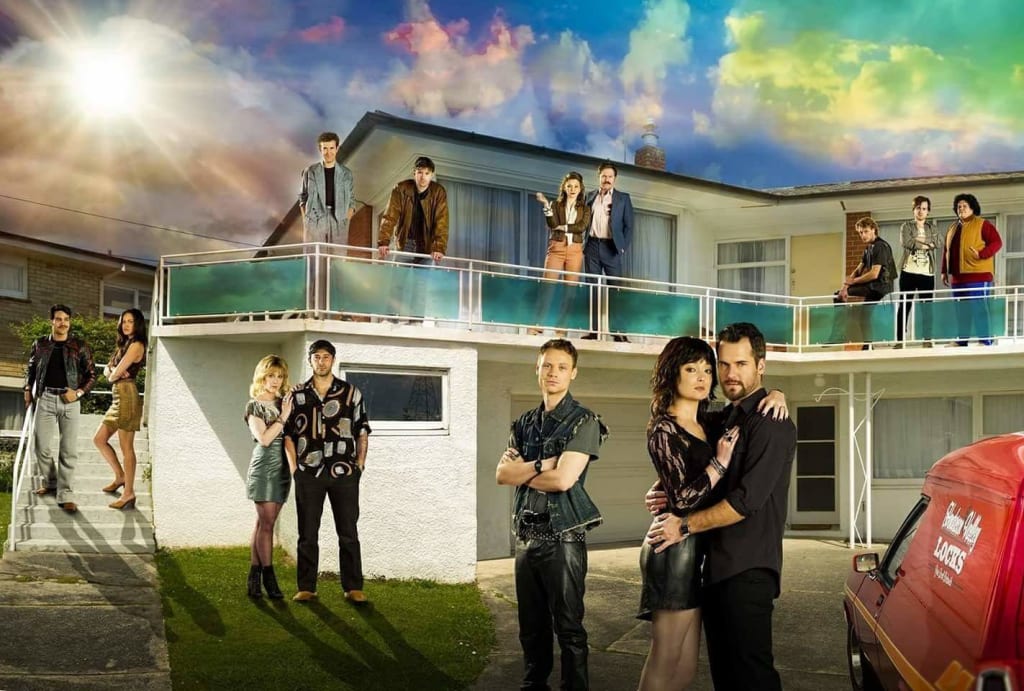 Westside continues to hit all the right notes as one of the best television productions to come out of New Zealand. The production, picked up for a sixth and final series, is the prequel period dramedy to Outrageous Fortune.
The Wests are a tight-knit family with many secrets. These secrets only become a problem when keeping them secret becomes problematic.
Co-created by Rachel Lang and James Griffin, Westside stars David de Lautour and Antonia Prebble as husband and wife Ted and Rita West. The period dramedy also stars Daniel Musgrove, Esther Stephens, Todd Emerson, Pana Hema Taylor, Xavier Horan, Sophie Hambleton, Reef Ireland and Jessica Grace Smith as Lefty Munroe, Ngaire Munroe, Bjelke 'Bilkey' van Heeder, Bert Thompson, Phineas O'Driscoll, Carol O'Driscoll, Wolf West and Cheryl West-Miller, respectively.
In the latest episode, we discover there is a member of the West family we never knew existed. Enter Gary Savage (Simon Mead). In the previous episode, Rita received a chocolate birthday cake. Because no one resident of the West household was celebrating a birthday, everyone was at a loss as to why anyone would send Rita a birthday cake. It wasn't her birthday.
Gary sent his mother a birthday cake on his birthday because he was hoping that she would remember he existed. It was only a matter of time before Gary made an appearance in the prequel series. Aaron Jeffery, best known for playing Matthew Fletcher on the Australian drama Wentworth, played an older version of the character for Outrageous Fortune.
All Gary wants is to meet his mother. Because Ted doesn't know about Gary, she doesn't want him anywhere near the house or her family.
Meanwhile, Carol takes Bert and Phineas and goes on a treasure hunt and strikes gold. Phineas hopes that the treasure hunt job would lead to something with Carol, but Bert reminds him that she left him for Brian (Jason Hodzelmans).
The treasure hunters find gold, jewellery, and money scattered throughout a house belonging to some guy Carol let root her when she was drunk.
As for Barry "Sparky" Gibbs' (Caleb Wells) undercover mission, not that he seems to know the difference between spying and gaining work experience, Sparky doesn't seem to get he is working with Frankie Figgs (Peter Elliott) so that he can garner actionable intel. Spying on a murderer is apparently messing with his head.
Elsewhere, Eric (Jordan Mooney) got a woman pregnant. Because he has not had the nerve to call her back, she trashes his bed and leaves him a colourfully worded note expressing her anger. Because the person that left the note didn't bother to sign it, Eric initially thinks he could have knocked Mandy (Lily Powell) up. Eric should have seriously considered keeping his pocket rocket in his pants or at least wearing a condom before rooting anyone.
While Eric was sure it was Mandy, she is adamant they never rooted. Consequently, this leaves Eric back at square one. Who did he take to bed? The only other person that immediately springs to mind is Krystle Figgs (Emily McKenzie). We should not forget Frankie is Krystle's father and he has killed people for far less than what Eric did with his daughter. While Frankie doesn't plan to kill Eric, he wants Eric to go to a mate of his and get a vasectomy. It's either that or Frankie will do the clipping himself.
The episode closes with Keith (Jason Wu) and Sparky finding Eric severely beaten. He had gone back to the Figgs residence because he wanted to talk to Krystle. The talk didn't go well.