Villainess Review: Susan Jacobs (Criminal Minds)
A twisted villainess commits a copycat abduction in order to hide a much uglier secret in this third season episode
Suzanne Cryer as Susan Jacobs
Without question, Criminal Minds was one of CBS' greatest crime drama in the last two decades, airing for 15 seasons between 2005 and 2020 on the network. I can say this even though I wasn't a weekly viewer of the program, but I did catch a few reruns here or there. I know this much: Criminal Minds was an immensely thrilling series that had its share of twisted villains (regardless of gender), which brings me to the afternoon of April 14, 2018. There are two things I remember about that day. One, it was a day filled with great Stanley Cup Playoff action, and one of the games I watched was Game Two of the opening round between the Nashville Predators and the Colorado Avalanche. Secondly, I watched an episode of Criminal Minds during that same day, the one titled, "Seven Seconds."
In the episode, at a mall in Potomac Falls, Virginia, six-year-old Katie Jacobs suddenly turned up missing, leaving both parents--Beth and Paul Jacobs--immensely worried and pleading for their little girl's safety. Apparently, a mall abduction like this wasn't an isolated incident; another girl, Jessica Davis, was abducted from a mall, and was actually murdered--with the murder taking place only a week prior to Katie's abduction. As the episode revealed, it was a big family gathering at the mall, not only Katie and her parents, but also Katie's older cousin, Jeremy Jacobs, and his parents, Richard Jacobs (Paul's brother), and his wife, Susan Jacobs.
It was Susan who called 911 regarding her missing niece, and it resulted in BAU appearing at the mall to investigate. The entire family was shopping at the mall, with Susan stating that she was looking for a birthday present for Richard: a cigarette lighter. Katie was last left with Jeremy, who was at an arcade playing video games, and it was at that moment that Katie was abducted. It was immensely suspected that Katie's abduction and Jessica's abduction were similar, but police dogs found something interesting during the investigation--an expensive gold necklace.
It's also revealed that Katie had been immensely stressed; she had been wetting the bed and also mutilated one of her dolls. All of this leads to a horrifying truth: Katie was being molested, and it turns out, the culprit was her own uncle, Richard Jacobs, who actually gave her the necklace. Aaron Hotchner's questions are met with denial, but Emily Prentiss notices something else with Richard. Thinking back to Susan mentioning that she was looking for a lighter for her husband, Prentiss points out that despite all of the stress, Richard hasn't lit up a cigarette. Richard's response?
"I quit over a month ago."
So Susan was lying about the lighter, but what else was there? Turns out, she worked retail at that same mall, and all of that led to the true revelation that Susan was her own niece's abductor. Why? Well, as it turned out, Susan knew about Richard's immensely sick appetite, and it obviously put a strain in their marriage. So who did she blame? Her sick and perverted husband, or his victim? If you said the former half of that sentence, I'm sorry to say that you're wrong. Susan firmly believed that Katie was the cause of the problems in her marriage to Richard, and after watching the news report about Jessica's abduction and murder, she decided to use that crime to get rid of Katie. Susan took Katie to a storage area and ripped off her necklace in a jealous rage before duct-taping her mouth and placing her in a storage closet. Katie was asthmatic, and Susan knew this, as the use of the duct tape was an attempt to kill Katie.
Susan denied everything Prentiss dished out to her, and even tried not to look at the battered doll in her attempt to get Katie's location from the deranged villainess. Though Susan remained defiant, Katie was found and barely clinging to life, though Hotch managed to save the young girl by resuscitating her. Susan was handcuffed by Prentiss and arrested, and Richard was taken away as well.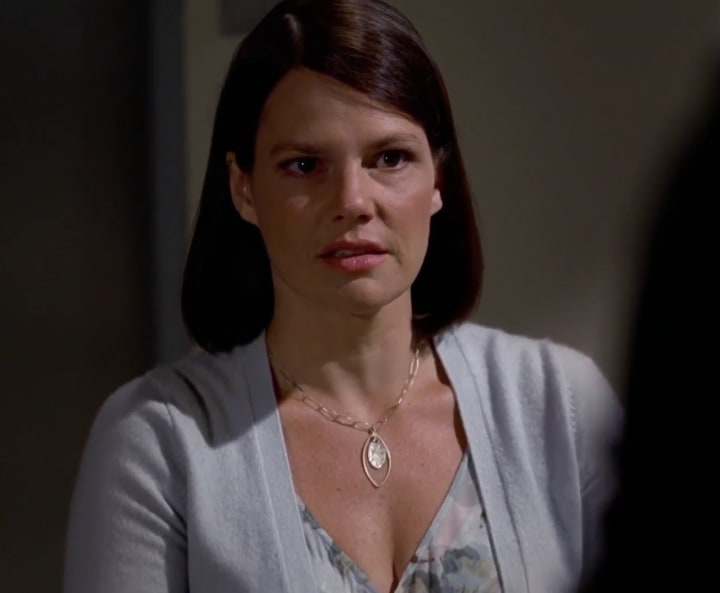 "Seven Seconds" was the 5th episode of Criminal Minds' third season, and originally aired on CBS on October 24, 2007. The episode's main villainess, Susan Jacobs, was played by Suzanne Cryer, and this was quite a performance for Cryer. When a wife discovers that her husband is a molester, she immediately leaves him and protects the child. This, sadly, was not the case for Susan Jacobs, as she ended up becoming more evil and monstrous than her husband, which is really saying something. The victim was her own niece, but that didn't matter to Susan; she saw Katie as the one problem in her twisted marriage, and decided to actually eliminate Katie hoping that her marriage would be saved. Susan was viciously evil, cruel, and malevolent, and while Cryer acted out her character's facade very well, she shined when the depths of her true fiendish personality came to light--especially her desperate attempts to deny everything.
Suzanne Cryer has been all over television, which includes villainous roles on CSI and Lucifer. Fans of Seinfeld know Cryer as Marci, aka the "Yada Yada Yada" girlfriend of George Costanza in the fittingly titled Season Eight episode, "The Yada Yada."
If you like this story and review, click the heart, and click the subscribe button for more of my stories! Feel free to comment below, and if you really want to, leave a tip or pledge!
Check out Susan Jacobs' profile on Villainous Beauties Wiki!
Reader insights
Outstanding
Excellent work. Looking forward to reading more!
Top insights
Excellent storytelling

Original narrative & well developed characters

Expert insights and opinions

Arguments were carefully researched and presented

On-point and relevant

Writing reflected the title & theme
Add your insights