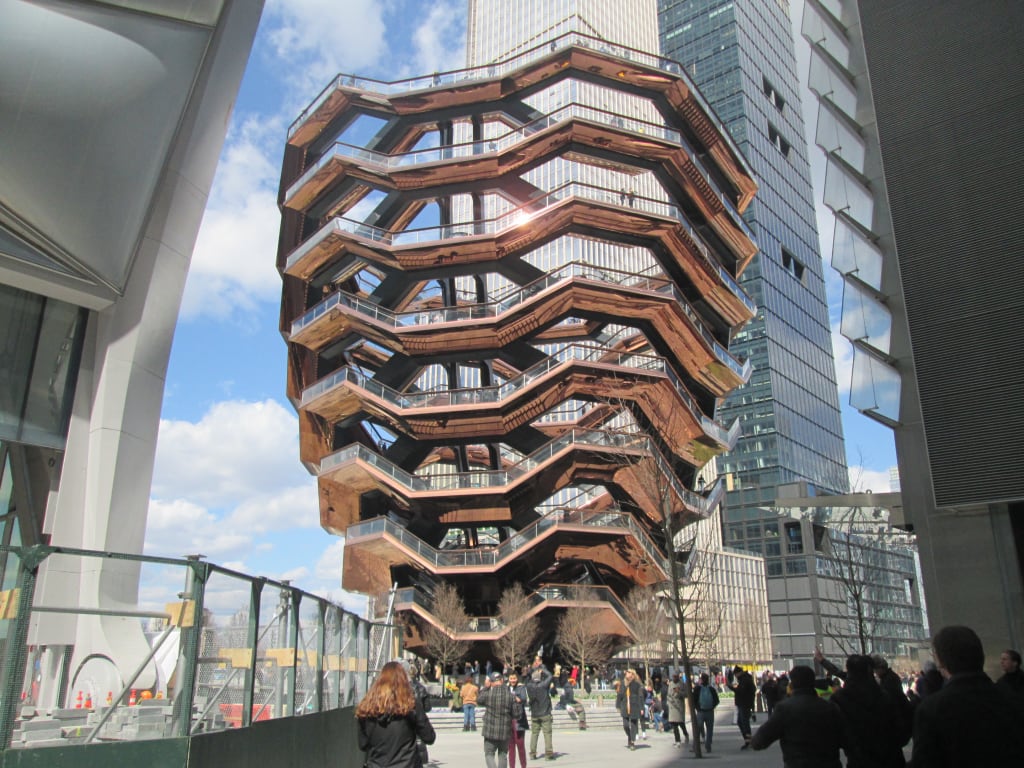 By Epicgenius - Own work, CC BY-SA 4.0,commons.wikimedia.org/w/index.php
Please note: The following content may contain sensitive material, including discussions of suicide, which may be distressing for some.
The Hudson Yards is a massive private development initiative that includes towering skyscrapers, luxury high-rise apartments, a two-billion-dollar shopping center, and an innovative art center featuring a retractable roof.
This ambitious project aims to transform the Manhattan skyline, with the focal point being a unique landmark called the Vessel, situated at the center of Hudson Yards public square. The Vessel, funded by Related Companies, was designed by British architect Thomas Heatherwick and is estimated to have cost a staggering 200 million dollars.
Visitors to the Vessel can climb its intricate honeycomb-like structure, which rises 16 floors and includes 154 flights of stairs, 2,500 steps, and 80 landings. The construction process began in April 2017 with the assembly of elements fabricated in Italy. The final installation was completed in December 2017, and the Vessel was opened to the public on March 15, 2019.
The Vessel has received mixed reviews since its opening. Some praise its prominent location in Hudson Yards, while others criticize it as overly showy and extravagant.
The photo policy and limited accessibility of the Vessel resulted in a great deal of controversy. The owner of the structure claimed ownership of any photos or videos taken by visitors, which could be used for commercial purposes without any licensing fees. This policy was met with strong criticism, leading to modifications shortly after its introduction.
In addition to the photo policy, the Vessel was also found to be noncompliant with the Americans with Disabilities Act. As it primarily consisted of stairs and only one elevator to connect one of the sets of landings, individuals who use wheelchairs were unable to enter.
Disability rights groups protested outside the structure, highlighting the barriers faced by those with physical disabilities. This prompted the Vessel's operator and Related Companies to make an agreement with the Department of Justice in December 2019, with a commitment to improve accessibility by installing wheelchair lifts and allowing elevator access to all levels.
On February 1st, 2020, the controversies surrounding the Vessel in New York City subsided as a tragic incident took place when a 19-year-old man committed suicide by jumping from the building's sixth level at around 6 pm.
The onlookers were left in shock and horror as someone rushed to the spot and tried to cover the victim's face with a jacket. Authorities immediately ordered the visitors to leave, and the atmosphere was eerily silent as everyone made their way down the steps. However, this incident was initially considered a one-time occurrence and did not have any significant impact on the future of the Vessel.
Nevertheless, a few months later, the Vessel was hit by another wave of tragedy.
On December 22nd, 2020, two people, a 24-year-old woman, and a 21-year-old man, jumped from the same building. The woman was from Crown Heights, Brooklyn, and had made an Instagram post scheduled to be published the next day.
In the post, she cautioned her followers that the content might be upsetting and then proceeded to address both strangers and loved ones.
She goes on to say:
" Hey, This is pretty surreal, isn't it? One might say uncomfortable, jarring. Just close the app now if you want. I guess if you don't know by now, you should probably sit down. If you're reading this, I'm gone. Either that or somehow incapacitated in the hospital, so I cannot delete this scheduled post. I really hope I'm not though. I don't care to go into the reasons why I'm gone, but there are certainly more than 13.
I scheduled a note to send to my parents posthumously. If they choose to share or publish it, you may be privy to more insight. I leave the choice up to them. Even just publishing this may paint them. I don't want to do that. I just want to leave my last mark on this world.
All of you have made my life so much more full, brighter, and happier than it would have been without you. Your support, your encouragement, your hugs, your invitations, your smiles, your texts, you're tagging me in memes you think I'd find funny. None of you could have done anything or done more to prevent this from happening. You all did your absolute best, and for that, I'm eternally grateful. I hope you can find some comfort in knowing that I'm no longer in pain. I love you."
She had been honest about her struggles with eating disorders on her Instagram profile. Although she didn't initially look for help for her depression, she sought treatment. The public doesn't know the identity of the 21-year-old man.
Following the third death, the building was closed indefinitely. The companies involved consulted with experts to prevent future incidents. Locals contacted a suicide prevention specialist who advised adding netting or increasing the height of the glass barriers. Despite these suggestions, no changes were ultimately made to the obstacles.
The Vessel, which had been closed for some time, was reopened towards the end of May 2021. However, certain changes were implemented to ensure the safety of visitors. One of these changes required all visitors to be accompanied by at least one other person. Another change involved visitors above the age of 5 having to pay $10 for a ticket after the first hour of each day. Nonetheless, tickets for the first hour of the day and for children aged 5 and below remained free of charge. The revenue generated from ticket sales was designated to fund safety improvements.
In just two months after Vessel reopened, on July 29, 2021, a young boy who was only 14 years old committed suicide in front of his family, leaving them shocked and devastated.
"There were lots of tourists around," said a security guard at the Vessel. "The kid was racing up the stairs with his younger sister and having a blast, having so much fun. One of my colleagues told them, 'I know it's fun and stuff, but you're not allowed to run in the Vessel and stay with your parents,'" the security guard said. Somehow when he got to level 8, he jumped. "I saw his parents after. The lady panicked. She was screaming and crying. The father was speechless. The sister was crying. I heard the impact. I saw he was wearing a colorful shirt. My heart just dropped," the guard said.
Officials presume that the teenager had previously experienced depression and suicidal tendencies. The closure of the structure was enforced once again, following this fourth accident. This incident has caused widespread agitation among the community, which has been persistently requesting the developers to construct higher barriers on the walkways and to reassess the effectiveness of the suicide prevention measures. In response to the event, Stephen Ross, the owner of the Related Company, expressed his contemplation of permanently shutting down the structure.
sources : https://nypost.com/
About the Creator
We should enjoy every moment fully, fall in love, make the most of our time, and live without regret. We should cherish the fact that there are still many moments in life that we have yet to experience for the last time.
Reader insights
Be the first to share your insights about this piece.
Add your insights