Top 12 Must-Read True Crime Memoirs
From the heartbreaking situations to inspiring journeys taken, check out the 12 best true crime memoirs available!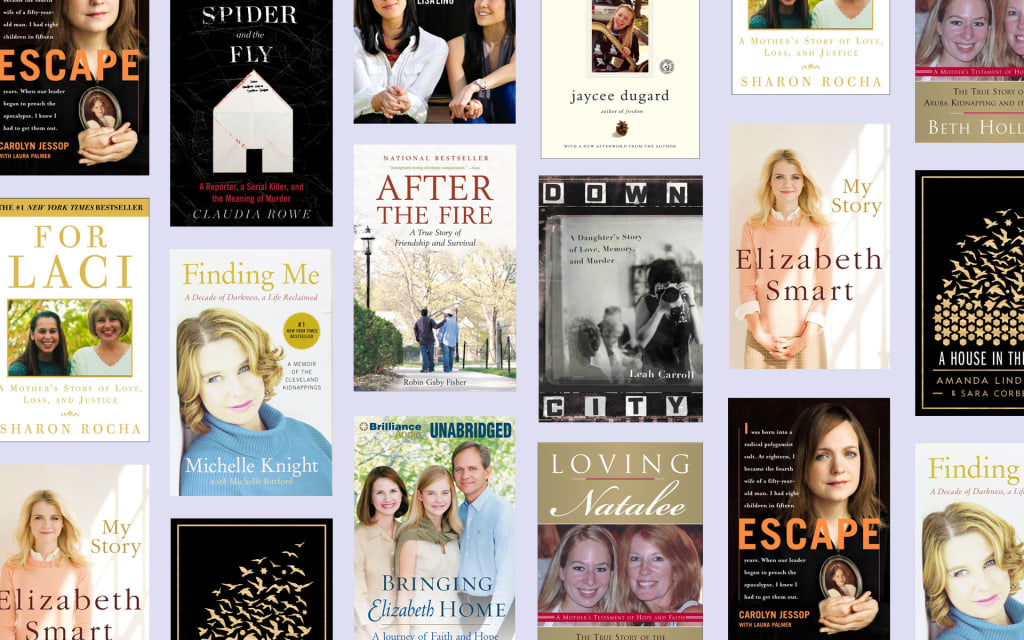 The world has always been fascinated with crime. From Al Capone during the prohibition era to Ted Bundy, we as a people are so interested in anything crime-related. Serial killers have become an immensely popular topic. We analyze which hated their mothers and what bands they loved in hopes that we may one day understand them. The serial killer genre is doing well, with hit shows Dexter and Mindhunter based solely off of characters who kill and commit violent crimes.
One subgenre of crime that has not gotten mainstream popularity (or at least doesn't seem to be as popular as the ones mentioned above) is the true crime story; true crime memoirs to be exact. These harrowing stories contain all the elements you can think of and are always powerful to experience. So, are you looking for something new to experience? Have you finished all the murder documentaries on Netflix? Then you need to check out these true crime memoirs. They're just what you've been looking for.
The first on my list of the best true crime memoirs, we have a New York Times best-seller. Elizabeth Smart, with the help of Chris Stewart, writes a memoir about her traumatic childhood. Smart was abducted when she was 14 by a husband and wife who would keep her for almost a year. She endured rape, physical abuse, mental abuse, and was told her family would be killed if she tried to escape.
Her courageous tale of staying sane, maintaining her faith, and eventually earning freedom is heartfelt and inspiring. My Story is an incredibly powerful memoir, that will leave you feeling inspired and amazed at Smart's journey.
Amanda Lindhout's journey takes readers across the globe while also exploring the inner workings of her own internal struggle. Lindhout is a world-renowned traveler, having been to places such as India, Pakistan, Syria, Bangladesh, Latin America, and Laos. It was her last trip where everything went wrong. In 2008, during her visit to Somalia, Lindhout was abducted by a group of men.
She was forced to convert to Islam, take "wife lessons," and was continuously tortured for roughly 15 months. Since her escape, she has founded the Global Enrichment Foundation, a non-profit organization that supports development, aid, and education initiatives in Somalia and Kenya. Reading her entire journey is well worth it.
We travel to the most isolated country on Earth for my next entry, North Korea. Somewhere Inside follows a woman who is arrested by North Korean officials, and her sister's attempts to have her sibling be released.
It follows the first ever trial of an American citizen in North Korea from a firsthand account. This story has it all, crime, familial bonds, and even Bill Clinton! As true crime memoirs go, this is one of the best.
You may have heard of this next one. The subject of this memoir, the disappearance of Laci Peterson, who was eight months pregnant at the time, became a national story in 2003. The primary suspect was her husband, Scott, after it was discovered that he had a mistress after Laci's disappearance. He was eventually found guilty and has been in jail ever since.
Sharon Rocha, Laci's mother, wrote her firsthand account of the ordeal. Sharon now campaigns for victim's rights and was a driving force behind the passing of Laci and Conner's Law. The law was signed into effect in 2004 and made it a crime to harm a fetus during an attack on a pregnant woman. This memoir recounts a tragic loss for a mother, while exploring the investigation and the trial.
Carolyn Jessup's life story of growing up in a religious cult takes the next spot on the best true crime memoirs. Carolyn grew up under the teachings of the Fundamentalist Church of Jesus Christ of Latter-Day Saints (FLDS). At age 18, she was forced into marrying a 50-year-old man with three wives. She had eight children with her "husband" and her life consisted of psychological abuse, including being pitted against the other wives and not having a say in any aspect her life. Luckily, she was able to escape with all eight of her children and wrote about it in her aptly-named memoir, Escape.
Ariel Castro kidnapped Michelle Knight while she was in a custody battle for her young son. With the timing of her disappearance, authorities assumed she simply ran away, and took her off the missing persons list 15 months after she had gone missing. Castro also abducted Amanda Berry and Gina DeJesus at relatively the same time. The three were tortured for over a decade until their escape in 2013. Knight recounts her heart-shattering experiences in this memoir and how she found the strength to carry on when all hope was seemingly lost.
The Silence of the Lambs of the true crime memoirs on this list, this book details conversations between a serial killer and young reporter, Claudia Rowe. Rowe was interested in the case of Kendall Francois. Francois was the connection between eight unsolved murders. He had strangled eight woman, placed them in the attic and basement of his house, and hid this from his mother, father, and sister, who he shared the house with. Rowe and Francois cover a wide range of topics in their conversations, that are both chilling and insightful.
Does this look familiar? It should. Bringing Elizabeth Home: A Journey of Faith and Hope follows the same story as the first memoir on this list, but from Elizabeth's parents' perspective. I think including both books on the same ranking offers two entirely different viewpoints on an occurrence where it is hard to have both in such detail. So check both out and see what differences and similarities you can find, they are tremendous reads.
After the Fire: A True Story of Friendship and Survival goes through an unsolved case of arson at Seton Hall University that killed three students and injured 58 more. Two of the students injured, Shawn Simons and Alvaro Llanos, suffered serious burns while escaping. This story focuses on the countless hours of work performed by the medical staff tasked with keeping Llanos and Simons alive. It also touches on family, friendship, inner beauty, and how to overcome anything.
Beth Holloway's Loving Natalee: A Mother's Testament of Hope and Faith is next on my list of true crime memoirs. Beth's daughter, Natalee, went missing on her senior trip to Aruba in 2005. Natalee's mother, determined to find her, organized volunteers to look, spread awareness, and searched tirelessly for her. This book details her efforts and continuing search for Natalee. As of today, she remains missing.
Leah Carroll's tragic family life inspired her to write this next work of art. Down City: A Daughter's Story of Love, Memory, and Murder recaps how Carroll's mother was murdered by two mobsters, with her father dealing with depression for her life until he died when she was 18. This all takes place in... Rhode Island, yeah, not the first place I expected either. Carroll's story centers around her trying to find out more about her parents and what caused their demise.
The final spot on my list of true crime memoirs goes to Jaycee Dugard. Dugard was abducted by husband and wife, Philip Craig and Nacy Garrido when she was 11. She was in captivity for 18 years, giving birth to two daughters in that time. Her recollection of events was put into her memoir, A Stolen Life, and is definitely deserving of a spot on this list.
book reviews
Huge sports fan, primarily hockey and football. Also a big TV and movie fan. Recent Marist graduate writing about whatever interests me!