The Sociopathic Protagonist
Comparison Essay: Dexter Morgan & Joe Goldberg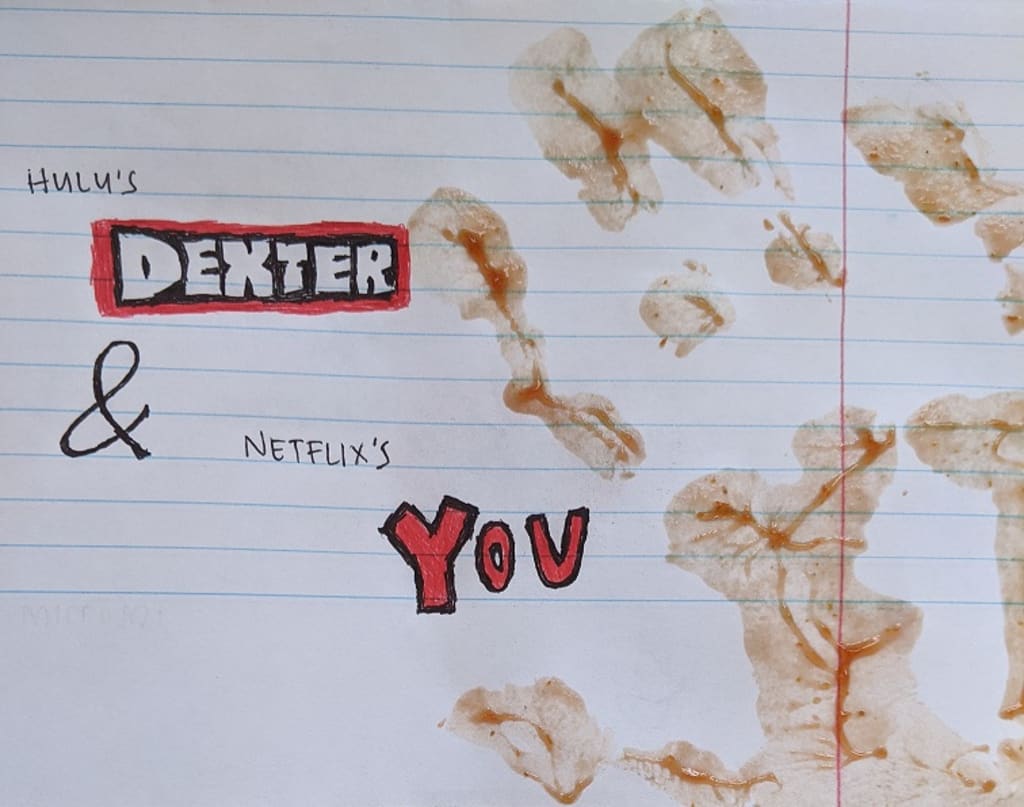 If you are like me, you don't enjoy anything more than cuddling up on the couch in fuzzy pajamas, oversized fleece blanket, a full glass of bottom shelf red wine, and a new murder mystery show. Crime shows have been airing on all platforms as long as I can remember, way before I was born twenty-something years ago. They've got it all. True crime shows such as Forensic Files and The Ripper docuseries are basically science-based history lessons on how sociopaths came to be and the nitty gritty details of the rape and murderous rampages they went on. Fictional police-oriented shows, like my favorites Law and Order: Special Victims Unit and CSI: Miami, delve into the lives of detectives and the events they may face trying to crack the case. And lastly we were given a series starring the murderous sociopath as the main character himself. Although I find all crime cinema completely fascinating, it is quite insightful to watch the plot unfold through the eyes of a protagonistic sociopath.
Shows like Dexter and You, bring the watcher into the life of the main character speaking from first person point of view. They share their inner dialogue, thought processes, and flashback scenes that reveal repressed memories, allowing a peek into the past that made them who they are as their adult self. It's important to note that these men were not born sociopaths, but went through intense childhood traumas and abuses that created the monster they claim to have hidden inside them. Both lead specifically created and manicured conspicuous lives, providing the perfect "average guy" disguise to fool anyone they encounter. Becoming employed in respectable careers, coming off well-spoken, engaging in friendships, and maintaining a rigid schedule to keep up their public appearances as well as to feed their dark alter ego under the radar.
The seasons are typically structured to have one opposition, or antagonist, per season that the main character has to deal with to maintain their carefully orchestrated schedules. Usually the antagonist discovers and exposes the sociopathic protagonist for who they really are and threatens to reveal them. You guessed it! Most seasons ended with a death thus removing the antagonist and allowing the main character to feel relieved and accomplished. This especially got spicy when the antagonist doubled as a love interest, you can just imagine the internal struggle those guys must have gone through.
As calculated and so very particular these guys were with concealing their dark side, they also encountered weak moments where emotions overtook the logical reasoning that they so desperately rely on. This is where it really gets crazy. All of a sudden their perfectly procured lifestyle was crumbling down around them, as they continued to try to brush off the suspicions of others whilst scrambling to resurrect all exit plans stored in the back of their mind. The logic and obsessive compulsive nature of these characters provides an internal acceptance of themselves and the drive to get away with anything they do by extremely meticulous planning. Both Dexter and Joe get revealed and drag others into their twisted lives, relying on them to keep their twisted secret and play by their exceptionally particular set of rules, often putting their entire operation at risk as well. Solidarity and independence is ultimately what these main characters thrive on, only using others as means for an alibi or by obligation.
These shows seem to suggest that sociopaths have a knack of picking out other sociopaths. Some latent, not yet aware of their potential, and some as well adjusted as the main characters. This provides friction as they bond over their likeness and butt heads as to how to handle the situations they are faced with as a pair, oftentimes getting swept away by emotions.
Hulu's Dexter has nine seasons, untying the web of his history regarding his family and repressed memories from childhood. Although rather ironic, Dexter Morgan works as a blood splatter analyst with the Miami-Dade police (same location, but from the opposing point of view as in the show CSI: Miami), moonlighting as a vigilante murderer. I have to say, the sociopathic super hero-esque vibe is extremely compelling and captivating to watch. Dexter justifies killing murderers that slipped through the legal system, although it is clear he uses his position at the police station to his advantage to cushion his score count quite a bit. However, as the show progresses his character becomes more complex as he learns more about himself and how to love and show affection for others. But, all good things come to an end.
In Netflix's You, Joe Goldberg is an average guy working as a manager in a bookstore who sees a pretty girl he instantly becomes obsessed with. He instantly begins stalking her, watching her from outside her flat (come on woman, get some curtains), and memorizing her daily routine. By doing this, he can make himself into her perfect man and eliminate anyone else that could be standing in the way of them being together. Similarly in Dexter, he meets his match and ensues in a romantic relationship with another sociopath that actually accepts him for who he is. Two seasons are released thus far, with a third season in the works to be released at an unknown date.
These two particular shows resonated with me in that the main character is portrayed as a protagonist, a compelling alternative to the popular style of crime shows from the police's point of view. The antagonists of Dexter and You tend to be the police agencies and oftentimes other sociopaths as well. The clever battle of the wits to see which will prevail, but painfully obvious with the promise of another season (thanks to streaming services nowadays). Watchers are drawn to the sick, twisted, inner workings and thought-provoking minds portrayed, which tends to bring out the latent psychologist in all of us. Although the shows outlined aren't historically accurate in any sense, they are based off of thoroughly researched ailments within the mentally ill community. I mean, who doesn't love a captivating thriller show to binge watch, especially when you start to realize how average these guys really are… spooky.