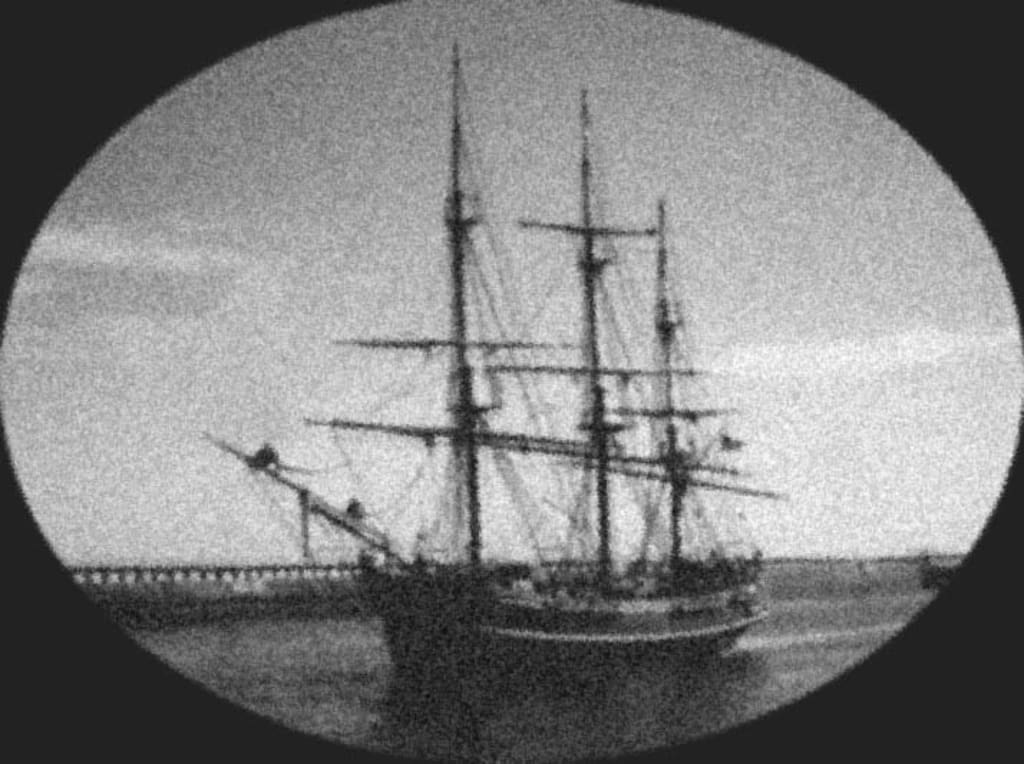 Sea air, sailing ships and savage murder (My own photo)
Victorian prisons were brutal places, where solitude and servitude were the orders of the day. The state got its own back on those who had flouted the law, by having them perform pointless, demeaning and physically demanding tasks. And, for those who dared rebel against the regime, there was a punishment diet of bread and water, which the prisoner would partake of in solitary confinement.
The prospect of a lengthy term behind bars was so daunting for one man, he chose to die rather than spend years under the grim conditions outlined above. But he didn't take his own life; he got the authorities to do that for him. So let me take you back to Victorian England in 1879, which is when this sensational case began. Or did it?
Sentenced to Fifteen Years' Imprisonment
There was nothing remarkable about the conviction at the Old Bailey of one Charles Henry Cort for robbery and attempted murder. The judge handed down a sentence of fifteen years' imprisonment, and the prisoner was taken down. He was removed to Pentonville prison, where it was expected he would serve his time, but Cort had other ideas. He had a means of avoiding that long, miserable stretch; a dark secret that would chalk years off his sentence. His own death.
One day, Cort told the chief warder that he would like to unburden himself of certain information he held in relation to an unsolved murder, which had occurred in Sunderland some thirteen years earlier. The warder provided Cort with the means to write down details of the crime, and the remarkable tale unfolded.
Cort revealed that his real name was Thomas Fury and at the time of the murder he had been a cook on board the schooner Lollard, calling himself Thomas Wright.
When Lollard berthed on the River Wear, Fury and a shipmate went ashore on a drinking spree. While his associate staggered back to the ship in order to sleep, Fury stayed with a local prostitute, one Maria Fitzsimmons. This lady of the night wasn't averse to stealing from her clients, and she took money from Fury's pockets as he lay in a drunken stupor.
A Vicious Murder
When he woke, Fury noticed the missing cash, and he unleashed a vicious assault on the unfortunate woman, during which he stabbed her ten times. The sailor shoved the woman's body under the bed, and returned to his ship.
Lollard left the Wear, and Fury threw his bloodstained clothing overboard. He told the crew that scratches on his face had been caused during a brawl in a bar, and this was accepted. The ship sailed, Fury was free, and Wearside police had a murder on their hands. Now, thirteen years later, here was someone confessing to that murder.
It didn't take long for the authorities to establish that the murder of a woman had taken place on Wearside some thirteen years earlier, and that the perpetrator remained at liberty. Now that someone had put their hand up for that unsolved crime, the authorities would be able to draw a belated line under it. But the case wasn't as clear cut as may have been imagined.
Despite his confession, Fury was obliged to plead not guilty at his trial, which took place at Durham Assizes. The prosecution suggested that Fury hadn't committed the murder at all, but he was claiming to have done so purely in order to escape his lengthy prison sentence. This was dismissed when it was established that certain details Fury had provided could only have been known to someone who was present at the scene of the murder. He was found guilty, and sentenced to death.
The Demon Drink
On being sentenced, Fury threw a bundle of hand-written notes to members of the press who were present. The notes, apart from demonstrating that Fury was a man of some intelligence, constituted a tirade against the evils of alcohol. He claimed that his father was a drunk, and that he had watched other family members force rum down his mother's throat 'until she promised to be more friendly — a queer sociability you may think in this, a Christian land '.
Fury himself claimed to have been a raving drunk since before his eighth birthday, and regularly intoxicated from the age of ten. He went on to say that he had spent thirteen of the past eighteen years behind bars, during which time he had met only one prisoner whose crime had not been committed under the influence of alcohol.
Fury had told a prison warder that he would rather die than serve a lengthy prison term. His wish was granted via a solitary pull of the lever in the execution shed.
Footnote
The evocative seafaring image above is not of the ship mentioned in the article, but a more famous vessel. It is the ill-fated Bounty, which appeared in the 1962 film Mutiny on the Bounty. The ship paid a visit to my home town (Blyth) some time ago when I worked in an office on the quayside, so I went out to take some shots. In October 2012, Bounty was lost in the waters off North Carolina in a storm ahead of Hurricane Sandy. Fourteen crew members were rescued, but sadly two lost their lives.
Reader insights
Be the first to share your insights about this piece.
Add your insights