'The River Wild' - A Movie Review
'The River Wild' is a great film for the whole family to enjoy.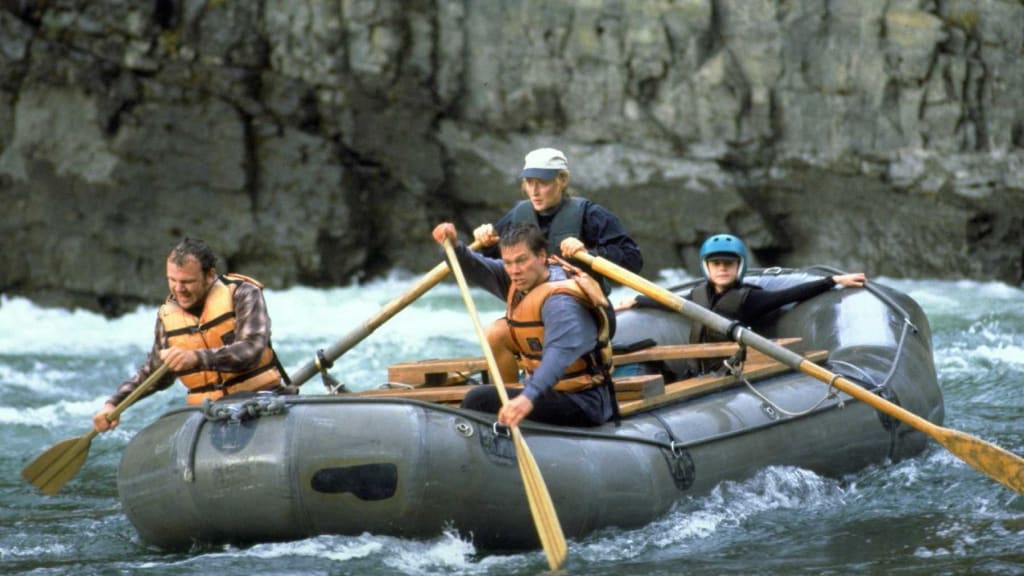 Who would like to go on a river rapids adventure this weekend? Pack your bags and make sure to hold on tightly.
The River Wild is a 1994 drama directed by Curtis Hanson. A family of three who is trying to fix their troubled relationship go on a river rafting adventure. When they run into two men who seem fun and adventurous, little do they know of the dangers of what is to come in this white-knuckled adventure of a lifetime.
The River Wild is packed solid with suspense and an epic adventure. In my opinion, it is a very underrated film. The first half of the film is slow running on the usual movie cliches and an obvious giveaway to the villains. Aside from that, The River Wild is an epic and unforgettable masterpiece.
In one of my favorite Meryl Streep's roles in a while, she plays Gail, a struggling yet very strong-willed mother trying to do what is best for her family. Her knowledge and experience for river rafting are what help save the day. She is not afraid to be vulnerable even in a life or death situation. One of my favorite moments is Streep taking charge, ferociously barking out orders at the villains. Now look who is top dog!
Kevin Bacon does an outstanding job as Wade. His personality even fools you. Bacon instantly connects to his character and plays up his interactions with the characters, especially Roark. His transition into a villainous manipulative psycho is realistic and played so well.
Appearing right out from his role as Tim in the 1993 release of Jurassic Park, Joseph Mazzello does an outstanding job as Roark. I found his character more convincing than in Jurassic Park, honestly. His motivation is written properly and he had a strong emotion.
At first, a cliched self-absorbed father who can't find enough time to spend with his family, David Strathairn is remarkable hiking up the steep canyon walls and fighting for his family.
I always loved movies with John C. Reilly. No matter what, he always has this appealing personality and comforting sound of his voice. And yet he is such a great actor that he even scares you. Reilly easily captures his performances as a struggling man grappling between good and bad.
The acting is pure and genuine. I like how everyone does their own stunts instead of stunt doubles taking over. Unlike how filmmakers now would rather use a green screen for their action scenes sporting a fake look, all the river rafting action in the film is real! It was so real to the point that Meryl Streep nearly drowned!
The cinematography of rapids surrounded by immense canyons is breathtaking. Now I am not sure if I want to go on a river rafting adventure. They look so fun and yet so dangerous at the same time.
As I mentioned the film does take a while to get to the plot and has a little too many giveaways on the villains. Then again, I think that is a useful resource. As the audience, we know more than the characters creating a more suspenseful atmosphere.
Even after completing the film I still felt my heart pounding even though the drama was over. It is a very intense film. You can just see the actor's white knuckles as they all struggle to paddle through the intense waves or cling to a steep cliff-side. Still, it has a sweet message and is filled with nice family bonding moments.
The River Wild is a great film for the whole family to enjoy. Find it on Netflix now to enjoy the river rafting experience.