The Mystery of the 9-Year-Old Who Disappeared in 2000
When Asha Degree went missing from her North Carolina residence in the early hours of Valentine's Day in 2000, authorities were perplexed. They still have no idea where she is.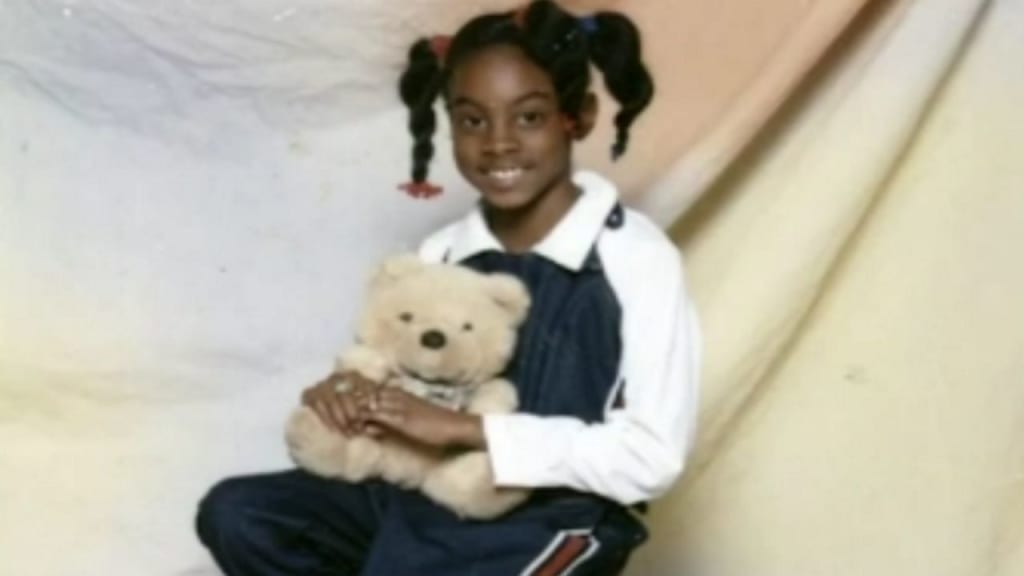 On Valentine's Day in 2000, Asha Degree disappeared from her Shelby, North Carolina, residence before dawn. Her folks had put her to bed without a hitch the night before. When a nearby car mishap knocked out electricity in the family's area after midnight, Asha's father went to check on her and found her still sound asleep.
The subsequent events baffled both local authorities and the FBI. Asha shared a room with O'Bryant, her elder sibling. He told detectives that he heard her bed squeak in the middle of the night but attributed it to Asha moving in her sleep.
Asha stepped outside and strolled into the rainy night after filling her black knapsack with a T-shirt and a school library book. Around 4 a.m., two vehicles reported seeing her on the side of North Carolina Highway 18. One even turned around to check on her, but Asha bolted into the trees. She was never seen or heard from again.
"I still think my daughter is alive after 20 years," Iquilla Degree stated in 2020. "I don't think she died. And I have a feeling someone knows something. I'm not insane enough to believe that a nine-year-old can vanish into empty air without anyone knowing."
Asha Degree's Disappearance: A Terrifying True Tale
Asha Jaquilla Degree was born on August 5, 1990, in Shelby, North Carolina, to Harold and Iquilla Degree, two caring and hardworking parents. Despite being latchkey kids who let themselves in after school while their parents were still at work, Asha and her sibling never ventured far from their apartment.
Asha's mother would later describe that her daughter was a very wise young lady. She was a studious fourth-grader who liked family church excursions. She was cautious of outsiders and refused to pet the neighborhood canines.
This made her absence on February 14, 2000, even more perplexing. At 8 p.m., Asha and her sibling had gone to bed. A neighboring vehicle accident had left the house without electricity until soon after midnight, so Harold checked on his kids at 2:30 a.m. and found them sleeping.
Asha Degree disappeared sometime between then and 6:30 a.m. When Iquilla went to wake Asha and her sibling for school, she found her daughter was missing. The family quickly informed Shelby Police, who discovered no evidence of forced entrance. Asha had taken her bookbag with her, according to police.
Investigators got their first clues in the afternoon after canine teams failed to locate a single scent trail to investigate. Two individuals contacted the station to report seeing a girl matching Asha's description on Highway 18 around 4 a.m. One of them stated he attempted to approach her, but she bolted into the woods.
"That was the last verified glimpse of Asha," said Cleveland County Sheriff's Office Detective Tim Adams.
Why Did the Investigation Go Cold?
The following day, officers discovered Asha Degree's hair bow in a neighboring shed. They spent the next seven days and 9,000 man hours scouring a two-by-three-mile region but came up empty-handed. They also went through 300 suggestions, none of which worked out.
Luckily, the FBI and North Carolina's State Bureau of Investigation had combined forces to help locate the lost child and had resumed their search. Meanwhile, the Degree family thought that appearances on The Montel Williams Show would assist, while national news and even The Oprah Winfrey Show publicised the issue.
The next hint was found after more than a year and a half. On Aug. 3, 2001, construction workers discovered Asha's knapsack while excavating an access road in Burke County, 30 miles away. It contained a New Kids On The Block T-shirt as well as a copy of Dr. Seuss' McElligot's Pool.
The Cleveland County Sheriff's Office reported that the book had been taken out of Asha's primary school library, but the discovery of the backpack yielded no fresh clues.
The next piece of evidence in the case came in 2004, when a jail inmate claimed she had been murdered and knew where she was interred. Officers returned to the scene only to discover animal remnants.
Asha Degree's Parents' Attempts to Promote Consciousness
As good leads became dead ends, the Degree family arranged an annual walk from their house to a missing person's billboard to raise local consciousness. They even created a bursary in her honor.
"This is worse than death because at least with death there is finality," Iquilla Degree told WBTV in North Carolina. "You can go to a cemetery or keep the urn at home, but we can't grieve or give up. We have nothing but optimism."
Things began to change in 2015, when a witness claimed to have seen a juvenile girl board a green Ford Thunderbird or Lincoln Mark IV the night Asha Degree vanished. The FBI reopened its probe in 2016, revealing that specific tip and sharing images of Asha's backpack contents in 2018.
Reports are still coming in. Another prisoner at a North Carolina state correctional institution called The Shelby Star in 2020, claiming he overheard someone discussing murdering and burying her. Investigators questioned him and another prisoner, but no new evidence was discovered.
"You take all information received very seriously, and we follow it through to the finish, regardless of who gives that information," Cleveland County Sheriff Alan Norman said.
Where Can I Find Asha Degree?
Cleveland County investigator Tim Adams is still hopeful that someone out there knows something that will assist Asha.
"Everyone in this town was touched by the fact that it was a young kid who departed on Valentine's Day. "She's been dubbed Shelby's Precious because she's one of our own children," he explained.
Despite the efforts of the FBI, local authorities, and the State Bureau of Investigation, as well as the National Center for Missing and Exploited Children, no clear explanations about Asha's fate have been provided. The National Center for Missing and Exploited Children recently published digitally aged photos of Asha as a 30-year-old lady today.
Currently, the FBI is giving a $25,000 bounty for information leading to her location. Another $20,000 is being offered by the Cleveland County Sheriff's Office. For Asha Degree's parents, the expectation is that those accountable haven't done irreparable harm and will come forward.
"That's my supplication every night," Iquilla Degree said in 2020. "We're expecting and praying that she's had a half-decent existence despite the fact that we didn't get to raise her. She was nine years old at the time, and she will be 30 this year.
"As a result, we've lost everything. But I don't mind. I wouldn't care what I missed if she strolled in the door right now. All I want to do is see her."
Reader insights
Be the first to share your insights about this piece.
Add your insights