The killer on the 32nd floor
The Deadliest Mass Murderer In The History Of The USA.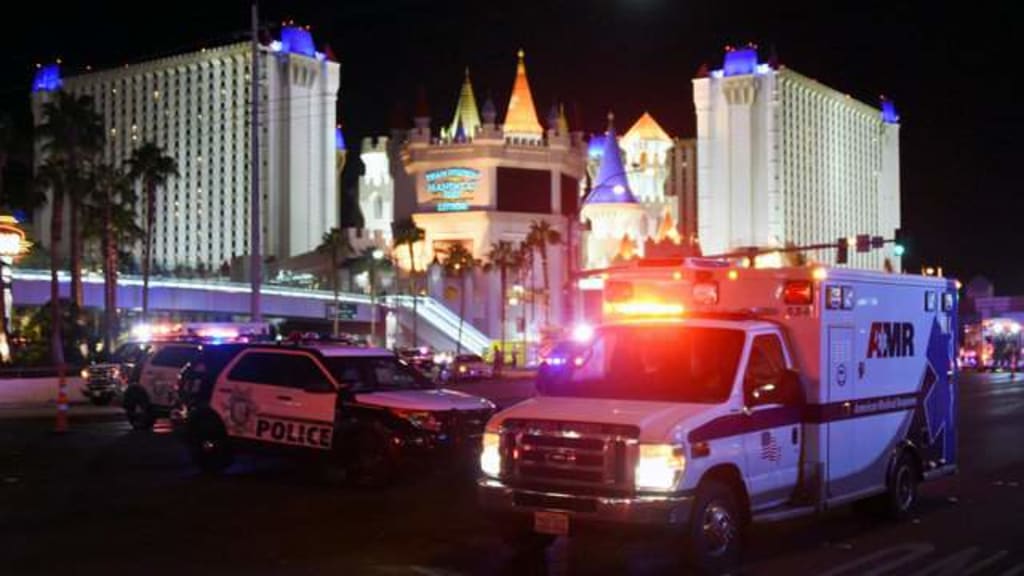 Photo by Ethan Miller/Getty Images
On the night of October 1, 2017 a tragedy happened. Stephen Paddock has killed 58 people and wounded 515. The panic that he created increased that number to 851. Paddock fired a total of 1100 rounds of ammunition from his suite on the 32 floor of the Mandalay hotel. The shooting occurred between 10:00 and 10:15 P.M. PDT. This is the deadliest mass shooting committed by an individual in the history of the United States of America.
Paddock was a white man from the city of Mesquite, Nevada, northeast of Las Vegas. He was born in 1953 in Clinton, Iowa.The Clinton County Recorder's office confirmed a birth certificate was on file for Stephen Craig Paddock born on April 9, 1953, at the former Jane Lamb Hospital. According to the Clinton County records, Paddock's birth father was Benjamin Paddock, of Sheboygan, Wisconsin. His mother was born in Illinois. Before the 1950's ended the family had moved to Tucson, Arizona, and then moved again to California in the 1960's.
Stephen Paddock's father is also a very interesting figure. He was a "psychopathic" bank robber who was once on the FBI's most wanted list. Benjamin Hoskins Paddock, who went by the aliases "Chromedome" and "Big Daddy," robbed a bank in Tucson in 1960, when Stephen was 7 years old. When authorities cornered the elder Paddock in Las Vegas, he attempted to run down an FBI agent with his car. He escaped from federal prison in Texas, where he was serving a 20-year sentence, on New Year's Eve 1968. (Stephen Paddock was 15 at that time.) Wanted posters described him as "psychotic," "armed and very dangerous.'' He was removed from the FBI list in 1977. He was captured the following year in Oregon and died in 1998.
Let's get back to our mass murderer Stephen Paddock. For several years, the gunman lived with his girlfriend, Marilou Danley, in a retirement community in Reno, Nevada. Neighbors said they interacted with Danley but not with Paddock, whom they described as extremely standoffish. Danley told residents there that Paddock was a professional gambler, explaining their long absences from the neighborhood. Paddock lived in a number of retirement communities. In addition to the Reno home, Paddock and Danley had another home in Mesquite, Nevada. In recent years, he had moved to Nevada from Melbourne, Florida. He had previously lived in Texas and California, where he had married once and later divorced. Most of the people that paddock talked to described him as a weird guy that kept to himself. Danley wasn't forthcoming about her life, and Paddock was aggressively unfriendly, the neighbor recalled. She only saw him in the mornings, when he went to the clubhouse to work out. Occasionally, he would open the garage door, revealing a large safe the size of a refrigerator. Other than that, the couple kept their blinds closed. On Monday morning, police released a picture of Danley, saying they were searching for her as a person of interest. They later said she was out of the country, and has been located and detained. Authorities called her a companion of Paddock.
We know that Stephen Paddock had a pilot license and hunting license in Alaska.The license was issued on November 17, 2003 and he was allowed to fly a single-engine airplane and an instrument airplane. His most recent medical examination according to the records was in February 2008. We know he earned millions as a gambler. Couple hours before the shooting he texted his brother with a message saying that he won $250,000 in a casino. He earned 5 million dollars in 2015 according to an IRS report.
Now we know a little bit more about the shooter himself Stephen Paddock, so now I will tell you more about the incident itself. As I mentioned before the incident occurred on October 1, 2017 in Las Vegas. There was a Route 91 Harvest festival going on the Las Vegas strip. It was a country music festival that had been held annually until 2017. At 10:05 P.M bullets started raining down on the crowd of people. People were confused at first. They knew someone was shooting, but it seems like they didn't want to believe it. They thought then it was just a firecracker, but they quickly realized they were in the middle of a nightmare scene. Some people lay down on the ground trying to seek protection, some started running in different directions. People had no idea where the bullets were coming from. Confusion had mixed up with panic. Over 100 rounds fell on the ground in under 1 minute. The 911 line has been overloaded.
Meanwhile the shooter launched his attack and a security guard had his routine patrol in Mandalay Bay hotel. He went to investigate the alarm that went off on the 32nd floor. As he was walking down the corridor he heard drilling noises. He passed a room service cart that the shooter had rigged with a surveillance camera. That's when the shooter started shooting the security guard right through the door. The security guard, whose name is Jesus Campos, was shot in the leg, but he had time to react and get into cover; however it took him a moment to realize what's going on and to radio for help. The shooter turns back to the crowd of people below and fires over 250 more rounds in the next 4 minutes. Las Vegas Metro Police responded to the scene. It wasn't determined where the shooting came from yet. Officers were pinned down on the streets by automatic gunfire. They thought at first it was multiple shooters, at least 3. It took them a moment to find a safe place to take cover. Multiple mistaken gunfire location reports came to 911 dispatchers, because of the echo from the streets. That's why police thought it was an organized and coordinated shooting from different locations. Engineer of Mandalay hotel has exited the elevator on the 32nd floor to fix an L bracket. Now he is under gunfire too. He was shot in the back, but luckily he is alive. While Paddock is shooting the security guard and the engineer it gives time for people on the ground to run away. Engineer too had alerted the authorities about the shooter's location.
Police are now alerted about the shooter on the 32nd floor and deputies and swat units are entering the hotel and start sweeping rooms floor by floor. Police still think that there are multiple shooters, but at least they are sure about the location of one of them.
Paramedics on the ground are struggling to get help to everyone. Some police officers started helping paramedics, some are trying to calm people down. First responders started using civilian cars to transport injured to the hospitals.
It is already 10:15 and the shooter is now quiet. Police and security are working together and they are already on the 32nd floor getting guests out of their rooms. Police now see the cart with the surveillance camera and now they are worried about it being rigged with a bomb. Police had no idea what they were walking into. They saw the wires going to the room and they have no idea how many shooters are there. SWAT teams have killed the lights concealing their position and set up a breach charge to the room where the shooter is. They enter the room and see the gun shooter dead. He has killed himself by a self inflicted gunshot wound. Police have found over a 100 gun shells, fourteen AR-15 rifles (all of which were equipped with bump stocks and twelve of which had 100-round magazines), eight AR-10 rifles, a bolt-action rifle, and a revolver. Police now officially have control over the situation.
Stephen Paddock has prepared for this massacre and prepared for it on a large scale. On September 25th he checked into his room. He was a high roller and a regular to the hotel. He gets a VIP service and gets help from hotel porters to carry his luggage to his room. Little did they know it was full of guns and ammunition. He makes several trips to his house in Mesquite and brings more cases into his room. On September 29 he checked into the adjoining room under the name of his girlfriend. September 30 he put "do not disturb" signs on his rooms. On October 1 he rigged about 10 surveillance cameras that were placed inside and outside the hotel room, brought the last suitcases and locked himself in the room.
Fifty-eight people were shot to death and additional 851 people were injured. The incident is the deadliest mass shooting committed by an individual in the United States, exceeding the death toll of the 2016 Orlando nightclub shooting, where 49 people were shot and killed.
What happened after? Hundreds of people donated their blood the next morning. Next event that was held in Las Vegas received a massive amount of security, which included 350 officers, counter-sniper surveillance posts, and a number of barriers composed of dump trucks, buses, and other large vehicles. The shooting prompted support in the U.S. Congress for assault weapons legislation that would ban bump stocks. In December 2018, Acting United States Attorney General Matthew Whitaker signed a regulation banning bump stocks in the U.S., effective March 2019. The regulation bans new sales and requires current owners to surrender or destroy existing bump stocks. In November 2017, a lawsuit was filed on behalf of 450 of the victims of the shooting, which claimed that the Mandalay Bay Hotel had shown negligence by allowing Paddock to bring a large amount of weaponry into the building. In July 2018, MGM Resorts International countersued hundreds of victims, claiming that it had "no liability of any kind" for the attack.
The question of why Paddock did this remain unanswered. Was it a terrorist attack? Maybe he was psychotic? Or maybe he simply lost lots of money?
ISIS took responsibility for this shooting and claimed that Paddock was their soldier; however they never provided any evidence. On October 9, 2017, the FBI declared that Paddock's attack was not linked to international terrorism. ISIS were celebrating that this had happened. An anonymous police source told Associated Press that investigators are closely analyzing the cruises he took in the years leading up to the massacre. Among popular cruise destinations in the Middle East are Dubai and Abu Dhabi, Oman, the Jordanian port of Aqaba, Bahrain, Qatar and a number of Egyptian ports, but police never found any links that connect the shooter with the Islamic state.
We also know that Paddock has been prescribed an anti-anxiety drug, which is usually known to calm some and anger others. He was prescribed 50 ten milligram Diazepam by physician Dr. Steven Winkler on June 21. We can't receive any information about Paddock health, because the law protects even criminals. The law states that all health information remains secret about a dead person for 50 years.
We absolutely don't know Paddock's motive. Unfortunately he took it with him to the grave. We absolutely need more information. In order to get it we need at least to get rid of stupid laws. Criminal is a criminal, if medical history can reveal his actions, then we should know about it.
Chief of Las Vegas police has told the press that there was no way to avoid this incident. There were no warning signs ever shown and information about Paddock never raised any attention. Well, I agree that you may not know what is going on in a person's head, but I am sure this incident could have been prevented. First of all I think security checks should have been done not only at the place of the event but also at the nearby hotels. Security should watch more closely about their guests. How could they not see a man carrying lots of suitcases into his room every day. That should have raised any type of concern. In Israel for example, if you enter any place where there are lots of people you should go through a security check. Simple security check at the hotel could have prevented it. Lots of people will cry that these measures "take away" their freedom. We live in a dangerous world, and precautions need to be taken regardless of how people temporarily "feel" about them. This type of security and many other measures has dropped terrorism rate by 90% in Israel. Well, the USA is not surrounded by enemies, but it does have enemies and a powerful one. This country has enemies inside the country. It is not that terrorist acts happen in the US every day, but at least during huge events the security should be buffed up. Laws about gun control don't change anything much. Paddock had his guns illegally and obtained them illegally also. If we want to get rid of illegal guns we need to get rid of "black markets" or at least take control of them!
Putting protective measures in the first place, will prevent tragic events. It is always easier to prevent rather than deal with consequence.
If you would like to support me, and you would like to read more stories like this. Please leave a like and tip, they go a long way.
Stay safe everyone.
Bibliography
https://www.abc15.com/news/las-vegas-shooting/list-guns-and-evidence-from-las-vegas-shooter-stephen-paddock
https://www.npr.org/2019/01/29/689821599/fbi-finds-no-motive-in-las-vegas-shooting-closes-investigation
https://www.npr.org/2019/01/29/689821599/fbi-finds-no-motive-in-las-vegas-shooting-closes-investigation
https://www.cnn.com/2017/10/04/us/bump-stock-las-vegas-shooting/index.html
https://www.latimes.com/entertainment/music/la-et-ms-las-vegas-shooting-music-route-91-20171002-story.html
https://www.cnn.com/2017/10/02/us/las-vegas-attack-stephen-paddock-trnd/index.html
https://www.reviewjournal.com/business/casinos-gaming/paddocks-game-of-choice-video-poker-allowed-him-to-blend-in/
https://www.cnn.com/2018/01/19/us/las-vegas-shooting-investigation-report-details/index.html
https://www.washingtonpost.com/news/morning-mix/wp/2017/10/02/police-shut-down-part-of-las-vegas-strip-due-to-shooting/?noredirect=on&utm_term=.a38834993c4c
https://www.nytimes.com/2017/10/05/us/las-vegas-shooting.html
https://www.reviewjournal.com/local/the-strip/it-was-a-horror-show-mass-shooting-leaves-at-least-59-dead-527-wounded-on-las-vegas-strip/
https://www.cbsnews.com/news/more-details-revealed-about-las-vegas-shooters-arsenal-of-weapons/
https://www.nytimes.com/2017/10/02/us/stephen-paddock-vegas-shooter.html
https://www.cbsnews.com/news/las-vegas-shooting-isis-terror-group-transformation-iraq-syria/
https://lasvegassun.com/news/2018/jan/19/sheriff-to-provide-update-about-strip-mass-shootin/
https://www.nationalreview.com/2017/10/las-vegas-shooting-stephen-paddock-legally-terrorist/
https://www.newsweek.com/vegas-shooter-stephen-paddock-planned-escape-left-note-shooting-himself-678572
https://www.latimes.com/nation/la-na-vegas-shooter-what-we-know-20171002-story.html
https://www.newsweek.com/las-vegas-gunman-stephen-paddock-neighbors-say-recluse-675584
https://qctimes.com/news/local/updating-las-vegas-shooter-stephen-paddock-born-in-clinton-iowa/article_7a5e1e9d-2393-5177-96ad-d9bc34b6e501.html
https://tucson.com/news/local/las-vegas-shooter-lived-in-tucson-as-young-boy-brother/article_6e4a1930-a7ae-11e7-a49f-1b300438b11f.html
https://www.clintonherald.com/news/birth-certificate-las-vegas-shooter-was-born-in-clinton/article_44eac5e2-aa9e-11e7-bacd-1f9e013960ff.html
https://www.newsweek.com/las-vegas-gunman-says-he-kept-doctor-retainer-valium-habit-would-gamble-1-680582
http://nymag.com/intelligencer/2017/10/what-we-know-about-las-vegas-gunman-stephen-paddock.html?gtm=bottom
https://www.cnbc.com/2017/10/06/las-vegas-gunman-earned-millions-as-a-gambler-nbc.html
https://www.reviewjournal.com/crime/homicides/las-vegas-gunman-stephen-paddock-lost-money-in-2-years-preceding-shooting/