The Heartbreaking Kidnapping Case of 9-Year-Old Michaela Garecht
Arrest for murder made 32 years later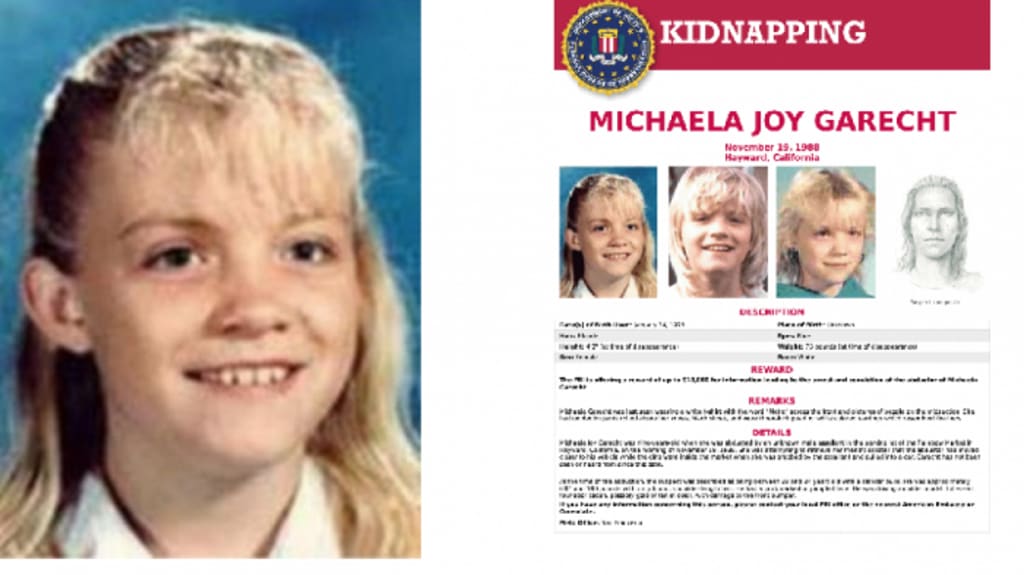 The Heartbreaking Kidnapping Case of 9-Year-Old Michaela Garecht
We all know the feeling of waiting for something important. The anxiety and anticipation can feel overwhelming, but on November 1988, Sharon Murch felt this horrible sensation to a degree that most parents couldn't even imagine. She had been standing in her kitchen, washing dishes from that morning's breakfast, when her husband came in and told her to call 911. Her daughter had been kidnapped. It would be 32 years of that awful waiting before justice would partially be satisfied, but Sharon Murch would never again see her first child.
Michaela Garecht was contemplative for a nine-year-old. She seemed to have a deep grasp of the seriousness of life that surprised her mother, while still being an optimistic and cheerful little girl. It was the first day of the Thanksgiving holidays in California, and Michaela Garecht and her friend, Katrina Rodriguez, wanted to take their scooters to the market for some snacks and drinks. Sharon Murch wasn't sure about this, but Michaela had been before with older friends and it was only two blocks away from their home in Hayward, California. The two girls would be together and it wasn't far. What could go wrong?
They were not gone long when her husband, who had been working on the car in the garage at the time, rushed inside and said the words that are in every mother's nightmares.
"Somebody snatched Michaela up at the market."
He told her to call 911 and that he was going to the market. Sharon describes in a blog she keeps that the operator knew who she was without her needing to give any details. The market store clerk had already called. Sharon was forced to just wait until an officer came to give her all the information and tell her what she needed to do.
This was before technology and alert systems that could have helped in finding Michaela. Sharon could do nothing as her precious daughter was taken who knows how far away from her. The search was no doubt impacted by an inaccurate description given by the store clerk who described a different person that had been there. For those precious first 48 hours, when information and searching are so vital, this inaccurate description was the one being spread. Katrina, Michaela's friend, and the only witness gave a different description. She revealed what had happened on that terrible Saturday morning.
The two girls had taken their scooters and made it to the market without any problems. They got their snacks and left the store, forgetting their scooters that they had left near the door. The girls turned back to get them, but Michaela's scooter had been moved. A few parking places away, next to an old beat-up car, the scooter lay on its side. The vehicle looked as though it had been in an accident, with a dented up front end and what appeared to be cement splatters on the side. Michaela walked over to simply pick up her scooter, but as she bent to grab the handle, a man rushed from the car and grabbed Michaela around the waist. She began screaming as he pulled her into the car and drove away.
Katrina watched in shock as her friend screamed and struggled to get away from her kidnapper, not having enough time to do anything. She rushed into the store and told the clerk, who immediately called 911. Unfortunately, this is where the clerk gave the wrong description. Katrina was able to give an accurate one later.
The man who took nine-year-old Michaela was a young man in his 20s. He had dark blond hair that reached to his shoulders and was tall and thin. Katrina remembered that his face was pockmarked and covered in acne, and she described his eyes as 'fox-like'.
The police and Federal Bureau of Investigations, FBI, searched for young Michaela wherever they could think she might be found. Helicopters and planes flew over open and unpopulated areas like parks and fields. The story spread across the news and her face was featured on milk cartons and other missing persons flyers, signs and billboards in an attempt at finding her. Even Joe Montana of the San Francisco 49ers made a public plea. By the end of December, they had received over 4,000 tips on the kidnapping, but they still couldn't find her. The family enlisted the help of volunteers and gave out over 42,000 flyers and a reward of US$70,000 was put forth to entice anyone who knew something to come forward and give what information they knew.
The same year that Michaela was taken, another girl, Amber Swartz, was kidnapped months before in Pinole. A man named Time Bindner took an unusual interest in the case, and soon he became a suspect. Because of how close the two kidnappings happened, police thought there may have been a connection between the two. When another girl went missing the following year, 1989 from Dublin, California, and another in 1991 in Fairfield, he became a suspect for all four. He took a strange interest in these investigations and inserted himself into the situations that pointed a spotlight on him. However, no evidence or connections to these kidnappings could be made and he was never arrested or charged.
Police were able to get a partial palm print from the scooter that had been left behind in the parking lot, but they had nothing to match it to. None of the tips opened up many doors, and the search proved fruitless. Sharon waited to hear anything hopeful through all this, searching and asking questions to try and find her little girl. She would continue to wait for four years, until an unexpected confession came that renewed her hope at finding out what happened to Michaela.
In December of 1992, a prisoner in Indiana admitted to burying Michaela's body. This inmate, Roger Haggard, said he had buried her in San Francisco. Investigators quickly began to ask him further questions, and his story changed to a different location in Union City. Heartbreakingly, this wouldn't be the moment of closure Sharon hoped it would be. After transporting Haggard to that location he claimed and searching for eight hours, the prisoner admitted he had made the whole thing up. He had his sentence was added to as a result, and Michaela's mother was thrown back to the beginning of her struggle to find information.
In 2009, Sharon's hope was once again renewed when Jaycee Lee Dugard was found alive after 18 years of being held in captivity by Phillip Garrido. The kidnappings had some similarities, such as both girls were taken during daylight hours and both were grabbed from a close-by vehicle that immediately fled the scene. Could it be that Phillip Garrido had been the one who took Michaela as well?
This also proved to be a dead end. There could be no connection made between Garrido and Michaela's case, and once again Sharon Murch was left with no answers. After over 20 years, she still did not know what had happened to Michaela, but Jaycee Dugard's discovery did shine the light onto Michaela's case again, renewing the public and police interest.
A few years later, in August of 2012 Wesley Shermantine, one of the Speed Freak Killers made a startling statement in a letter to The Stockton Record newspaper. His partner, Loren Herzog had just committed suicide in January, and he commented on how much Herzog looked like Katrina Rodriguez's description of Michaela's kidnapper. Police had searched the well where the Speed Freak Killers hid their bodies, and they found bone fragments that may have belonged to little Michaela Garecht. Would her mother Sharon finally know what had become of her daughter?
DNA testing yet again dashed her hopes when it revealed that these fragments didn't belong to the missing little girl. However, there were some Maryjane shoes found in the well, the same type of shoe Michaela wore the day she was taken.
It seemed as though, despite all the police and volunteer efforts, and despite her family's persistent and driven goals of finding information, Michaela's mystery would never be solved for certain. Many aware of the case felt that the answers lay in that well, but no solid proof could be found. Sharon felt that justice may never be realized for her child and that she had reached her limit in her tiresome search. After being diagnosed with incurable breast cancer and suffering from multiple health issues, Sharon moved from California to a small town in Iowa. The grief she must have felt not knowing what happened to her daughter and leaving behind the place where Michaela grew up and was kidnapped must have been unimaginable.
Then one day in 2020 - 32 years after Michaela went missing -police suddenly had a lead that pointed them towards someone new.
David Misch was already incarcerated for two other crimes when police compared his palm print to the partial one lifted from Michaela's scooter. Despite the age and condition of the prints, they matched David Misch and a witness was able to place him near the market store on the day of the kidnapping. Finally, police were able to charge someone in the kidnapping of little Michaela and Sharon was able to have some answers.
Although, not all the questions have been answered. Despite the solid evidence and the charges Misch is facing for other crimes, he has maintained his innocence. Michaela's parents still don't know the location of her body. They don't know what happened in those last moments of her short life. In what can be considered both fortunate and unfortunate, these questions may never be answered. They may never know the horrors Michaela faced, but the imagined horrors and the years of reigniting hopes only to have them dashed have left scars that will never heal. All Michaela's parents can do is cope to the best of their ability.
One way Michaela's mother has done this over the years is by starting a blog, Seeker's Road, where she discusses what happened and writes letters to her lost daughter. Her blog has helped others who are struggling with similar situations and has opened the eyes of many to the issues with kidnapping case procedures. It has been truly heartbreaking to follow Sharon's letters to her daughter over the years and to witness her unwavering love for Michaela despite the uncertainty whether she was still alive.
Hopefully, one day we may know what really happened and justice will be satisfied for this young girl who lost her chance at life by the cruelty of an evil man.
"Michaela, I am so so so sorry baby girl. I feel as though I let you down in a million ways. I was listening to Rescue by Lauren Daigle yesterday. This has been my song for you, and I broke down because I had not been able to rescue you, because I had never ever been able to rescue you. […] You were a light to all who knew you when you were here in the world, and you have been a light even to strangers beyond number since you have been gone. I will, we will, try to keep that light shining for you."  –  Sharon Murch on Seeker's Road, December 2020
*** Originally published on Medium ***
investigation
Nixie Adams is a freelance commercial German/English marketing and PR translator and editor based in Brisbane, Australia. 🌴☕ www.nyacommunications.com