The Chilling Tale of Gert van Rooyen and Joey Haarhoff:
South Africa's Unsolved Serial Killers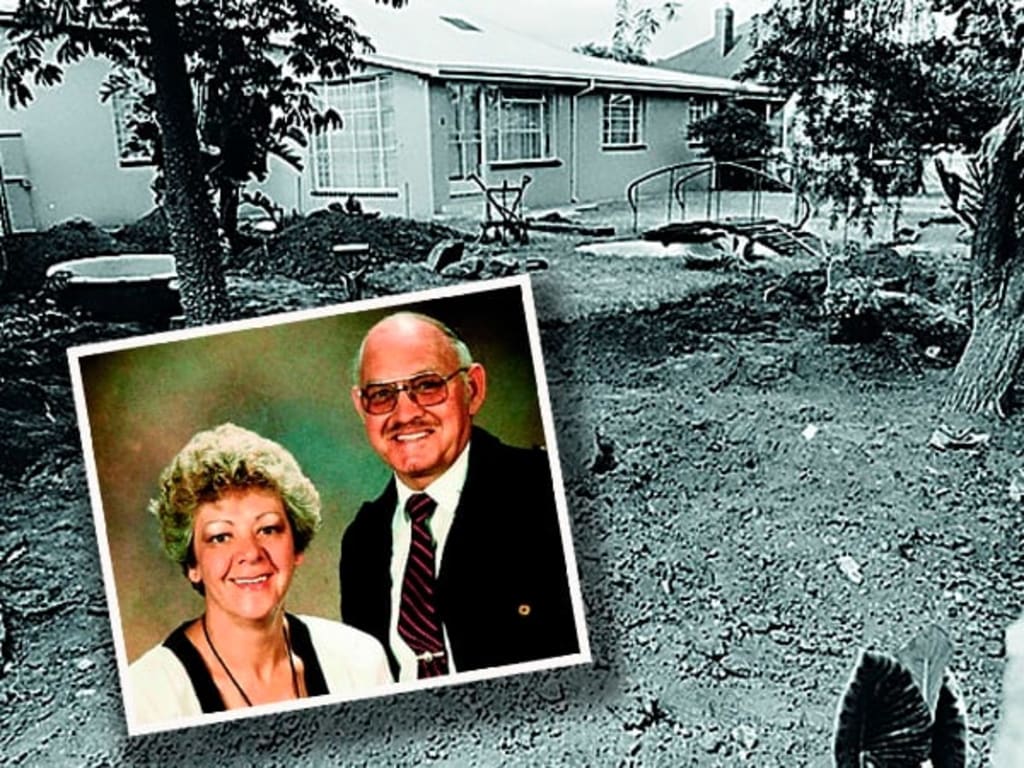 Introduction:
Joey Haarhoff and Gert van Rooyen are two names that continue to haunt South Africa's criminal past. Their horrible murders and enigmatic disappearance have had a profound effect on the country. This page explores the history, occupations, private lives, killing spree, capture, and present whereabouts of these infamous people.
Background and Careers:
Gert van Rooyen was born in South Africa on November 18, 1946. Prior to becoming a private detective, he pursued a career in law enforcement and served as a police officer. Joey Haarhoff, who was born on October 30, 1959, was a former teacher. She was known to have a history of mental health problems and a rough childhood.
Meeting and Personal Lives:
Van Rooyen and Haarhoff met in the early 1980s. Although the specifics of how they met are still unknown, it is thought that they happened to cross paths while van Rooyen was serving as a private detective. They formed a romantic relationship and embarked on a tumultuous journey together.
Van Rooyen was married to Anna during their relationship, and the two had two children together. Wilhelm was also married to Haarhoff, and the two of them had a kid. Eventually, the two marriages got divorced, and van Rooyen and Haarhoff moved in together.
Killing Spree and Victims:
Van Rooyen and Haarhoff went on a horrific murdering spree between 1988 and 1989, specifically targeting young girls. With the promise of modelling jobs, they would entice their victims, who they would then kidnap, assault, and kill. The precise number of victims is still unknown because their crimes weren't identified until after they vanished.
During this time, several females were reported missing, and van Rooyen and Haarhoff quickly came under suspicion. They were never detained or accused with the murders, though, because there was a lack of hard proof. The unpredictability of the victims' destinies grieved the families of the victims and plagued them.
Capture and Current Whereabouts:
In their Pretoria home in January 1990, van Rooyen and Haarhoff both killed themselves as the police closed in on them. Many questions remained unanswered after their passing, which encouraged rumours about the severity of their crimes. The mystery surrounding their actions was further increased when a secret area in their home, dubbed the "House of Horrors," was found.
The probe into their misdeeds went on after they passed away. Based on a tip that the farm in Modimolle might be the location of their victims' graves, a group of forensic specialists undertook an excavation there in 2007. But no solid proof was discovered.
Van Rooyen and Haarhoff are currently deceased, and their remains have been buried. It's possible that the full scope of their crimes and the names of every victim will never be discovered. While the country struggles with this case's unsolved nature, the families of the victims continue to seek justice and closure.
Conclusion:
The murderous rampage and subsequent suicides of Gert van Rooyen and Joey Haarhoff left a terrible stain on South Africa's history. Families of the victims and the nation as a whole are still suffering as a result of their actions. A terrible reminder of the depths of human depravity is provided by the mystery surrounding their actions and the unanswered question of what happened to their victims.
Even if van Rooyen and Haarhoff are no longer here, their scars still exist. Their experience serves as an example of the value of receiving justice and finding closure as well as of the continued quest for the truth. The true crime story of South Africa will always include the pursuit of the truth and the memory of the victims.
Reader insights
Be the first to share your insights about this piece.
Add your insights