Tainted Love: The Murder of Laci Peterson
They were the picture-perfect couple that everyone adored. But then, when details about the murder of Laci Peterson leaked out, the illusion all came crashing down.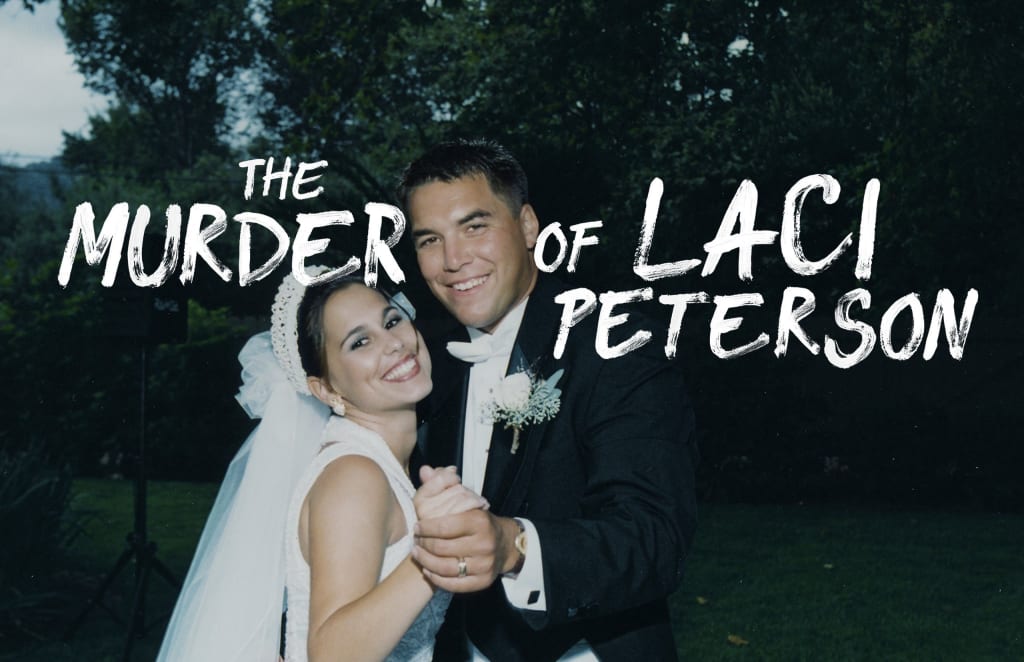 Everyone knows that one couple that looks like a real-life Disney happily ever after. It's that couple never seems to tire of each other, that makes everyone feel a little happy inside, and somehow gives us hope for our own lives.
It's that couple we love. That good looking, happy couple that looks like they would be perfectly at home on a romantic holiday brochure. That couple that seems like they are the cream of high society in the best way possible.
Fairly recently, we were given a really jarring reminder that the happy perfection we claim to see in other peoples' relationships isn't always real. In Colorado, that couple were known as Chris and Shannan Watts—and in August of 2018, Chris was arraigned for killing his wife and young daughters.
This isn't the only time "perfect" proved to be anything but.
For many people in the Modesto area during the early 2000s, seeing Laci and her husband Scott warmed their hearts. They were a true blue, all-American couple.
Unfortunately, the wholesome image that they had cultivated proved to be false—and it was one that culminated in the murder of Laci Peterson and her unborn son, Conner.
To understand how tragic the murder of Laci Peterson was, it's a good idea to show who she was. She was the type of woman who could be your sister, best friend, and neighbor. She was Jane Everyman—and Scott was the classic high school football jock people adored.
Laci Rocha was the high school cheerleader who everyone loved in Modesto, and when she headed off to Cal Polytechnic for her horticulture degree, she had a bright future ahead of her. Her college popularity skyrocketed, and she soon started dating Scott Peterson.
Shortly before they finished college, Scott proposed. It didn't take long for Laci Rocha to be called Laci Peterson. Together, they seemed like an unstoppable duo. There were no signs of a coming murder of a spouse. Far from it.
The two were young, glamorous newlyweds who spent the first couple of years childfree. However, it became clear that Laci yearned for children. The two started trying for kids, and with some effort, they were able to conceive.
The two bought a nice home, had a golden retriever, and really just looked like an all-American family getting ready for the next stage in life. Then, on December 24, 2002, still pregnant with Connor, Laci vanished without a trace.
December 23 appeared to be a regular day like any other.
Imagine, if you will, what the most normal day you've ever had in your house was like. That was what the day before Laci's disappearance was like. Like many families during the holidays, the Petersons were lazing about the house.
Scott Peterson was getting his hair cut by Laci's half-sister, Amy Rocha. After Amy did Scott's hair, she got to talk to Laci for a while. Then, she went home. Around 8:30, Laci decided to call her mom to wish her a happy holiday season.
The seemingly happy couple went to sleep, and then things started to get a little strange in the morning.
The next day, things clearly weren't alright.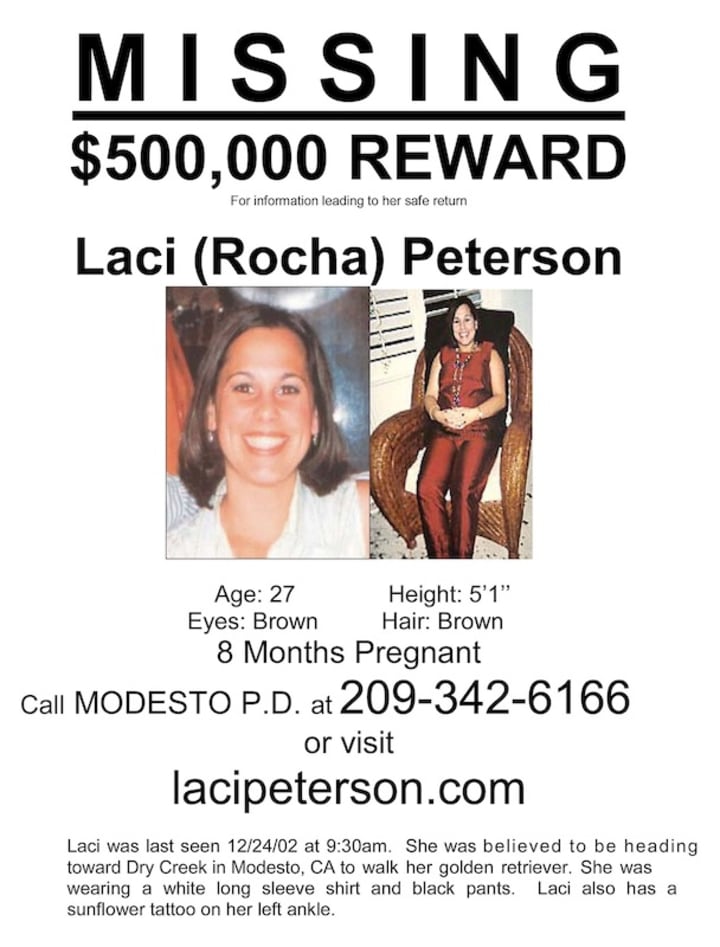 Around 10 AM the next morning, a neighbor saw the Petersons' dog, McKenzie, running around outside. They returned the dog and noticed that Laci's car was home despite her being nowhere to be found.
Scott seemed unfazed by this. He went fishing, came home, ate cold pizza, washed his clothes, cleaned the kitchen, and then relaxed. Then, around 5:20 PM, he decided to call Laci's mother to ask if his wife was with her.
Sharon replied, "No, she's not."
"Laci's missing," he said.
By 6 PM, Sharon called the police to report a missing person. A massive search started with neighbors, police dogs, helicopters, as well as specialized search and rescue teams.
The reward for her discovery started at $25,000 but quickly gained an order of magnitude. Eventually, the reward would top $500,000. Over 900 people were involved in trying to find her within the first two days alone.
By the first week of her disappearance, over 1,500 people volunteered to search for her. Within a month, there was an entire command center started in the Red Lion Hotel.
Foul play began to be suspected fairly early on.
At first, Scott Peterson made it seem like Laci may have just up and vanished on her own accord—or that an abduction could have occurred. Like the day before, it seemed like everything was normal.
When police asked him about her whereabouts, Scott said that he saw Laci mopping early in the morning. She then said she'd walk McKenzie and that she'd go grocery shopping for the holidays later on.
During that day, Amy decided to call Laci for a quick chat. However, Scott told Amy Rocha that Laci was busy curling her hair. It's not very certain whether or not she actually curled her hair.
Everyone who knew Laci was quick to point out how out of character it would be for her to simply leave without a trace. It was the holidays, after all!
They also pointed out that no signs suggested an abduction occurred. There were no signs of a struggle, no blood found on the pavement, and no reports of strange car activity.
The only explanations left were a sudden accident and foul play.
On April 13, a couple walking along the beach found the very recognizable but heavily decomposed body of a male fetus washed up on the sands of the San Francisco Bay shore. The fetus appeared to be the same age the Conner would have been at the time of the disappearance.
Police were called and an autopsy was performed. A study showed that someone put nylon tape around the fetus's neck, that there were cuts on the fetus's body, and that the unborn child likely died before it was ejected.
Only a day later, the body of a woman wearing a maternity bra and maternity jeans washed up on the shores. It was only a mile away from where the fetus was discovered.
The woman's forearms, left leg, right foot, and head were missing. Autopsies revealed that two of the woman's ribs were broken shortly before her death. Near her body, tape and cement were found. She was given a pair of "concrete shoes."
Both bodies were badly decomposed. Though there was little to go on, coroners were able to say that the bodies were that of Laci and Conner Peterson. Both were believed to have died around the time they went "missing."
That wasn't even the worst part of the investigation. Using the data they had, the coroners were able to deduce that the fetus was cut out of the woman's body while she was still alive.
Scott Peterson was the first one to find out about Laci's disappearance—sort of.
Around the same time that the bodies were discovered, Scott was pulled over driving in San Francisco. Police pulled him over for erratic driving, and the first thing Scott said had nothing to do with his driving record.
Rather, he begged police to tell him that it had nothing to do with Laci or Conner. Why would he jump to that conclusion after being pulled over for speeding?
That being said, he was pulled over shortly after Laci was found. He was the first one to be alerted to Laci's body being discovered.
Eyes quickly turned to Scott.
Police were quick to note that Scott's behavior was very strange. Unlike everyone else, Scott didn't seem very distraught. He was oddly calm when talking to the police, and regularly seemed to think out his replies in measured steps.
Scott was very careful to maintain his innocence throughout the ordeal. However, his statements were so vague, they often would raise an eyebrow.
"I wasn't the last one to see Laci that day. There were so many witnesses who saw her walking in the neighborhood after I left. The police failed to find my family." —Scott Peterson
During a press conference, Scott stormed out after being questioned if he was a suspect. From that point on, he was incredibly reluctant to talk to the media. However, during the initial investigation, Laci's family maintained that Scott was innocent.
Scott really wasn't helping out in the investigation.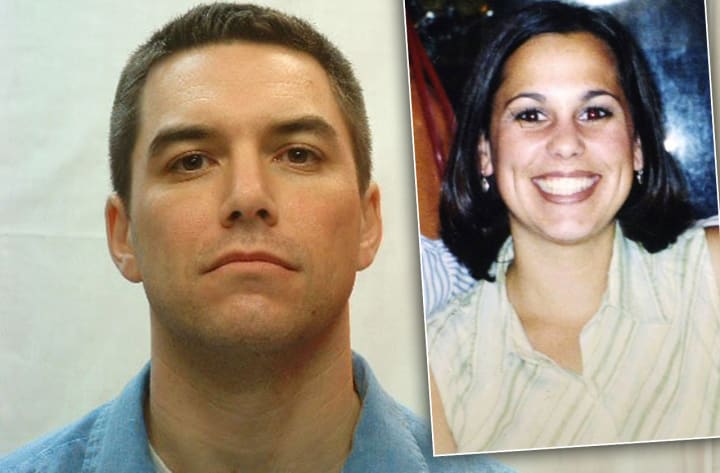 Despite the police pressing him for details, Scott was very uncooperative. He refused to take a polygraph test, couldn't recall what he was fishing for, and couldn't even recall what bait he used.
At one point, he claimed he went golfing instead of fishing. Every single statement seemed to have an inaccuracy, or something that just didn't seem right.
One detective noted that Scott seemed blatantly uncaring about his wife's disappearance, and that it often seemed like he was more concerned about what evidence would be found. He said:
"His major concern was not Laci. His major concerns were his car door hitting his other car door in the driveway, or me taking a picture of this boat in his shop, or getting a receipt for the pink slipper and sunglasses the tracking-dog people used for Laci's scent."
Unfortunately, more evidence came that suggested that the Peterson family was not as healthy or happy as it first seemed—and it was this evidence that made the Rochas decide to withdraw their support...
It soon was revealed that Scott was having multiple affairs.
As people began to investigate every part of Laci Peterson's life in hopes of finding her murderer, Scott's squeaky clean reputation quickly fell apart. A snapshot of Scott kissing another woman quickly surfaced and made rounds on the internet.
It ends up that Scott had multiple affairs going on—almost all of which happened during his business trips. The most recent affair was with a single mother named Amber Frey.
They first met on November 19th, and Scott had claimed that he was single. He met her through a friend he was trying to seduce at a trade convention. Her friend was married, but thought he'd make a good match for Frey.
Two weeks before Laci's murder, Scott told Frey that he was a newly widowed man. Alarmingly, he also claimed that it'd be the first holiday season without his wife by his side.
Frey saw him on the news as a person of interest in his wife's case and called the police. After speaking with them, she agreed to go on a monitored conversation with him.
What he said on the tapes alone provided enough circumstantial evidence to arrest him for the murder of Laci Peterson.
Police found a Scott that didn't look like himself.
Law enforcement initially had a hard time finding Scott Peterson—and part of the reason why was because of his impromptu makeover. Scott had started to live inside his car, and no longer stayed anywhere near his home.
When they found him, he had grown a beard and dyed his hair blonde. Inside his car was $10,000, four different cell phones, a dozen Viagra tablets, some camping equipment, and his brother's ID. He was found in Southern California, close to the border.
Everything pointed to Scott trying to skip over the border before police found him. His family claimed that it was because he wanted to get away from the press and get a golf course membership using his brother's ID. But, even then, that doesn't explain the drastic change in appearance.
After being apprehended, Scott Peterson was put on trial for two counts of premeditated murder in special circumstances. Due to the heavy media coverage of the case, Scott couldn't even be tried in his hometown. His court case had to be moved several towns over, to San Mateo County's court system.
The evidence that they had surrounding Laci's disappearance did not include DNA, but relied heavily on circumstantial evidence and witness testimony. Scott pled "not guilty," despite the huge amount of evidence to the contrary.
Throughout the entire ordeal, Scott appeared emotionless—all the more chilling considering that they showed Conner's autopsy during the trial. Seeing his (lack of) reaction, the judge called the murder "cruel, uncaring, heartless, and callous."
In his own warped mind, Peterson was shocked that he would be sentenced to death. It was as if he couldn't believe that people would see him as the perpetrator for the murder of Laci Peterson.
A later interview had him quoted as saying, "I had no idea it was coming."
About the Creator
Ossiana Tepfenhart is a writer based out of New Jersey. This is her work account. She loves gifts and tips, so if you like something, tip her!
Reader insights
Be the first to share your insights about this piece.
Add your insights